When I booked in for my festive manicure appointment with Leanne at Nails at Bear, she asked me for a rough idea of what I'd like. My response? 'Cow print, but make it Christmas.'
I sent over about six designs I'd found on the #polisheduppinterest hashtag on Instagram – a monthly challenge set by @polishedbylearnahstarbuck based on a graphic or photograph. The set I fell most in love with was by @buffcsjen, inspired by some earrings by @quietclementine. There were a couple of tweaks discussed with Leanne before my appointment so that we could get straight to work, including adding glitter, and taking my super long natural nails back down to shorties!
Leanne drew an illustration of how the nails would look, which is just a gorgeous little personal touch to a nail service. They'd even look cute framed to remember sentimental sets like wedding or graduation nails.
The salon, based in Hanley, is Covid-safe, with everyone wearing masks and taking extra care to minimise risks. I washed my hands when I arrived before Leanne got straight to making my nails beautiful again. My previous set had been on for nine weeks, but two had broken on my left hand, so we decided to take the nails back down to a shorter length – it's much more keyboard friendly anyway!
Leanne used her Navy tools to prep my nails, including bringing down the length, reshaping and tidying up my cuticles. She's got The Gel Bottle files in boxes labelled with each clients name to reduce waste, which I think is so cute. She used The Gel Bottle colours to create the mix and match design, which featured lilac, black and white cow print, and the gorgeous gold 'art deco' shade. And speaking of art deco, the more I look at these nails, the more 20s inspired they look!
The set includes little half moon cuticles with patterned tips and gold glitter accents which really set off the festive vibe. Because my birthday is around Christmas, and this set will last me into the new year, I don't like to go OTT Christmas with my nails – I prefer the subtly yuletide look. Leanne finished my set off with some Cinnamon Apple NAF Stuff cuticle oil which smelled just like Christmas.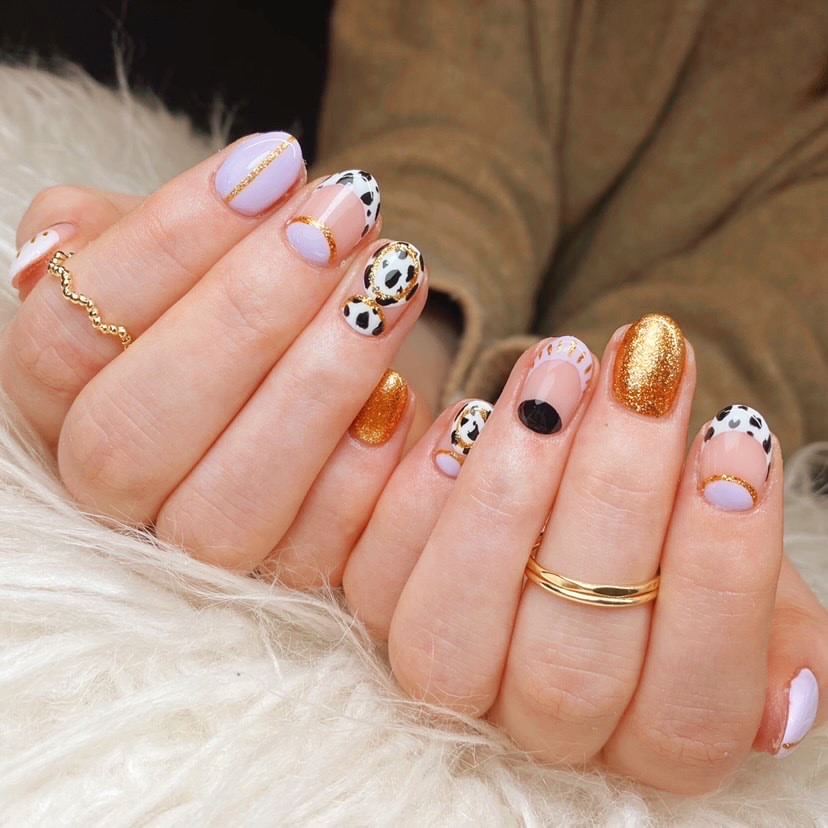 Vote for Leanne Haycock as Nail Tech of the Year
This is one one my all-time favourite nail sets, and Leanne always delivers an amazing service – that's why she's one of five shortlisted for Nail Tech of the Year for The Gel Bottle Awards! Nails at Bear only launched in summer 2019, and the award is recognising the most outstanding gel polish specialists with impressive portfolios and flawless designs. You can vote for Leanne until December 17 at midnight here.
Christmas nail care tips
Cuticle oil should be applied twice daily to avoid nails becoming dry and cracking the gel
Never pick at your mani
Wash your hands thoroughly after dealing with things like cleaning products
Wear rubber gloves to do things like washing the dishes or doing household chores
When wrapping your Christmas presents, avoid peeling price stickers off items, or picking at the end of the cellotape roll
Take care opening your advent calendar, unwrapping gifts and opening cards, and even things like peeling the spuds for Christmas dinner!