The six weeks school holidays are fast approaching, and parents across Stoke-on-Trent and Staffordshire are going to be looking for ways to keep the kids entertained day in, day out until the start of September. Only, daily activities can end up being quite expensive – especially if you have multiple children – and with the cost of living crisis over our heads, it's more important than ever to save a few quid where you can.
Some of my fondest memories as a little duck myself were during the school holidays, and with three kids, my parents didn't have bags of money to spend on days out – but those free fun days, trips to the park, and museum visits stick in my mind as some of the best days of my childhood. So I've put together this handy guide of totally free or incredibly cheap things to do in Stoke-on-Trent and Staffordshire with the kids this summer to help you pack out six whole weeks of fun filled activities, often without spending a penny.
From free trails, fire station open days and farms to pottery painting, cheap movies and board games. Everything in this guide is free or works out at less than £5 per person, and I hope you find some amazing activities and things to do as a family. To help you navigate this guide, all of the events and visits are split into geographical areas like Hanley, Newcastle and the Moorlands. Some city-wide initiatives can be found towards the bottom, as well as a handful of nearby Cheshire activities in Congleton and Alsager.
Over on my Facebook page I've shared a calendar of the six-week holidays and marked down the date-specific events like markets and fun days, which you can print off and use to plan your holiday activities this year, making sure you don't miss your favourite things to do. So – without further ado – here are more than 50 free or mega cheap things to do in Stoke-on-Trent and Staffordshire with kids this summer holidays.
Things to do in and around Hanley
Potteries Museum and Art Gallery – The PM&AG is open Wednesday to Saturday from 10am to 5pm, and 11am to 4pm on Sundays, and is the perfect place to explore some of Stoke-on-Trent and Staffordshire's rich heritage. Admission is free and visitors can take advantage of three hours free parking at Tesco, or opt to pay at one of the closer car parks. Visitors can take a look at the RW388 Spitfire, as well as displays and a celebration of it's iconic designer Reginald Mitchell. There is a trail and a family activity pack linked to the gallery that can be purchased at the Welcome Desk in the Foyer for a small fee.
Running until September 11, the Commonwealth Connections exhibition has been made free to enter with mascot Ozzy Owl delving into the Commonwealth countries. It comes as the Queen's Baton Relay for the Birmingham 2022 Commonwealth Games is coming to Stoke-on Trent before it travels to Birmingham for the Opening Ceremony on 28 July 2022.
The museum has free wifi, baby changing facilities and is pushchair and buggy friendly with a lift available to use, and a cafe with child-size portions available on the menu. Find out more about the Potteries Museum and Art Gallery here.
The Mitchell Arts Centre – The MAC run film events year round and throughout the summer holidays, several children's films are being shown, including the Gruffalo, Encanto, Sing, Luca and Spider-Man to name a few. Children's tickets cost £3.50 with one adult going free per paying child, meaning a family of four could enjoy a movie for £7 all in.
The Family Film Club runs on various dates and times throughout the holidays, and you can find all the current listings until the end of August here. It is recommended to book tickets in advance, as the movies are in rather high demand. These can be done either online, over the phone or at the Box Office.
What's more is that, unlike the cinema, there are no trailers or adverts, and of course there's the Spitfire Cafe where you may want to grab a hot chocolate, lunch or a snack before or after the film.
LongRest Boardgame Bar and Cafe – If you love boardgames but don't fancy forking out for a new one each week, or fancy an introduction to Dungeons and Dragons after watching Stranger Things it's definitely worth a trip to LongRest Boardgame Bar and Cafe on Cheapside. There are boardgames for a whole range of ages, and tables can be booked online for two hour or five hour slots. Two hour gaming slots cost £2.50 per person, while five hours is £5 a head, offering guests access to a library of more than 300 games.
There's a great food menu featuring oatcakes, bagels and pizzas, with a kids menu where prices start from £2.50, and a selection of cocktails and craft beers for players of drinking age, should they wish. Currently advertised opening times are 6pm to 11pm on Mondays, 4pm to 10pm on Wednesdays, 4pm to 11pm on Thursdays, then 11am to 11pm on Fridays, 10am to 11pm Saturdays and 11am to 9pm Sundays. It's also worth keeping an eye on their what's on page for any specific events.
Emma Bridgewater – The Emma Bridgewater Factory, on Lichfield Street, is one of my favourite spots to visit when I just fancy a potter about. The factory is free to visit, with a shop, outlet and cafe on site, and free parking available behind the building. Factory tours are available for £5 per ticket, with advanced booking required online, and are held Monday to Friday, excluding Wednesdays at 10am. The one hour tour is suitable for children over the age of five, and the Emma Bridgewater site states that 'tickets for under 18s will be refunded on the day when presenting ID'.
The decorating studio is a lot of fun, though more expensive with pots to paint starting from £7, you can read more about my personal pottery painting experience at Emma Bridgewater over Christmas here. When I've finished having a look at the seconds in the factory shop, I always like to go and find the secret garden, where little ones can admire some beautiful plants and shrubs in an enclosed garden. You'll find the entrance to the garden in the gift shop, near to the toilets, and it's always worth a visit if you're a little green fingered.
Read more: A visit to Emma Bridgewater with Afternoon Tea
Potboiler Theatre The Secret City Trail – The Secret City was a self-led audio walking tour that took place in Summer 2021 in Stoke-on-Trent City Centre, featuring a map and nine audio recordings to listen to at various spots in Hanley, from Town Road to Bethesda Street. Funded by the National Lottery through Arts Council England and with help from Stoke-on-Trent City Centre BID, the map and audio clips are available on the Potboiler website so you can grab a pair of headphones and discover The Secret City with your loved ones.
Alternatively, you don't even need to leave the house to enjoy this free trail. Settle into a comfy armchair, pop on your headphones and discover the nine audio stories online, and maybe even use Google Street View to find the places. While this trail is free for everyone, please do consider a donation to the independent theatre if you can.
Piccadilly Artisan Market – The Piccadilly Artisan Market is organised by a collective of born and bred locals with a passion for celebrating small and independent makers and creators from across the county. The venture is a partnership with Stoke-on-Trent BID, and is a monthly, family friendly event that runs on the fourth Sunday of every month, and has been doing since March 2022.
Stalls fill Piccadilly from top to bottom, with gifts and treats like jewellery, sustainable skincare, bakes and cakes, as well as prints and candles across around 40 stalls. The next event will be held on Sunday, July 24, with another on Sunday, August 28 – Bank Holiday weekend. As well as a number of stalls to shop, there's also a children's activity zone where little ones can have a go at some games and challenges and free craft activities by CraftyKidz. Greyhound Gap will be running a prize every time kids tombola which is £1 per go and kids can win either teddy bears or toys.
Be sure to keep an eye on the market's Facebook page where they will be running a £100 voucher giveaway to spend at the market, including the street food vendors.
Hanley Parkrun – Hanley Parkrun is a free, fun and friendly weekly 5k community event held each saturday at 9am at Hanley Park, just off Cleveland Road. Participants can walk, jog, run, volunteer or spectate at the run which starts on the path between the pavilion and bandstand, finishing near the same spot.While it costs nothing to join in, those wanting to take part need to register before atending the event – and if its your first parkrun, be sure to take a scannable copy of your barcode.
There is plenty of parking at Hanley Park, and runners of any age can get involved, with no need to be super speedy – just go at your own pace and enjoy the scenery of the park in the meantime. At the end of your 5k, you can even head to The Pavilion Cafe for a post-parkrun coffee, tea or whatever refreshments you fancy.
Central Forest Park – Located in the heart of the city Central Forest Park is a valued green space with facilities for walking, cycling, dog walking and even skating, biking and skateboarding. The car park costs £3 for two hours, where visitors can enjoy the parks 49 hectacres, meaning there's plenty of space away to find a quiet spot and enjoy the fresh air and nature if you don't fancy the hustle and bustle of the park.
As well as Stoke Skate Plaza – Europe's largest street style skate park – there is also a safari-themed adventure play area and boulders to climb, the lake to walk around and feed the geese, and eagle eyed explorers may even find plant and fish fossils in some of the loose shale.
Stoke-on-Trent City Centre BID events – Every weekday from July 25 to September 2, children can head to Hanley's Cultural Quarter and enjoy a range of free activities between 10am to 3pm, weather dependent. Daily activities include a family reading library, family board game play with LongRest, circus skills classes, children's yoga, as well as the Beach at Smithfield where you can build a sandcastle. A full schedule will soon be available on the BID website.
Dudson Museum – Hanley's Dudson Museum forms part of The Dudson Centre, created in 1999 when the original 1809 Dudson Factory site was regenerated. The Museum is housed in their Grade ll listed bottle oven, and on stepping through the oven door you will be immersed in the heritage of the iconic Dudson brand, which was still in production until 2019.
Entry into the museum is free, open Tuesday, Wednesday and Thursday from 10.00am to 3.00pm. A typical visit takes just under an hour, and there is a well-stocked gift shop selling books and souvenirs, as well as a café on site.
Etruria Industrial Museum – The Etruria Industrial Museum is normally open from 11.00am to 3.30pm on Fridays, but also for five 'steaming weekends' a year – one of which falls in the holidays. Shirley's Bone and Flint Mill is the last remaining operational steam powered potters' mill in the world. It was built for Jesse Shirley II in 1857 to grind flint, bone and other materials for the pottery and agricultural industries. The mill is being steamed on July 30 and 31 from 12.30pm to 4.30pmm with the museum and tea room open from 10.30am. Other attractions are to be announced nearer to the time, with tickets costing £6 per adult, but under 16s go free per paying parent/guardian.
The mill was in continuous use until 1972 and when it closed everything was left intact. It was restored by volunteers from 1978 and opened as a working mill in 1990 with the Etruria Industrial Museum being created round it. As all staff are volunteers visitors are advised to check before travelling if planning to go when an event isn't scheduled as admittance at other times and by appointment are subject to volunteer availability. Please contact 07900267711 or info@etruriamuseum.org.uk to book.
Jump 2 It – Jump 2 It coaching provide trampolining classes for children, adults and those with disabilities in Newcastle, Congleton, Stoke-on-Trent, Biddulph and Cheadle, and over the holidays, have been given funding to offer some low cost sessions. On July 21 and August 21, their open trampolining sessions are just £1 per child. Thursday, July 21 will see a session run from 12.45pm to 2.10pm, with one to one options from 2.10pm to 2.30pm. The following month on Sunday, August 21, there will be another £1open session from 9am to 10.30am. The sessions are held at The Wallace Centre in Abbey Hulton and booking is essential. There is also sessions on August 4 and September 1 from 3.50pm to 5.20pm for funded by the HUBB Foundation for children who receive free school meals.
Things to do in and around Newcastle-under-Lyme
Keele Observatory – Founded in 1962 to host a 31cm refractor dating back to 1874, Keele Observatory is open to the public on Tuesday evenings The observatory underwent a significant refurbishment in 2009, and now members of the public can go stargazing and learn all about the equipment, including their 60cm reflector for research.
The observatory is open Tuesday 8pm-10pm and is free to everyone with, no booking required. Visitors can view celestial objects through the 148-year old 31cm Grubb refractor or 15cm solar telescope (weather permitting), or enjoy a tour of the observatory and meet an astronomer.
Brampton Museum – In the beautiful Brampton Park less than half a mile from the town centre is Newcastle-under-Lyme's local history museum featuring over 2000 years of Borough history. The Brampton Museum and Art Gallery is free to enter and hosts a number of collections and exhibitions depicting the rich and diverse history of the area. The museum has recently undergone a redevelopment project to make the visitor experience even better, with new galleries including The Borough in 80 objects, telling new stories about local history with an eclectic mix of curious objects and Mrs Mosley's Parlour – complete with a talking portrait.
Another highlight is Brampton Street which allows you to take a step back in time as you discover the wares of Mellard's the ironmongers, the treasures of the pawnbroker's shop, the fascinating cures of the chemist's and the gruesome collection of doctor's surgical instruments, alongside a toys gallery filled with teddies, dolls and games up to 150 years old. Admission and parking is free, but there is a donation box if you wish to pay towards the upkeep. After, why not enjoy a picnic or stroll through the park?
Vue Mini Mornings – Vue Cinema host mini morning sessions to give both adults and kids the chance to experience big screen entertainment for a very small price. Mini Mornings are run every Saturday and Sunday morning from 10am, plus every day in the school holidays, showing kids movies and new kids films from just £2.49 a ticket for both adults and children. As schedules are only released a week in advance, what films will be showing in the holidays are not yet known, but the weekend of July 2 and 3 was Sonic the Hedgehog 2. You can keep up to date with what's showing via Vue Mini Mornings.
Read more: Staffordshire's Sixtowns Gin comes with keepsake ceramic bottle
Read more: 22 Things you only understand if you're a Stokie
Apedale Valley Light Railway – Take a trip to Apedale Country Park and watch the trains on the Apedale Railway without spending a penny – a must for locomotive enthusiasts. If you fancy a short train ride its £3.50 for adults, £1.50 for children, and free for under threes, or there's a family ticket where two adults and up to four children can enjoy a return trip for £8 in total – or £1.33 a person. All tickets are bought on the day from the station shop with trains running at 11.30am, 12.00pm, 12.30pm 1.30pm and every half hour until 4.00pm. The round trip journey takes around 15 minutes.
On August 13, there's a Teddy Bears Outing where little ones can spot the bears on the journey, solve a puzzle and win a prize. Kids with bears (or other furry friends) travel for free for this event. Trains are hauled by either steam or diesel locomotives from the Trust's collection, depending on the day, and there's a little shop in the main building if you'd like a souvinir.
Apedale Mining Museum – At the Apedale Heritage Centre, the free mining museum explores the area's rich industrial and social history through a collection of interesting exhibits. The area's history can be traced back to the Romans who built a fort and settlement in nearby Chesterton, with Roman displays and an impressive collection of mining artefacts. The collection includes a mine rescue van, a detailed model of a drift mine, tools, mine lamps, maps, photographs and the personal belongings of the miners, and visitors can learn more about three notorious local disasters including the Minnie Pit Disaster.
The Heritage Centre's site was once a working coal mine and the miner's cottage offers a fascinating insight into everyday family life in the past. The museum is open on Saturday and Sunday from 10.30am to 4pm and entry is free, although donations are appreciated.
If you're looking for something a little extra to do, at weekends the site offer tours of an authentic drift mine, where tours cost £5 for children, £8 for adults, or £20 for two adults and two children. The café is open daily serving hot food and cold snacks if you get peckish too.
Castle Artisan Market -Newcastle-under-Lyme's Castle Artisan Market runs on the third Sunday of every month. Held on The Stones, visitors can browse approximately 70 independent stalls and benefit from free Sunday parking on all council-run car parks. The successful market has been awarded a 'Highly Commended' in the National Association of British Market Authorities awards for bringing increased footfall into the town centre and promoting local makers, bakers and creators. It's so popular with shoppers and traders alike, that there's a waiting list of more than 150 businesses waiting for a stall to become available.
Live music and activities for the kids will be put on, including free craft activities by CraftyKidz and a free themed trial around the market area, which when completed, can be handed in for a carton of popcorn or sweets. Greyhound Gap will be running a prize every time kids tombola for £1 per go, and the team are also looking at hosting a kids book and toy swap stall – more on this to come. The next market will be held on July 17, shortly before the summer holidays, followed by August 21, with further details being released via their Facebook page. They will be running a £50 'family fun pass voucher' giveaway on their Facebook page where the vouchers can be spent on any of the stalls.
On Bank Holiday Monday there will be a special edition Castle Artisan Market, complete with Stanworths funfair, free storytelling by Alan Barrett, free facepainting and much more.
Read more: How to spend a day in Newcastle-under-Lyme
Woore Fruit Farm – Woore Fruit Farm, near Keele, is a beautiful trip out between Spring and Autumn. The farm operates for seasonal fruit picking between May and October, and throught the six week holidays, raspberries, tayberries, blackberries and black or redcurrants, as well as plums and strawberries will be available to pick. Entry to the farm is free, but you pay for your fruit based on the weight of your punnet.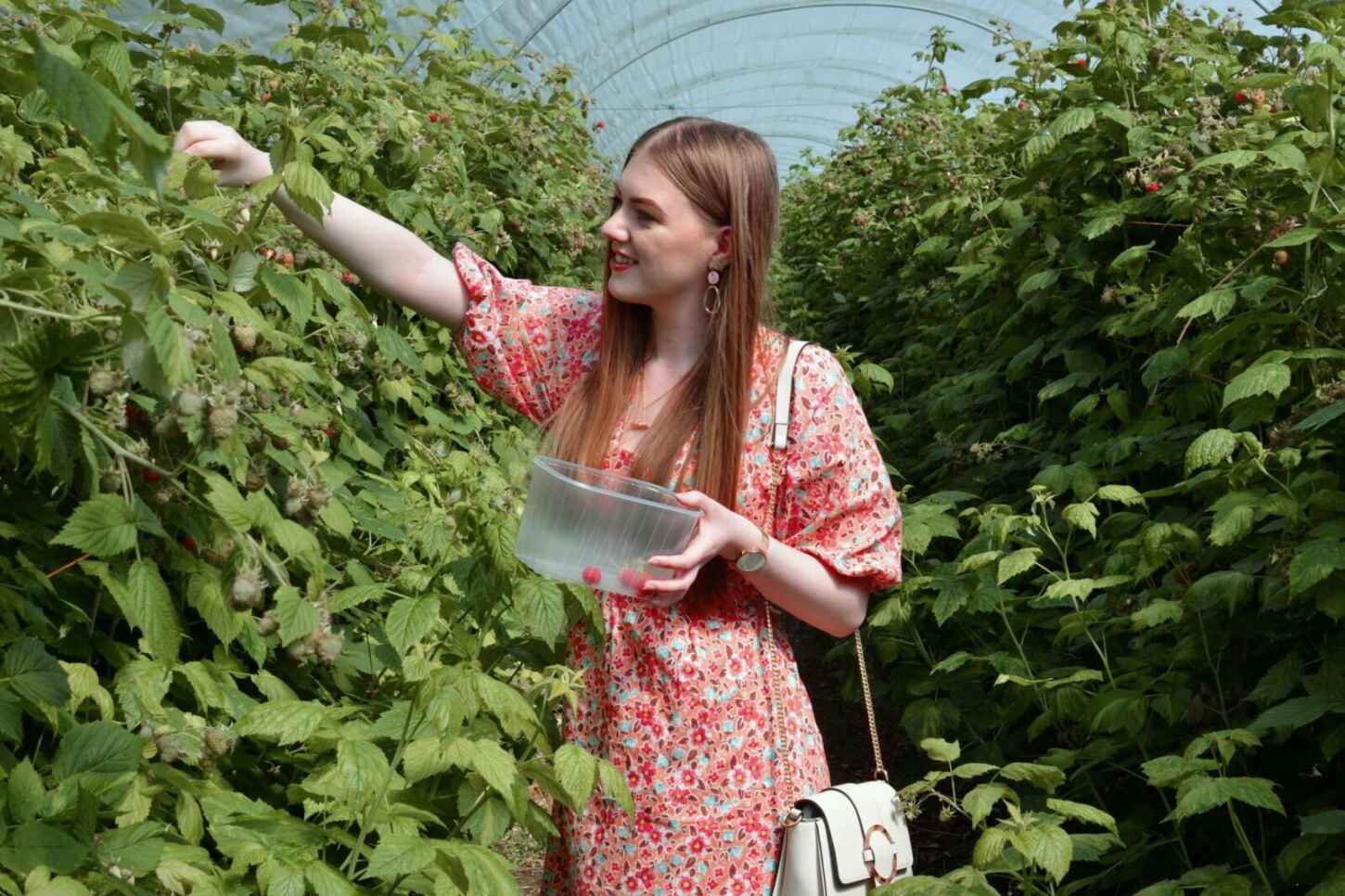 As well as fruit picking there's a little lake to walk around, some chickens to say hello to, and an abundance of wildflowers to admire. The farm shop offers a selection of produce like fresh eggs, fruit and veg, jams and preserves, and often home-brewed cider, which on my last visit cost me £5.50 for two and a half litres! And don't forget to visit later in the year for pumpkin picking, too.
Read more: Woore Fruit Farm – strawberry picking, home-brewed cider and fresh flowers
Things to do in Stoke
The Spode Museum Trust Heritage Centre – The Spode Museum Trust Heritage Centre is free to enter where guests can learn about the history of the factory, see displays of fine ceramics and archival films. Visitors can also watch demonstrations of transfer printing, hand painting and raised paste gilding and visit the world famous Blue Room, which contains hundreds of blue transferprinted pieces made at Spode between 1790 and 1847. It is almost certainly the largest and most important collection of Blue and White printed ceramics on public display in the world, and it's right here in Stoke.
Guided tours of the Spode factory site and the Blue Room are available for a small charge, or you can take a look around on your own. The Spode Museum Trust Heritage Centre opened in 2012 in one of the period buildings on the Spode site. It doubled in size in 2016 and expanded further in 2017 with improved visitor facilities, exhibition and gallery spaces and a retail Shop. The museum is open Wednesday to Sunday and Bank Holiday Mondays from 10.30am to 4.00pm.
Things to do in Fenton and Longton
LoveClay Ceramics Centre – The LoveClay Ceramics Centre is located at the Valentine Clays headquarters in Fenton and provides a visitor experience that promotes the importance of clay to the ceramics industry and Stoke-on-Trent through a series of galleries, exhibition space, workshops and events. During the summer, visitors can paint a pot which requires a £5 booking charge that is redeemable against decoraded items. Pottery pieces start from £5, meaning you can keep it cheap anc cheerful, creating a design with colours before it's glazed and fired. Pottery pieces include plant pots, egg cups, mythical creatures and bird feeders among others, with studio technicians on site to lend a hand.
You can book the 90 minute experience online, and availability is limited with spaces currently only available for six dates in August between 10am and 4pm.
Longton Park – Longton Park, also known as Queen's Park, is a Grade II listed heritage park in, well, Longton. It's famous for its trees, horticulture and lakes complete with clock tower, three bowling pavillions and bandstand. It has a very individual character and is one of the city's most beautiful green spaces. It also has skate board facilities including ramps and rails, multi-use sports courts and three newly refurbished tennis courts. There's a children's play area for toddlers and another for juniors, two full-sized football pitches, electronic interactive games and fishing facilities controlled by Fenton and District Anglers.
Things to do near Tunstall and Burslem
Westport Lake – Created alongside the Trent and Mersey Canal, Westport Lake is Stoke-on-Trent's largest expanse of water, consisting of two lakes, and a nature reserve. It was initially developed as a 'pleasure resort' by a local farmer but ended up becoming wasteland before regeneration in 1986. It is now run in partnership between Staffordshire Wildlife Trust and Stoke City Council, and is a great spot for bird watching, feeding the ducks or going for a walk. There is a parking charge if you're driving, but the lake is free to visit with a visitor centre that has a cafe offering panoramic views of the water.
Middleport Pottery – Middleport Pottery, situated on the Trent and Mersey Canal in Stoke-on-Trent, was built by Burgess and Leigh in the late nineteenth century. The Grade II* listed Pottery is the UK's last working Victorian potbank in continuous production. The site is open every day and is free to visit between 10am and 4pm. On your visit, you can take a look in some of the incredible studios now occupied by local, independent businesses, admire the bottle kiln and enjoy a bite to eat from the cafe at the canalside.
Visitors can book onto the heritage trail, which costs £5 for children and £6 for adults. This guided tour includes a look at the heritage offices, steam engine, Grade II listed bottle kiln, bath house and Europe's largest ceramic design archive, as well as the newly opened regenerated properties on Harper Street. As part of a £2.5 million heritage project, this row of houses have been transformed to recreate what domestic life was like 70 years ago. The houses have furniture and accessories from the 1950s on display, providing unique insight on those who used to live on the street.
Middleport Pottery remains home to world-famous 'Burleigh' pottery, and a trip to the shop is always lovely to take a look at their magnificent displays.
Read more: The Colour Room -the brilliant biopic of Stoke-on-Trent ceramics trailblazer Clarice Cliff starring Phoebe Dynevor
Moorcroft Heritage Visitor Centre – Another fabulous pottery-themed trip is to the Moorcroft Haritage Visitor Centre between Burslem and Cobridge. The centre is home to one of the few remaining Grade II listed bottle ovens, as well as a museum and shop. Entrance to the Moorcroft Museum is free of charge, but there are paid-for guided tours that cost £7.50 for adults and £5 for children.
The Museum offers a glimpse into the design history of this unique art pottery. The age of the collection spans over 120 years, including examples of William Moorcroft's very first creations made during his time at James Macintyre & Co, the ceramic manufacturer who first employed him. What's more is you can quite literally step inside the Grade II Listed bottle oven, just as potters would have done over a century ago, as they balanced saggars on the heads. The museum is open Wednesday to Saturday, from 10.30am to 4.30pm.
Tunstall Park – Victoria Park, in Tunstall, is a Grade II listed heritage park in the city, and is home to a historic boathouse, bowls pavilion, clocktower, floral hall and lodge, as well as a much loved bandstand. There's fishing pegs, a football pitch and children's play area with outdoor gym equipment and log piles for bug hunting. Nature lovers can go pond dipping, admire the wildflower areas and nature trail, and watch for birds from the many bird boxes and waterfowl on the lake, from mute swan, mallard, coot abd moorhen to the great-crested grebe and goosander.
There is free on-street parking with 24-hour public access to the park, with staff are on site from 7.30am until 3.30pm Monday to Thursday and until 3pm on Friday. Other facilities include a tennis court, skate equipment, basketball courts and multi-sport courts. The park is also part of Robbie Williams' 40th Birthday Celebration Trail: Robbie used to play a lot of football in the park with his school and friends. A permanent plaque has been situated by the main gates off Victoria Park Road.
Read more: Robbie Williams Homecoming – an unforgettable night at Vale Park
Read more: Vale Park Sunday Lunch in the Valiant Suite
Burslem Park – Burslem Park is a Grade II listed Victorian Park, restored in 2012 to its former glory, and is open 24 hours a day, seven days a week. Thepark is home to a restored Victorian terrace garden and ornamental fountains, buildings with terracotta period details and a beautiful lake surrounded by pulhamite rockery. Visitors can enjoy playing on the tennis courts, play equipment, skate facilites and playing field, as well as admore the heritage mosaic designed by Rob Turner with local schools and mayfly sculpture by Andy Edwards and Philip Hardaker, which is part of a sculptures trail detailed towards the bottom of this post.
Royal Stafford Cafe – Royal Stafford is based in the Royal Overhouse Manufactory and is one of the oldest pottery factories in Burslem, with the brand being established in 1845. The factory has a lovely Ceramic Cafe where visitors can have a go at decorating their very own, individual piece of pottery. Helpful and friendly staff are on hand to guide you through the process, and you'll have a maximum of two hours from the start of your reservation slot.
The adult studio fee is £2.00 with children charged at £1.50. Pottery pieces to paint begin at £4, so it can cost as little as £5.50 to enjoy this experience. Your piece will be glazed and fired and ready for free collection within a week, or can be posted out for a fee. The cafe is open Monday to Friday from 9.30am to 4pm – and you can book a slot online here.
Things to do in Kidsgrove
Newchapel Recreation Ground pump track – Last summer the newly-installed £100,000 BMX track was unveiled at Newchapel Recreation Ground. Paid for by Newcastle Borough Council, the facility is suitable for all ages and abilities to use with BMX bikes, rollerblades, scooters, skateboards and even wheelchairs. Free to use, the track features elevated starting platforms and various jumps and obstacles, including berms, rollers, angled rollers, table tops, doubles, a shark fin and a left-handed hip jump. I'm certain that those with scooters and BMX's will know what that means. You can find Newchapel Rec at ST7 4JH.
Bathpool Park – set in 178 acres of country park, Bathpool offers woodland walks and bridle paths around a main lake and several ponds. The mature trees support a variety of wildlife with various waymarked paths through the area, including an 3.7kn loop trail which takes around an hour and 15 minutes to complete. This trail is great for birding, hiking, and mountain biking, with dedicated cycle routes throughout the park. The best times to visit this trail are March through October, and dogs are welcome and may be off-leash in some areas. The car park is free, and there are children's gym exercise equipment scattered throughout the park, too.
Read more: The Slamwich Club – Stokie cocktails, slam dunks and a secret Backyard bar
Read more: Three Staffordshire pumpkin patches to visit in October – and how to spot the best pumpkins
Things to do in Smallthorne
Ford Green Hall – Ford Green Hall was built in 1624 for Hugh Ford – a yeoman dairy farmer – and is a fine example of a timber-framed farm house. The Ford family lived at the Hall for nearly 200 years, owning 36 acres of land. In the 19th century after the Ford family left the status of the house declined and it was divided into three and later four cottages. Now an award-winning museum, looked after by a charitable organisation led by volunteers and members of the local community, the Hall offers visitors a fascinating insight into the life of the 17th century. The rooms are furnished with an outstanding collection of textiles, ceramics and furniture.
The hall is open Sunday to Thursdya from 1pm to 4pm – last admission to look round the Hall is at 3.30pm. Adult tickets are £4.50 while children aged 5 to 16 cost £3.50. Under fives visit free. There is a shop and tea room open to both visitors and non-museum visitors, and the car park is free. On July 27 there's a Pirates Day running from 11am to 3.30pm where visitors are encouraged to dress like a pirate. The can also meet a pirate and handle replica weapons and learn about life under the black flag. There will be a trail and craft activities to complete, and the usual admission fee applies.
The following monh on August 9 there is a Teddy Bears Picnic, where you can bring a Teddy bear, picnic have a brew from the tea room. The Farm on wheels will also be on site with a selection of animals. And on August 17, there's a Vikings, Princesses, Knights, and Shieldmaidens event where children can meet fearsome Vikings demonstrating battle techniques, explore replica Medieval weapons and armour and learn what it was like to be a Knight.
Things to do in Trentham
Trentham Shopping Village – With free parking and almost 80 timber lodges housing shops, cafes and restaurants, Trentham Shopping Village is a fabulous spot to while away a couple of hours. It's very dog friendly if you want to take the pooch with you too, with dog-friendly spots to grab a coffee, cake or bite to eat. There's a good mix of independent retailers and big brand names. And with no limit on parking, you can browse at your leisure.
Trentham is also home to Blue Diamond Group's flagship Garden Centre, which is the UK's largest indoor and outdoor garden centre with a huge selection of products and plants for the home and garden. The centre is also home to the Terrazo del Giardino Italian restaurant, Caffé Bello and Six Arches Restaurant, too.
Trentham Makers Market – Trentham Makers Market brings together an abundance of the North Wests finest makers, bakers and creators showcasing every third Saturday of the month at Trentham Estate near the Shopping Village. Visitors can expect an array of art, craft, food, drink, coffee, music and street food at the dog friendly event. While their July 16 date falls just outside of the holidays, the next event is held on Saturday, August 20. Again, parking is free so there's no time limit on your stay, so you can enjoy the shops and garden centre with the market all in one epic day out.
Trentham Gardens Parkrun – If you want to see Trentham Gardens without needing to pay an admission fee, why not sign up to the Trentham Gardens Parkrun? The friendly weekly 5k community event takes place every Saturday at 9am, meeting at Trentham Gardens at Trentham Estate. While free to join, be sure to register ahead of the event and bring a scannable copy of your barcode, ready to walk, jog, run or spectate the event. Runners of any age can take part for their own enjoyment, whatever their pace, and enjoy a coffee at The Rotisserie with the other participants after.
The course is accessed via a footbridge close to Trentham Garden Centre, and all participants must exit the Gardens at the end of parkrun, however the lap does take you around Trentham Lake and through the famous Italian Gardens, which is really stunning and totally worth it.
Read more: Trentham Bakehouse pastries and bakes that are worth queuing for
Read more: Trentham's trendy Tapas bar Can Do Cocina is a side orderers dream
Things to do in Barlaston
Wedgwood Cricket Club – Got a sports nut at home, or fancy letting the little ones get stuck into a new activity? Wedgwood Cricket Club are running junior cricket sessions every Friday evening through the summer holidays for £3 per child.
Founded in 1942, Wedgwood Cricket Club are members of North Staffs and South Cheshire Cricket League, Stone and District League and the South Moorlands Junior Cricket League and welcome new members looking to play cricket in a friendly, safe and scenic environment. The junior training sessions run from 6pm to 8pm each week at Wedgwood Sports Ground and are open to 'all ages'. Find out more about the sessions here.
World of Wedgwood – From Wednesday to Sunday, 10am to 5pm, visitors can take a look around the V&A Wedgwood Collection at World of Wedgwood. Booking isn't necessary and entry is free. The collection is one of the most important industrial collections in the world and is owned by the V&A following a successful fundraising campaign, showcasing a unique record of over 260 years of British ceramic production.
There is a free family trail that will help you and your family explore the Collection, and access all of the shops, including Josiah and Co, which is home to a curated selection of local, independent businesses. There is also the Earth and Ware exhibition of galleries bursting with flowers created by the public, complete with trail to discover objects inspired by nature and wildlife. A complementary programme of events for all ages 'digs deeper into questions of climate change and sustainability in the ceramics industry today.'
On selected dates both adults and children alike can have a go at painting their own piece of pottery directly above the factory in which Wedgwood is made. The price of the sessions are between £5 and £20 on the day, depending on the item of pottery you choose to paint, and water-based paints means you can take your pottery home the same day. Wedgwood Factory tours can also be booked on, but cost £12.50 per adult over the age of 12, however under 12s go free, so the cost does spread a little.
Read more: KLAY: Staffordshire's best pizzeria totally transformed
Read more: 11 great places to eat in Staffordshire and Cheshire
Things to do in Biddulph and Mow Cop
Biddulph Fun Day – After three years, Bidddulph Fun Day is back on Saturday, July 30. Hosted by the community group Friends of BRIC, the fun day will be held on the Church Road playing fields, and is free to attend. There will be a number of activities that cost a small fee on the day, including a fun fair, dog show, community stalls and face painting. There will be all the fun of the fair with a dance display and custom cars to have a look at, making it a vibrant event for the whole family. You can find out more about the event as the Facebook page is updates.
Shakes on the Rocks – Shakes on the Rocks, run by 17-year-old Jessica Bailey, of Wickenstone Farm, is a self-service milkshake machine that opened in April 2022. Visitors can pay £2 for a large glass bottle to fill with milk for an additional £1.50, or one of five different flavours of milkshake for £2. Alternatively, there are cups where a milkshake will cost just £1.50 in total, and can be enjoyed on one of the picnic benches with panoramic views of the Staffordshire Moorlands. Flavours include strawberry, chocolate and banana, as well as weekly changing specials like white chocolate, blueberry muffin, creme egg and salted caramel.
There is a small amount of parking< a handful of seating and the vending machines are card payments only. There is also a coffee machine if people prefer a hot drink. Shakes on the Rocks is open seven days a week from 7am to 11pm, you can find updates on what the limited edition flavour of the week is here.
Read more: Shakes on the Rocks – Biddulph Moor's brand new milkshake vending machine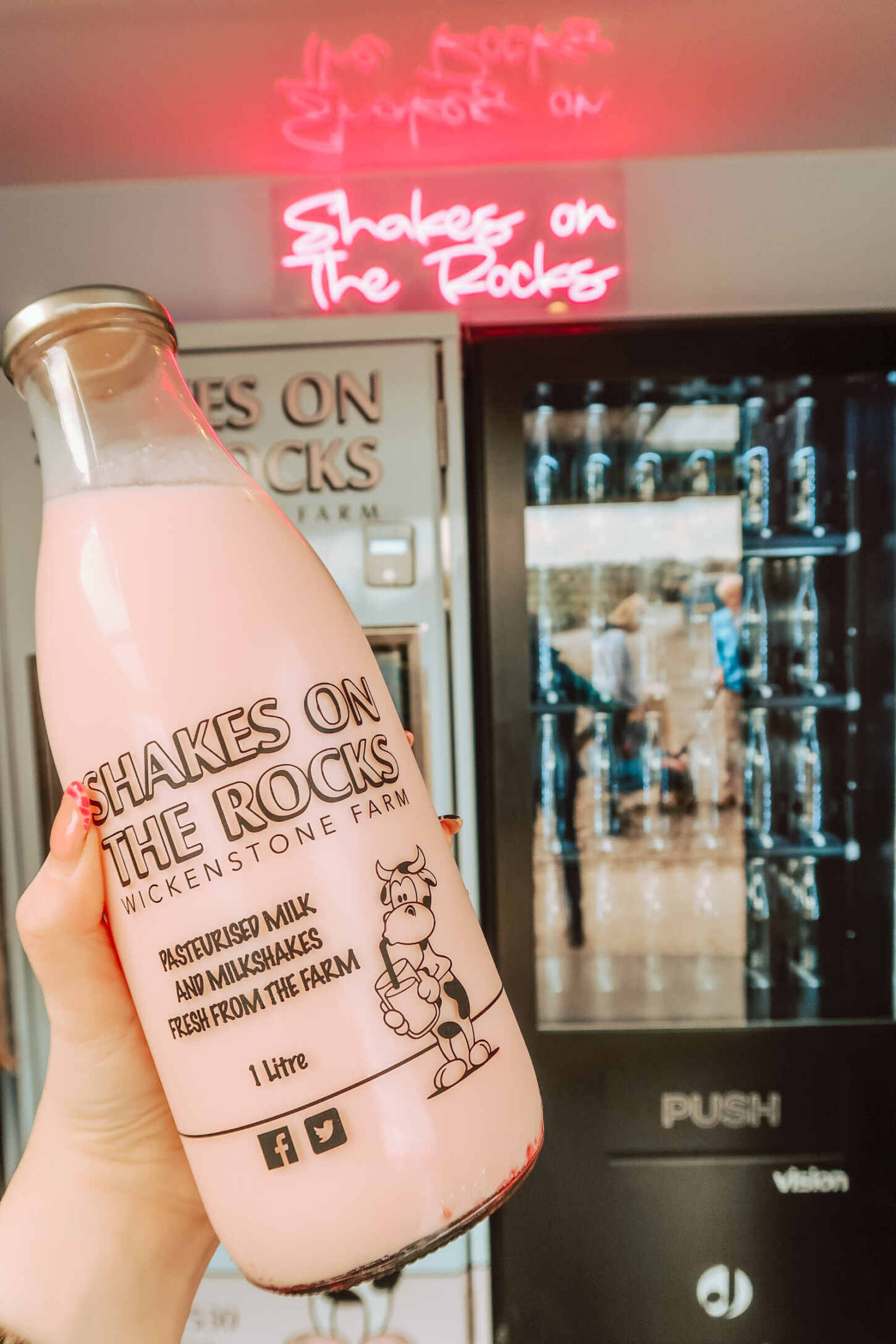 Biddulph Grange Country Park – Originally part of the larger Biddulph Grange Estate, Biddulph Grange Country Park is a 73 acre site that offers you the chance to explore a historic landscape as laid out by its Victorian and early 20th century creators. Biddulph Grange has been Grade 1 listed since 1984, and the Country Park forms part of that listing. The main pool is an outstanding feature at the centre of the site with a fully restored 1904 stone boat house, and Grade II listed ornamental bridge on the Himalayan walk in the park. There are fishing permits for the central lake, which is also perfect for a circular walk through the spring wood and open meadows.
The park includes 450 metres of the Obelisk Walk up a a steeply-rising linear walkway that forms an optical illusion of a stone obelisk against a dark sky when viewed from the gates at the end of Wellingtonia Avenue in the Biddulph Grange gardens. There is a cave at the end of the walkway that appears at the top of the obelisk, too. Another fun fact is that the 100 year old hydroelectric scheme was reinstated at the visitor centre in the turn of the millenium, providing sustainable power for local use. Biddulph Grange Country Park can be used as a starting point for the following self guided walks, with a cafe for a coffee and cake, with loos open from 7am to dusk. Parking is ample, and free, and the park is a popular haunt for dog walkers.
Knypersley Reservoir – Knypersley Reservoir sits in Greenway Bank Country Park, just south-east of Biddulph. Knypersley Reservoir was built in 1827 to supply Caldon Canal, but the woodland is ancient. There is a small, free car park where you can usually get a space, but on a sunny Saturday, you may be better parking on the roadside which overlooks the water. There are lots of geese, ducks and the odd swan you can feed lakeside by the car park.
Knypersley Reservoir is popular with dog walkers, fishermen and the general public due to its stunning historical features. The circular waterside walk is around two miles long, but there are lots of paths to explore. The country park spans 114 acres, filled with woodland and secret waterfalls. Children will love discovering the 'castle' – a three-storey gothic tower built in 1828 by John Bateman as a gamekeepers house and watch tower – and the waterfall, which is signposted. The top of the waterfall is on the level of the footpath, and you can splash about in the calm water at the top in a pair of wellies.
Mow Cop Castle – Mow Cop Folly – also known locally as Mow Cop Castle – is owned by the National Trust, and makes up part of the Alderley Edge and Cheshire Countryside, offering breathtaking 360 degree views across Staffordshire and Cheshire. It's a relatively steep climb up to the folly if you're walking, but it is clearly labelled with a National Trust sign from the road, so is easy to spot. Alternatively, there is a free car park.
Mow Cop Folly was originally built as a summerhouse in 1754, by Randle Wilbraham, who was local Lord of the Manor at Rode Hall. Made of hard sandstone grit, it sits at 355m above sea level, with the highest point being the mock tower. The iconic building is a major local landmark of regional importance. It was deliberately designed to look ruined, to create a romantic view – and the family also entertained at the site. Om a clear day, you'll be able to see ships on the Manchester Ship Canal, as well as Jodrell Bank and Little Moreton Hall. The views are absolutely incredible, so there's no wonder you'll often find people pitched up for a picnic when the weather is nice.
Additionally, there's a walking trail you can follow from the folly, which takes between 20 and 40 minutes, covering around a mile. The access is described as 'challenging' as it can be quite rocky underfoot. The walk is described on the National Trust website, and takes you around the castle, then to go and see the Old Man o'Mow, which is an interesting rock formation that looks like an old gentleman. You can also walk to Mow Cop Methodist Church if you're looking for a longer stroll.
Read more: Cocktails, kebabs and pick 'n' mix plates at Bloom, Newcastle
Read more: Marvellous: celebrating the incredible life of Neil Baldwin at the New Vic Theatre
Twilight Market – Biddulph has always held a market on the first Friday of every month, but was usually held during the daytime when many people were at work. While the town was unable to change the day of the market due to Congleton's market being held on a Saturday, they took the decision to switch to an evening artisan market, instead. The Twilight Market is held in and around the Town Hall from 3.30pm to 7.30pm, and though there's no August market, there will be one on Friday, September 2, just before the kids go back to school. There's music, a bar and plenty of opportunities to shop and relax while supporting local traders and community groups. A list of traders will be revealed ahead of the market here.
Things to do in and around Leek
Sunday Supplement – In collaboration with Totally Locally, the Leek Sunday Supplement market is held on the first Sunday of every month, so will see markets on August 7 and September 4 in the holidays. The award winning market is extremely popular, with up to 80 stalls featuring handmade artisan products and local food. Many of Leek's independent shops, cafes and pubs open for the day adding a lovely lively vibe to the market. High Street car park is free on Sundays, and there are plenty of gifts, treats and bakes priced below £5, so you don't need to spend a lot to enjoy yourself.
Doctor Plot's also host their Lesser Known Leek activities, each with their own mini theme from Leek's history and heritage. There will be a Cardboard weapon foundry workshop at Sparrow Park to make your own cardboard Dirk or Targe, suitable for all ages from 11.30am. There will be updates nearer to the market dates here.
Tittesworth Water – On the edge of the Peak District National Park, near Leek, you'll find Tittesworth Water – a reservoir is owned by Severn Trent which makes for a fun day out for all the family. The scenic drive to the stunning Staffordshire location is almost as tranquil as Tittesworth itself, with views of the Moorlands for miles. Parking is £3 for up to two hours, or £5 for all day, and is open 7am – 9pm April to September – there are some cash only machines, but the odd one where you can pay on card.
The reservoir was built in 1858 and supplies homes and businesses in the Staffordshire Moorlands and Stoke-on-Trent. It pumps on average 28 million litres of water a day and has the capacity to provide up to 45 million litres a day. The wildlife-rich habitat has a number of trails to follow, including 1k, 2.75k, 4.5k and 7.5k, and can be found here.
The Churnet trail is my favourite, through lush woodland, wild rhubarb and cow parsley, with a small stream that kids and dogs can take a supervised dip in to cool off. This trail also sees two boardwalk bridges and a meadow of buttercups overlooking the reservoir. There are plenty of places to take a break on the trails, and a picnic spot near the visitor centre, and a stall to get ice cream, too.
Read more: Clubhouse Stoke crazy mini golf and 80s arcade games
Read more: Duck Goose – say ayup to the laidback luxury bistro in Leek
Rudyard Lake – Rudyard Lake provides some of the most dramatic scenery to be found in the Staffordshire Moorlands and over 500,000 visitors come to the shores each year. The Lake covers some 168 acres and is over 2.5 miles long, prime for a walk or taking part in some water-based activities. The Lake was built as a reservoir in 1797. and still supplies the canal system for which it was designed, remaining an active working reservoir. Interestingly the Lake is the place where Jungle Book writer Rudyard Kipling's parents first met, where Captain Webb, the first channel swimmer, came to demonstrate his skills and where The African Blondin – Carlos Trower – appeared several times amazing the crowds 30m above the Lake on a tightrope.
On Saturdays and Sundays boat trips run every hour from 1pm to 4pm, weather permitting. You do not need to buy tickets in advance, and instead just ask at the Ranger's office or look out for the sign on the pontoon steps which will have details about the next trip. Adult tickets cost £6 each while children's cost £3, working out at £4.50 each on average. Following the retirement of the lake's previous boat, Honey, the new Trip boat finally arrived in 2021. The Frolic-31 Edwardian styled counter stern launch was made by Landamores of Norwich and is helping keep a 150-year-old tradition alive at Rudyard.
Leek and Rudyard Railway – Located at Rudyard Station in the North Staffordshire Peak District, Leek and Rudyard Railways offers a picturesque 45 minute trip around Rudyard Lake. The railway is 10.25 inch gauge which is equivalent to half size Narrow Gauge, and runs every day in the summer holidays no matter the weather, due to covered coaches. Tickets are purchased on the day with the Ticket Office opening 15 minutes before departure. Trains will run hourly from 11pm to 4pm on most days, but during busy periods trains will depart as soon as full to meet demand.
The railway has a ticket office located on Platform 1 at Rudyard Station, but you can also board the train at The Dam and Hunthouse Wood and buy tickets from the guard – these tickets are cash only due to poor mobile reception. The 45 minute return journey costs £5 for adults and £3 for children. There are toilets available on Platform 2 for train and cafe customers. Learn more about the railway and departure times here.
Things to do near Stafford and Cannock
Gentleshaw Wildlife Park – This Eccleshall-based centre has been running since the early 1990s, founded by the late Rob Smith, who rescued birds on prey and various other animals. Opening to the public in 1993, Gentleshaw started as a home for just a few unwanted animals and birds, but the centre soon began to take in more and more rescued animals. It's now home to more than 150 mammals, birds, reptiles and insects, many of which are rescues or rehomes. There is also a small bird of prey hospital on site where the team of volunteers rehabilitate wild, injured birds of prey, though their patients are not on view.
The sanctuary is open every day in the holidays from 11am to 3.30pm, closing at 4pm. Admission to the wildlife centre is £5.00 per adult and £4.00 for children with under threes going free. An activity pack for children costing £1.00 is also available, which they can complete this whilst they are visiting the centre. There is a tearoom, miniature train, garden centre and playground and mini golf, so you can spend a nice afternoon here, though some activities may come at an extra charge.
The birds are flown, weather permitting, at 2pm on weekends and school holidays from February to October, but if you particularly want to see the birds flying, please call the sanctuary first as times and availability may vary.
Read more: Peak Wildlife Park – up close animal encounters with penguins, lemurs and wallabies
Read more: Qarma Tandoori – where to go for a curry in Leek
Amerton Farm – Amerton Farm, at Stowe by Chartley, Stafford, has plenty to see and do in lovely surroundings. The farm animals include cows, pigs, horses and ponies, sheep, alpacas, chickens, ducks, donkeys and reindeer and are all housed in a purpose built building and paddocks behind Billy's Farm Barn. The outfoor only price is £4.99 for children, £3.99 for under twos and free for children under six months old. Accompanying adults are priced at £4.99 and the car park is free. This fee includes the sand pit and air bouncers, Billy's animal barn and paddocks, tractor and trailer ride and a wristband where you cen leave and eturn during the same day as many times as you wish.
If your child loves climbing and exploring then Billy's Farm Barn is the place for them. The bespoke wooden play area, themed on the local village of Stowe by Chartley is great for any child who is a little adventurer. Prices are slightly higher at £7.99 for children, £3.99 for under twos, free for six months and under and £4.99 for adults. If you are purchasing an all-day ticket and you can arrive at any time between 9.30am and 4.00pm, and the price includes both the indoor and outdoor activities.
They have a range of activities happening throughout the year, such as lamb bottle feeding, chick hatching, calf bottle feeding, meet the rabbits and more – you can feed the animals with carrots too. The Farm Shop offers a range of jams, preserves and pickles, but they also have locally produced wine and their own Amerton Farm beer, as well as Amerton Farm ice cream. Find out more about the farm here.
Walking Street Market – Stafford Walking Street is in the Market Square and brings the whole town together with late night shopping, getting the pubs and restaurants all involved. There will be an event on Thursday, August 11, from 4pm to 9pm, with live bands on stage and Stafford FM Roadshow hosting. The market sees street food, mobile bars, market traders, retail stalls, charity and community fundraisers get together for an event the whole community can enjoy – young or old.
Visitors who buy street food at the market are able to take it into Slater's and Ye Olde Rose and Crown so long as they buy a drink at the bar. Market Vaults host an Open Mic Night, while Casa has an 'official after party'. Other performers that can be seen on the evening include The Alternative Tale, The Dandy Lions, Balliamo Belly Dancers and The Loveless. Disabled toilets are available for the public to use at No 3 during the event. More details will be released via the Stafford Walking Street Market Facebook page.
Read more: Dining at the new Hilton Garden Inn Hotel in Hanley, Stoke-on-Trent
Read more: Alton Towers Gardens – a perfect autumn walk in Staffordshire
Stafford Castle – On August 28, Stafford Castle are hosting a shield workshop where kids can create their own shield to take home. Parents will need to be on hand but all materials are provided, costing £3 per child. There will be three separate sessions at 10am, 12pm and 2pm, each lasting an hour and a half. Families can book their place by calling the Ancient High House on 01785 619131.
The castle was first built by William the Conqueror and has dominated the Stafford skyline for over 900 years. The site itself extends to over 26 acres and consists of Keep, which is open to the public during visitor centre opening hours, inner bailey, outer bailey, woodland, herb garden, visitor centre and car park. There is no charge for the car park, but there is a donation box on site.
Celebrate Cannock Beach Party – Fancy a beach party? On August 28, Cannock town centre is hosting a beach themed party in the streets. Visitors are encouraged to arrive dressed for the seaside ready to enjoy delicious street food, bars and great entertainment with Baliamo Belly dancers, Pretenders tribute band Just Pretending and Funky Rhythmix band. The act, on from around 5pm, will be playing greatest hits from the likes of Earth Wind & Fire, Eurythmics, Phil Collins, Stevie Wonder, Luther Vandross, Chic, Sister Sledge, Dua Lipa and more. Learn more about this event here.
The Beach Hut – The Beach Hut is a fun indoor play centre and children's party venue packed to the rafters with entertainment for all children up to the age of 11 years. Located next do the Turf Lodge Toby Carvery in Norton Canes, Cannock, the multi-tiered soft play centre provides a fun and stimulating play environment with dedicated play areas for babies, toddlers and juniors.
Entry for babies aged 0 to 6 months costs 50p, with babies up to 11 months costing £1.50. Those aged one to 11 years cost £5.60, and spectators over 11, and adults are priced at £1.50 each. This means a family of two adults and two children would cost £14.20 in total. The Beach Hut is open 9.30an to 6pm on weekdays during the school holidays, besides the first Monday of the month when they are closed for a deep clean. Weekends see the play centre open from 10am to 5.30pm – last admission is one hour before closing. There's also a café is situated within the play centre allowing you to enjoy food and drinks whilst being able to see your children play.
Cannock Chase Forest – Cannock Chase Forest is a great value day out in the Midlands offering hours upon hours of exploring. there's a childnre's play area, orienteering trails and even a dog activity trail, meaning you'll never find yourself stuck for something to do. There are a range of woodland walks to suit all ages and abilities, and for those wanting to explore the forest on two wheels, make sure to check out the cycling trails for some of the best family and mountain biking opportunities.
There's a new Gruffalo trail too, which is free to do – or add to the fun with a specially designed activity pack for £3.50, which can be bought from the cafe, welcome point and Go Ape. Parents can download the new Gruffalo Spotter 2 app for free before you visit the Chase, then use it bring the characters from the story to life, via Augmented Reality. The paid-for activity pack, should you choose to purchase one, contains a Gruffalo mask and paws, activity leaflet, crayon and pencil, nature spotters game and instructions and some stickers. The trail starts at Birches Valley Forest Centre, to the left of the Go Ape hut. You can find more activities at Cannock Chase here.
Read more: What to order from Ego at The Hollybush in Stockton Brook
Read more: Scrumbles: The Leek cake shop Stacey Solomon named in Tap to Tidy
Things to do near Lichfield
National Memorial Arboretum – This 150-acre visitor site on the edge of the National Forest welcomes 300,000 visitors each year – including royalty for events like Armistice Day, Remembrance Sunday, a summer proms and Armed Forces Day. The UK registered charity is part of the Royal British Legion, and offers free entry from 10am to 5pm year-round. Visitors can enjoy discovering almost 400 memorials nestled amongst some 25,000 trees, experience riverside walks and participate in a wide variety of daily activities: guided walks, land train tours, memorial talks, exhibitions and buggy tours.
Althought the visit is free, you do have to book a slot online, and there are currently spots available up until September 4. The Arboretum say 'don't be scared to take a closer look at the memorials you find' – you can get really up close and personal to discover their smallest details. Visitors can wander and explore at leisure, or purchase a guide book for a small fee at the welcome desk, which includes further stories and a map.
Furthermore, there's a sticker trail that costs £2.50, and once completed, can be returned to the restaurant for a sweet treat.- Inspired by the Queen's Baton Relay, currently taking place across all the countries of the Commonwealth ahead of the opening of the Birmingham 2022 Commonwealth Games, the Queen's Baton Relay sticker trail invites families to find eight batons linked to memorials at the Arboretum. At each of the batons families will discover a fact about a Commonwealth community that has helped build the world today.
Dogs are allowed at the Arboretum and they're able to sit outside the coffee shop, with a limited number of indoor tables made available for pet owners. Younger visitors may enjoy the Children's Sensory Play Garden, which can be found near to the Remembrance Centre. A second children's play area, with a picnic area, is near to the Children's Wood. Visitors are welcome to bring a picnic, but it can't be eaten at the restaurant.
Read more: Afternoon Tea at The Quarter, Hanley
Read more: North Kitchen and Bar, Hanley – the scandi Cultural Quarter eatery I love
Lichfield Cathedral – Lichfield Cathedral is free to enter from 10am to 5pm Monday to Saturday, and 12.30pm to 4.30pm on Sundays – but over the holidays, they also have some fabulous events on. Families can visit a beach 100 miles from the sea every day between Friday, July 22 and Wednesday, August 31 as an exciting programme of events suitable for all the family launches at the historic venue. Meanwhile on select dates, including Saturday July 23, 30 and August 6, 13 and 20, adults and children alike can have a go at scaling a wall inside the Cathedral.
From 10am to 4pm (last entry 3.45pm) you can try your hand at scaling an 8m high climbing wall at the Cathedral and get a whole new perspective on the great west front. Tickets cost £7.50 each or £10 for one adult and one child aged 4 to 16 years, making then £5 each. Tickets are organised into 15 minute time-slots simply to help manage numbers and queues, but this is not an indication of the length of the experience. Find out more here.
Things to do across the city
Sculptures Trail – There's a huge sculpture trail of 40 instillations across the city, including Hanley, Burslem, Tunstall, Longton, Fenton, Stoke and Trentham. There's an online guide where you can spend the whole day following the trail or navigate each bite sized cluster at your leisure. It's been designed so you can explore the artworks in geographical areas or dip in and out of three distinct themes: Inspirational, Great People and Local History. For ease of this guide, we've split it between the geographical clusters.
The City Centre has the largest cluster of public artworks, 18 in total, so you can shop, have a coffee and take in some great art at your leisure. Some of the sculptures include 'Her Head' and Sir Stanley Matthews, as well as the Pithead Wheel, Tree Stories, The Spirit of Fire – also known as the Spikey Man – and Josiah Wedgwood. The guide details exactly where to find these pieces, as well as who created them and a little bit about the piece – and chances are you've walked past most of them without even batting an eyelid before. After the trail, you'll never be able to miss them again!
Read more: Afternoon Tea at Hanley Park Pavillion Cafe
Read more: Down The Rabbit Hole at Alice in Wonderland themed tea rooms
The trail continues in Stoke with a further eight sculptures to discover, with three in Fenton and Longton and one in Trentham. Trentham's only sculpture included in the trail is inside the gardens, so it's worth ticking this one off by signing up for the parkrun above – else you'd have to pay the entrance fee to find it. Tunstall is home to four sculptures on the trail, while in the Mothertown of Burslem, there are a further six artworks, such as the Angel of Victory, which is rumoured to be at the heart of Robbie Williams' song Angels. There are also sculptures of Port Vale footballer Roy Sproson, Sir Henry Doulton, and Burslem Park's The Mayfly Throne. Discover the rest of the trail online here.
Story Quest – Story Quesy is a free initiative funded by Sport England which sees stories written for primary school aged children dotted around the city. Story Quest is a story trail that guides families around local outdoor spaces while they complete physical and written challenges, meet local celebrities, discover fascinating facts and travel through time to uncover local history. There are twelve Story Quests to complete in Stoke-on-Trent – you do have to sign up first, but this has no cost. Some of the locations include some of the spots already listed in this guide, including Middleport Pottery, Ford Green Hall and Central Forest Park, as well as Burslem and Tunsall Park and Westpork Lake. Discover all the locations and sign up to the challenge here.
Things to do in Cheshire
Alsager Fire Station Open Day – If you've ever wondered what goes on behind the doors of a fire station, Alsager Fire Station are hosting an open day on Saturday, August 13 from 11am to 2pm. Families will be able to have a look at a variety of equipment and see what goes on behind the scenes as a firefighter.
Glebe Farm – Glebe Farm, in Astbury, Congleton, is a small farm with its own little shopping village, farm shop and menagerie of animals. Open seven days a week, the farm is free to visit and also allows well behaved dogs on leads. Parking is also free. At the Glebe Farm shop, you can purchase animal feed and carrots for the residents, which include goats, ponies, sheep and donkeys, as well as alpacas, chickens, ducks and geese. There is also a small indoor enclosure which is home to a 37-year-old Shetland pony, and two pigs who were surrendered after being bought as micro pigs, but got pretty big!.
You don't have to spend any money if you don't want to – thanks to a fairly new free play area – but they do have ice cream for £2-3 a pop, and often have activities like mini go-karts going on too.
Daneside Theatre – Located on Park Road, Congleton, Daneside Theatre show films whenever there is space in their calendar to do so, and on July 24, families can go and watch one of the latest films for a snip of the price. Top Gun Maverick, which is a 12A rated film, will be showing at the theatre from 7pm in the 300-seat auditorium. Tickets for the Sunday evening showing cost £5 each and are available at Congleton Information Centre by calling 01260 270350 and pressing option 1, or via Ticketsource.