You can almost always judge a restaurant's menu on their burger. If their signature burger isn't up to scratch, it's highly likely that their other dishes will be sub-par, but if it's incredible then you're in for a right treat. Jake and I could potentially consider ourselves buger connoisseurs at this point, seeing as at least one of us orders a burger whenever we go out to eat.
As a result, we've built up quite a bank of banging burgers you can bag in and around Stoke-on-Trent and Staffordshire – so we thought we'd share them with you this National Burger Day (August 24).
According to research by healthy recipe box service Green Chef, there's a few do's and don't to a good pub, or restaurant burger. First up – the perfect patty. Beef reigns supreme as the most popular option, with just under half (47%) saying that's their first choice, followed by chicken (40%) and a veggie patty (24%).
Younger generations, in particular Gen-Z – aged 18-24 – were revealed to be the most likely group to choose a non-meat burger option, with over a third (33%) choosing plant-based or vegetarian alternatives such as a veggie patty, mushroom or halloumi.
It would appear a large proportion of Brits want to steer clear of any additions they might find a little too spicy with 57% avoiding any chilli, spice or chilli jam on their burgers while others are giving blue cheese (27%), egg (24%) and gherkins (20%) a firm miss – lord knows why, they're amazing.
So if you're looking for a burger fix in Staffordshire this National Burger Day, here's some Jake and I can vouch for, personally. Though please note, these exact burgers may no longer be on the menu, but each venue does have a burger – or similar – available.
Blockhouse at The Sheet Anchor, Whitmore
The Blockhouse at The Sheet Anchor is nestled between the quaint and quiet villages of Whitmore and Baldwin's Gate, and despite it's more remote location, it's a popular haunt. The venue is owned by the growing Parogon Group, who also own The Swan with Two Necks, The Wayfarer, The Orange Tree and Willow at Trentham to name a few.
Blockhouse, like the groups other sites, is styled in its own way, highlighting some of the country pubs historical beams and features and combining them with a modern mix of industrial accents, from knives embedded in walls to the battered tin-can candle holders on each table. It brings urban and rural together in a way only the Parogon team can make you feel both at home and cosy, but cool and polished.
Blockhouse have not one, but FOUR burgers on their menu, including the Blockhouse burger, Black and blue burger, Full Block burger, and Nashville chicken burger. Prices range from £13.95 to £16.95, depending on the amount of toppings. The Full Block was our top pick, served with a steak patty, fried chicken, pulled pork, maple bacon, jalapenos and chilli cheese sauce for £16.95. When we ordered, I held the jalapenos and swapped out the chilli cheese sauce for blue cheese sauce, upgrading my fries to chilli brisket fries.
If you're looking for a tall and meaty stack, this one from Blockhouse is sure to give you the meat sweats.
Read more: How far will £100 go at Blockhouse at The Sheet Anchor?
Bloom, Newcastle
Bloom opened their flagship Hanley restaurant in the city centre's Cultural Quarter back in 2019, and after a tough pandemic, announced the opening of their second site in May 2021. Co-owners Ian Orton and Jack Hardy have done an amazing job at branding the venues, which are now very well known for their Instagrammable decor, bottomless brunch and pornstar martini trees.
The Ironmarket venue, in Newcastle, underwent a £100,000 transformation and features subtle differences from it's big sister bar in Hanley, with a different vibe and tweaks to the menu – but still the same spot on service and delicious drinks.
Bloom offer a meaty and a vegan burger, which is slightly cheaper. We opted for the carnivorous option: The Showstopper, priced at £14.95. When we ordered, the double burger was made up of a beef patty, chicken breast, streaky bacon, melted cheese and Jack Daniels BBQ sauce, but now it appears to be a luxury wagyu beef patty topped with Monteray Jack cheese, crispy onions and spicy chipotle jam, which sounds equally as indulgent.
Read more: Cocktails, kebabs and pick 'n' mix plates at Bloom, Newcastle
Duck Goose, Leek
On the corner of St Edward Street and High Street, emerald green paint and cosy candlelit interiors offer an inviting and warm atmosphere at Leek's Duck Goose. Located in the former Coffee Corner Cafe, the husband and wife team behind Gallagher's Deli have given this historic building a new lease of life, retaining beautiful black and white Staffordshire tiles in the bistro, and black metal beams throughout the lower floors, adding green panelling and hints of soft pink.
Jessica and Chris Gallagher have a combined 30 years' experience in the hospitality industry, and it shows in the quality of their food, which is always spot on.
Their 'Duck Goose' Burger comes in at £12.95 and features not one, but two 4oz Dunwood Farm beef brisket patties, sourced from a local farm just minutes up the road. The burgers are cooked over charcoal and topped with bacon jam, cheddar cheese, an onion ring, pickles, lettuce and tomato, served in a brioche bun with skin-on fries.
The bacon jam totally makes this burger – and we love that the meat is locally reared, too!
Read more: Duck Goose – say ayup to the laidback luxury bistro in Leek
The Slamwich Club, Hanley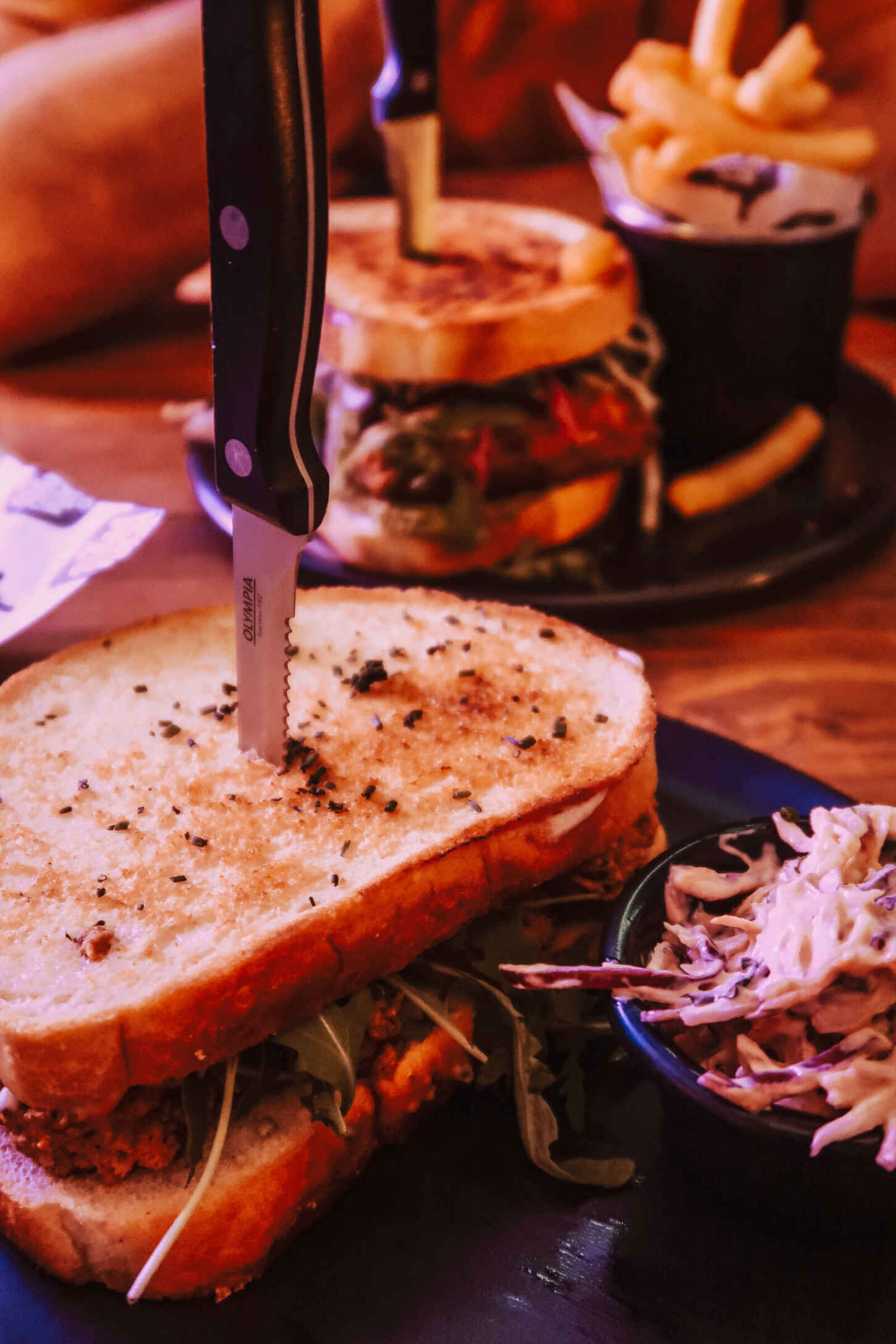 The Slamwich Club was recently named as one of the top 40 burger joints in the country – and despite not actually selling burgers, it's easy to see why judges were quick to overlook that small detail and add them to the list. The Piccadilly venue has thrived ever since it opened in May 2018, totally transforming a unit that had stood empty for a decade. And owners Stephanie Franklin and Nicole Williamson continue to develop the venue and bring more and more people to the bustling Cultural Quarter.
Stag do organiser StagWeb said: "These are technically sandwiches, not burgers. But we're not going to quibble over technicalities. Served in a beefy white bloomer that's been stuffed full of top ingredients and grilled to perfection, who cares if it isn't a purist's burger?! It's tasty AF, and that's all that matters to us."
This may be a shoehorned entry, but stick with me, because they're deserved of the spot. Whilst Slamwiches have a sandwich exterior, it's what Steph and Nic put IN them that makes them much more burger-like, and after all, isn't a burger just meat stuffed in bread anyway?
The slams are packed full in both height and width, with bold flavours that have been carefully put together, complete with a punny name. I ordered a Spice Up Ya Life, which included buttermilk chicken, stilton, chilli sauce, homeslaw, rocket and coriander & lime sriacha mayo – though I did swap out the sauce for garlic aioli.
These toasted sandwich-burger hybrids are an absolute must-try if you're in the city centre – I can also highly recommend the Porky Pig. Don't come at me for calling a Slamwich a burger until you've tried one.
Read more: The Slamwich Club – Stokie cocktails, slam dunks and a secret Backyard bar
Restaurant Six, Hanley
Hanley's Hilton Garden Inn Hotel stands proudly in the city centre's Smithfield development, which is fast becoming a vibrant hub in an already bustling Cultural Quarter.The £20 million development opened in October 2020 – delayed by a few months as a result of the pandemic – and became the first Hilton-branded hotel in the city.
The restaurant and bar – known as Restaurant Six – is open to the public, making it perfect for cocktails and catch ups with friends, or date night with your partner.
Their lunch menu offers three burger options, including the classic Six burger, a haddock and leek burger, or the vegan Six burger, priced between £16 and £18. Meanwhile, the evening menu adds a free range chicken burger, with halloumi, Sriracha mayo and fries.
The Six burger is a gourmet hand pressed British beef burger, which – when I last ordered it – was served on a brioche bun, with fried onions, tomato relish, tomato and lettuce with fries on the side. Now, it features cheese, a hash brown, onion rings, salad and fries, which is pretty fun. The burger is priced at £18, which is slightly pricier than your typical pub grub burger – but the fries were chunky and well-seasoned, whilst the burger was cooked beautifully and was really tasty, too.
Read more: Spending 24 hours at the Hilton Garden Inn, Hanley
North, Hanley
You'll find North Kitchen and Bar in Hanley's Cultural Quarter, nestled between Bloom and Bottlecraft. The Nordic inspired venue is one of my go-to spots to grab a iced London Fog or a strawberry milkshake on a hot day. The scandi venue offers stripped back wooden and industrial décor for a hygge feeling in the afternoons, but also lends itself to a bustling nightlife alongside an extensive cocktail menu.
The menu is switched up pretty frequently here, but the last time we ordered a buger here, it was chicken and bacon, made with a southern fried chicken breast, crispy bacon, blue cheese dressing and salad on a brioche bun, served with fries. We also ordered mozzarella dippers and mac and cheese bites to share, for all the cheesy goodness to go with.
North's latest menu features twelve, yes TWELVE burgers, from the classic North burger to the double smash, alongside triple smash, bacon double cheese and njuda buttermilk chicken. For the meat-free among us, there's some decent choice, too, including pesto halloumi, beyond classic, beyond chilli cheese and classic chick'n.
Prices range from £12.50 to £15 and I promise you won't be disappointed with the food, service or atmosphere at North.
Read more: North Kitchen and Bar, Hanley – the scandi Cultural Quarter eatery I love
Cappello Lounge, Newcastle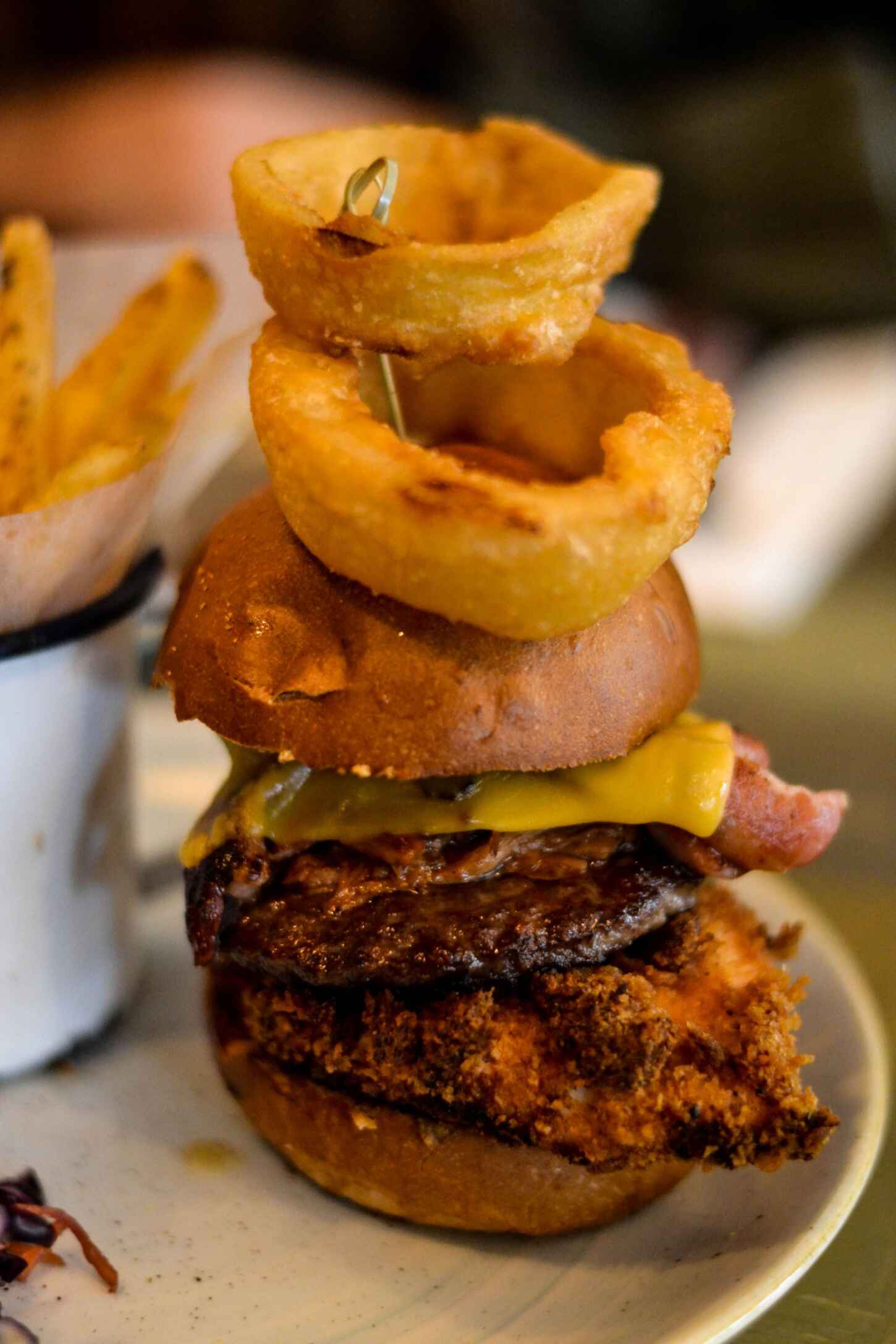 Vintage tasseled lampshades hang from the ceilings and an assortment of antique photographs and paintings hang in gilded frames on walls wrapped in delightfully tacky 70's wallpaper. Welcome to Cappello Lounge. Situated at the heart of Newcastle-under-Lyme's Ironmarket, Cappello's is the perfect place for post-work drinks, Saturday brunch or that long overdue catch up with mates.
No longer on the menu, my last Cappello burger was the Superhero Burger, consisting of a 3oz beef patty stacked on a buttermilk fried chicken burger, topped with 8hr slow-cooked pulled pork, bacon, cheese, onion rings and some garnish. It came served with house slaw and fries, too. The closest I could find on the lounge's current menu is the Dirty Brisket Burger offering a 6oz beef patty with pulled beef brisket, smoked streaky bacon, gravy mayo, American cheese, gherkin, fried red onion and chipotle chilli jam.
Cappello's currently have eight burgers on the menu, all served with house slaw and your choice of fries or salad. Prices are between £9.50 and £13.50, making it a pretty affordable spot too. The Lounge and halloumi burgers both come in under a tenner, which is the ultimate cheap eats, while Katsu and the Ultimate chicken burgers are slightly more.
If you do pick Cappello as your next burger joint, their sherbert lemonade is incredible – you should order that, too.