We may be around 70 per cent of the way through the year, but there are still plenty of music and theatre events across Staffordshire to get your dancing shoes on for. For the remainder of the year, my calendar is jam packed with musicals, comedy nights, concerts and plays – and there's still a very good chance I'll book more in between now and Christmas.
I've already got dates in the diary for a number of gigs and shows for 2023 too, including The Subways at The Sugarmill in January, Billy Ocean at the Regent Theatre in March, and countless theatre trips already pencilled in. But for now, I wanted to share some of the productions and gigs I'm headed to in Staffordshire this autumn and winter, including not one, but two pantomime shows.
Over the next four months, I plan on seeing 13 different shows in five different Staffordshire venues. There's a really varied and diverse mix of shows bringing a healthy dose of culture and arts to the city, and there are still tickets left for many of the shows, too.
Here are all the shows I'm headed to see, and where you can pick up tickets for yourself, too.
September
Friday 23 – Russell Kane – Victoria Hall
This one's a little last minute, but I'm off to see Russell Kane at the Victoria Hall tonight. After catching the comic at Tramlines Festival, Jake and I really wanted to see him do a stand up show. Originally, The Subways gig fell on this date, which has been moved to next year now, which meant we were able to get a pair of tickets for £26.65 each.
Russell's show – The Essex Variant – takes a look at the last two years, and is said to be 'gut-punching funny'. Hailed as the The Guardian's Number 1 comedy performance to come out of 2020 this high-octane show brings nuclear-energy belly laughs, it's set to be an energetic show that will leave you in stitches,
Tuesday 27 – Blood Brothers – The Regent Theatre
I've been informed to get the tissues ready for Blood Brothers – a show I'm yet to have seen at The Regent Theatre. It's running for five nights at the city centre venue, with tickets available for as little as £13
Written by Willy Russell, Blood Brothers tells the captivating and moving tale of twins who, separated at birth, grow up on opposite sides of the tracks, only to meet again with 'fateful consequences'. The critically acclaimed musical opened in 1988, and has since been nomintated for seven Tony Awards.
Wednesday 28 – Tundra – The Underground
Tundra, from Bury St Edmunds, are headlining The Underground next week with a raucous live show to boot. The trio released their debut EP in 2018 – called Life's A Beach, followed by Pretty Bird and most recently The Sunshine Cafe.
A number of cracking local acts are supporting, too, including Honey, Silver State and The Dregs. Tickets cost just £7 each, which is less than the price of a London pint or a return to Manchester. Foo four live acts in one night, that's mega value for money and a fantastic way to discover new, independent music in one of Stoke-on-Trent's coolest grassroots venues.
Fancy going? Head over to See Tickets now. If you buy a Red Stripe on the night, you'll STILL have change from a tenner.
October
Tuesday 4 – An Inspector Calls – The Regent Theatre
Stephen Daldry's multi award-winning National Theatre production of JB Priestley's classic thriller returns to the stage and will be at The Regent Theatre between October 4 and October 8. As someone who studied this book at high school, I knew I finally needed to see it translated on stage.
The show has won 19 major awards and hailed as the theatrical event of its generation, having thrilled more than 5 million theatregoers worldwide. For those wo haven't heard of it, the story begins when Inspector Goole arrives unexpectedly at the wealthy Birling family home. Their dinner party is shattered by an investigations into the death of a young woman.
The description continues: "His startling revelations shake the very foundations of their lives and challenge us all to examine our consciences. More relevant now than ever, this is a must-see for a whole new generation."
It's a must-watch for anyone studying, planning to or previously studied An Inspector Calls in English, but equally a fantastic night out for anyone who loves a crime mystery. Buy your tickets from £13 here.
Tuesday 11 – Family Album – New Vic
Newcastle-under-Lyme's New Vic Theatre will see Alan Ayckbourn's Family Album take to the stage from October 11 to October 22. I've seen two other productions from Alan – The Girl Next Door and Absurd Person Singular, both of which were absolutely phenomenal. The playwrite has penned more than 85 shows over the years, so is it any wonder he has such a knack for it?
The new play – Alan's 87th – chronicles the trials, tribulations and temptations of three generations of one family across 70 years in the same home. First, RAF veteran John and housewife Peggy proudly move into the first home they can really call their own in 1952. Forty years later, their daughter, Sandra, negotiates the challenges of a 10-year-old's birthday party without her AWOL husband. Later, in 2022, grandaughter Alison, finally escapes the house she has somewhat unwillingly inherited while all of life's skeletons creep out of the cupboard.
Tickets cost between £18.50 and £27.50, and are available on the New Vic website.
Tuesday 25 – Saturday Night Fever – The Regent Theatre
A homage to the 1977 John Travolta classic with 'more drama, more music, and hot new choreography', Saturday Night Fever is sure to have you dancing all the way home.
The musical gives audiences the chance to experience the best-selling Bee Gees soundtrack live on stage, including tracks like Stayin' Alive, How Deep Is Your Love, Night Fever, Tragedy and More Than a Woman, as well as 70s favourites Boogie Shoes, Disco Inferno and many more.
The story follows Tony Manero as he embarks on a 'reckless yet thrilling road to dancing success'. I'm very much looking forward to dancing the night away to this disco diva musical. Tickets start at £13 per person and can be bought on the ATG Tickets website.
Wednesday 26 – Shakers – New Vic
If a John Godber production is on at the New Vic, you can always count me in. Although it's opening on Tuesday 25, I'll be heading down on the 26, due to being at Saturday Night Fever on opening night.
John and Jane Thornton – a double BAFTA winning partnership – bring their writing skills to the classic play Shakers. It's not the first Godber play I've enjoyed in recent years, having Sunny Side Up and Happy Jack, but Shakers is something different entirely.
The description reads: "The high street might be struggling to get back to normal but the Shakers bar is under new management and they are determined to make it the place to be seen. Pubs are closing, Gin bars are so yesterday, and cocktails and decadence are back for the roaring 2020s, as the hospitality industry looks to a new future. Misogyny is rife, in the home, in the workplace, and on the streets. The walk home after closing feels longer than ever, the customers are getting more leering, the hours longer, but the pay hasn't changed. For waitresses Adele, Nicky and Mel, their lives juggle home, work, school and everything in between, but how long can it be maintained?"
Fizzing with wit, the revamped Shakers is an iconic play which puts women's lives front and centre, as everyone returns to going 'out out'. Tickets cost between £18.50 and £27.50, and can be purchased at the New Vic.
Friday 28 – Massaoke Halloween Special – Victoria Hall
What is Massaoke? I hear you all asking. It's basically a big night out – Bongos Bingo type night – where there's a live band, giant karaoke style words on a big screen for everyone to sing along to, dancing, confetti cannons, the lot!
This is a totally new style of event for Stoke-on-Trent and I'm super keen to go and see what it's all about. Best of all, the October edition is Halloween themed! Expect Halloween-inspired monster hits performed by theMassaoke live band, accompanied by prizes for the best dressed, a late-night DJ set, and so much more ghoulish fun.
Sound right up your street? Snap up tickets to this unforgettable Halloween party from £18.50 here.
November
Friday 4 – The Enemy – Keele SU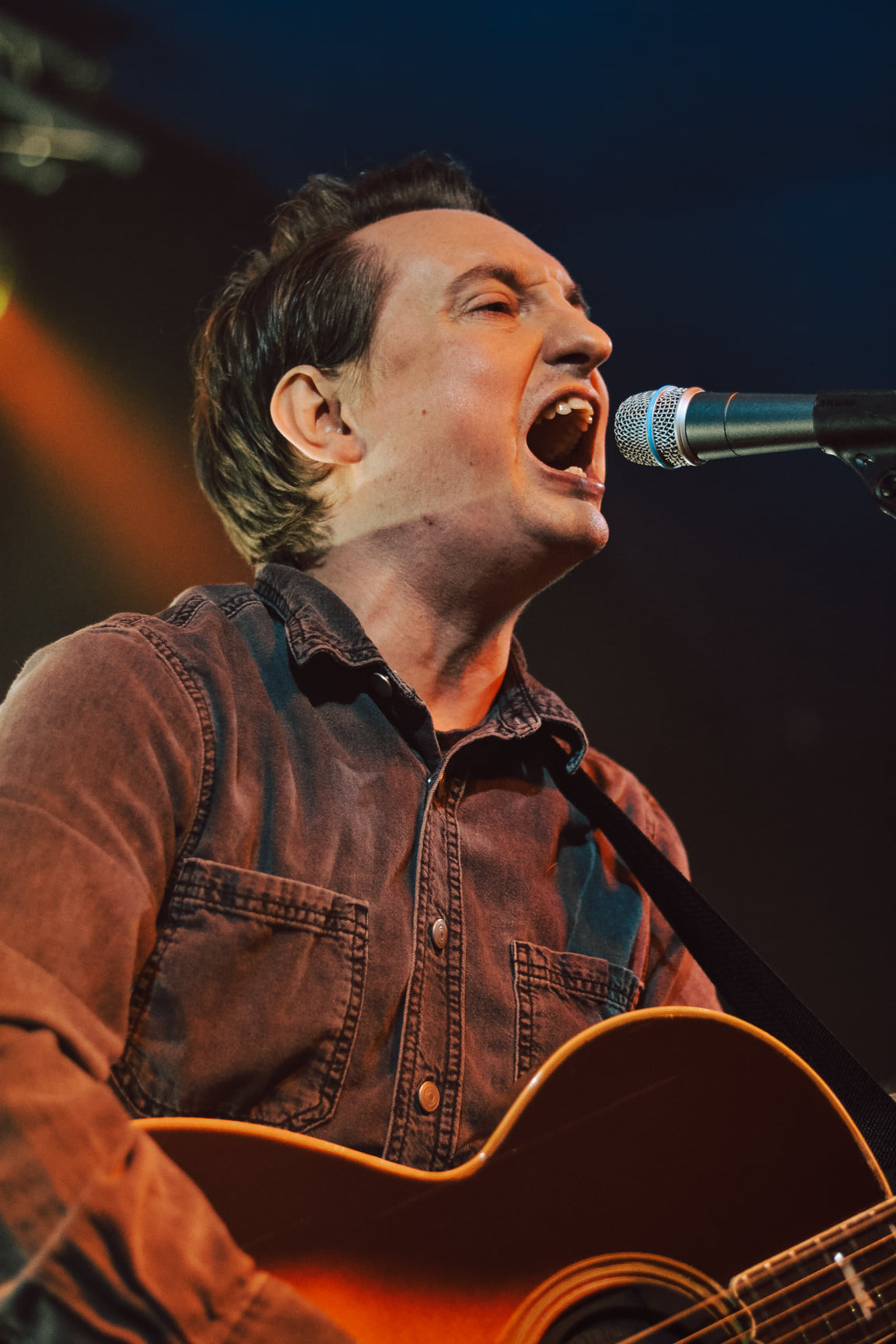 The Enemy are one of my all-time favourite bands, and they've reunited for a 2022 tour, stopping off at Keele SU this autumn. The tour features the band's original and only line-up – Tom Clarke, Andy Hopkins and Liam Watts – and is the first chance for fans to see the band in action since they played a number of sold-out farewell shows back in 2016.
Now as the 15th anniversary of their debut album, We'll Live and Die in These Towns, approaches, the band are getting back together.
The Enemy commented: "2022 marks the 15th anniversary of 'We'll Live And Die In These Towns' and six years since we all played together. Over the last decade-and-a-half we've watched fans begin to really treasure those songs and we're asked on an almost daily basis if there is any chance of the three of us getting back on stage together, so we know how much this will mean to the fans. What we weren't expecting was quite how excited we would all be to play together again. There's a lot of anticipation and excitement from the three of us to go out and play, just us, the songs and the fans. We really can't wait!"
Tickets are a humble £26 and having seen The Enemy three times and Tom separately on several occasions, too – you definitely want to be at this show.
Friday 11 – Katherine Ryan – Victoria Hall
Creator and Star of Netflix smash hit The Duchess Katherine Ryan is coming to Staffordshire making aelcome return to the stage with her brand-new live show, Missus.
The comedienne has previously been known to denounce partnership, but after 'accidentally' marrying her first love, a lot has changed for the Glitter Room star. The show description reads: "A lot has changed for everyone and we can look forward to hearing Katherine Ryan's hilarious new perspectives on life, love, and what it means to be Missus."
Tickets for this sassy stand up show are available from £30.15, and can be found on ATG Tickets.
Tuesday 15 – Six – The Regent Theatre
From the West End to Broadway, the international smash hit musical Six is really taking social media by storm at the moment. Henry XIII's wives will be taking over The Regent Theatre from Tuesday, November 15 to Sunday, November 20.
From Tudor Queens to Pop Princesses, the six wives of Henry VIII take to the mic to tell their tales, remixing five hundred years of historical heartbreak into an 80-minute celebration of 21st century girl power.
The musical was first presented by Cambridge University students at the Edinburgh Festival Fringe in 2017. It has since gone on to professional productions in the West End, on Broadway and internationally, picking up a number of awards in the process.
Saturday 26 – Alice in Wonderland – New Vic
This festive season, the New Vic is bringing the familiar tale of Alice in Wonderland to their theatre-in-the-round. Written by Lewis Carroll, and adapted by Theresa Heskins, the audience can journey with Alice as she follows the White Rabbit into a curiously enchanting new world, filled with even curioser characters.
Brought to life in the New Vic's sensational trademark style, Alice in Wonderland is set to be filled with fun, laughter and lots of magical moments, including a disappearing cat, Mad Hatter and a jam-tart loving Queen.
And adventure like no other, this is a story that will give the young, and young at heart, a joyful festive treat this year. The show launches at the theatre on Friday, November 18, and will run until January 28. Tickets are priced between £22 and £30, and are available directly from the New Vic.
December
Friday 9 – Peter Pan – Regent Theatre
With over 50,000 theatregoers attending the pantomime at the Regent Theatre each festive season, it's never too early to book for this year's show! This year, fans can join Stoke-on-Trent's King of Panto Jonathan Wilkes as he sets sail on a brand new adventure this Christmas.
The Pantomime Adventures of Peter Pan is jam packed with amazing special effects, stunning sets, beautiful costumes and barrel-loads of laughter, taking your whole family on a swashbuckling trip to Neverland like never before.
I chatted with Jonny earlier this month, and he said: "Being back on–stage last Christmas in Cinderella was a truly magical experience, and I can't wait to return to my hometown again this year for what will be my 18th year at the Regent Theatre. It's a brand–new title, which means a new show full of new jokes and routines that is sure to make it the best one yet."