It's here! December is upon us and well, if you haven't got your Christmas nail appointment booked, I'm sorry babes – you probably aren't getting one. When my nail tech Chloe opened her December diary back in October, the appointments were gone in – quite literally – the blink of an eye. It's a military operation akin to bagging gig tickets for Paramore or trying to get the Aldi heated airer, but for those of you who were speedy enough to bag an appointment, congrats – you're going to have the most gorgeous nails ready for December 25.
The next challenge is deciding what to have. Nail techs have very limited time throughout December, having worked extra hours, missed breaks and crammed appointments to make sure that everyone gets their dream nails. If you can discuss an design ahead of time, you'll have more time for actual painting during the appointment, and your artist will be able to plan their appontments so that everything runs smoothly.
My nail artist, Chloe Birks, based in Longton, Stoke-on-Trent, explained: "Having an idea in mind of what sort of design you're wanting pre appointment can save your nail tech a lot of time during the Christmas rush, this in turn means more time prepping and making sure your manicure is absolutely perfect. Most techs book out their time slots exactly so if you change your mind on a plain set and decide to go for something a little more special let your nail tech know as far in advance as possible and they can make time accordingly. Feel free to bring any inspo pics for your festive mani or let your nail tech know if you want them to think of something fancy in advance!"
To help you work out what kind of vibe you want to go for, I've rounded up some of my previous December nail art designs that range from 'festive af' to 'Christmas but not cliche'. As someone with a December birthday, I often like to have a party vibe without it being all Santa hats and pine trees. So, here are five nail art designs to show show your nail tech this December, so you'll have the perfect nails for the festive season.
Green opal and tortoise shell
These were my 2019 festive nails and I still love them so much – those who have followed me for a while will know I've a soft spot for tortoise shell nails. I paired the tortie with an opal design and leopard print nails, tying everything in with gold accents to make it feel more festive.
To get the look, ask your nail tech for coffin mix and match nails with The Gel Bottle's Jungle green, incorporating tortoise shell, opal, animal print and gold glitter.
Art deco inspired with cow print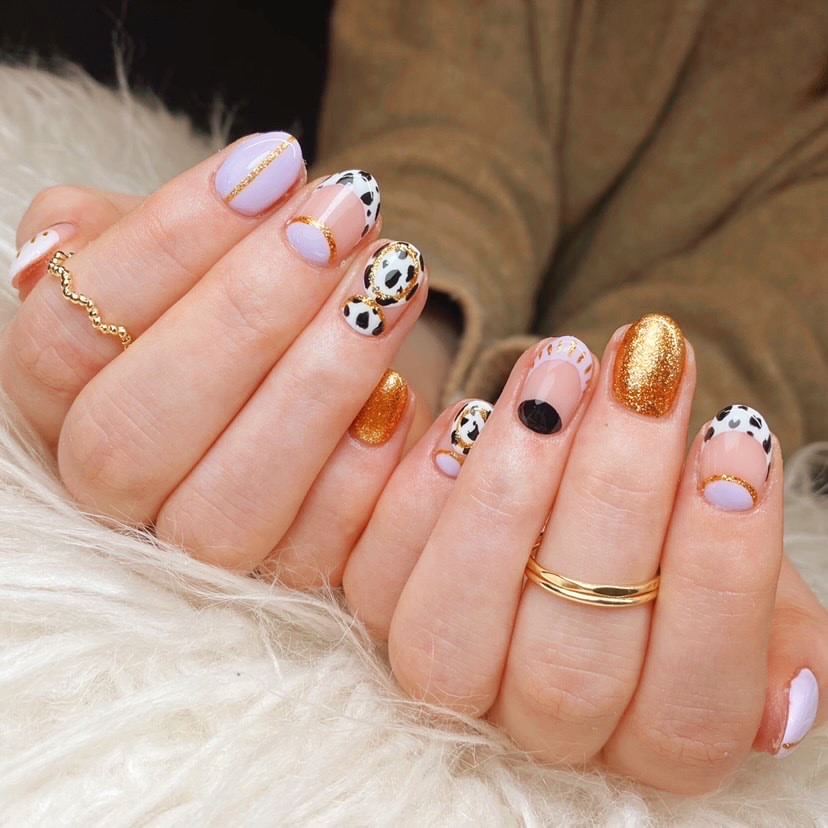 I adore this set and I'm actually thinking of going for something similar this year too. These were my 2020 Christmas nails which survived a whopping 17 weeks through lockdown until they were removed in April 2021. It's a good job I loved them, let me tell you.
This set is another mix and match design with an art deco vibe, featuring cow print, gold glitter – which coincidentally is in the shade Art Deco – with lilac accents. This was such a fun set to wear and I love the shorter nail, too.
Cable knit mix and match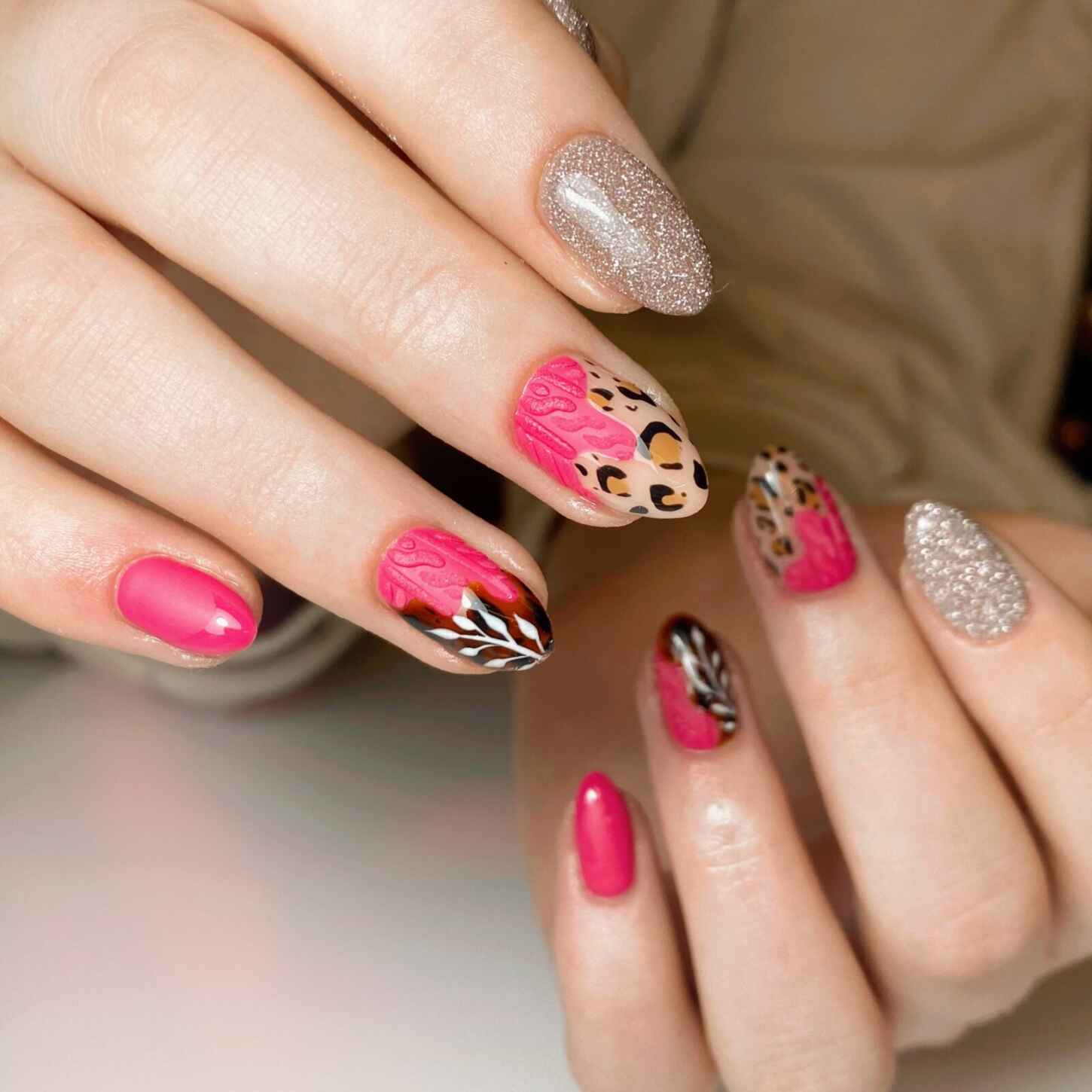 Probably the most unusual set of nails I've had, which brought together a diverse range of textures and patterns, including a 3D element made of acrylic powder, too – a technique also used to create these sea shell nails from summer 2020. These are my 2021 Christmas nails, and combined cable knit, tortoise shell, leopard print, glitter and opal, with a mix of gloss and matte topcoats and an ultra sparkly flash glitter.
Flash glitters are a fantastic choice for the festive season, but I also love the cosiness of cable knit and tortoise shell. And if you love the shape of these nails, they're a rounded almond, which is my go-to shape now, too.
Tinsel stars
I actually had these nails done for bonfire night as they reminded me of fireworks, but they work equally as well for Christmas, reminiscent of tinsel or twinkly fairy lights. These also ended up being my engagement nails, so they hold a very special place in my heart.
These were created using a range of glitters in different colours in a series of lines from the tip towards the centre of the nail. Chloe then used chrome to create some tiny gold stars and dots on the nails to complete the shimmery, sparkly look. And because they contain every colour – they go with everything, too!
Green and gold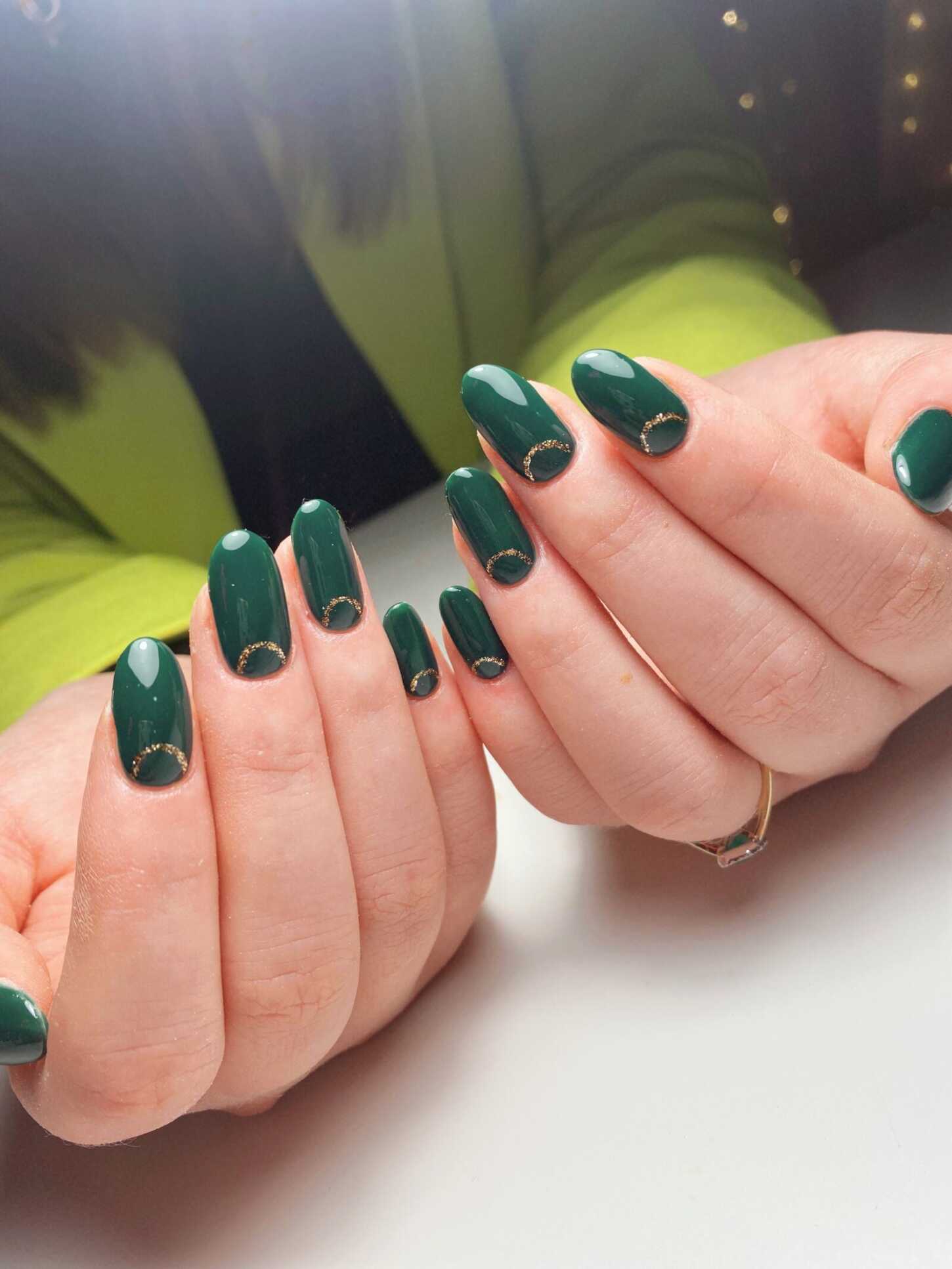 Sometimes – and I mean only sometimes – less is more. I love a set of nails to be extra, but occasionally I'll scale back my mani to save a fiver and opt for basic nail art, and it's a refreshing change.
This is my current set of nails, which I had in part to mark the start of the festive season, and also, to match my engagement ring. I went for The Gel Bottle's Jungle on every nail, with a half moon of Art Deco at the cuticle. The Christmassy colours and twinkle of glitter make them feel festive without going over the top, and they're a stunning, understated nail that I'll definitely be recreating in other colours in 2022. Simple. but effective, and perfect if you're strapped for cash but still want pretty nails this winter.