Ad – press event – all views are my own
A brand new activity bar has opened in Newcastle-under-Lyme and is revolutionising nights out and group socials in a huge way. Opening up in the former Revolution bar, Playhouse is one of just two of the fresh concept bars in the UK, rivalling the likes of Manchester's NQ64 and Pixel bars.
Operated by Revolution Bars Group, their first venue opened in Northampton in November 2021, followed by Newcastle-under-Lyme in November 2022, and is already proving to be a massive success with students and locals alike.
So, what better way to spend my 25th birthday than to head on down for a slice of the action?
Approaching Playhouse, the building acts as a beacon to Newcastle revellers, decorated in an impressive mural with neon lights and a vibrancy this end of town certainly needed. Once inside, it was almost unrecognisable as the former Rev's I had found my teenage self dancing in, and didn't have that corporate chain feel that you get with a lot of places.
Settling into a booth, a server came over and explained to us how everything works, from the arcade games and game cards, to pizza and happy hour deals before we were left to peruse the extensive and tempting drinks menu.
Happy Hour runs every Monday to Friday from 4pm to 7pm, making cocktails two for £10 and select pints £3. Cocktails are priced between £6.50 and £8.50, so are already reasonably priced, but the deal certainly makes a great saving if you get down early enough in the week.
Throughout the course of the evening, we tried the frozen daiquiris, winning ticket, zombie, watermelon baller, pornstar martini and jiggle jiggle. Some of the cocktails come with fun additions like fizzy sweets, or are served up in Staffordshire-made gluggle jugs, while others are served more traditionally with a fruit garnish.
At one point we did order the Hook-a-Ducky cocktail sharer for £18 and were a little disappointed that there didn't seem to be an interactive element, having expected to find a rubber duck or something comical inside, but the cocktails themselves were well balanced and delicious.
As well as cocktails, the new spot offers an eclectic mix of arcade games across two floors. The venue is full of all the classic, retro games you'd expect and more, including air hockey, basketball and gopher golf.
There are two ways to pay to play, including tapping your contactless card at each machine when you want to take a turn, or alternatively, if you're likely to get a bit carried away and tap-happy, you can load £10 at a time onto a Playhouse card and use this to keep track of your spending. Gone are the days of pressing sticky coins into metal slots – Playhouse offers a truly modern take on games while still bringing all of the nostalgia and excitement once felt by holding the control of a Sega Megadrive.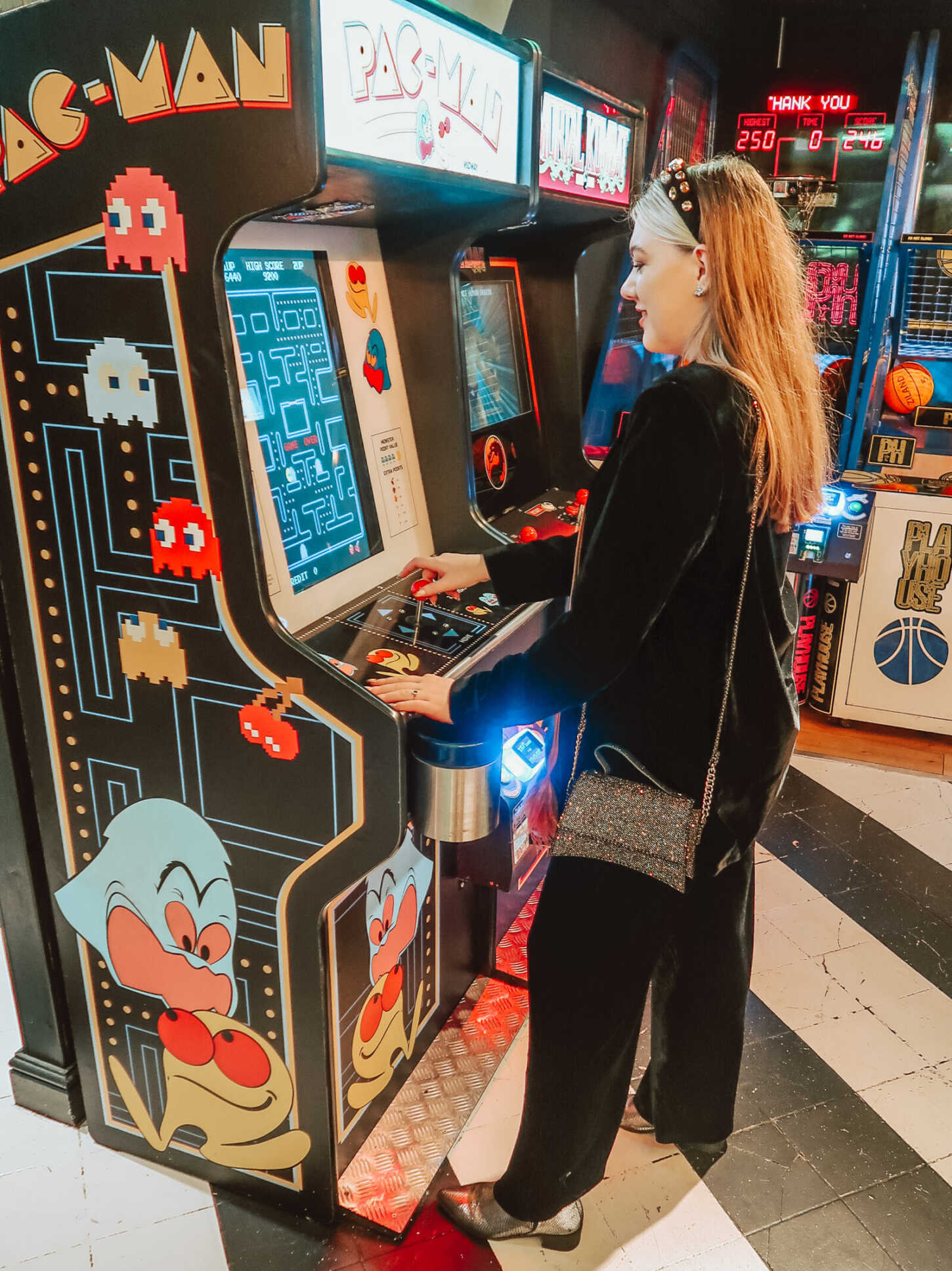 Whether you're an ultimate gamer or a complete novice, there's something for everyone, including families, students, couples and larger groups. We made our way around the room taking turns on Time Crisis, Dance Battle and table top football, as well as Mario Kart, Mortal Kombat and Pac-Man, with competitive streaks beginning to show among the group.
Once we'd exhausted ourselves stomping our feet on the dance mat and competing for the highest score on the basketball table, we ordered some drinks from the bar for a game of beer pong. The table, located on the upper floor, is free to use – you just have to pay for your drinks, meaning you can make it as cheap, or as interesting as you like.
As we all know, beer pong is hungry work, so there was only one thing left to do. Shortlisted for the National Pizza Awards 2022, Playhouse serves NYC-style sliced or metre long pizzas, so we each ordered our flavour of choice and a handful of sides, including the creamy mac n cheese, garlic dough balls and chicken wings to share.
The pizza slices are as big as your head, and so, you only really need one slice. Their massive metre-long pizzas are great for groups with an appetite, though.
All of the pizzas are made using Playhouse's fresh, homemade dough, secret signature tomato sauce, and the finest ingredients – it's definitely a new, fun way to dine out with friends in town.
On the Thursday night we visited, we spent a good four or five hours drinking, eating, gaming and socialising, and despite being a weekday before Christmas, it got really quite busy in the evening, particularly with students, which was really refreshing to see.
This January, Playhouse are hosting a number of deals to wash away the post-Christmas blues, including half price meter-long pizzas or cocktail and a slice for £10. Alternatively, there's the insanely generous 'Double Your Bar Tab' offer, where Playhouse will be doubling whatever is posted on pre-booked bar tabs up to a value of £100, meaning guests will get twice as much drink for their money. All three of these unmissable offers are running until January 26, offering the perfect excuse to visit this month.
Between the likes of Playhouse, The Clubhouse, Laser Quest and Vue, as well as the pockets of bars and restaurants like Bloom, Cappello Lounge and the newly opened Slug and Lettuce, Newcastle-under-Lyme is becoming a vibrant hub that hugely appeals to young adults. It's a fun and affordable night out that brings personality and nostalgia to Newcastle, and I'll definitely be heading back to try and top the leaderboard soon.
Read more about Newcastle: