Autumn brings with it sweater vests, cosy vibes, pumpkin spice lattes and, my all-time favourite: tortoise shell manicures. The distinct caramel speckled design has only grown in popularity over the past two or three years, and literally everyone is asking for them. Expect your Instagram explore page to be filled with different variations of the print for at least the next two months.
Personally, I'll ask for tortie nails any month of the year, but the black and amber print really lends itself well to the cosier seasons, perfect for pairing with chunky knitwear and warm wardrobe colour palettes.
No longer reserved for handbag hardware, sunnies and ankle boots, tortoise shell promises to be the manicure of the moment, and will be back in the biggest way with autumn 2023.
Chloe Birks of nailartbychlo has already been inundated with requests for the on-trend neutral design. She said: "Torties are the perfect autumn trend because they're so versatile and tones can be adapted to each client. Some prefer a blondie which gives more of a creamy beige vibe or the classic tortie uses a base of sheer amber tones. There's a tortie for everyone, whatever their vibe!"
So here are six ways to ask for tortoise shell nails at your next appointment, that are a little bit different to your average tortie.
Tortie Tips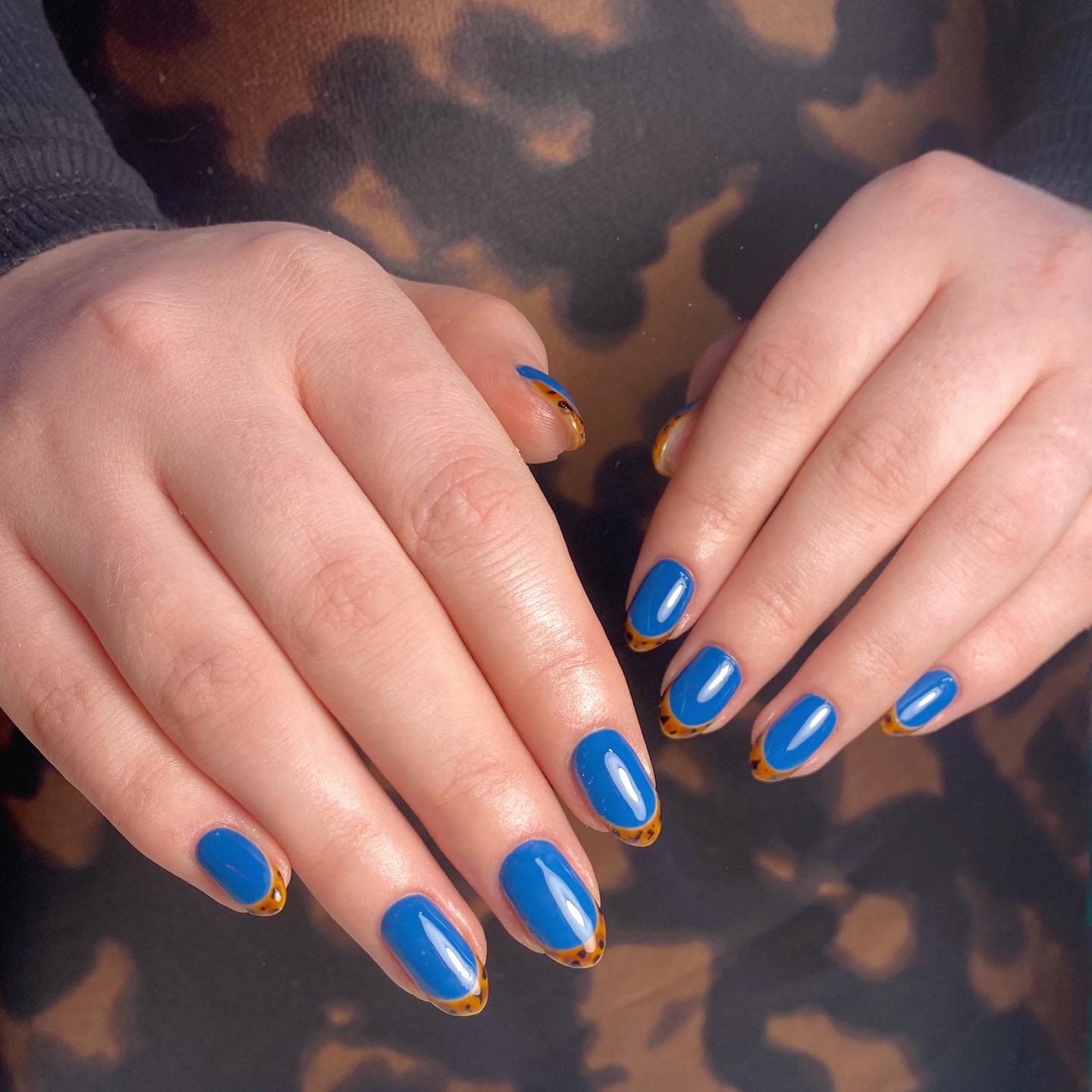 A tortoise shell French manicure is a classic in its own right, but this twist with a full colour nail bed is really something. This is a bold mani that's designed to turn heads, and it could just be an all-time favourite that can be recreated time and time again with different colours.
Coloured cuffs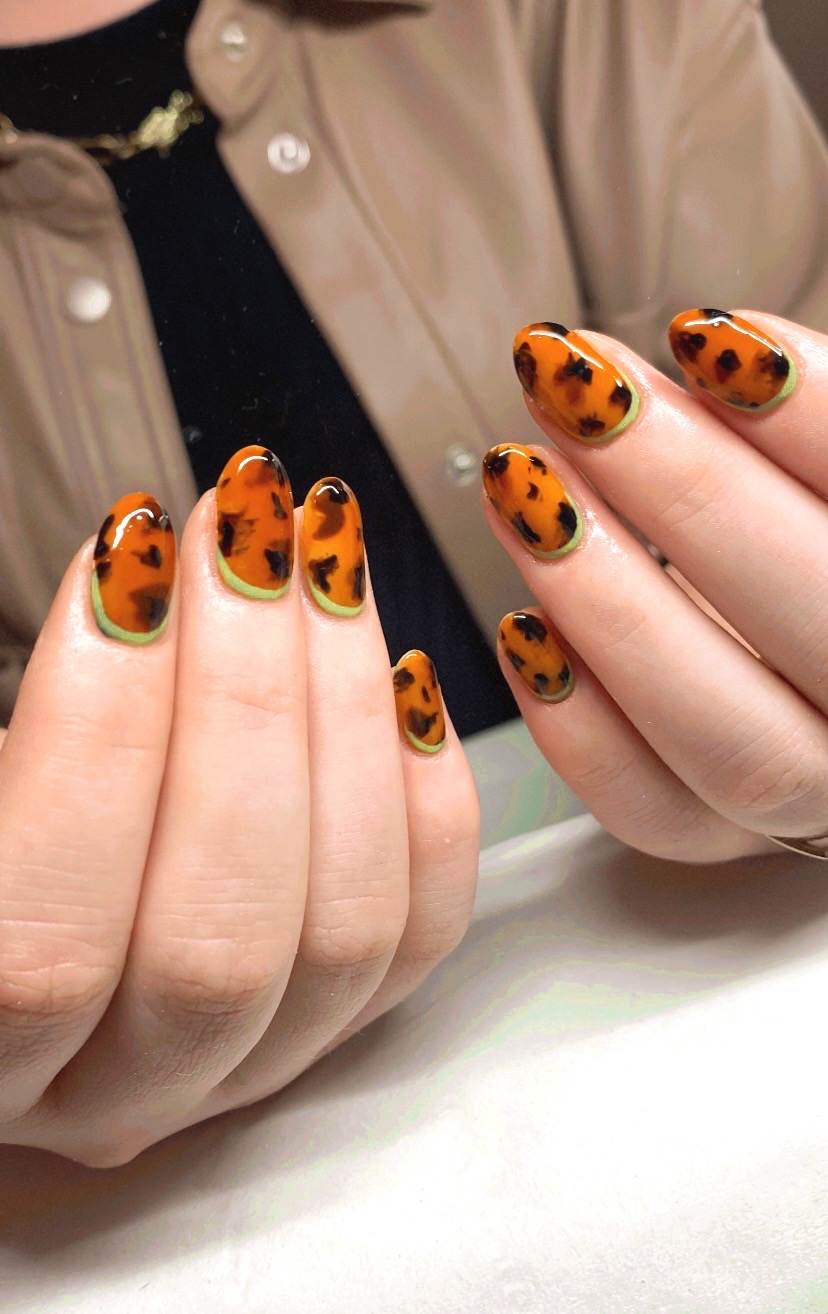 Almost the exact opposite of the above is this coloured cuff mani, which sees a full nail of tortoise shell accented with a coloured cuff that seemingly underlines this design. Again, you can personalise this with your favourite colour or go for a different hue on every nail.
Festive torties
Want to bring your tortoise shell into the festive season? This set combines cow print and tortoise shell with gold accents and Art Deco shapes. Just be mindful that when asking your nail tech for a mix and match set like this that they often take a bit of time to plan, so give them lots of notice ahead of your appointment.
Half and half
This particular design sees each nail half tortoise shell, and the other half a coloured French manicure. I opted for one hand pink tips and the other lime green which really makes this mani pop. The chrome detailing is such a beaut addition and really finishes off the overall look.
Blondie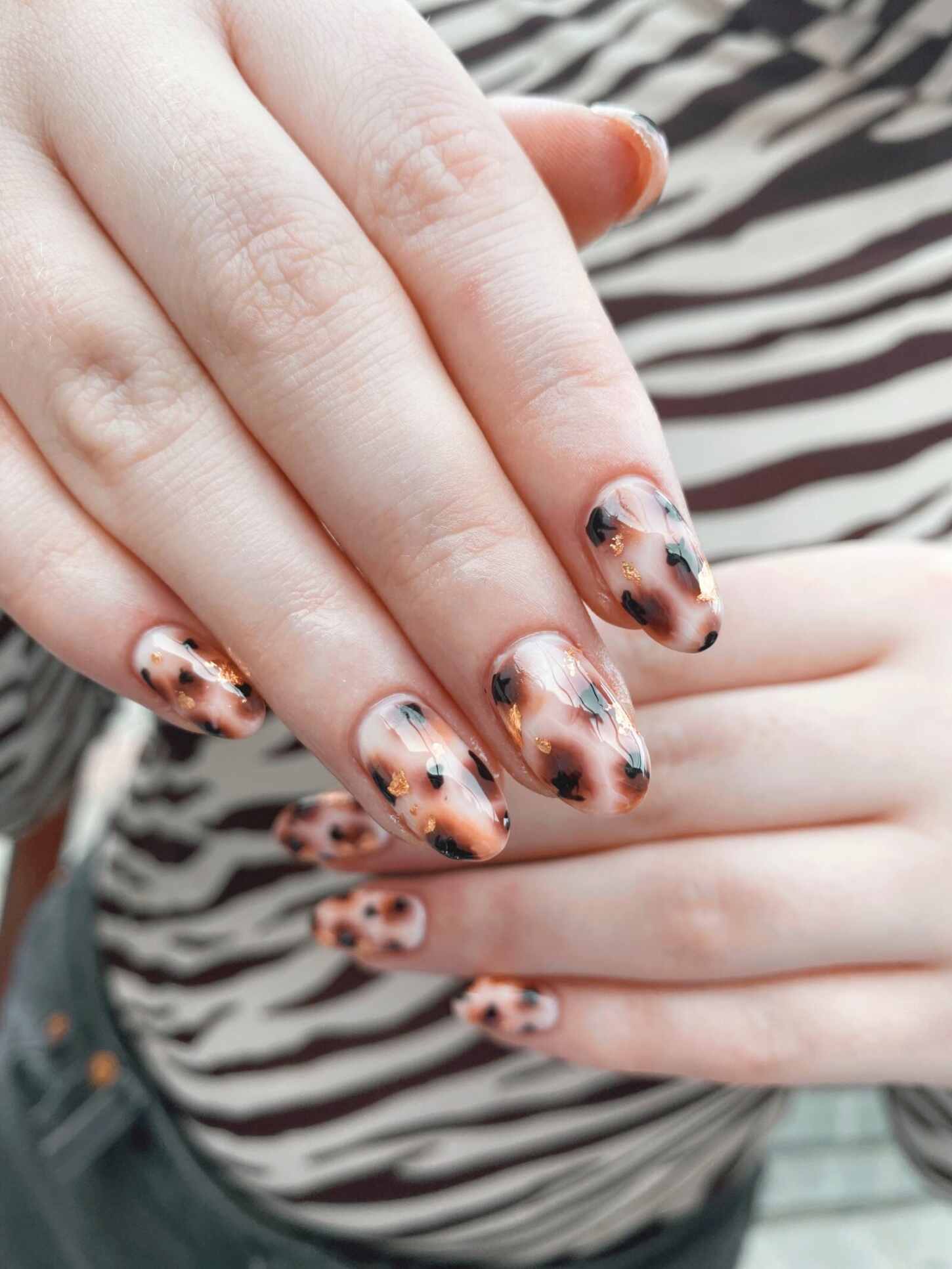 Something a little different to that rich, caramely tortoise shell is the blonde torties. It is to traditional tortie what blondies are to brownies – almost identical, but with a different kind of flavour with all the same delight. Like Chloe said above, this is more of a creamy beige colour instead, offering more of a contrast between the base and the pattern.
Autumn florals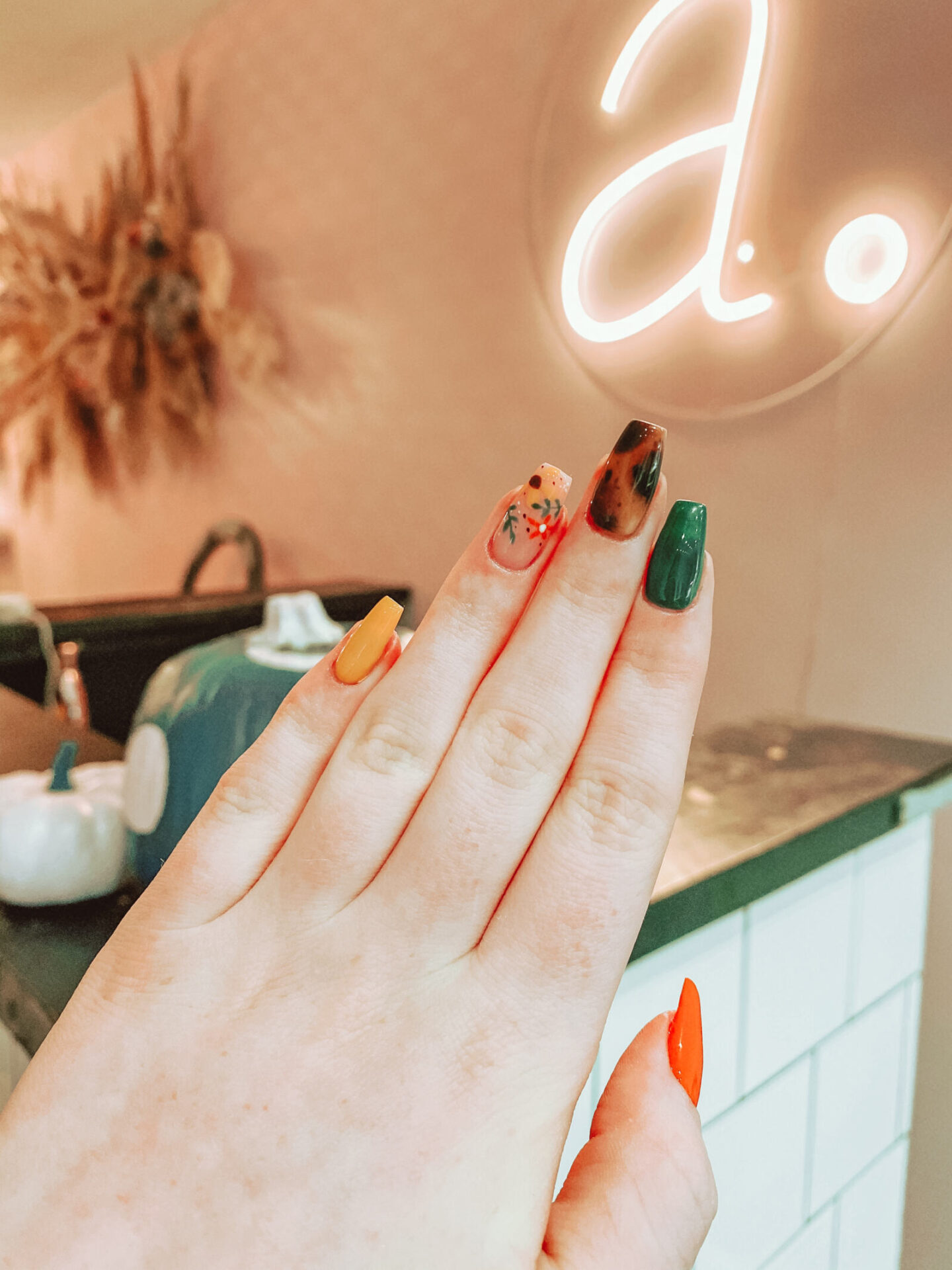 For this set I had just one tortoise shell nail on each hand, as well as one decorated in small autunmal florals. I then had the colours used in the blooms as solid colours on the ther nails to tie it all together. I love the warmth of this set and it feels perfect for September and ideal if you don't fancy a full set of torties.
Cable christmas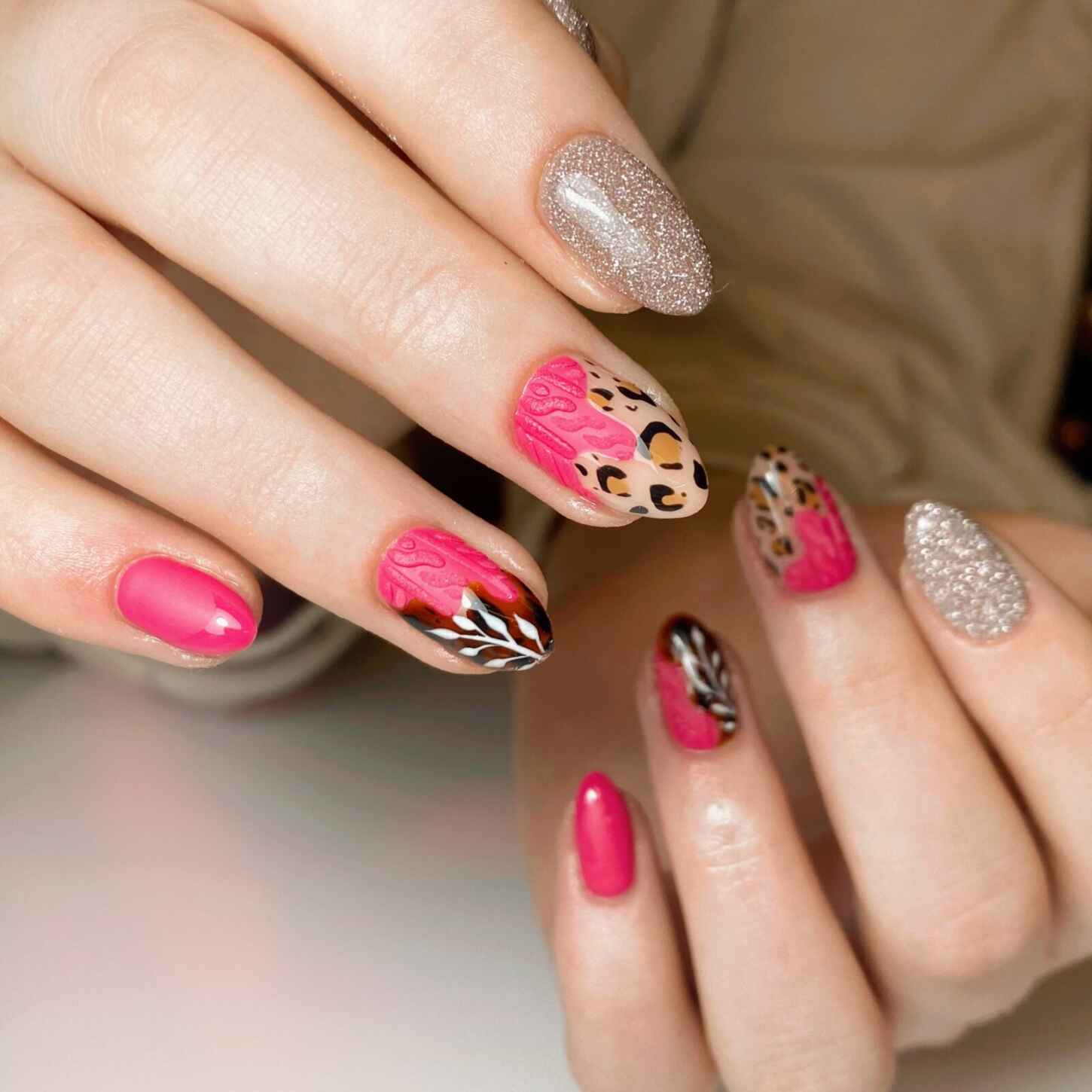 I've taken some seriously wacky ideas to my nail techs in the past, and this is one of those designs that sounded terrible in theory, but really worked in practice. This set – prime for November time – combines chunky cable knit with tortoise shell, bringing two of the season's hottest trends together. I picked a mix of glassy and matte top coats, and completed the design with glitter and leopard print for the ultimate pink, festive set.
Mix n Match
These was my Christmas nails for 2019, when tortie was emerging as the design to have. I still wanted them to feel festive, but just like with the cable knit set, I wanted it to feel like a bit of me. This design saw green opal patterns, gold glitter, jungle green leopard print and gold leaf in a coffin shape. I love mixing animal print with tortoise shell – it just works so well together.
Swirls
Give me all the cosy vibes with this swirly, almost 70s style. This design ticks all of the boxes, including pink, glitter, tortie, matte and glossy – in that sense, it's a toned down version of the cable knit cuties. This design has one full glitter nail and one full pink nail, with three that combine tortoise shell with pink and white swirls for a super dreamy set you'll admire for weeks.
Read more: