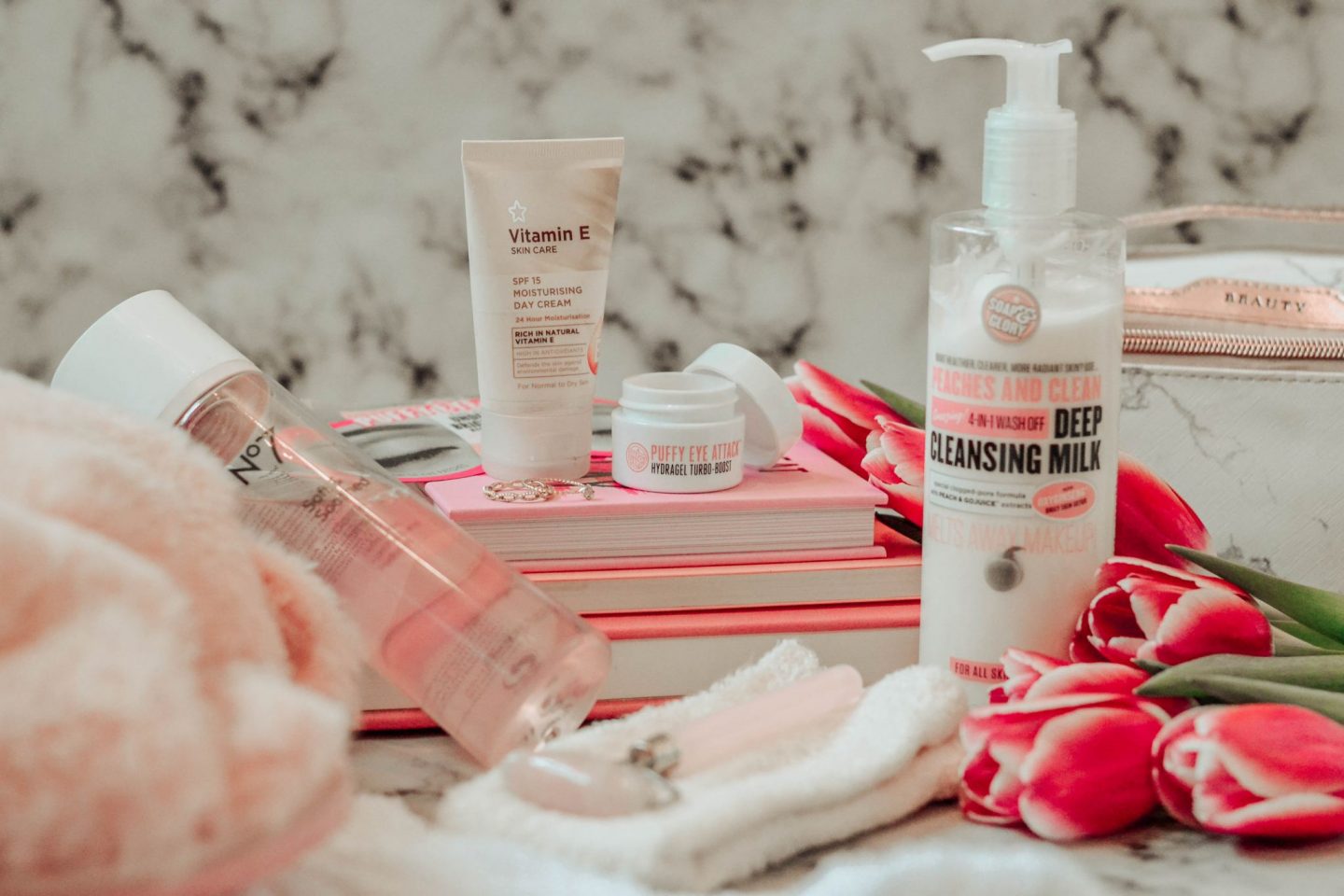 I'm sure if you were to go and open your bathroom cabinet, a gazillion moisturisers, toners, cleansers and mystery skincare products would come tumbling out. It's all well and good having a lotion for this and a potion for that, but do you know the correct way to apply your skincare to get the best out of it?
I asked my Instagram followers if they knew the correct order in which to apply their skincare, and around 60% said they had no idea. Skincare science can be a bit of a mystery, and there's surprisingly few answers on Google.
First of all, go to your products and check their expiry. All of your products will feature an image of a little open pot with a 12 or 24 inside it, indicating the months the product is in date for after opening. Bin anything if you can't remember when you bought it, it looks old, has separated, or you don't like it. Then we can work with what you have left.
When applying your skincare, think thin to thick, or light to heavy in terms of consistency. This helps the absorption process and helps you remember the order. So this is the actual order you should be applying your products in, as well as the ones I'm using at the minute.
Cleanser
There are a million different types of cleansers. Oil cleansers, foam cleansers, gel cleansers, clay cleansers. You can learn which one is the best for you and your skin with a little research or trial and error, but personally, I like to use a milk cleanser.
Cleansers remove makeup and dirt from the skin, unclogging pores and generally cleaning your face. I like to use the Soap and Glory Peaches and Clean, and have been doing so for about seven or eight months. Before, I was pumping it onto cotton wool pads, but have since switched to a more eco-friendly option of bamboo face cloths.
I run the cloth under warm water and add 1-2 pumps of Peaches and Clean before cleansing my face in a circular motion to remove my makeup. Using a bamboo cloth and cleanser is a much faster and planet friendlier way to remove makeup than face wipes or cotton pads. The Peaches and Clean deep cleansing milk smells amazing and appears to just melt makeup away before your very eyes. It leaves my skin feeling clean, smooth and super glowy, too.
Exfoliator
Exfoliation is a process that removes dead skin cells from the surface of the skin to help rejuvenate skin. Some people think it's just those with dry skin that should be exfoliating to remove flaky skin, but people like me, with oily skin, benefit from it too. For those with oily skin, exfoliating helps unclog and clear pores of excess sebum, preventing breakouts.
My holy grail exfoliator has been the St Ives Blemish Fighting Apricot exfoliator for as long as I can remember. Not only does is smell of apricots, but its ingredients are fabulous and make me feel amazing. It features oil-free salicylic acid, which is great if you have combination skin, and prevents new blackheads and spots forming. The scrub element is made of 100% natural ingredients, mostly crushed walnut shell, meaning there are no nasty plastic microbeads, too.
All you need is a 5p sized amount, I run it between my hands under warm water and then scrub my face in a circular motion before rinsing off and patting dry.
Masks
You don't want to use your face masks every day, but when you do want to use one, do it here – before toning. Face masks are designed with different problems and treatments in mind, so have a good think about what your skin needs before applying. My current favourites are:
Palmer's Cocoa Butter Formula Purifying Enzyme Mask – I like to use this one when my skin feels a bit gross, oily and generally icky. I use this probably once every two weeks for a deep detox, as the clay draws impurities out of the skin.
Soap and Glory Bright + Beautiful Radiance Boosting Mask – this one is a sheet mask so I love them for their no-fuss no-mess approach to skincare. I like to use this one when my skin feels a bit dull, or I'm going out somewhere the following day to make my skin brighter and glowier.
Soap and Glory Puffy Eye Attack Under-Eye Brightening Hydrogel Patches – This one is for after those long days, where your eyes feel sleepy and your feet feel like they're about to drop off. You just pop the patches below your eyes for an instant cooling and de-puffing.
Toner
Toners are a bit of a multi-functional product. Not only do they help remove stubborn dirt left over from cleansing, but they also reduce the appearance of pores, restore your skins pH balance and refresh skin.
I like to use the No7 Soft and Soothed Gentle Toner. This isn't available at Boots.com anymore, as it's been replaced by the Radiant Results range, but I still have another 12 months left on the shelf life.
I just dampen the corner of a muslin cloth and then apply the toner to the cloth before sweeping it over my skin.
Serum
Personally, I don't use a serum, only because I've not really found one that works for me or that I love. However, if you do use a serum, now is the time to apply it. These moisturise the skin and boost collagen, making skin appear plumper, younger and wrinkle-free. On second thoughts, maybe I should find a serum.
Eye cream
Now is where you can apply your eye cream. I suffer terribly with under-eye dark circles, and since using the Soap and Glory Puffy Eye Attack Turbo-Boost Hydragel cream, I've noticed a visible difference in my undereyes.
This product is quite a thick, almost jelly like substance, and you just have to dab a finger on it and gently dab under the eyes. After just two weeks using this, I could see that my eyes were less puffy, less dark and looked more refreshed and awake. I swear by this little pot of miracles!
Moisturiser
I feel like moisturisers are the product everyone uses, even if they don't use anything else. I use a couple of different ones depending on a. when I'm applying and b. what my skin needs.
In the morning, if I know I'm going to be out all day, typically wearing makeup, I know my forehead is going to become oily. I combat this with the No7 Men's anti-shine lotion, which is great for oily skin as it balances and regulates your skins oils.
If my skin does feel particularly dry, I use the Superdrug Vitamin E moisturising day cream. The Superdrug Vitamin E range is one I regularly hear people rave about. Whilst I typically have oily skin, and this moisturiser is designed for normal-dry skin, there are days where I feel my skin needs this extra hydration.
Roller
Rollers are the 'new' trend you might have seen on Instagram and Youtube. They're usually either jade or quartz. The truth is, they're not new at all and have been used in Asian skincare for centuries. My roller is a rose quartz one, which is known to have healing properties and is said to open up the heart.
After moisturising, take your roller and roll it from the centre of your face and outwards towards the hairline. After doing each movement, roll down from the temple to your collarbone. This movement helps with lymphatic drainage in the face, resulting in less puffiness and redness. The roller gently massages the face and you can actually feel it working with the muscles under the skin.
Due to the roller being made of stone, it's quite cold, but this is incredibly relaxing. If you prefer, you could dip it into a bowl of hot water to warm it before using. You could also roll the roller upwards on the cheeks and forehead to assist in lifting the muscles to keep your face muscles supple and contoured.
That's my general night-time skincare routine and the correct order in which to apply them! Let me know in the comments if you were doing it right, or you thought you were and were wrong all along. Or maybe you admittedly had no idea to start with, but you're ready to start doing it right!