Mother's Day is this Sunday, and whilst I have go Mrs Hinch's new book on Amazon pre-order, it won't be here in time for Sunday (soz, Mum).To make up for the fact she won't be getting a gift on the big day, I whisked her off to Manchester for some gal time.
Manchester is only up the road from us in Stoke, and so it's easy to pop up for the day, or check into one of the many hotels in Manchester to make a weekend of it.
Hotels.com gifted us some spending money for the day, however all views are my own.
We got the 11:10 train from Congleton to Manchester Piccadilly to arrive in the city at midday. After mooching around Oliver Bonas in the station and ogling over a gorgeous slip dress, we headed down towards the swarms of Saturday shoppers. We took a swift right turn into the Northern Quarter and ducked into Jimmy's just as they were opening up.
Jimmy's is a cool little indie bar on Newton Street, and if you didn't know it was there, you'd certainly miss it. The bars décor pays homage to famous faces like Bowie and Blondie, and are big fans of cool neon lights. They hold a tonne of events in the evenings so are a great nightlife spot, but also great for hiding away from the busy streets with a Jimmy's IPA in the day. We ordered some Blood Orange San Pellegrino's and hid in the little black and red room near the front of the bar whilst we planned out our day.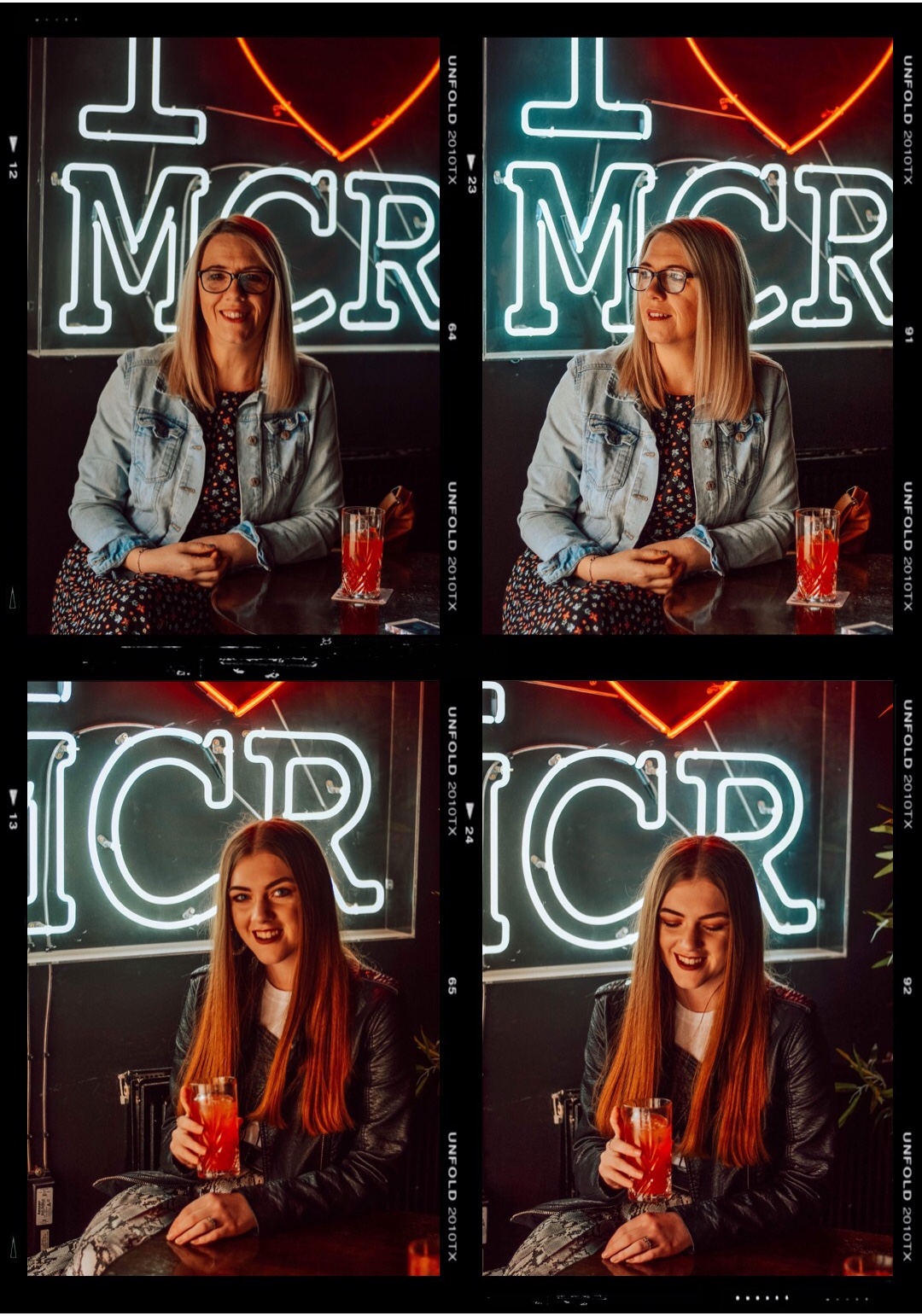 We crossed the road towards Oldham Street to scout out any bargains in Oxfam Originals and Piccadilly Records. Oldham Street used to be the main shopping street in Manchester, but has been overtaken by the likes of the Arndale Centre.
It's totally worth checking out as it is teeming with indie businesses and bars. I managed to bag a gorgeous vintage coat-dress in Oxfam for £3.99 before wandering back towards Piccadilly. On the way we also dipped into COW and Blue Rinse, which are both stores that create cool urban pieces from reworked vintage pieces.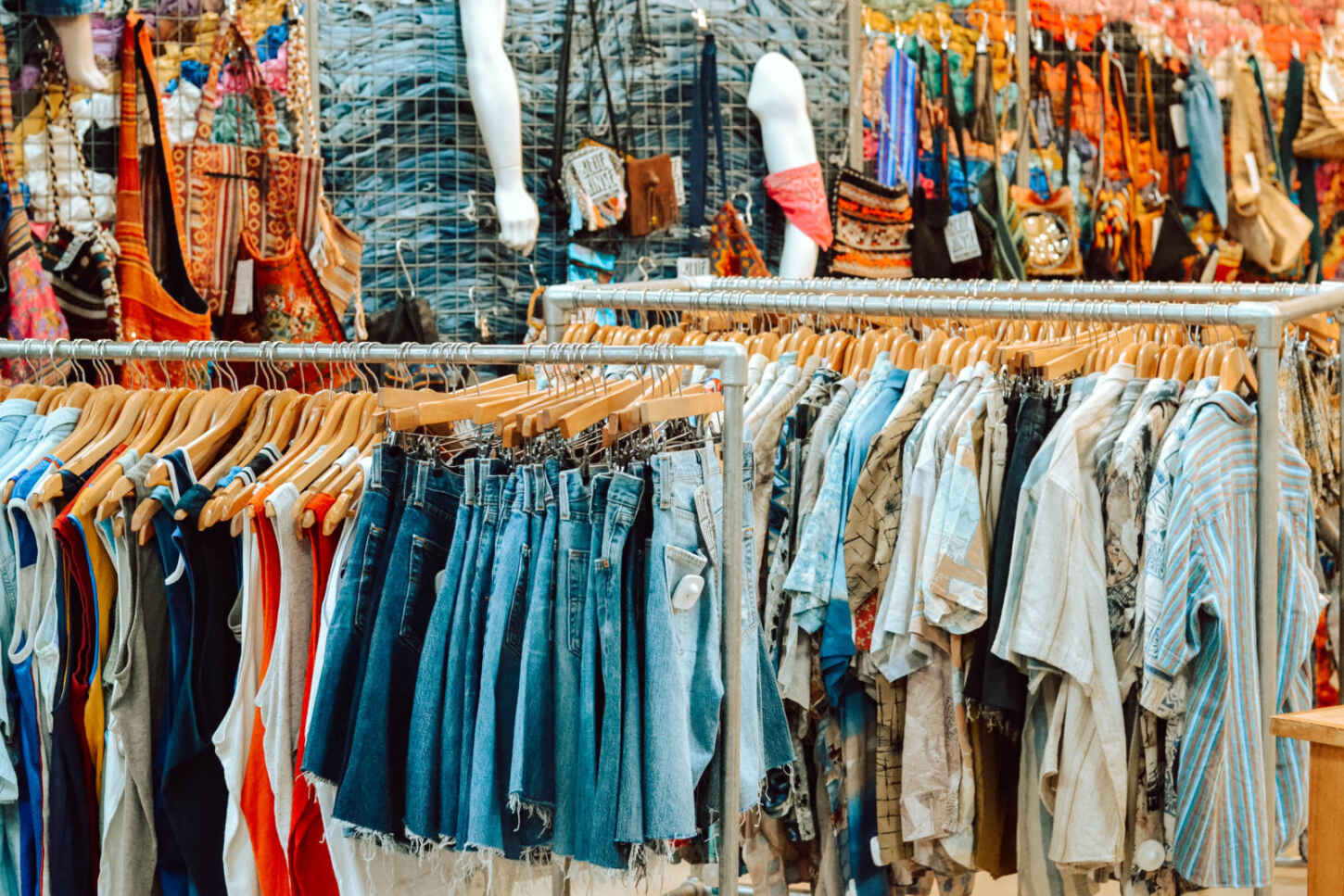 From here, we crossed Piccadilly Gardens to the Slug and Lettuce where we had reserved a table for 1:30. The Slug and Lettuce kindly provided a two course meal and mini cocktail making class free of charge for us to review. I've always been a huge fan of the franchise and it was lovely of them to offer this for us.
Mum and I sat upstairs near the window, overlooking the outdoor balcony. There is a gorgeous theme running through the décor with pink neon 'cocktails' and 'hello gorgeous' lights and floral greenery dotted around the place. Slug and Lettuce is a great spot to bring your mum, your sister, or your girl gang. If you book in for Afternoon Tea on Mother's Day, your mum even gets a free glass of fizz!
Mum ordered the fish and chips, whilst I went for the 10oz rump with fries which we both totally demolished. When you've got a whole day in Manchester ahead of you, you need some great food to fuel your day, and cocktails to fuel your evening.
After ordering dessert, we were taken to our cocktail station where we were shown how to make a cosmopolitan, complete with caramalised orange. We were told information about the ingredients and the best way to make and shake the drink before sitting down to enjoy out cocktail with our dessert. We ordered the cookie crumb profiteroles and strawberry scone bites and split them between us. Both of us were soooo torn between the desserts menu because they all look amazing, but he profiteroles were definitely a great shout.
After inducing ourselves into a food coma, we practically waddled down Piccadilly and into Urban Outfitters for a quick snap in the photo booth, and then continued down to Printworks to Tree Top Adventure Golf.
The indoor mini golf course costs £9.50 per person for 18 holes in either their tropical course or ancient course. We chose tropical, which was a course decorated like a jungle with huge monstera leaves and streams. My mum and I are super competitive, so anything like this can be a little dangerous for us to do without a major falling out! It took us about an hour to tackle the course, and since neither of us had ever done anything like this, it was such a laugh.
Printworks is just opposite the Arndale Centre, so a literal hop, skip and a jump from adventure golf to shopping spree! I wanted to pick up a few bits in Lush before we went home, so as I browsed the bath bombs and face masks, mum sat down with one of the members of staff and had a super relaxing hand and arm massage. I bought the Peachy and Goddess bath bombs for myself, since these are never available in my local store, as well as the Buttercup gift set for mum.
We had such a lovely, girly day together, and the sentiment around Mother's Day really reminds you to spend more quality time with loved ones. There are tonnes of other bars we were hoping to pop in to, so it's always worth booking a hotel in Manchester for the weekend to make the most of the time there!