AD – this blog post features press samples – all views are my own
I only really got into perfume when I started working for Boots four years ago. You soon learn what you like and what you don't when you're spritzing every gift buyer at Christmas, Valentines, Mother's Day et cetera…
Now, I'm a little bit picky with my perfumes, but there is one brand that is sure to have your back. That's Shay and Blue.
I've seen their perfumes advertised in the likes of Vogue and Cosmo for as long as I can remember, and their iconic blue bottles looked stunning on the pages.
When I was approached earlier this year to try one of their fragrances, I jumped at the chance and I've been using their Salt Caramel scent for weeks.
After being blown away by the perfume (it really is beautiful), the team sent me out some more bits to share with you – and it's not just fragrance they sell!
I've put together this little gift guide at a range of prices, so that even if you're a little tight on the purse strings, there is still something you can pick up to treat someone you love (or yourself!).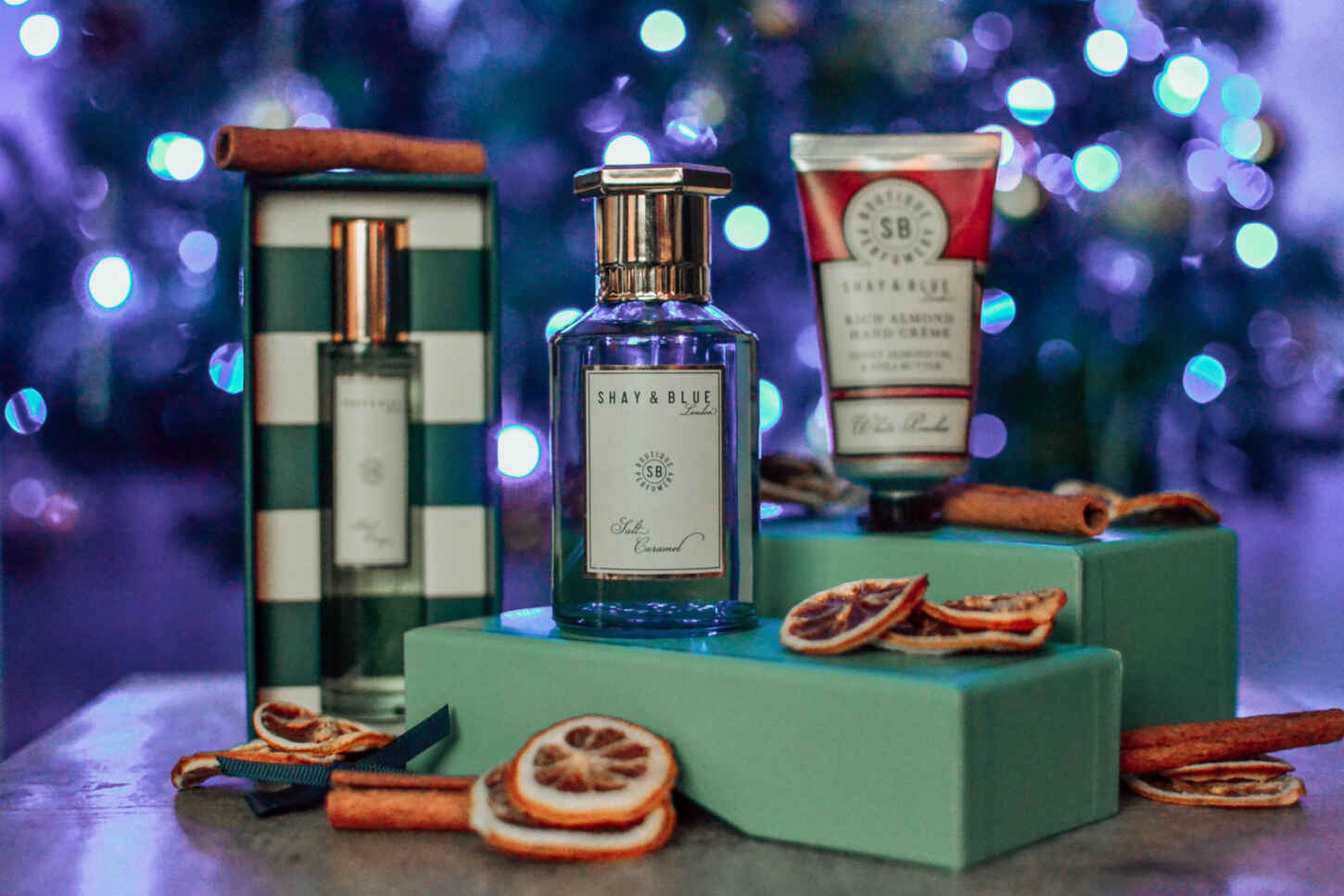 Salt Caramel 100ml – £55.00
Shay and Blue describe the fragrance as: "The burnt sweetness of glossy caramel. Warm spice of bourbon vanilla and and soft sandalwood melt into tonka bean and sea salt. Salt Caramel is deeply comforting and just a little addictive."
And it is just that – completely addictive. It's the perfect autumn/winter scent and I love using it. It's warm, sultry and easy to wear – not too overpowering but enough to get you noticed.
I would absolutely put this in my top three favourite fragrances of all time because it's unlike anything else on the market. I truly adore it and can't recommend it enough.
I would love for Shay and Blue to bring this out as a candle. Just imagine spritzing yourself with the perfume, snuggling into a blanket with a hot chocolate, sticking a Christmas film on and the burning candle filling the whole room with the festive fragrance.
If you'd like to try this fragrance, you can order a 2ml sample for just £5 here.
Blood Oranges 30ml – £30.00
You could argue that orange is a bit of a festive scent, with Christingles and spiced oranges on wreaths. I do find that the Blood Orange perfume is one more for spring/summer, though.
I'm not one for 'fruity' perfumes, but Shay and Blue nail it every time, combining it with woods and musks.
This fragrance is great for men and women, with the blood orange bursting with freshness, matched with wood, leather and musk. It's androgenous, and not to masculine – it's like a beautifully tailored women's pantsuit – authoritative and seductive.
The Blood Oranges fragrance can be found in a whole host of other products, too.
The scent is available as candles, hand washes, lotions and creams, as well as a range of perfume sizes.
To try it for just £5, use this link.
Rich Almond Hand Crème – White Peaches £10.00
A little stocking filler treat would be one of the Shay and Blue hand crèmes. They're gorgeously fragrant, and the White Peaches is light and floral. Like I said, there's something for everyone.
The hand crèmes are made with almond oil, shea butter and vitamin E, and comes in five different scents. They're super nourishing and smell divine – the perfect little 'extra something'.
Shop the 40ml hand creme here.