Living in Staffordshire, it's in our very blood to be a little bit obsessed with pottery. After all, the industry is a huge part of what built up our city and our heritage. I'm in love with the Emma Bridgewater pink hearts pattern, and have so far collected the DAB radio, biscuit tin and tea tray in the design.
Last Christmas I promised my Nan a visit to the cafe, but due to Covid-19, we didn't make it until October. As of October 24, the Emma Bridgewater site is in a Tier 2 area, therefore only serving single households or support bubbles up to six people.
Afternoon tea is served at 2pm, so we decided to get there early to have a look around the gift shop and outlet. There is a small amount of disabled parking at the front of the factory, with a car park at the back. Underfoot is mostly flat, but there are some cobbled areas if anyone is unsteady on their feet.
First we visited the outlet, where Emma Bridgewater seconds and discontinued lines are sold. It offers the opportunity to bag a bargain on a gorgeous pottery piece All seconds are structurally sound but might feature blemishes in the paint work or slight imperfections. This is currently running at a reduced capacity of just 16 people allowed inside at once, with a one-way system in place and sanitising station at the door.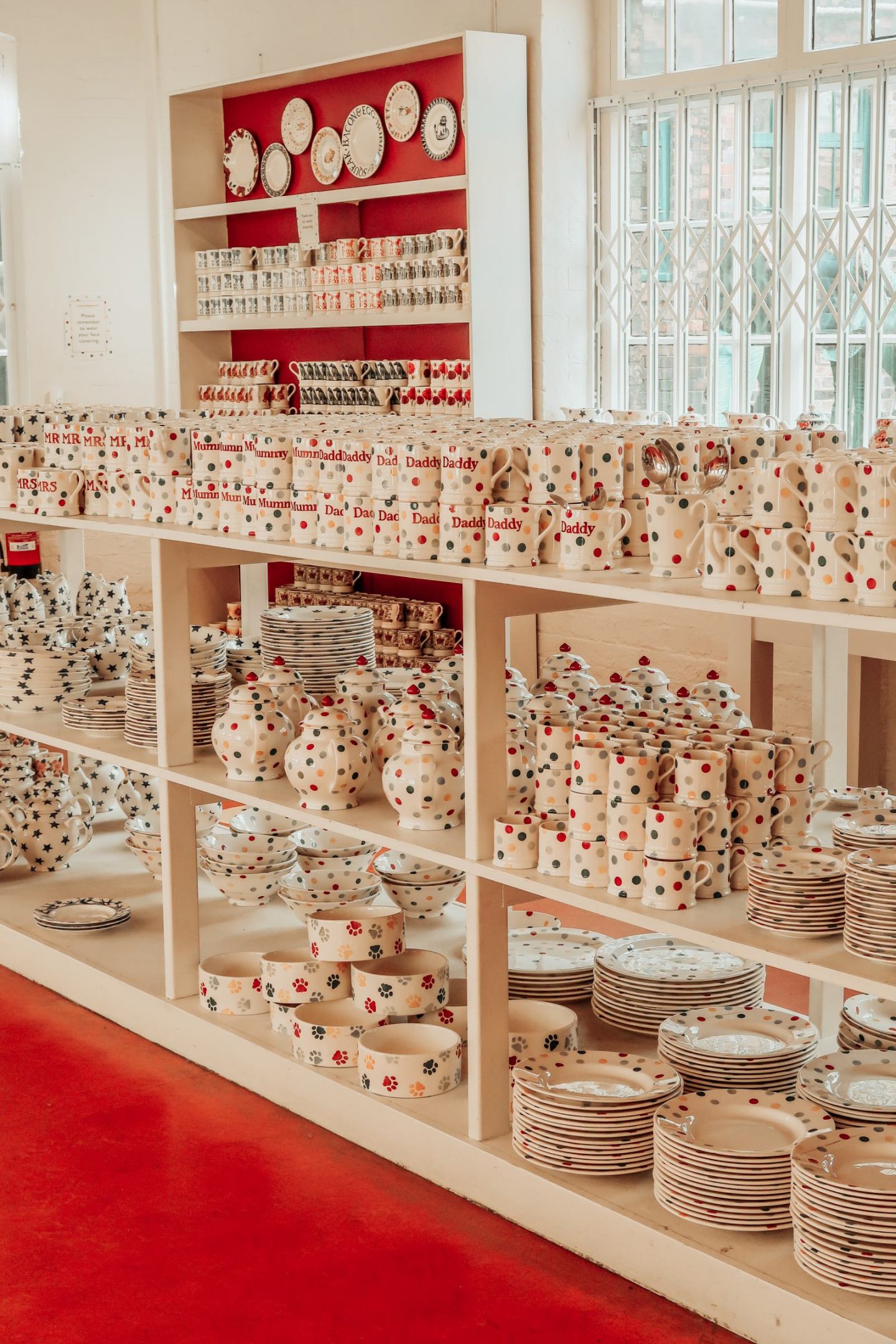 There are some serious bargains to be had in the outlet, from £5.95 mugs in a range of patterns, to more expensive creations such as their popular pottery pets. I treated my Nan to a little daffodil patterned egg trinket as she likes to decorate an 'easter tree' at her home each year. The Emma Bridgewater Daffodils pattern is quite special as my late granddad was a gardener, and loved the William Wordsworth poem. Nan also purchased a few gifts for family members to pop up for Christmas.
We headed over to the gift shop where they have some beautiful table displays, including their latest festive range laid out ready for Christmas dinner. There are only four people allowed in at a time, which gives a great amount of social distancing space, and the chance to take a real good look at some of the products. I ended up buying the dog biscuit tin for £12 (and would eventually like to get the dog bowl to match) and Nan treated herself to some festive felt decorations for her Christmas tree. They had around a dozen designs, but Nan went for a red and white stocking, a reindeer and a little red drum.
I had already pre-booked my timed ticket online, so there was also no need to hang around to pay after. We had our temperatures checked by a member of staff, all the tables have been spaced out and there was sanitiser on the wall, which offered a really safe-feeling environment. Staff members were wearing visors, and we – naturally – were wearing our masks until we were seated next to the Emma Bridgewater Aga.
Nan ordered a coffee, and I opted for a pot of tea whilst we waited for our high tea. The afternoon tea came serve on Emma Bridgewater crockery on a three tiered stand. The traditional tea is priced at £12.50 per person, which is one of the least expensive I've ever booked in the city, and has an amazing selection. Ours had four finger sandwiches each, including flavours like ham and chutney, or chicken and pesto, as well as a homemade sausage roll and three types of cake each. The top tier included two fruit scones and two plain scones with jars of jam and clotted cream.
The highlight was absolutely the cakes, which was a lemon cheesecake square each, a chocolate eclair and a chocolate sponge with jam and fresh cream. It was really nice to be able to get out of the house for a couple of hours and share some tea, cake and chatter in such a gorgeous setting.
Through the back of the cafe, there is a secret walled garden filled with blooms, herbs and a little bench to sit and enjoy the fragrant selection of plants. In ordinary times, this would be the perfect place to escape with a book and a cup of tea.
To book a trip to Emma Bridgewater, click here, but do be mindful of Covid-19 local restrictions. Factory tours are not currently available, however, the decorating studio is open for you to paint your own mug or plate!