Sando is the Japanese slang term for sandwich, and now it lends its name to Newcastle-under-Lyme's latest brunch establishment.
Located on Hassell Street in the former Yankee Candle shop, Sando finds itself nestled next to Revolution, opposite the Natwest bank and the bus station. Despite the pandemic, Adam Woolliscroft launched Sando in December 2020 offering takeaway and delivery service in North Staffordshire, before welcoming customers indoors for the first time last month.
I headed down on a sunny Saturday afternoon for a solo-brunch date and managed to get a table outside. In hindsight, I wish I'd called ahead to book a table, as I'd have preferred to sit inside, but there are four two seater tables under a small canopy in the sun, overlooking the cute little floral courtyard that the Business Improvement District have installed.
I ordered a Seedlip Grove spritz – a non-alcoholic gin – for £4, served in a tactile tumbler with ice and a circle of orange peel. The food menu is utterly mouth-watering, offering a plethora of all-day brunch items, from house granola to steak and eggs, with prices starting at £3.50. Sando also serve a selection of artisanal sandwiches, including the Po Boi Buffalo Shrimp Sandwich, Chicken Katsu Sandwich, and the humble BLT. Not only that, but there are two burgers on offer, as well as dips and sides. Chef William Parfitt has thoughtfully curated a collection of cuisines and flavours for this particularly unusual but exciting menu.
Staring at the brunch options, I was entirely undecided, so ordered not one, but two plates. I opted for the poached egg on toasted focaccia – sans avocado – as well as the buttermilk pancakes, and a side of fries for good measure.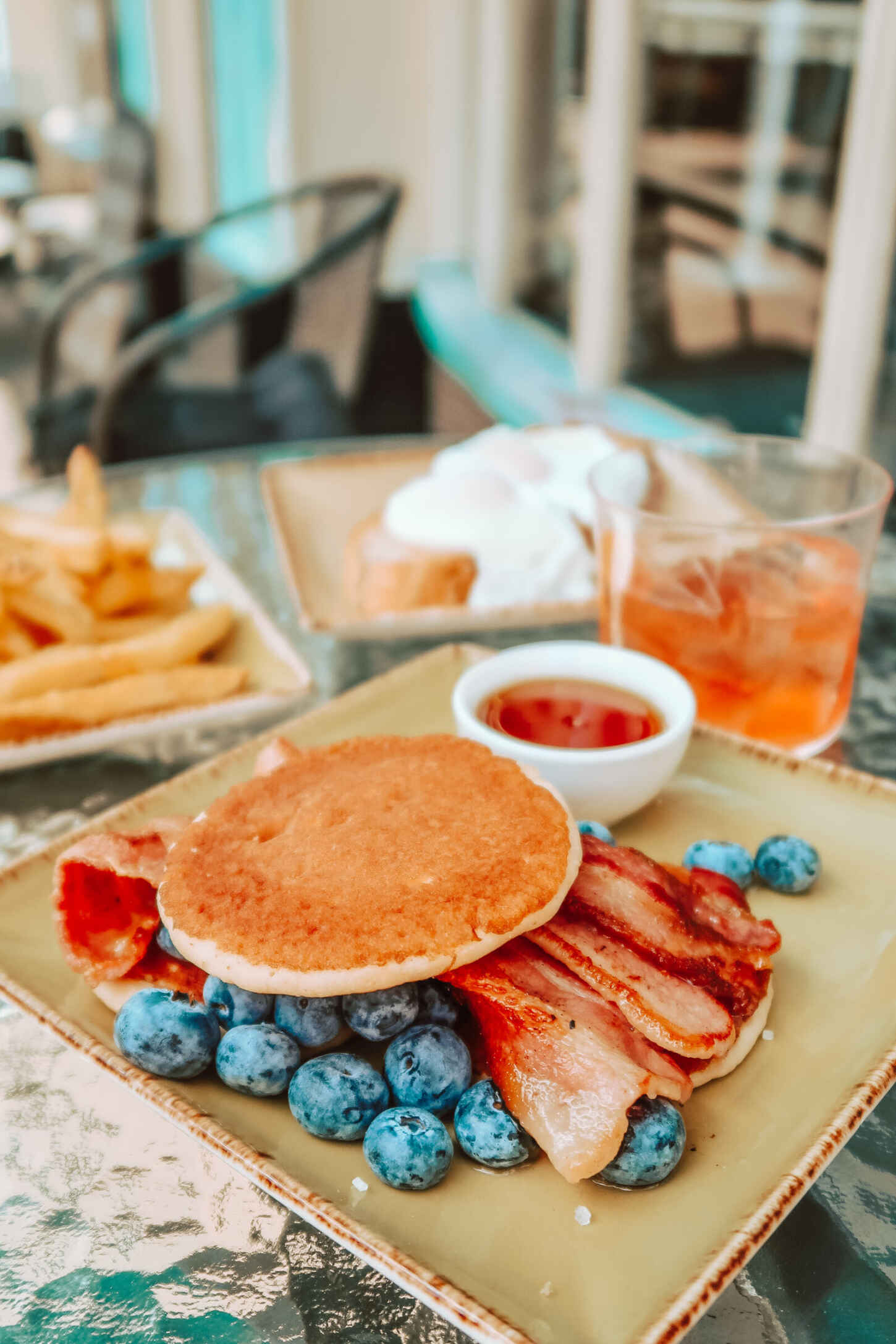 The poached eggs arrived perfectly runny on the toasted focaccia seasoned with chili salt, lemon and chives for £5.95. Then, there were three buttermilk pancakes served between slices of smoked bacon with maple syrup and a handful of fresh blueberries, which was beautifully presented on a square plate. Don't they say you eat with your eyes first? Everyone's food that arrived from the kitchen looked gorgeous, and it's all the more reason to return to try something else next time. At Sando, it's about quality over quantity, with affordable prices and dishes packed full of flavour. In fact, the seasoned fries off the side menu were some of the best fries I've ever had – if ever you have 20 minutes to while away in Newcastle, grab a portion of those with a soda and you won't be disappointed. Totally moreish with the perfect amount of crunch.
Now, I did mention that Sando is a day and night deli – meaning they have a fully licenced bar open from 9am to 10pm from Wednesday to Saturday, and 10am to 4pm on Sundays.
Master of mixology Jack Lowe, who studied the art of cocktail creation for three years in London, has developed his own line of house cocktails for the Sando menu, with a few classics thrown in for creature comfort. During my visit, I sampled his vodka and apple cocktail, made with Belvedere Lake Bartezek, Fermented Cox Apple, Vanilla and Carbonated Red Tea, which was like a smooth boozy apple juice – incredibly fresh and fruity and served with a slice of lemon. Then there was the Pink Fizz starring Victory Pink Gin, Fermented Yorkshire Rhubarb, Vanilla, Peychauds and Champagne, which is the perfect ladies day tipple – very sophisticated with a gorgeous tarty flavour from the rhubarb. All the cocktails on the menu are £7 – so an alcoholic beverage and brunch would likely set you back somewhere between £11 and £17. My two brunch plates, fries and Seedlip Grove totalled around £16.
Sando makes the perfect space for those post-lockdown catch ups with friends we've not seen all year over a cocktail you won't have drank anywhere else in the world, with good-mood food and a friendly service. This is a great spot to sit and grab a bite to eat in town, or you can even takeaway to go and enjoy your dinner in Queens Gardens.