One of the most common questions I get asked when my friends book a holiday to Newquay is 'do you know any good places to eat?'
Absolutely I do.
Whether you're looking to grab a light lunch before heading to the beach, somewhere to sit with a cuppa and slice of cake, or want to dine in with cocktails before a night out – I got you.
In my 20-year Cornish holiday history, I've established some firm favourites that I return to each year, including The Headland Hotel, The Stable and Dead Famous. But then there are the newbies like Rolling Joe Coffee Co and Toast that find themselves on the 'return to' list. Surprisingly, I'm yet to have explored each and every one of Newquay's hospitality venues – I'm working on it, though.
From fancy hotels and extensive cocktail menus, to cool dive bars and coffee shops, here are 19 places to check out the next time you visit Newquay.
The Fort Inn
Pub grub
Overlooking Newquay harbour, The Fort Inn is one of the few places we found to serve food from 12pm, so great for brunch, early lunch, or a light bite to fuel the day.
Dogs are allowed to sit in the bar area, but the outdoor terrace is definitely the place to be if you've got the weather for it, because the views are incredible. You'll be hard pressed to find a table without a waggy tail poking out from underneath waiting for chips to fall on the floor, as its a very popular pub for pet owners.
Owned by St Austell brewery, it offers traditional pub food and a range of cask and keg beers at affordable prices. I adore their baked brie starter with cranberry, and their chips are some of the best in town.
Their mains start at £9.50 and go up to about about £15 for fish and chips or steak. It's traditional pub dishes done well – with the added bonus of free WiFi and a sea view.
Rolling Joe Coffee Co
Cuppa and cake
Parked up at the side of the A392 you'll find a big yellow American school bus – and it's the best place to grab a coffee and cake in Cornwall.
Run by couple Luke and Djamila, the retro rolling coffee shop doubles as their home, which they've built entirely by themselves- in lockdown, with a wine-barrel wash sink and low footprint solar panels.
The Texan import has a coffee hatch where Luke, Djamila and their English bull terrier, Duke, serve coffee, USA imported sodas, and sweet treats baked right on the bus, including Nutella stuffed cookies, Toblerone brownies, and Rattler Cider doughnuts. You're looking at £1.50 to £3 for a hot drink, then about £3 for bakes which you can sit and enjoy on the couple's picnic bench in the sun.
Rolling Joe Coffee Co is a must-visit if you're in the area. They're open Tuesday to Friday from 8am-5pm and 10am to 5pm on weekends.
Slug and Lettuce
Dining out and cocktails
Instagrammable venue The Slug and Lettuce can seamlessly take your from day to night, with happy hour 2-4-1 cocktails all day.
Head in during the day – after 12pm – for day drinks and sides like chicken wings and calamari, or visit in the evening for a full meal followed by cocktails. When one restaurant was forced to cancel our booking due to the chef quitting, the Slug and Lettuce was able to accommodate us with just hours before a birthday meal.
Each couple ordered a Chicken Feast With Friends for around £16, which was a platter filled with southern-fried chicken goujons, beer-battered onion rings, sticky BBQ chicken & cheese sliders, chicken wings and chicken & chorizo cheesy bites, served with fries, garlic tiger bread strips and dips.
I also ordered a side of gyoza chicken, which is a beautiful Japanese dumpling and well worth adding to your order. Like all Slug and Lettuce branches, the menu is affordable, and the cocktails are cheap. Treat this as your pre-drinking spot before heading to Whiskers or The Dead Famous.
Toast
Tapas and drinks
Independently run tapas and wine bar, Toast, is a real gem of a venue. We'd planned to pop in for food back in August, but due to staff shortages as a result of the pandemic, they were operating as a bar only.
We went for drinks anyway and were welcomed by friendly staff who seated us straight away, and began talking us through some of the menu. They were very knowledgeable, and I ended up ordering the gin tasting board for £16.
The Tarquin's surf board came with four single measures of different Tarquin's flavours, including the 57% ABV Seadog Navy strength gin. They came with lemonade to mix, as well as ice and lemon slices. This is such a cute idea and you could even split the drinks between two, or four of you if you wanted.
Whilst we enjoyed a drink, we agonised over the tapas menu we couldn't have, because it sounds to die for. From chorizo stew to shredded duck and Spanish meatballs, each tapas dish is around £4-5 – you could order two or three to yourself, or have the table order a selection to share. We'll 100% be booking in advance for next year.
The Dead Famous Liquor Lounge
Drinks and bar snacks
The Dead Famous Liquor Lounge finds itself on Gover Lane, just up from Towan Beach, making for the perfect post-beach pitstop with your pup. By day, the bar serves a range of burgers, loaded fries and nachos, turning into a bustling LA style club by night with a fabulous cocktail menu.
A tray of fries or nachos topped with cheese, pulled pork or bacon, and a selection of salsas will set you back £8, but it's ideal for a group picking away with a pint.
Indie and rock music lovers will be in their element here – with gig posters slapped on the wall and cracking live performances in the evenings, followed by a bustling club night. Think of this place as your home away from home – it reminds me of Stoke-on-Trent's The Underground, or Jimmy's in Manchester.
This year their cocktail menu was slightly shorter than last, but it didn't matter, because you'll only ever need to order a Cherry Famous, which tastes just like Cherry Drops. They've also got martini's on tap, with typical drinks prices, so about £8 per cocktail.
The Brew and Tattoo
Cuppa and cake
Leather Chesterfield sofas and the buzz of tattoo guns sets the tone for this dangerously cool Newquay venue.
The Brew and Tattoo offer flash walk-in tattoos from £35, as well as piercings at their in-store studio. Downstairs, you can grab a brew and a slice of cake from the bar and listen to the hum of new artwork being inked onto skin.
Whilst Dad, Karl and Mel headed upstairs for some new ink, Mum and I sat downstairs with our dogs Phoebe, Frank and Winston, who lapped up all the attention from the tattoo artists between their clients. Staff are incredibly upbeat and charismatic, and more than happy to help or talk to you about your dogs.
Unless you're getting a tattoo or new piercing, you'll likely only spend a few quid here. They also do takeaway hot drinks, and beers after 6pm when the tattoo artists have clocked off.
Whiskers
Drinks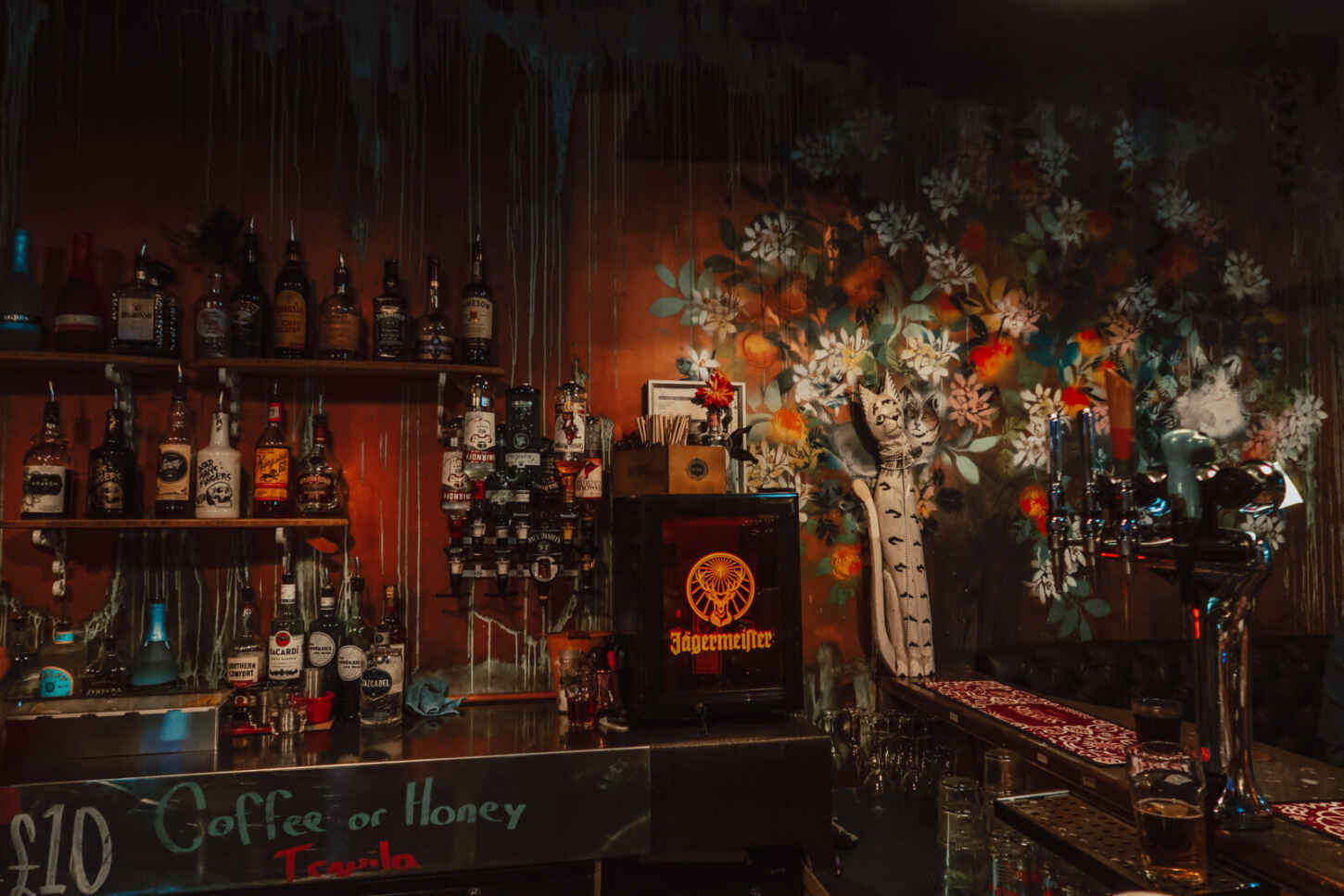 By day, you can enjoy a cup of tea or a cold fresh orange juice in dog-friendly Whiskers before heading down to Towan for the day. By night, this cat-themed bar is a buzzing hub for live music and an alcoholic drink.
Last year, the venue underwent a huge renovation project, including installing an LED light up dance floor and a bigger stage. My favourite features have to be the moggy murals and cat tables, though, inspired by owners JG and Nicole's cats, Orla and Nibbles.
The laidback bar doesn't faff with cocktails, but they've got a great selection of beers and spirits to choose from, including Jubel Elderflower beer, Tarquin's strawberry and lime gin, and of course, spirit of the season – tequila. Coffee and honey flavoured shots.
Most nights there's live music on in the venue, whether it's open mic Mondays, or catching popular busker Dr Funk play his guitar.
Loafers
Grab and go lunch
Loafers has been on Gover Lane for as long as I can remember, and it's the perfect place for a takeaway lunch – especially if you're in a larger party that isn't sure what they fancy, or everyone wants something different.
They serve a selection of breakfast baps and baguettes, as well as chicken, bacon and chorizo – or even crab. Pasta pots and jacket potatoes are also on the menu, with lots of add-on toppings to choose from.
You only have to check out their Facebook reviews to see how much people love this place – it's been dubbed the 'best sandwich shop in Newquay' more times than I could possibly count.
Don't forget to buy a packet of Burt's crisps and a drink, and head down to the benches opposite The Dead Famous to enjoy lunch with a view. Just mind the seaguls, they like Loafers leftovers.
The Stable
Pizza
At the top of Fistral, The Stable is a great place to relax after a surf or lounging on the beach. Its huge panoramic windows provide a gorgeous view of the sea, which is particularly spectacular at sunset.
The pizzeria serves up delicious sourdough pizzas with their signature ingredient – Glastonbury mozzarella – as well as British ingredients that support local farmers, like Somerset lamb and beef, and Suffolk chorizo.
And there's not just one token veggie or vegan pizza, The Stable have five meat-free pizzas, including three veggie and two totally plant based, alongside salads, sides and desserts.
Of course, you can get a classic margarita, or pepperoni, even a Hawaiian if you're that way inclined, but the dog-friendly eatery also serves up more interesting creations like 'Hen Party' packed with Cajun chicken, roast onions and green peppers, sweetcorn and a barbecue sauce base, or a 'Spice Rack' featuring Moroccan spiced lamb, roast piquillo peppers, sumac, Guindilla chilli peppers and a homemade garlic herb drizzle.
Expect to pay between £8-14 for a pizza, but they're perfect for sharing with a cider and some tater tots.
Central Inn
Pub grub
Right in the heart of Newquay town centre you'll find Central Inn, dominating Central Square which links Fore Street to Bank Street.
The venue underwent a £250,000 refurbishment in 2018, thanks to St Austell brewery, and it's the perfect place to grab some pub grub to fuel your day.
Central Inn is dog friendly, with a large outdoor seating area that's perfect for people watching. Inside there's a pool table and 13 screens showing Sky Sports.
Food offerings are your typical pub classics, think burgers, fish and chips, wraps and ribs. For mains, you're looking at £8 upwards, with the most expensive menu item being the steak at £17. The small plates at three for £13 is a great offer though, I recommend the loaded fries, mac and cheese bites and Southern fried chicken strips. Other people in my party ordered the fish and chips, and were pretty impressed with that, too.
Lost Brewing Co
Brunch and brew
Cafe by day, bar by night, Lost Brewing Co is a cosy coffee shop, bar and kitchen at the top end of Newquay town.
The family run venue was founded by brothers Daniel and Jamie in 2018, and has a really chilled vibe. It's a great place to take a break with a cup of tea, or a beer any time of the day. The main feature wall is covered in bright graffiti, with old-style cinema chairs at one of the low tables, and has an all-round great atmosphere.
I've only ever popped in for a cuppa, but their food menu spans breakfast, lunch and dinner. I'd definitely opt for brunch at this laidback location – the waffles and smoothie bowls are calling my name. Brunch items are between £5-8, so with a cup of tea or coffee, you're looking at under a tenner for your elevensies.
Kook Smoothie and Juice Bar
Milkshakes and smoothies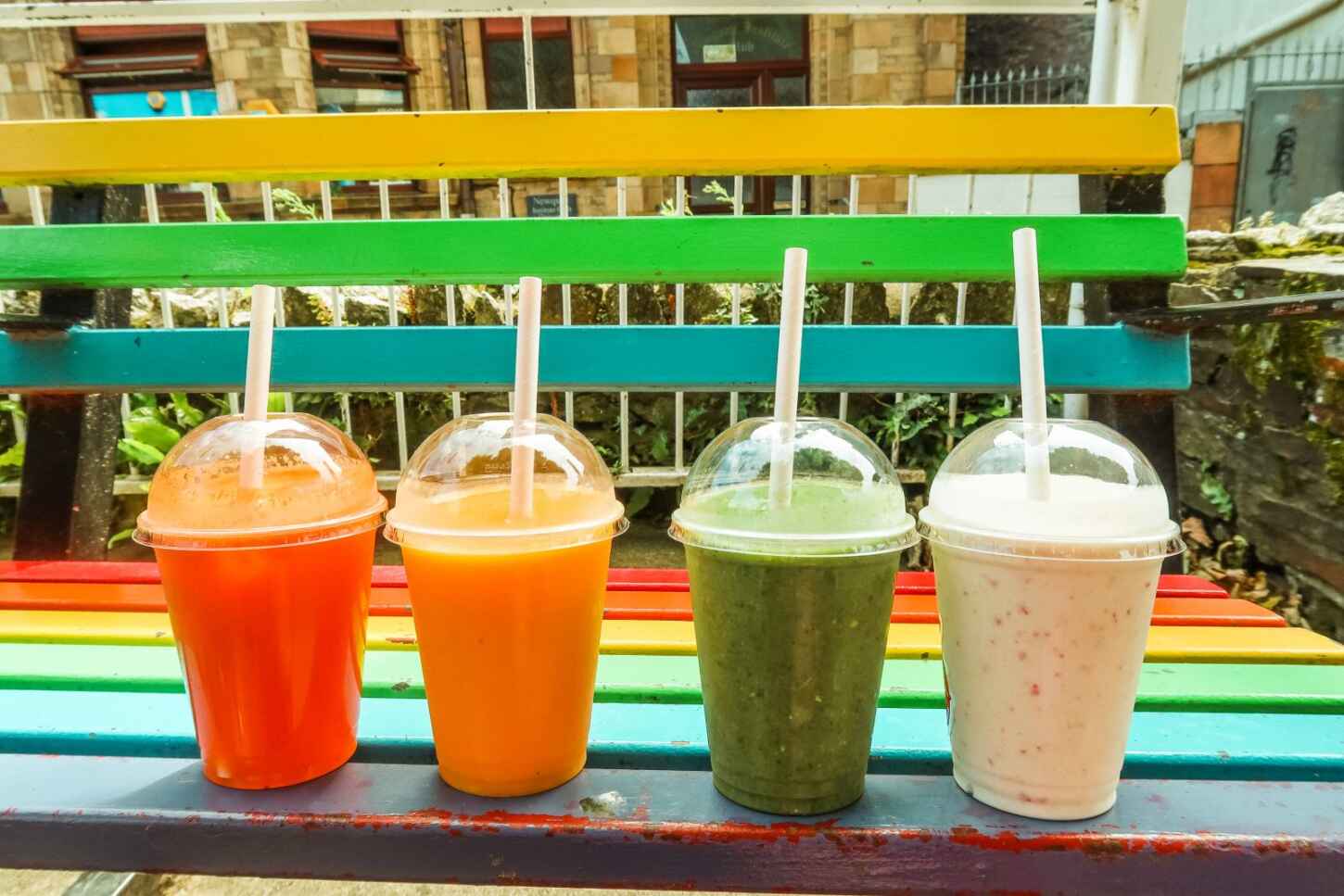 On the corner of Fore Street, Kook is a bright and inviting sight on a hot day. Specialising in healthy juices and smoothies, as well as serving delicious milkshakes and ice-creams, it's a great pit-stop to cool down.
Whether you're a green juice drinker, or have a super sweet tooth, their extensive menu is bound to have something to tickle your tastebuds. I ordered a Jammy Dodger milkshake which was made using the branded biscuits, whilst Jake ordered a passionfruit smoothie which tasted exactly like a frozen J2O.
The menu is huge, so you'll likely want to perch on their fruity cushions in the windowsill until you've decided – and it's a tough choice!
Prices range from between £3 and £5, and there are some rainbow benches a few metres away where you can sit and enjoy your drink whilst looking out to Towan beach.
The Headland Hotel
Dining out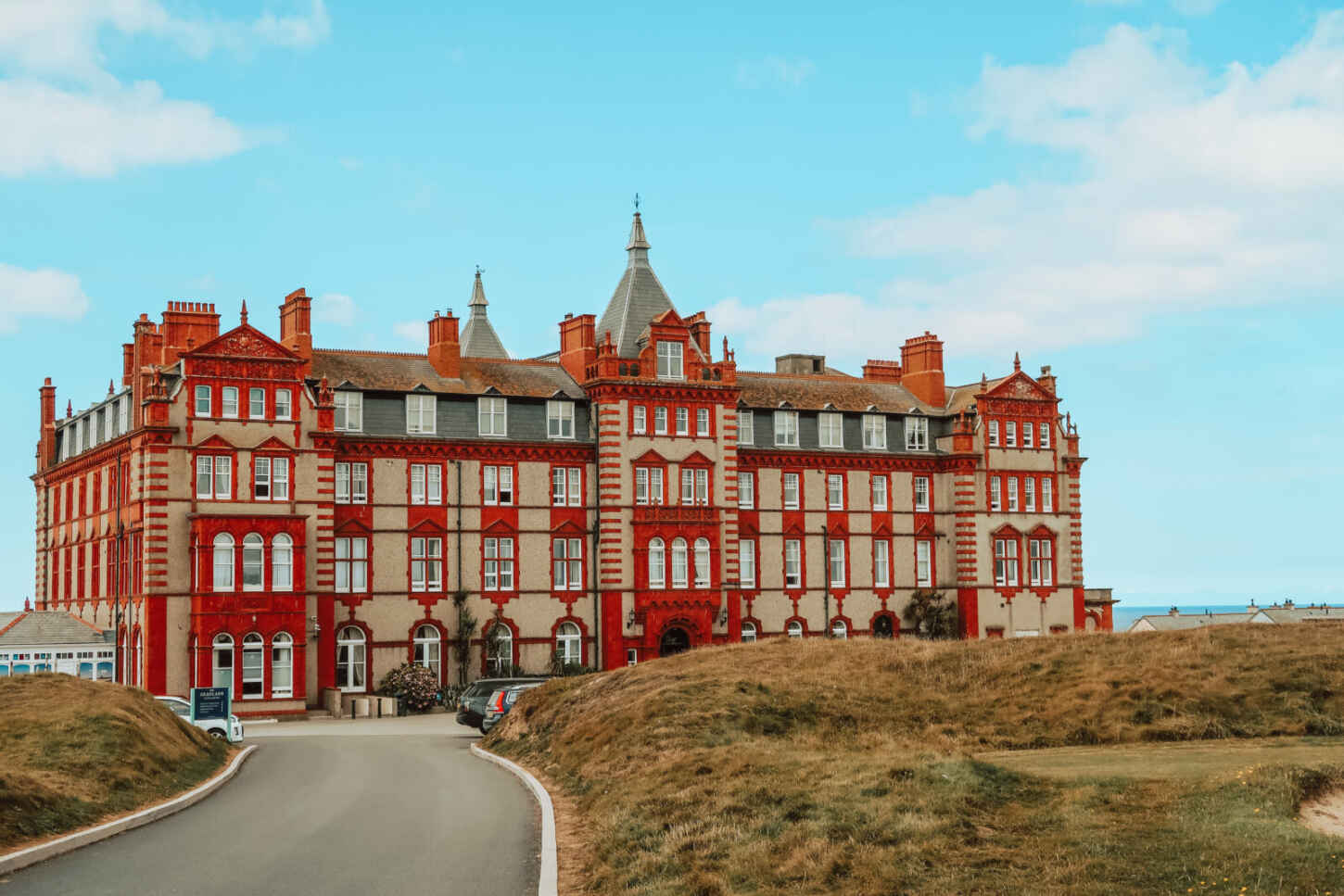 The most expensive venue on the list, but one well worth the money for the atmosphere, quality and experience. The Headland Hotel is a Grade II listed building the very top of Fistral Beach, which featured in the film The Witches in 1990.
Booking in advance is a must, and we tend to book the Terrace restaurant, which is a little orangery overlooking Fistral.
Starters begin at £8, with mains from £12 – but anyone who enjoys their seafood should certainly be ordering the Cornish Mussels. They come in at £18 but the portion size is generous, cooked in white wine, garlic, parsley, bread and butter or fries.
In previous years, I've really enjoyed their antipasti boards, boasting a selection of deli meats, pesto and sourdough bread. The cheese board was also amazing, packed with St Endellion brie, Cornish blue, Yarg, with grapes, chutney, biscuits and sourdough bread.
One year, I'd love to visit for Afternoon Tea in one of their private lounges. The building really is magnificent – so do try to have a mooch around when you visit.
The Boathouse
Street food
The Boathouse is a relaxed street food market in Newquay Harbour, with an ever changing selection of vendors offering flavours from around the world.
When we visited there was one offering fresh Cornish seafood, as well as a pizzeria, Indian food, burger bar, and Load A Waffle serving up killer desserts. I usually find loaded waffles really heavy and sickly, but I could have eaten five of their Kinder waffles, topped with Nutella, strawberries and cream. They were so good.
Behind the bar you can order Cornish lager and cider, wines, cocktails, hot and cold drinks. Whilst you can't book a table, just turn up, bag a table, and order via the app and your food and drinks will be brought to you by a server.
On our visit, it was a bit drizzly, but we managed to get a table under a parasol and the weather didn't bother us one bit – and typical of Newquay, it soon warmed up again.
All the food is served in recyclable takeaway boxes, so you could even grab a picnic blanket and sit on the harbour. Because the hub is run by different vendors, prices vary, but nothing we ordered was overpriced, in my opinion. We'd have liked to go again on our trip, but we ran out of time in the week!
Rebellion Roast House and Moonshine Bar
Dining out and cocktails
Rebellion Roast House and Moonshine bar features ambient, rustic décor with a western vibe, offering cosy low sofas adorned with faux fur and cow hide throws.
Their Moonshine Mussels are a must – they're just £8 from the small plates menu, but the portion size is decent. If seafood isn't your thing, go for the Wagu burger, or sweet potato gnocchi. Add a side of Moonshine onion rings, because anything cooked with Moonshine on the menu tastes amazing.
It's the cocktails that will steal the show here, offering customers drinks they won't have tasted anywhere else. I tried the Jam Packed cocktail, featuring fraise, vodka, strawberry puree, elderflower, apple juice, cranberry juice, lemon, lime and fresh strawberries. Or why not go for a Cola Bottle, which tasted exactly like the chewy sweets?
Expect to pay around £8 for a cocktail, and for mains, you're talking anywhere from £11 to £26 dependent on what you order. The food and the vibe is great though.
ChouKette
Sweet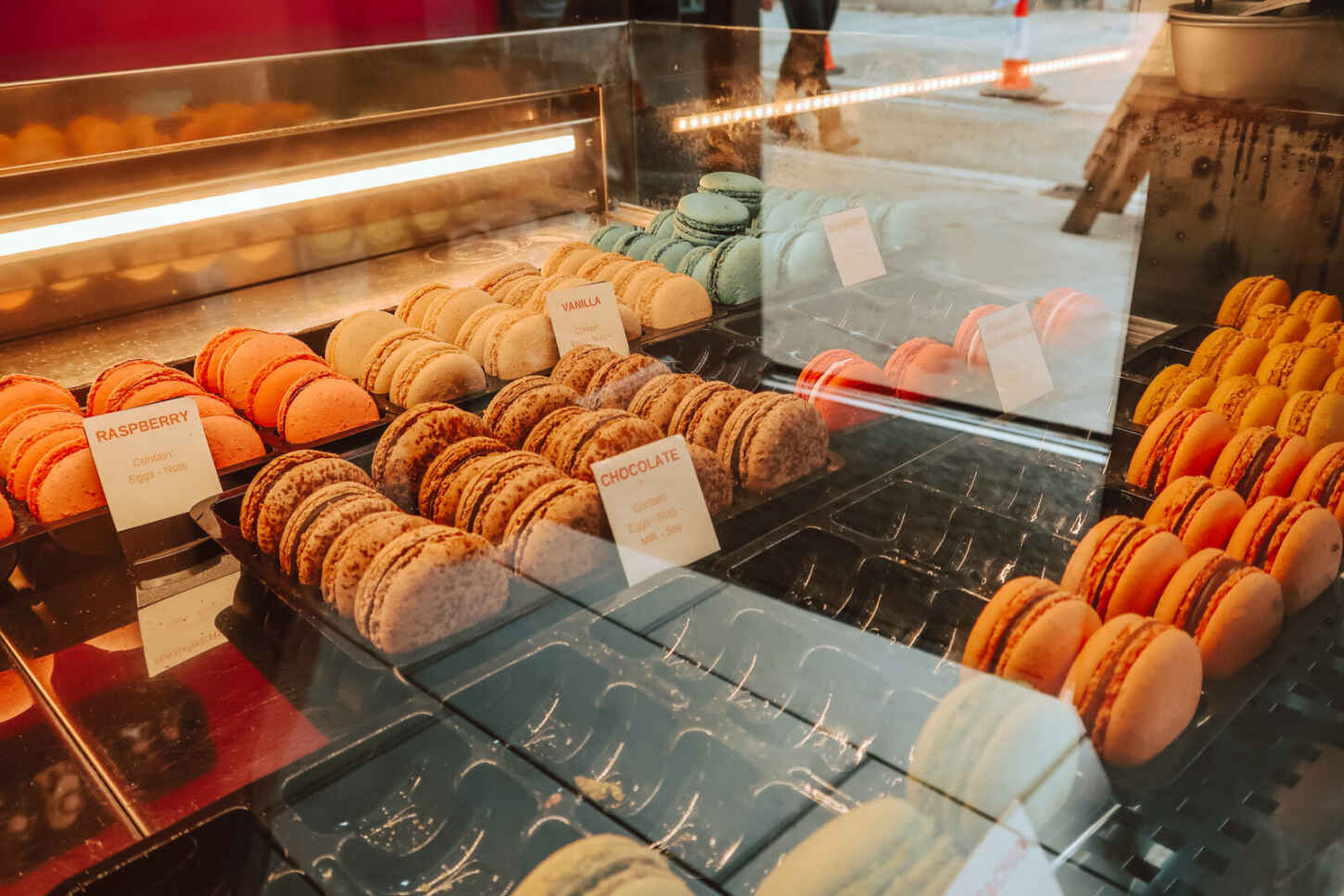 This French patisserie sells the most mouth-watering desserts, but I've fallen in love with their macrons and buy dozens every year. They're £1.20 per colourful, perfectly formed, sweet treat, or £6 for 6.
Flavours include salted caramel, vanilla, strawberry and marshmallow and chocolate, as well as pistachio, raspberry, blueberry and passion fruit.
ChouKette – meaning small choux pastry sprinkled with pearl sugar – is the only French patisserie in Cornwall, run by Samantha and Benjamin who have over 10 years experience in the pastry industry.
Also in the shop, which does have seating and free WiFi, the duo sell pastries and pristinely decorated French cakes that almost look too pretty to eat!
Freddo's
Lunch and ice cream
If you want a delicious Cornish ice cream, then Freddo's is the place to go. Choose from over 30 homemade ice creams, plus rotating specials, cone, sundae, a scoop on their breakfast waffles, or in a milkshake!
Their menu is mostly vegetarian, with plant based options available, so perfect if you've got a vegan in the party, or fancy a healthier lunch. They serve up some fabulous sandwiches, paninis and toasties which we enjoyed outside whilst waiting for the Cornwall Pride banner parade on Bank Holiday weekend.
The brie and berry toastie was just £4.50 and was really filling, whilst Jake opted for the Trio Tricolore, which consisted of mozzarella, pesto, tomato, basil, spinach and salad.
Nothing on their menu is more than £10 (the cream tea for two), with indoor and outdoor seating and really friendly staff who made a real fuss of the dogs sat under the table.
Rick Stein Fistral
Fish and chips
Rick Stein is a real Cornish kingpin, with restaurants in Newquay, Padstow and Falmouth. The celebrity chef and entrepreneur owns at least 12 venues in the UK and Australia, as well as a handful of gift shops and delis in Padstow.
The Fistral restaurant opened in 2015 and you can enjoy his famous fish and chips on the gorgeous sandy beach, or dine in for the full restaurant experience at the dog-friendly venue.
I feel like Rick Stein's chip shop offerings are something you have to try at least once. Whilst pricy, fish and chips do taste better with a sea view – but it was his giant onion rings that were my favourite – and the fact you can buy take-out cider.
Cod and chips will cost you just shy of £10, and alongside their traditional chippy products, you can also order curry, Thai noodles and mouth-watering desserts.
Pauline's Creamery
Cake and cuppa
Should you fancy a cream tea or a slice of fresh cream cake, then Pauline's is the place to visit – just follow the smell of freshly baked goods.
The family-run business made Newquay it's home 30 years ago, and has a takeaway downstairs, where people queue up the street – and a tearoom upstairs if you'd like to sit in.
As well as delicious bakes, and the best brownies in town. Pauline's also sell a selection of sandwiches perfect for popping in a picnic basket to take down to the beach.
You can view the menu online, with sandwiches costing £4-6 and cakes from £1.80 to £4.