Every time I pack for holiday I hear my dad shouting from the other room "It's not a bloody fashion show, Beff." Meanwhile, I'm sat on top of the suitcase struggling to close the zipper.
Au contraire, Pops. It is.
When you work from home, the prospect of a full week out of the house is a real excuse to dress your best. Heck, we've been in a pandemic for 18 months – my clothes needed a blooming holiday, too.
From puff sleeve dresses to sassy leather trousers, these are my five favourite summer holiday outfits from my recent trip to Cornwall – and where I bought them.
Easy Tiger
I nipped into Next for a wee and came out with this dress – I've never snatched something off a rail so fast in my life. Lightweight and literally in my blog's branding colours, it was perfect for a day on the boating lake and walking through Trennance Gardens. It's puff sleeve and square neckline are so on-trend, and the skirt – whilst shorter than my go-to midis – is a really nice length for summer. Not one to be too girly, I had to style this with my chunky black boots from Lula, which go with everything.
As seen on Helen Anderson, George at Asda have a really similar print dress in a maxi style, for those of you looking for something to take you into autumn winter. I'm currently sat on my bank card telling myself I don't need it (but I do).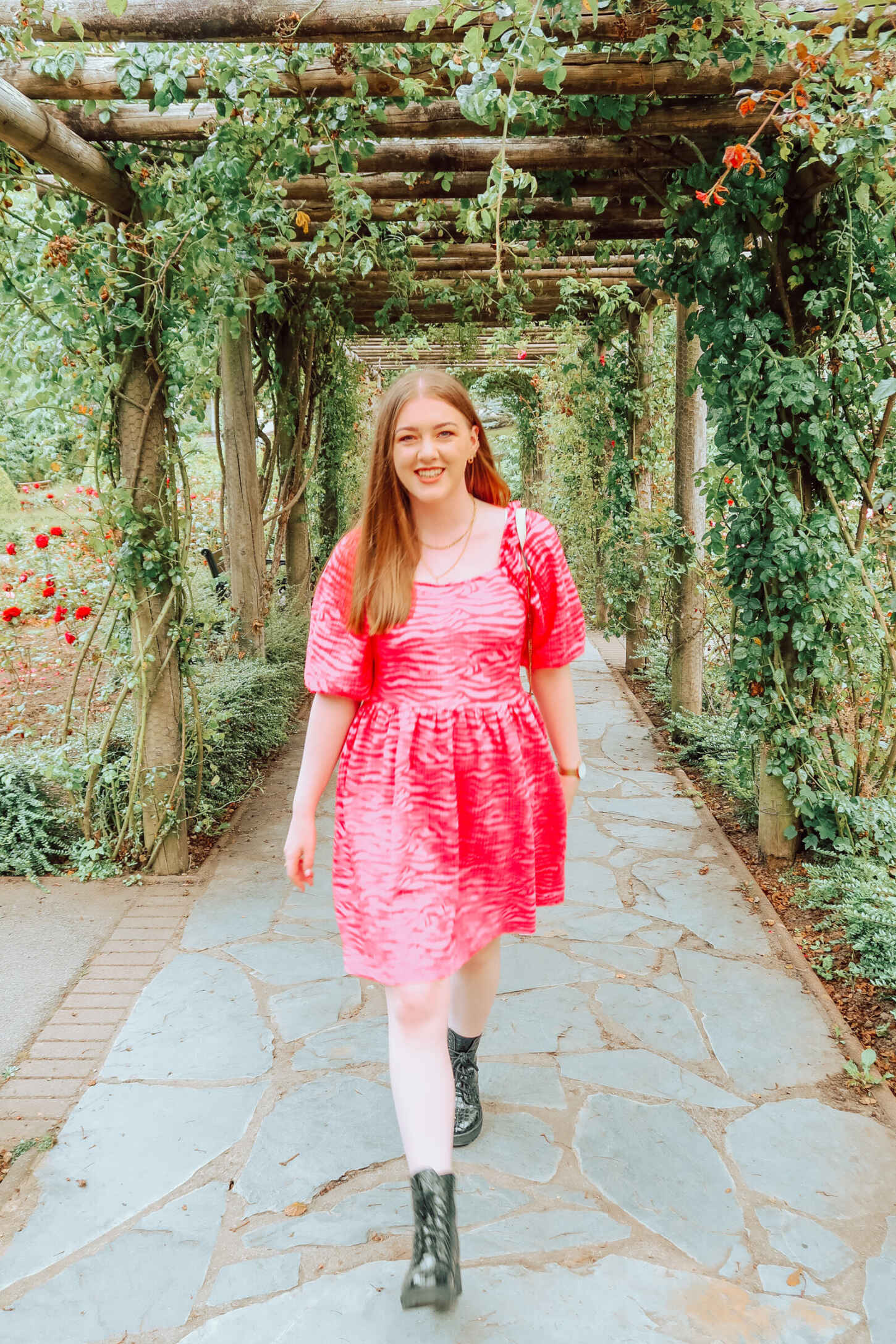 Leather shorts for summer
Earlier in the year I bought some cream faux leather shorts that came just above the knee. I loved them so much I got the same pair in black. I loved them both so much, I've done nothing but buy faux leather shorts and trousers since. It might be an addiction, but it's one I'm willing to fill my wardrobe with. These minty coloured culottes are so soft, with a suedette lining that feels amazing without getting too hot – and they were only £13 from Primark.
I paired them with a pink high neck ribbed sleeveless top from Stradivarius at the Trafford Centre, for £12.99, styling them with my white embellished Paradox London trainers, which always bag compliments, and my pink vintage leather jacket – which bags even more.
A 70s Velma Dinkley
This accidental Velma cosplay might just be one of my favourite outfits I've ever put together. During a trip to Lula, in Leek – where I took half the shop into the changing room with me – I ran excitedly up the stairs to Emma wearing this look and did a miniature catwalk. Similar to the pink Stradivarius top above, this burnt orange one is just as comfortable to wear, and looks amazing with jeans, under shirts – everything. This one is slightly longer than it's Stradivarius cousin, costing £16, but well worth it for the quality and cut.
I wore this with the most incredible, derriere-flattering flared leather trousers in a deep tan, almost-red shade. Super chic with a seam running down the front, they scream 70s sass, which I'm 100% here for. They were on sale for £30. I wore this look with a cream crossbody bag which appears to go with practically any outfit, gold jewellery, and my chunky Nasty Gal sunglasses which cost £8.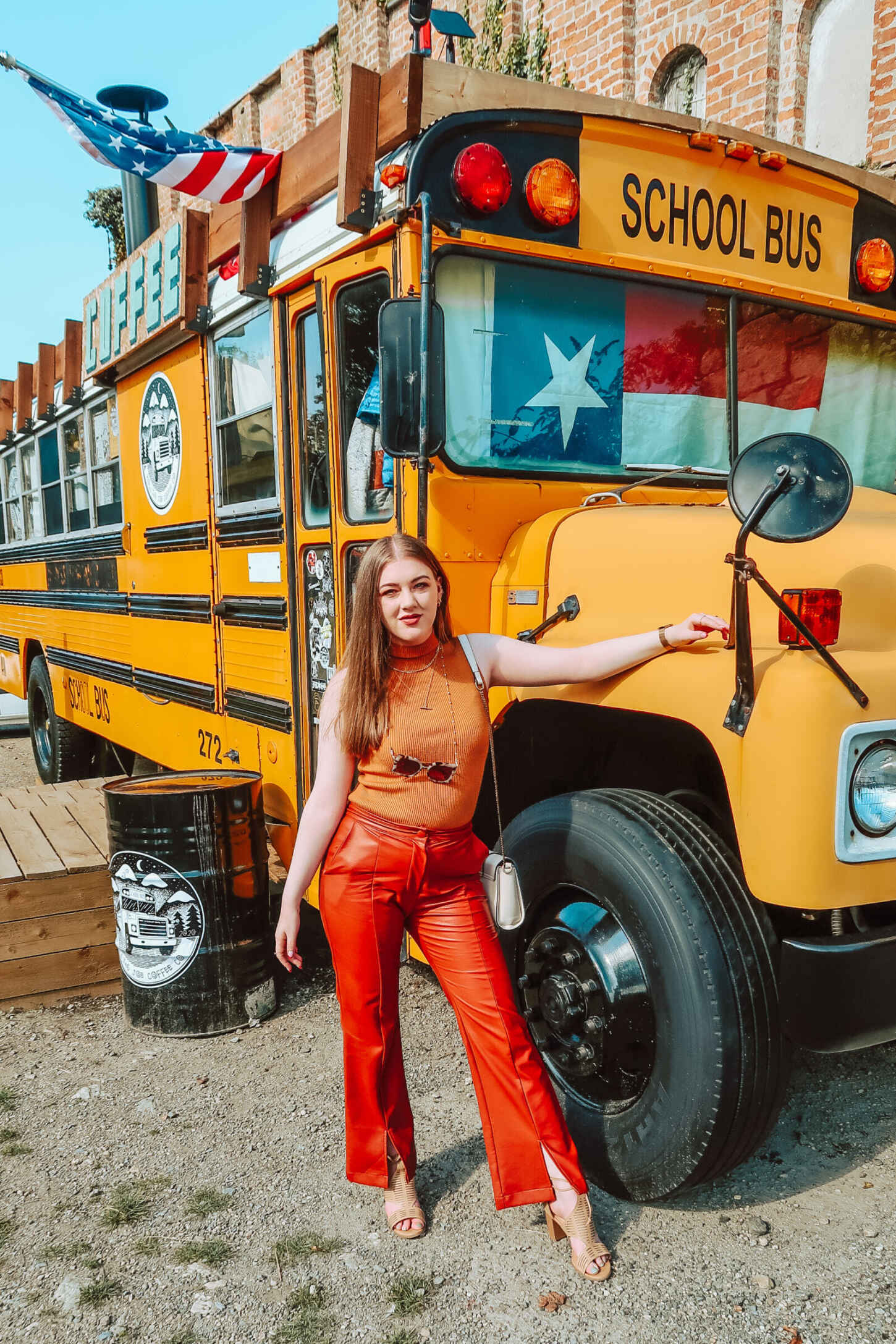 Lady in red
This dress makes me feel like the little dancing lady emoji. I spotted it in New Look and didn't buy it at first, finding it with 20% off just weeks later, so I'm glad I held out. It's since gone on sale for £17, so an even bigger bargain. The dress features a square neckline with shirred bodice, and thick tie straps which are stitched, so you won't accidentally come undone. The skirt is of midi length with a tiered hem, and looks fab with a pair of heels, or more casual with white trainers.
I wore it on holiday with my Rommy silk headband and Fenella Smith wristlet, which has the cutest dalmatian print inside.
Beach ready, babe
In July, I did a huge wardrobe clear out and Marie Kondo'd everything that no longer gave me joy. That just so happened to be everything that no longer fit me. It inspired a shopping trip for holiday clothes where I found these wide leg shorts in H&M for just £9 in the sale. They're a distressed wash look, and so comfortable – perfect for working from home when the weather is unbearably hot because they're so breathable.
In this photo, they're actually styled with a Primark swimsuit which came in at a tenner, and a beige oversized shirt from Stradivarius. The sandals are also from Primark, and are ace to just slip on with any summer look. Leopard print goes with everything, doesn't it?