It's the most wonderful time of the year! There's just something so magical about the run up to Christmas – and for me, it really is all about finding the perfect gifts to show my friends and family I've been thinking of them.
Last year was tough, with many people still unable to spend the yuletide season with their loved ones. So this year, there feels a need to make Christmas 'bigger and better'. But I'm here to ask you to make it smaller and stronger, and joining me in my quest to #ShopSmallStaffs.
What I mean by that is, instead of hitting up big name retailers for your presents this year, take a look at independent sellers right here on your doorstep to support small businesses, strengthen relationships and share unique, handcrafted gifts with those who mean the most to you.
You see, spending just £5 per week in a local independent shop or businesses would see £4.7 million per year going directly into our local economy annually. This can lead to more jobs, a better high street, a stronger economy and the opportunity for more creatives to thrive.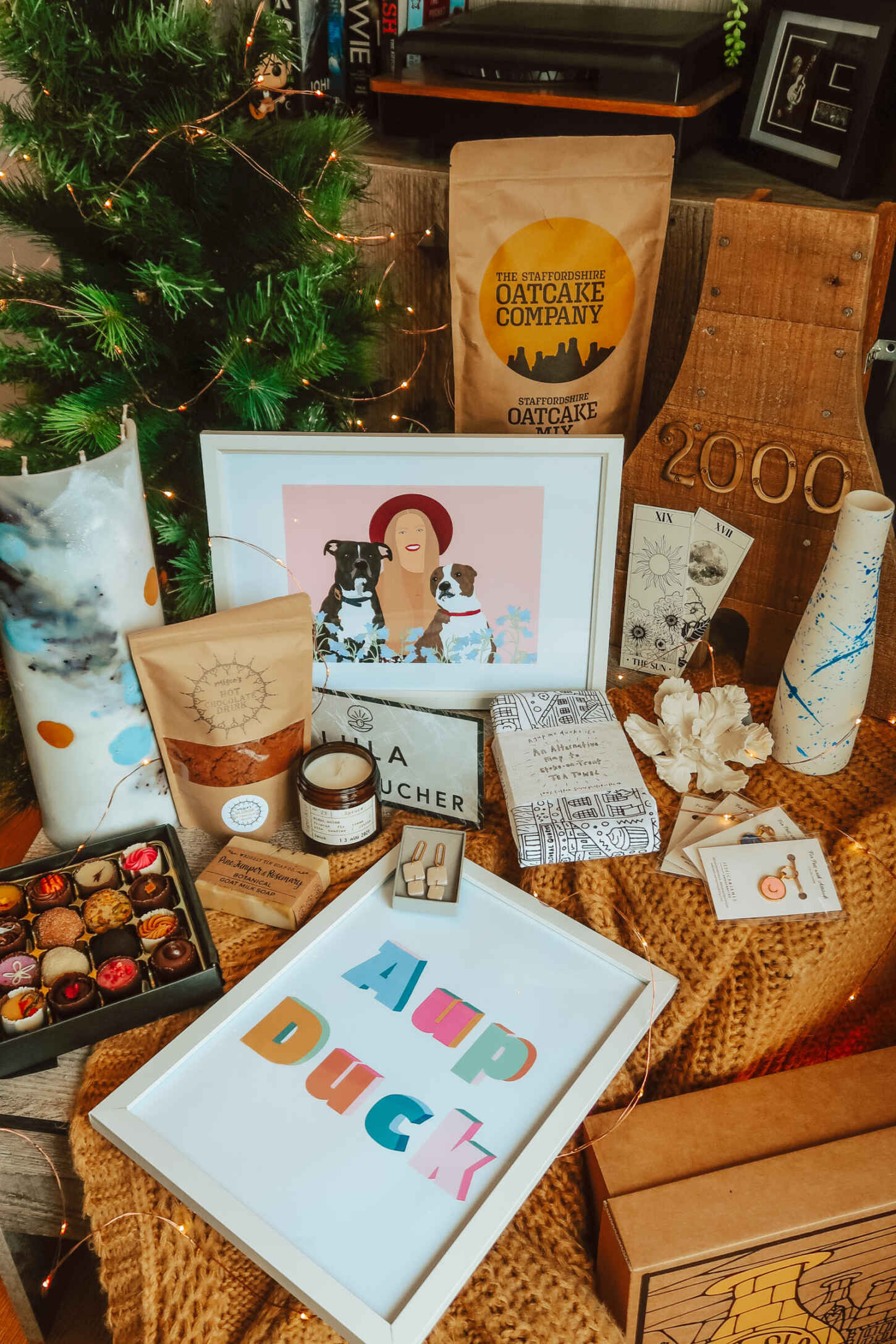 To offset Black Friday sales, from November 22-26, Just a Card are promoting their indie week to encourage people to support local creatives, and educate on the value of buying from local artists, makers, movers and shakers this Christmas. The idea behind the campaign is that 'every sale however small, even just a card, is the difference between a vibrant creative community or a boarded up business'.
Now, before I share with you my absolute favourite top picks from Staffordshire sellers this year, I wanted share some reasons why you should buy indie this year, and give you some top shopping tips to make sure you're sorted for Christmas before December 24.
Firstly, whether you're buying something worth £1, £10, or £100 – supporting an indie business helps small creators continue to live their dream, and every customer is a small but integral part of that. Not only that, but the products you're purchasing are completely original, making both the gift, and the shopping experience much more personalised. Independent retailers are much more likely to offer you excellent customer service, and go the extra mile to make that gift a special one.
My ultimate tip, though: start shopping early. Often makers, artists and illustrators make their products to order – particularly if they're personalised – so make sure you get them bought with plenty of time for them to be delivered, wrapped, and hidden underneath the tree.
This Christmas, I've got some amazing Staffordshire (and one cheeky Cheshire) brands to showcase that you're going to love. There's something for everyone, with many of the brands having the Potteries right at the heart of their small biz. Here are 15 brands where you can find the perfect Christmas present in Staffordshire this year.
Miscos Chocolates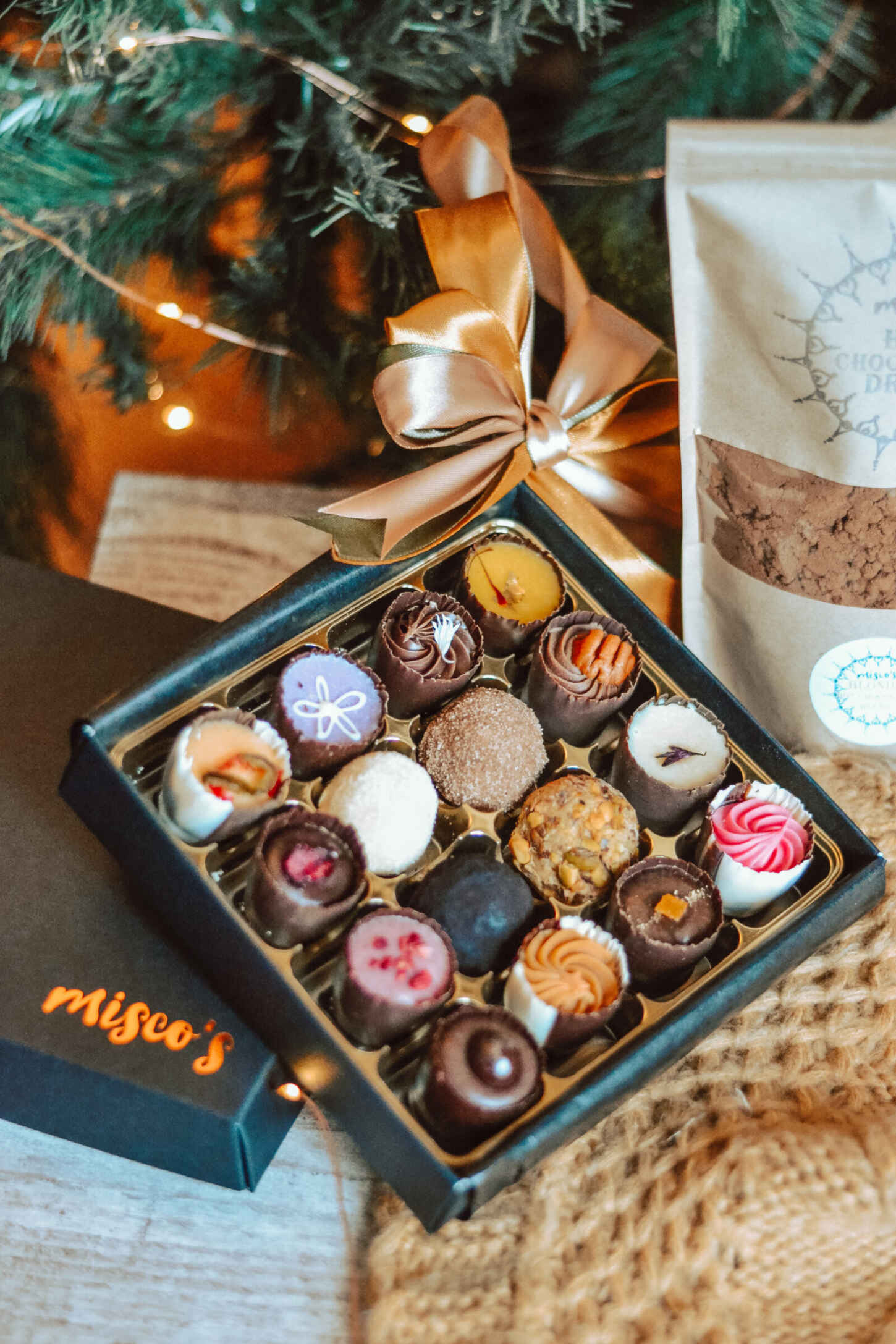 I love the story behind Miscos – it's one that really shows the true spirit of Christmas and what it's all about. Ten years ago, owners Meg and Cisco's were short of cash, but still wanted to give something thoughtful to their family at Christmas. They'd never made chocolates before, but decided to give it a go, and before they knew it, they were selling out market stalls in 2012.
Later that year, Cisco's 80-year-old grandma won £1,000 on Deal or No Deal, and invested it into the business. Now, Miscos – based in Leek – are famed for their delightful hot chocolates and beautiful boxes of artisanal treats.
Miscos chocolate boxes are sold in boxes of 4, 6, 8, 12 or 24, and can be ordered as a mixed box, dark chocolate, fruit/white chocolate, alcohol free or vegan. Prices range from £5 to £25, and come presented in a sleek black or white box with a hand-tied ribbon. The vibrant and fresh chocolates are all made in small batches, and if you head in store, you can buy the exact chocolates you want to build your own box, or order online for a surprise.
The benefit of buying in store, though, is that you can buy an extra chocolate for yourself, as well as try one of their proper hot chocolates made on the stove in the back. It's the ultimate winter warmer. If you can't get to Leek and need to buy online though, their Christmas cut-off is December 10 – so as I mentioned earlier, get organised and order early to avoid disappointment.
And if you know someone obsessed with a Velvetiser or similar milk frothing product, the Miscos hot chocolate powder is an absolute must. Priced at £8, the packets are an amazing stocking filler and come in five signature blends: Classic, 90% Dark, 70% Dark, Blonde and Vegan. I bagged myself the Blonde, which is more of a milk chocolate, and it's truly next level delicious.
Maja Piechocka Candles
For a completely one-of-a-kind gift, check out Maja Piechocka Candles. These bespoke sculptured candles are completely handmade, and elevate the look of any room in your home. The decorative candles are unscented, each with their own unusual design, so awesome for those friends who enjoy quirky home decor.
Maja launched her career in 2012 after graduating from the Manchester School of Art where she studied 3D Design, and has dabbled in jewellery making, glass blowing, ceramics and woodwork, but is currently focusing on candlemaking – a skill she fell in love with as a child. In fact, as part of her candle making process, she even uses a specially crafted tool made by her dad, Adam, to melt the wicks into each arched candle.
To look at, you'd think that these were giant pillar candles, but spin them around and the half-moon designs are totally hollow. Maja stocks two main types of candle, columns and waves – and this one here is a column, which retails at £30. Smaller columns are available for £20, whilst waves come in at £23.
Made with paraffin wax and candle dyes, Maja then uses oil pastels to create new colours and patterns in her designs – the wax is poured into a metal mould and bend into the iconic shape using hot water.
Now, I know what you're thinking – too pretty to burn, right? Well, before you decide to light the wicks, you can enjoy your candle by putting a small tealight in a glass jar behind it for an ambient glow. Maja also recommends displaying them on a windowsill where the light will shine through them – just be careful of getting them too warm in case it melts.
That said, the candles are a 'magical spectacle' to watch burn, so when you do decide to light it, be sure to enjoy the 4-5 hour show.
Buy online at Maja Piechocka with gift wrap available upon request, or head down to stockist Josiah and Co at World of Wedgwood to pick out your favourite.
The Staffordshire Oatcake Company
Is there anything more Stokie than a good old Staffordshire Oatcake? Bacon and cheese, for me, please!
During the first Covid-19 lockdown, Mark Adams had to furlough himself from his advertising business and, rather than sitting around feeling bored, the Baddeley Green dad launched The Staffordshire Oatcake Company. Mark tracked down a 100-year-old oatcake recipe, and created a dry mix so that people could have a go at making their own oatcakes, and his innovative product has flown off the shelves at local stockists like Gallagher's Deli and Josiah and Co.
This is The Staffordshire Oatcake Company's Taste of Staffordshire Hamper, which contains two Staffordshire Oatcake mixes, one Pikelet mix, a packet of Staffordshire breakfast tea, a branded mug and tea towel for £34.99. It comes beautifully packaged with a lid design created by local artist Lisa Proctor – and inside is a beautiful poem from Potteries poet and legend Nick Degg.
The oatcake mixes each make around a dozen oatcakes – and they couldn't be easier to make, you just need some water and a frying pan! At Christmas, you could even opt for cheese with pigs in blankets as a festive filling.
If you're looking for a stocking filler gift, then their £4.95 Staffordshire Oatcake mix also comes with new Christmas themed packaging – and we all know what's for breakfast on Boxing Day!
Crumbles Ceramics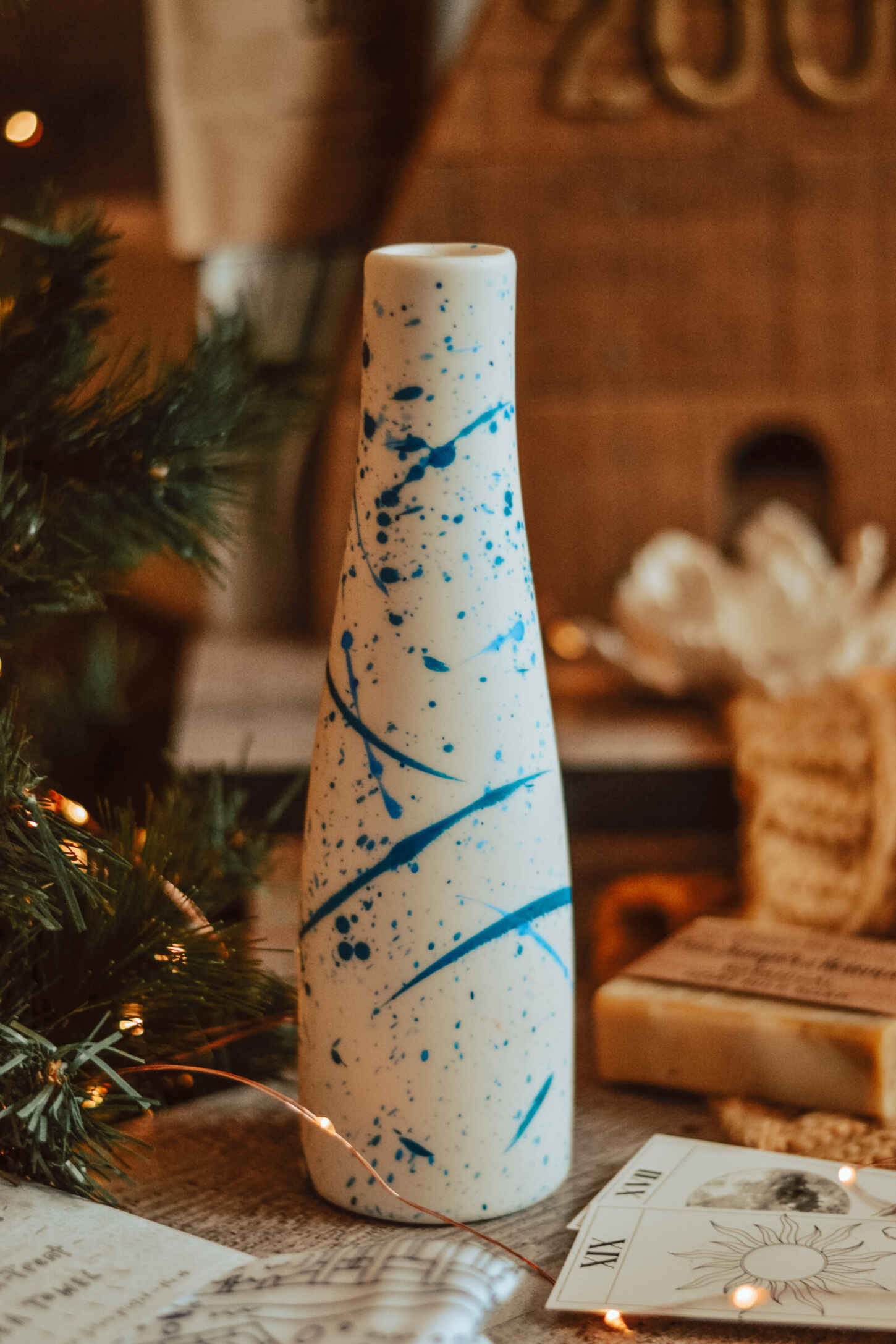 Crumbles Ceramics was established earlier this year, with designs created by Nick Cresswell, marketed with the help of his daughter, Felicity Crumble.
Their work comprises of cleverly crafted potbank shaped vases and lamps – a nod to the bottle kilns of Stoke-on-Trent's industrial heritage. Each of the 9 inch vases are made in a Parian slip, each featuring a different design, meaning no two vases are exactly the same – that's the beauty of hand-crafted gifts.
This one is in a gorgeous blue splash design, which pays homage to popular pottery works like the Wedgwood and the famous Willow design.
Some of the designs have a glossy finish, whilst others, like this one, are matte. Each one is made to order, so feels incredibly personal, too. The vases are available on Etsy for £19.95, or in store at Josiah and Co.
Cloud and Clay
Created in Lucy's home office in Staffordshire, Cloud and Clay create stylish polymer clay earrings that certainly aren't just for Christmas, but for everyday wear.
When Lucy dropped out of university, she began dabbling in polymer clay, and now has a website full of earrings, rings and necklaces which have featured in Tatler and Elle UK.
This year, her Christmas collection features two necklaces, two festive decorations, two sets of studs and these Scandi drop earrings. Priced at £16, the 18k gold plated brass ovals, are teamed with pearl effect polymer clay squares in a gloss finish. They're super lightweight and suitable for those with sensitive ears too, with around a 5cm drop, they're not too big or too small, either.
The pearlescent finish to these earrings, much like the Orla earrings I bagged in last year's Christmas collection, remind me of the winter sun glinting on the surface of snow. Your fashionista friends will adore a pair of these, and the compliments they'll get whilst wearing them (I speak from experience).
Cloud and Clay jewellery is produced in very small batches, and as such, no two pieces are the exact same – but each and every one is simply stunning, sophisticated and chic.
Buy online at Cloud and Clay, or visit Tea- cake in Leek's Getliffes Yard, Derby Street, or Design 44 in Trentham to buy in person.
Wriggly Tin Soap Co
Jody believes that soap shouldn't be highly fragranced, covered in glitter and full of chemicals – so created the Wriggly Tin Soap Company to create, as she puts it 'good old fashioned' bars of soap.
Also dedicated to making her business eco-friendly, Jody said: "Soap has one function, to make us clean – and it should do that without drying our skin and producing millions of excess plastic bottles for landfill each year."
Made in her home studio in Leek, Jody produces a range of goat milk and vegan soaps, using a combination of 7 different kinds of vegetable oils and butters, each bringing a different quality to the sensitive-skin friendly soap.
Her pine, juniper and rosemary soap is a great festive fragrance. Warm and herbal, it's been created to 'calm and clarify mind and body'. The natural, cold pressed soap is zero waste, palm oil free and cruelty free, using local goat's milk too! Individual bars are priced at £4.5o, and can be bought online at Wriggly Tin Soap Co, or at Staffordshire stockists like Wedgwood's Josiah and Co, and Era, in Leek.
Jody also creates bath fizzies, soaks and shower steamers, alongside body care products like shampoo and skincare. You could even create a luxury pamper hamper ideal for new mums!
Stoke 2000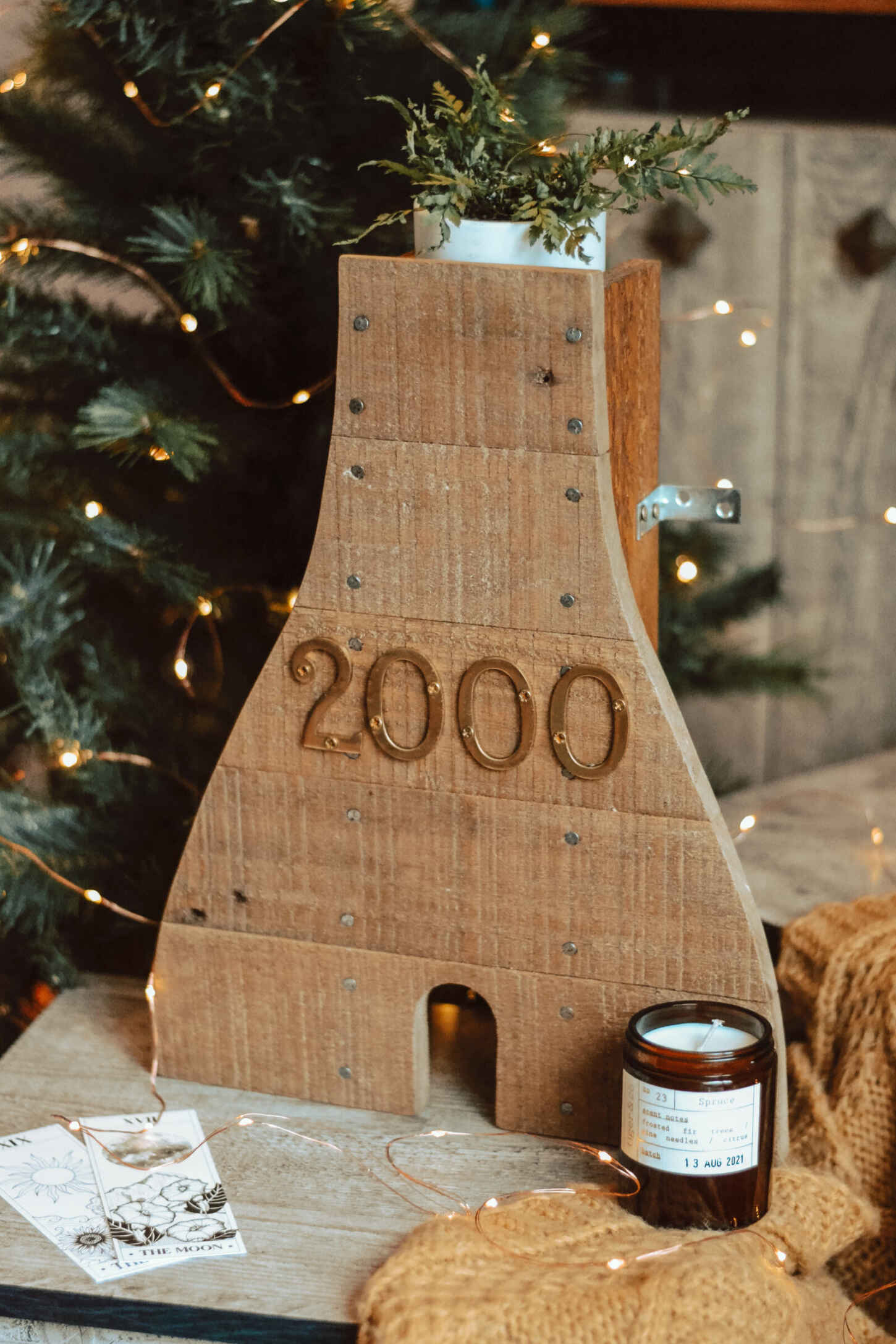 Chris Parr is a Burslem-born boy on a mission: to install over 2000 bottle ovens across Stoke-on-Trent and Staffordshire.
The Stoke 2000 is actually an art, culture, education and recycling project, getting the youth and community involved to help to reduce people's carbon footprint. Their iconic bottle oven planters, made from recycled pallet wood, are leaving a cultural legacy in the city, whilst tackling climate change, helping offset more than 37.6 tonnes of CO2 emissions.
Award-winning wood-craftsman, Chris said: "I started my learning journey as a cabinet maker designing and creating wooden fireplaces, showing my versatility by gaining skills in machine woodworking and bench joinery. The Stoke 2000 sees the creation of over two thousand bottle-oven shaped garden wall planters, made from end of use pallet wood in a variety of versions."
His handcrafted bottle-oven shaped garden wall-planters are priced at £30, with the classic version finished with a natural oak oil treatment. These can be personalised with a date or door number for an extra £9, and they look brilliant fixed next to a front door. A small 7cm x 7cm plant can fit in the top to brighten up your bricks – I think trailers look amazing in these, personally. Ours actually came with the standard 2000 number, which worked out perfect, because it's the year my parents got married!
These planters are a great gift for green fingered gardeners or new home owners, as well as a thoughtful gift for those who care deeply about the climate crisis, whilst championing Stoke-on-Trent's industrial heritage. They're currently on sale at
Stoke 2000
with a cheeky £5 discount, so grab one quickly before they sell out.
Shea Illustration
Barlaston-born Lianne Shea illustrates some amazing family portraits and funky home prints – but my absolute favourite from her Etsy store has to be the Aup Duck print.
You won't spend a single day in the city where you're not greeted by this endearing Stokie phrase, and will fit seamlessly into the home of any Staffordshire born and bread babe. And you've likely spotted Lianne's work around the city without even realising it – from Sean Beck and Sides barber shop, to Klay Pizzeria's 'No Gods Only Pizza' mural.
The Aup Duck typography print comes with either a black or a white background with the colourful slogan proudly presented front and centre. Opt for an A5 stocking filler for £10, A4 for £15, or go big with an A3 print for £20. The unframed design is printed onto high-quality 285gsm luxury matte paper, and brightens up anyone's home. I think this is a lovely little print for someone that might have moved to home working during the pandemic, to make their space that little bit sunnier.
Bag your prints at Shea Illustration on Etsy, or find Lianne's prints at Josiah and Co alongside a dozen other cool creatives. Be sure to keep an eye on Lianne's socials over the next few weeks as she launches her Christmas cards, too!
AC Ceramic Atelier
At AC Ceramic Atelier, Aleksandra sculpts delicate and intricate floral designs from English porcelain and fine bone China. This large porcelain hand-sculpted flower is definitely a gift for someone who enjoys the finer things in life, and appreciates the skill that goes into Aleksandra's work.
Based in Lichfield, Aleksandra has designed these parrot tulip inspired pieces for those looking for a timeless porcelain piece to add to their collection or searching for an uncommon gift.
The flowers cost £71 each, with the price reflecting the fact that each petal is individually sculpted with great care in order to capture natural beauty of a flower. Unglazed, this piece of pottery has a matte feel, and can be hung on a wall or used to elevate a dining table or mantlepiece.
AC Ceramic Atelier also sell these blooms in sets of three, five – even a set of 41. It would be really nice to gift say, a parent of three, a flower for each of their children to make it all the more meaningful.
Aleksandra's designs are available to buy on Etsy, and yep, you guessed it also at Josiah and Co.
Jessica and James
Staffordshire based jewellery brand Jessica and James is designed for fashionistas who care about the planet – and they had some fantastic Christmas earrings launch earlier this month.
Not only do they sell handmade jewellery, but also table runners, wheat bags and reusable face pads. But I want to tell you all about their pretty pearly pet tags!
Designer Charlotte has created a range of luxury charms for 'pets with attitude', using crystals that are said to have calming and joyful effects on our dogs and cats.
It was the pearly enamel tags that caught my attention, though – and I loved them so much I got some for my own dogs, Phoebe and Frank.
These gold collar charms come in four colours: navy, grey, pearl or pink, each with their own gold symbol – for example, the upside down moon on the pink tag symbolises calm, according to Charlotte. Each tag feature a subtle glittery swirl within the enamel which look stunning when the light catches it.
I really like the idea of buying two of these for your pet parent pals – one for their pooch, and one for them to wear either on a chain or on their keys!
Also stocked at Josiah and Co, Jessica and James products can be bought on Etsy with around a weeks delivery time.
Tiger and Co
Launched in 2019, Tiger and Co is a the only Cheshire-based brand in this gift guide because I love their home fragrance so much.
Vegan, cruelty-free, sustainable and in a whole host of festive scents – what's not to love about this oh-so-hygge brand?
Penelope launched the brand having found candle making therapeutic and beneficial to her mental health. Now she strives for conscious creation, using renewable soy wax, contemporary fragrances and planet-friendly packaging with their small batch candles.
Tiger and Co have launched four Christmassy scents this season, including Noel, Christingle, Equinox, and Spruce. Fresh, green and bright, Spruce captures the essence of a frosted fir tree – an integral part of the yuletide season. These are all hand-poured into apothecary style amber glass jars donning paper labels and aluminium lids – a simple but effective branding that effortlessly suits anyone's interior.
Each candle has a cotton and paper wick for a clean burn and no sooting, also meaning they're safe to burn around your pets. They also have around 35 hours of burn time.
Shop Tiger and Co candles on their website at £16 each, or wait for the restock of the festive gift boxes for £34 – featuring two candles. Sign up to Penelope's mailing list for 10% off, too, with the bonus of staying updated on new fragrances in the new year.
Speaking about shopping small and starting early, Penelope said: "If you've listened to literally any news broadcast in the past month, you might have noticed there are lots of supply chain issues currently, but that's not the only reason to shop early. Shopping early helps smaller businesses like ours hugely. We only have two pairs of hands over here, and the closer we get to Christmas, the harder it becomes to manage the rush and keep your favourites in stock.
"We also think it's the most sustainable way to shop; taking a bit of time to actually consider what gifts to purchase, rather than panic buying unwanted presents on Christmas Eve."
Designs by Scarlett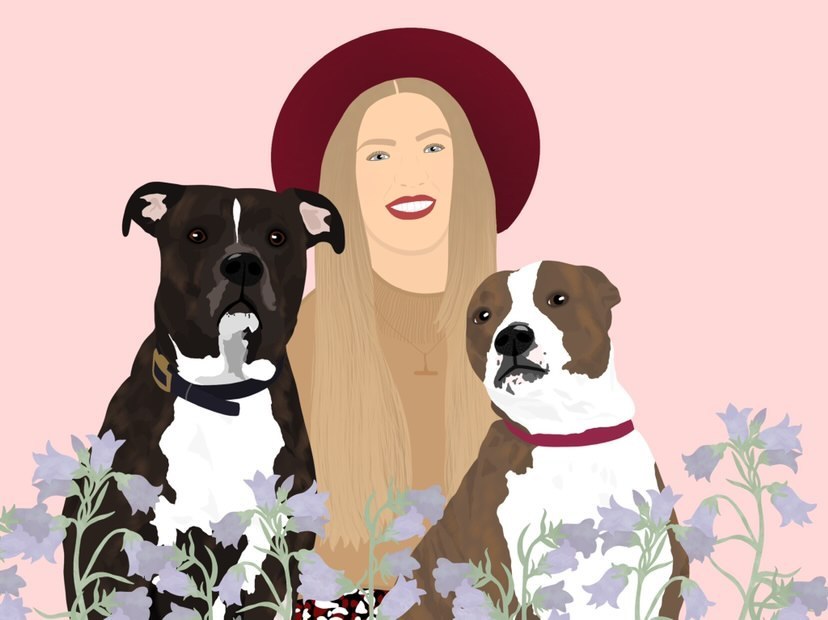 Staffordshire University graduate Scarlett Hunt is a real whizz when it comes to digital illustrations, and they made a gorgeous gift for someone to hang in their home.
Scarlett is able to turn your favourite photo into a modern, digitally-illustrated portrait, which is completely bespoke and on-trend. She recently illustrated this amazing photo of my dogs and I that was taken earlier this year by Adventure Pawtraits – and it's absolutely remarkable.
You can even personalise these further with text, which makes them great presents for so many people. Couples portraits, pregnant mums, new babies, even new homes! All you have to do is select the number of people in the photo, which increases in price from £30 to £55. You can send Scarlett over the photo you'd like illustrating, and she'll turn it around in around 7 to 10 days.
Her designs are all printed onto premium 300gsm card and framed in white wooden frames, and come gift wrapped – all the work done for you! Shop Scarlett's designs on her Etsy site.
Chloe Breeze Illustration
Colourful and fun illustrator Chloe Breeze (now, Chloe O'Neill, congrats girl!) graduated from Staffordshire University in 2016 and went on to launch her illustration business.
Having been born from a love of creativity, she brings playful designs to life in her prints and products, many of which have a Staffordshire theme running through them.
I've always considered the Alternative Map of Stoke-on-Trent tea towel a signature Chloe Breeze product, which is why it's found itself onto this year's gift guide. The map, featuring the six towns, highlights the unique and alternative parts to Stoke-on-Trent, including places like Middleport Pottery, Vale Park, The Wedgwood Institute and The Regent Theatre, alongside other independent businesses – especially those in the Cultural Quarter.
Priced at £10, the intricate design is almost too pretty to dry the dishes with. Personally I've get one of those wooden wall hangers and showcase it as a wall mural in the kitchen!
Chloe also has a range of quirky Stokie products, like her '10 signs you're a Stokie' – with versions for Vale and Potters fans too. This year, her Christmas collection sees a selection of greetings cards and coasters with a Staffordshire twist – I particularly like the card 'Christmas Time, Oatcakes and Wine', which sounds like a bit of me.
Find Chloe's vibrant website and shop her Stokie gifts here.
Tagg studio
Nestled in the picturesque Getliffe's Yard, in Leek, Claire Tagg has her own little studio where she designs and sells intricate prints and elaborate textiles.
For Leek's Fiver Fest, she recently sold her A5 prints for just £5, so of course, I bagged one for the office. But the product I want to tell you about is for the book lovers in your life. The one's who love nothing more than the smell of a new book, or a dramatic crime thriller to read.
As a book lover herself, Claire launched a bookstagram where she shares her latest reads alongside her handdrawn bookmark designs. Paired with a book they've had on their wishlist all year, these bookmarks make a great stocking filler for avid readers.
I love the Tarot Card bookmark set – priced at £6 for two. The designs feature the sun and the moon, and I think it would be cute idea akin to those 90s 'best friend' necklaces to gift one and keep one for yourself.
The bookmarks are not available on the Tagg Studio site, however, you can find a selection in store, with even more available on her Etsy store.
Lula Boutique
Most of the new clothes I've bought this past 18 months have been from Lula, in Leek. Owner Emma Howle has a constantly rotating store with a selection of casual looks, all the way through to glammed up garms.
The boutique always has something for everyone, from age range, budget to body shape and size – it's really inclusive, and Emma is always on hand to offer personalised advice and styling tips.
But, if you're looking for a much more in-depth session, I highly recommend booking in a personal shopping session – be sure to check the Lula Instagram for exact days and times. Mum and I love these sessions for some quality mum and daughter time, styling the same pieces in different ways, and walking out with half a new wardrobe. We're even booked in for December ready to pick out Christmas gifts and an outfit for my birthday, which falls three days before Christmas.
During these sessions, Emma will pick out a selection of pieces in your size and pop them on a rail in the downstairs dressing room for you to try on, style in different ways, and basically host your own mini fashion show.
I think it would be a really sweet idea to book a friend or family member in for a personal shopping session – which is free – and then present them with a gift voucher to put towards something they fall in love with. Whilst this will suit your fashion-forward friends down to a tee, I find it means the most to people who are struggling with their styling and identity a little bit – as it give a real confidence boost!