Noel Gallagher singing Little By Little to thousands of bucket hat-wearing fans as the sun sets behind the trees at Cannock Chase might just be the closest thing to magic. The Oasis guitarist and bushy-browed Gallagher brother took to the open-air stage as part of a string of unique Forestry England events, and gave an exceptional performance on June 12.
Fans had queued from 4pm at the Staffordshire beauty spot to get a space near to the front, with others bringing folding chairs, picnics and stools to enjoy the show a little further up the hill. Gates opened ahead of schedule at 5.30pm to let hungry gig goers claim their spot and grab a bite to eat from one of the numerous food vendors dotted around the venue.
Naturally, wanting to try a bit of everything, Jake and I shared a Mac and Cheese with bacon and crispy onions, a hand stretched pepperoni pizza and a cheese and bacon burger – all of which totted up to just under £30.
From here on out, it was a fairly long wait before the support act, who didn't come on stage until 8pm, so we grabbed a pint of Pimm's and soaked up the festival vibes in the sun.
Managed by Forestry England, the ForestLive concerts not only provide an unforgettable night of live music with a breathtaking backdrop, but also help look after the nation's forests sustainably through ticket sales, with millions of trees being planted with the proceeds. As a result, you'll find the food vendors don't use single-use plastic and there are lots of bins dotted around the venue for waste to be taken for sorting and recycling.
Electro indie pop quartet Confidence Man took to the stage, raising a number of eyebrows in the process. A synth player and drummer both wore large wide brimmed black hats with veils disguising their faces, while Planet and Bones, pseudonyms, of course, slunk on in oversized black suits with outrageous shoulder pads that made them look like the cartoon version of Frankenstein's monster.
Formed in Brisbane in 2016, the Aussie performers released their debut album 'Confident Music for Confidence People', in April 2018. And confident they are, truly, unapologetically confident.
In a previous interview, Janet Planet said they started writing dance songs together, initially as a "kind of joke", but eventually realised the material was worth pursuing. They reportedly met Noel while partying in Melbourne, which explains why they may have been snapped up as the support slot.
It was certainly something. It reminded me a lot of previous Eurovision contestants, it's definitely that kind of bonkers, with as many costume changes as Mika, energetic choreographed dance routines and a bewildered audience. All that was missing was Graham Norton slagging everyone off in the background.
That said, it was a remarkable performance, even if it was lost on the parka-clad Carling-drinking crowd. As someone who loves ABBA, Maneskin and Sam Ryder, I could definitely see Confidence Man being Oz's next Eurovision champions, and perhaps Noel's crowd was a tough one to crack.
Read more: Robbie Williams Homecoming – an unforgettable night at Vale Park
But actually, when the front duo announced this track would be their last, it appeared the throng of Oasis fans had rather warmed up, after having picked their jaws up off the floor. It's not often I'm left speechless, but I was during a lot of Confidence Man's set as I struggled to take my eyes off the stage. To sum it up in three words, I'd say 'confident choreographed chaos', and I'd be lying if I said I didn't enjoy it.
Half an hour later, Rock n Roll Star Noel and his band of High Flying Birds – including ex-Oasis member Gem Archer, swaggered onto the stage opening with Fort Knox. What followed was around 45 minutes of Noel Gallagher's High Flying Birds tracks, new and old, including Beautiful World and She Taught Me How To Fly, where Charlotte Marionneau shone in her roles of speaking French into a megaphone and playing the scissors.
"Good evening Cannock Chase," said Noel, before continuing "that sounds like a cheese". This Mancunian banter didn't let up throughout the night as he poked fun at an audience member who asked him to play Bob Dylan, where he joked: "I'm going to guess you're single. I'm gonna take a stab in the dark and say you haven't got a fella."
Though one lucky young lad called Lucas, from Stoke, was invited on stage with the 55-year-old icon after holding up a sign that said 'Noel, can I have a selfie?' After obliging a photo, Noel told Lucas to go and buy a t-shirt, and sent him back into the crowd feeling, I imagine, on top of the world.
Following Wandering Star and Rattling Rose, the Talk Tonight singer reassured fans that the Oasis back catalogue was coming, adding: "Don't worry, only a few more to get through, then it's hit after hit." Don't get me wrong I love Noel's music with HFB, but even the man himself knows there's nothing like thousands of adoring fans singing Stop Crying Your Heart Out in the middle of the woods.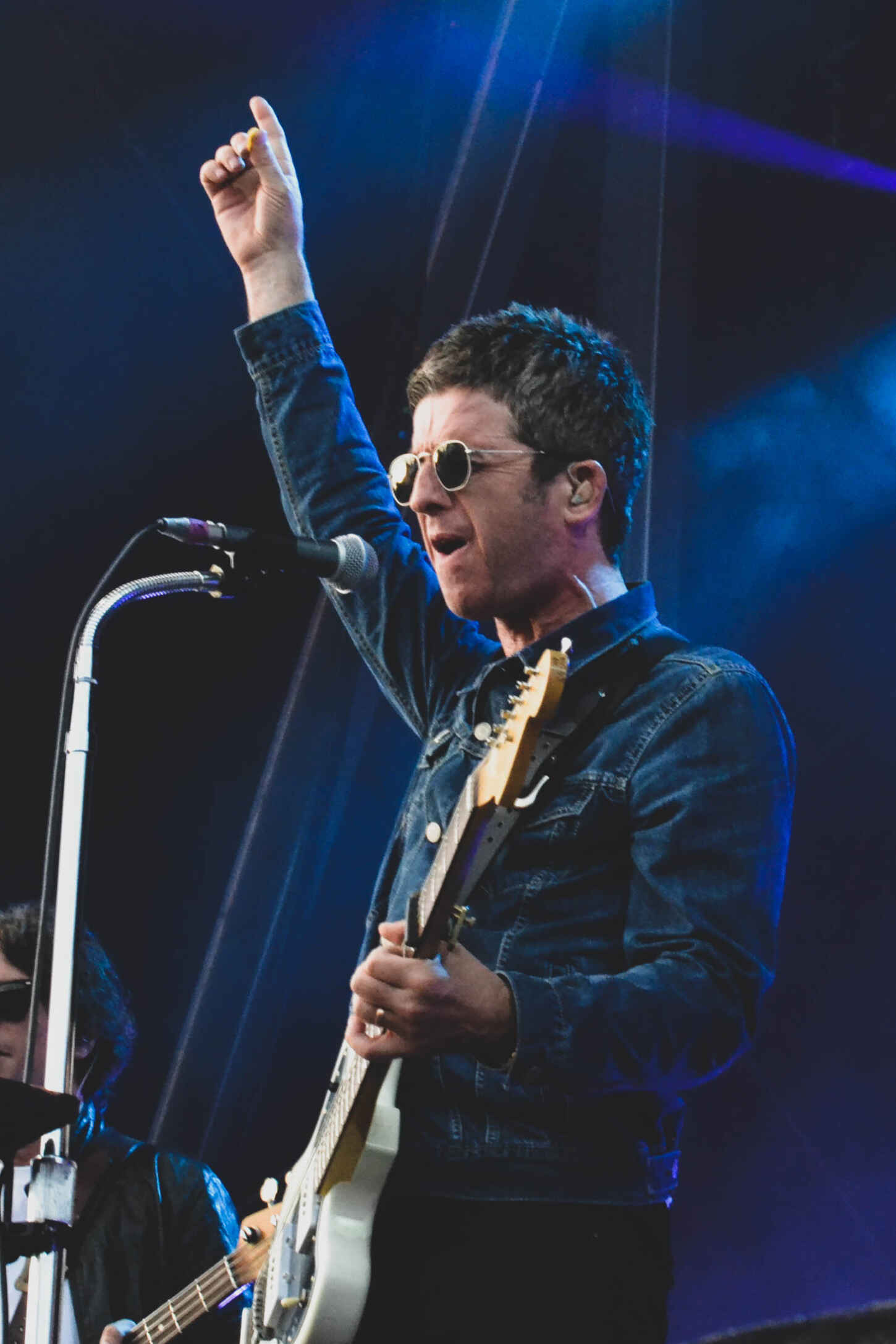 And surely, after Black Star Dancing and Dead In The Water, we were onto the second-half it seemed, kicking things off with Little By Little and The Importance of Being Idle. He continued with crowd-pleasing Whatever and the one seemingly loved by Americans, which Noel described as 'disturbing', Wonderwall, as well as Royle Family theme Half the World Away and Stop Crying Your Heart Out.
There was a hit or two still left to be played, coming back out for an encore to If I Had a Gun before dedicating AKA… What a Life! To Manchester City's Jack Grealish, with the footie flag proudly hung centre stage. The night concluded with Don't Look Back In Anger, shouted beneath the stars in the centre of a moonlit Cannock Chase.
The whole experience was beautiful, with great food and drink, well managed security and entertaining artists, and was an unforgettable night thanks to Forestry England.
Noel will play Delamere Forest in Cheshire on Thursday, June 17. Find out more about Forestry England and the ForestLive shows here.