In 2020, I was only able to get my nails done four times between lockdowns and restrictions, followed by seven sets in 2021 – but this year, I was fortunate to get 10 visits in, getting my manicure fix roughly every five weeks to keep my nails in tip-top condition.
Each of these sets were completed by my wonderful nail tech Chloe Birks – an artist with over 45,000 Instagram followers – who I started visiting in January 2022. Chloe's studio opened during the pandemic in August 2020, offering brow lamination, lash extensions and nail services inside her photo-worthy space at St James House, in Longton, Stoke-on-Trent.
So, if you're looking to indulge in some nail-related self-care in 2023, here are 10 nail art designs you're more than welcome to steal for your next appointment. Just remember to bookmark this post and bring it along to your next appointment.
1. Valentines
With the annual celebration of love just around the corner, there's no better excuse to switch your NYE manicure for something pink and covered in love hearts. And if you're looking for something a bit different for your Valentine's nails, this vibrant mix and match set is perfect. I'm obsessed with the triple French tip and the heart eye with chrome detailing, and the squiggly lines and 50/50 heart are just dreamy.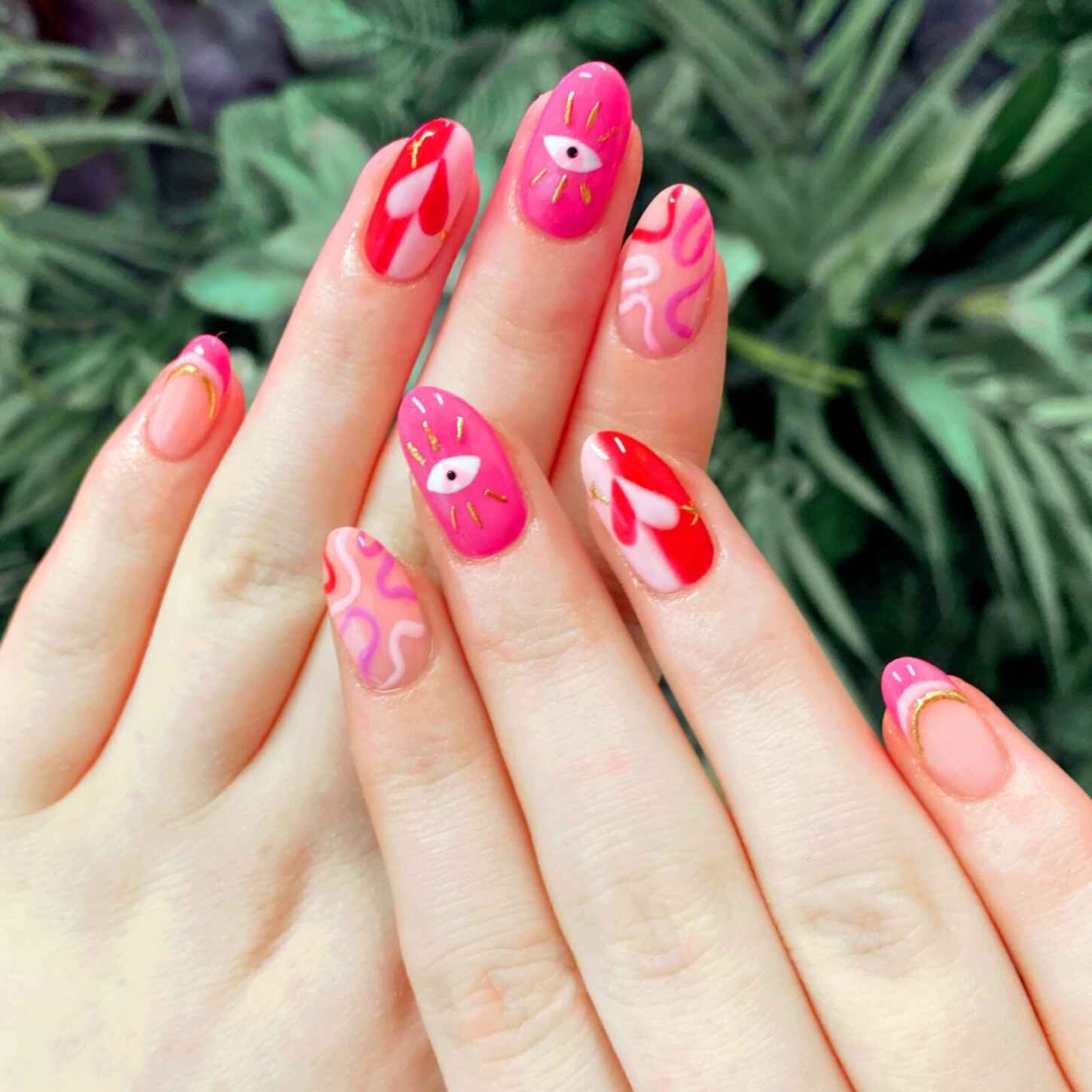 2. Pink and green
Anyone who's been following my Instagram this past year might have noticed an ongoing love of pink and green, and this mani combines the two for a funky spring/summer set. The mix and match design sees a pink flame on each hand, with green, glittery accents, wavey black and white pattern, block colours and snake print. It's serving up some serious watermelon vibes – Harry Styles, eat your heart out.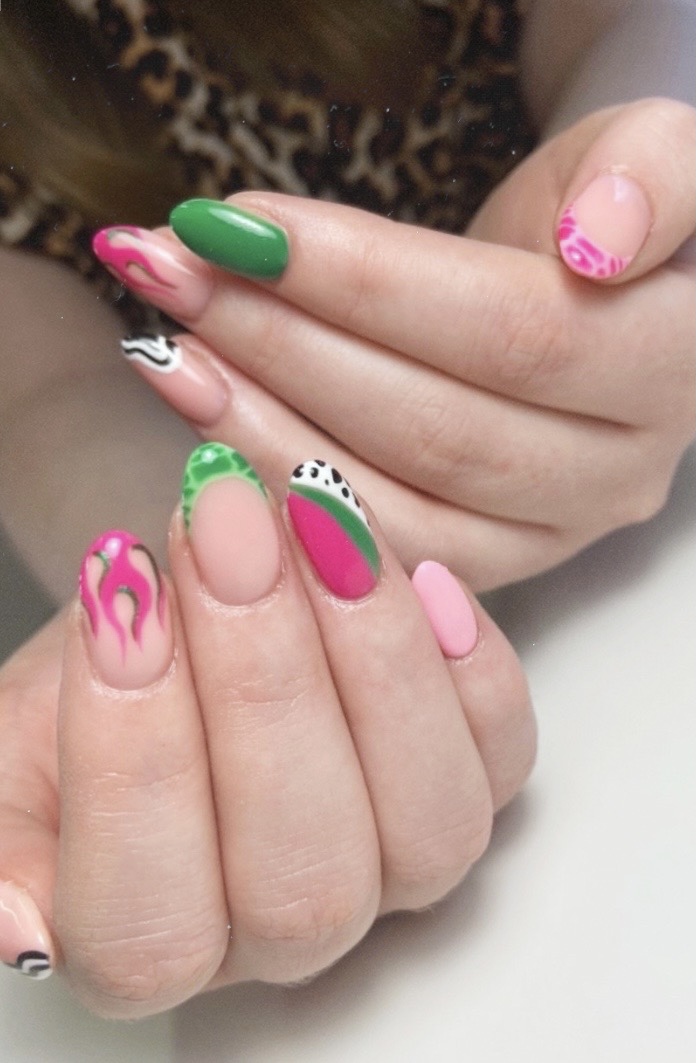 3. Blonde tortie
Tortoise shell nails have taken over the nail industry since 2020 and are showing no signs of slowing down as tecnhicians across the globe continue to adapt the trend andd create fun new looks with the caramel coloured glass-like art. And while traditional tortie nails are synonomous with autumn, with their depth and warm tones, it's little sister design is the perfect pattern to ask your nail tech for this spring and summer. Blonde tortie is totally gorgeous and really does match every outfit in your wardrobe.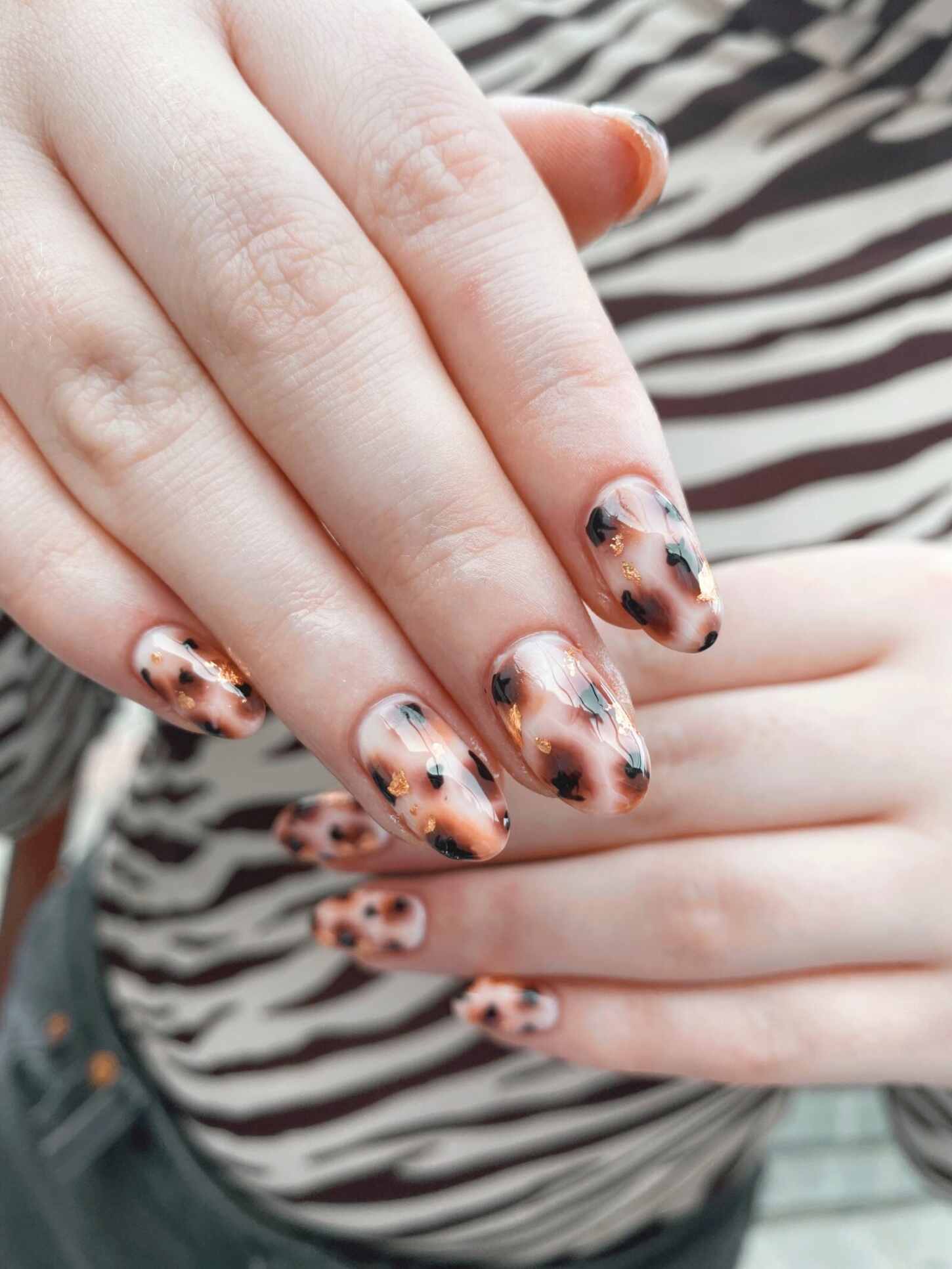 4. Summer festivals
I went a bit rouge with this set and even changed up my shape to square, but I definitely think I'm an almond girlie at heart – coffin for the right design. This set was inspired by the fact I was going to see Red Hot Chili Peppers, and so we created a fun neon design around some tiny chillis and fried eggs. Chloe handpainted the whole design, including flowers, checkerboard and French tips completing the festival vibe.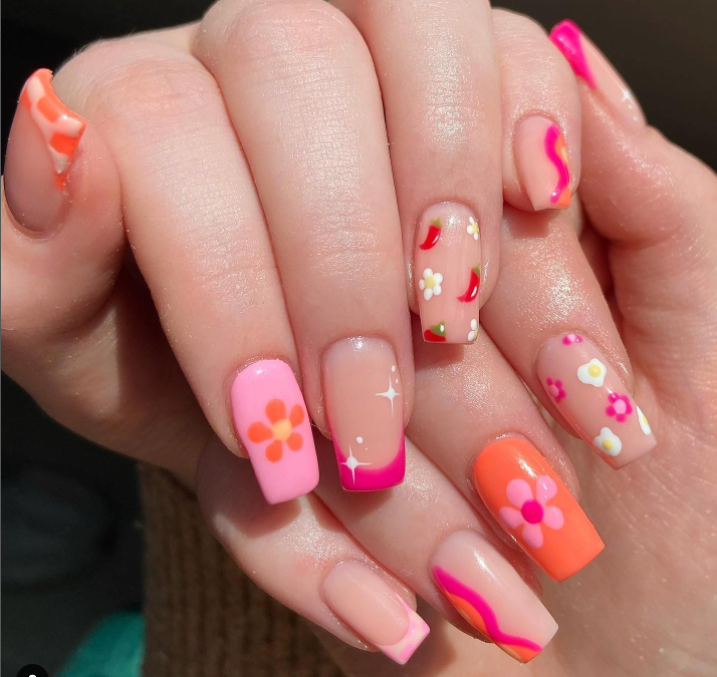 5. Discoballs
Just in time for Tramlines festival, Chloe transformed my nails into their own tiny disco, with highly reflective glitter, chrome hearts and dazzling stars. In the sunlight, these nails come into their own creating a rainbow of colours and practically blinding anyone in a three metre radius as light bounces off the glitter. This set really proved to me that you can have a lot of fun with a black manicure, and I'll definitely be opting for another monochrome mani at some point in 2023.
6. Half torties and French
No longer reserved for handbag hardware, sunnies and ankle boots, tortoise shell promises to be the manicure of the moment well into 2023. This particular design sees each nail half tortoise shell, and the other half a coloured French manicure. I opted for one hand pink tips and the other lime green, finishing off the edges with a gold chrome. I'm as obsessed with this set now as I was when I had it, so I'll be looking to recreate it with some new colours next year, too.
7. Pumpkin spice
Autumn manis are all about earthy tones, like your chocolate browns, creamy nudes and warm orange shades, and this manicure brings them all together with a fun mix and match design that's perfect for the pumpkin patch. This set combines a double French tip, the highly reflective Cattail, Autumnal blooms and chocolatey cable knit. We used acrylic powder to create part of this design, which gives a 3D effect, bringing texture and dimension to the set – another technique that is really fun to experiment with.
8. Fireworks/tinsel
This set initially reminded me of fireworks, but they work equally as well for Christmas, reminiscent of tinsel or twinkly fairy lights. These also ended up being my engagement nails, so they hold a very special place in my heart. These were created using a range of glitters in different colours in a series of lines from the tip towards the centre of the nail, finished off with tiny chrome stars and dots for a shimmery, sparkly look. And because they contain every colour – they go with everything, too!
9. Emerald halos
Sometimes – and I mean only sometimes – less is more, and this set of emerald halo nails do all the talking (while matching my engagement ring). I went for The Gel Bottle's Jungle on every nail, with a half moon of Art Deco at the cuticle. The Christmassy colours and twinkle of glitter make them feel festive without going over the top, and they're a stunning, understated nail that I'll definitely be recreating in other colours next year. Simple. but effective – what more could you want?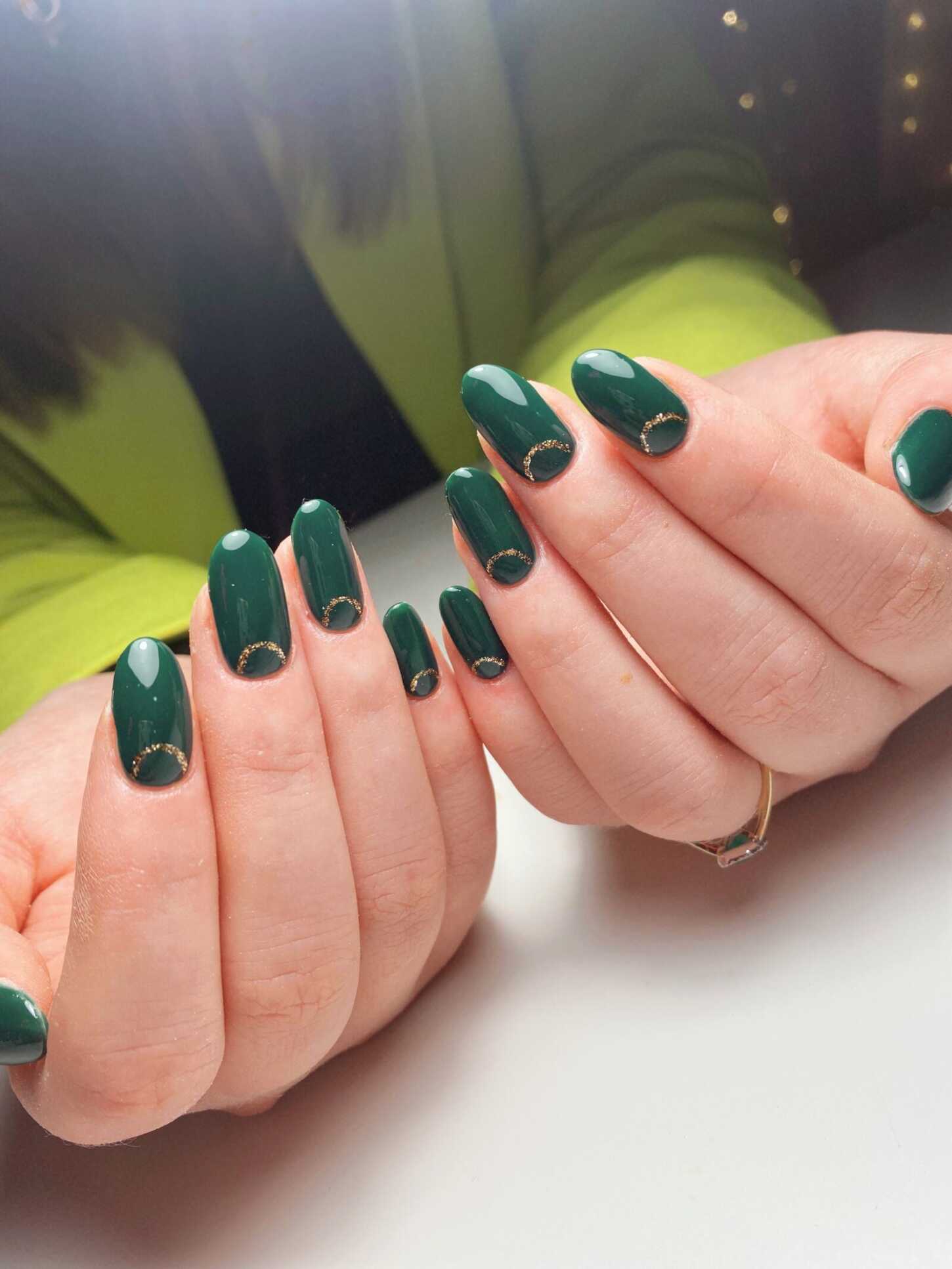 10. Cow/tortie combo
This is my current set of nails which will be seeing me through the new year and into 2023. It's a neutral-toned mash up which combines tortoise shell and cow print with gold glitter and art deco shapes, and it's absolutely my favourite set of the year. It took Chlo and I a bit of tweaking to get the balance just right, but I think together we totally nailed it, if you'll pardon the pun. If there's one set to recreate in 2023, it's definitely this one, it's just *chefs kiss*.