Back in 2012, when I was just 14, I went to my first Enemy gig at Keele SU.
One Friday night, I sat down with Tom Clarke in the dingy green room of The Underground. We talked about all things The Enemy, the music industry and even the new Arctic Monkeys album.
My Dad had bought me up listening to the band and The Enemy was one of my first 'big gigs'. At the gig, bassist Andy Hopkins gave me his bass pick – I still have it bluetacked on the inside of my wardrobe door actually. In fact, I've had Andy's pick from every Enemy gig I've ever been to.
The Enemy became the soundtrack to my teenage years. They were a working class band singing about working class stuff and it just really resonated with me. We'll Live and Die in These Towns as an album, in particular.
When the band announced their split, I was heartbroken, and I cried my little heart out at the farewell gig. I then went to see Tom's acoustic tour, which is what I really thought was going to be the end of it all.
Actually, so did Tom. He was ready to pack his bags and buy a house in LA.
On Friday 11 May, Tom Clarke played his Stoke leg of his latest tour at The Underground. He enjoyed the previous one so much he just couldn't bring himself to close the guitar case just yet. I found myself chatting to himself and Joe Dolman, his support act, friend, and record producer, and we basically just put the world to rights.
The Enemy is one of the bands that really made me consider a career in music journalism. I wanted to scream from my figurative rooftop about music I loved and why I loved it. Interviewing him was one of the proudest moments of my journalistic career so far. He sat in the little armchair of The Underground's dressing room, with his guitar in hand; Joe on the sofa with his feet up doing the same. The lads chatted away whilst softly fingerpicking away and it was instantly recognisable that the relationship between the pair of them was that of brothers.
'It was going to be the end of it', Tom said, talking about his previous tour. 'I was sick of it.'
'The process of making music when you're signed to a major is horrible. The way I do it now is that I write a song, I tell Joe I've written a song, we work out a day to go in the studio and record and then it's done. We sit on it to see if we're happy with it, mix it and it's just really chilled.'
When The Enemy started out, they had released their first album We'll Live and Die in These Towns and followed it with a tour. Tom said, 'we had finished a gig in Brixton near Christmas, got in a van and drove to Wales, checked into a recording studio and were told we needed to make an album in a month. I basically just said fuck you.'
Working for the big dogs isn't the way Tom enjoys or wants to work. He described the industry as 'wanting to make money out of artists, instead of making art. That's not how you get good art. For example the Arctic Monkey's new album, they're at a point where the people around them can't say no to them, so they just get to make art, and that's amazing.'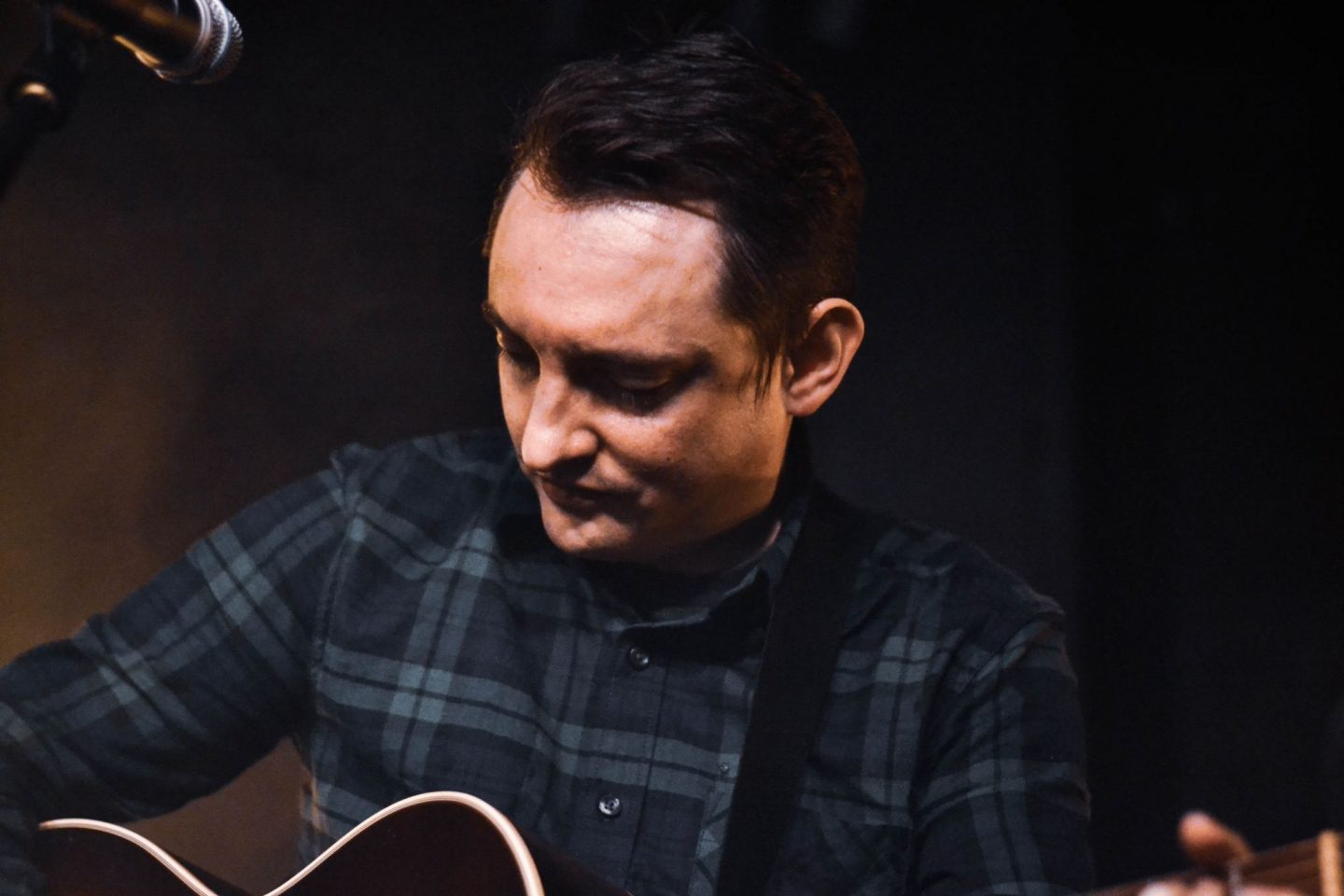 It took Tom just four months to write We'll Live and Die in These Towns, 'but that just happened to be the pace I was working at'. Joe added that it's important to set your own pace and do it for yourself, 'whether that's a year, two years or two months, you've just got to work at your own pace.'
When Tom decided to call it quits for The Enemy, it wasn't really what Andy or Liam wanted. 'Liam was happy with the status quo, Andy loved the industry and the fame. That's the bit I could do without – the fame. I just want to make music and make a living from it, without having to deal with the media.'
It's no secret that the media (without naming publications) gave Tom a rough time, some of whom thought it better to slate Tom's appearance rather than focusing on his music and the band. 'You could always tell the people from mainstream, controversial media were just waiting to stab you in the back.' Radio stations were playing whatever mainstream media said was cool, and if your face didn't fit, you didn't get played. 'That's why I got sick of being in The Enemy, because that's the world you live in.' Tom spoke out openly online about suffering with depression and subsequently took a break from social media.
Now he's working for himself, Tom is a lot happier. Personally, I think you only have to look at him on stage to know that. 'It helps that I don't have to run anything past Liam and Andy. I think it was inevitable that we would disagree on the way to do things, but I just want to go out there and play the songs I love in venues like this.'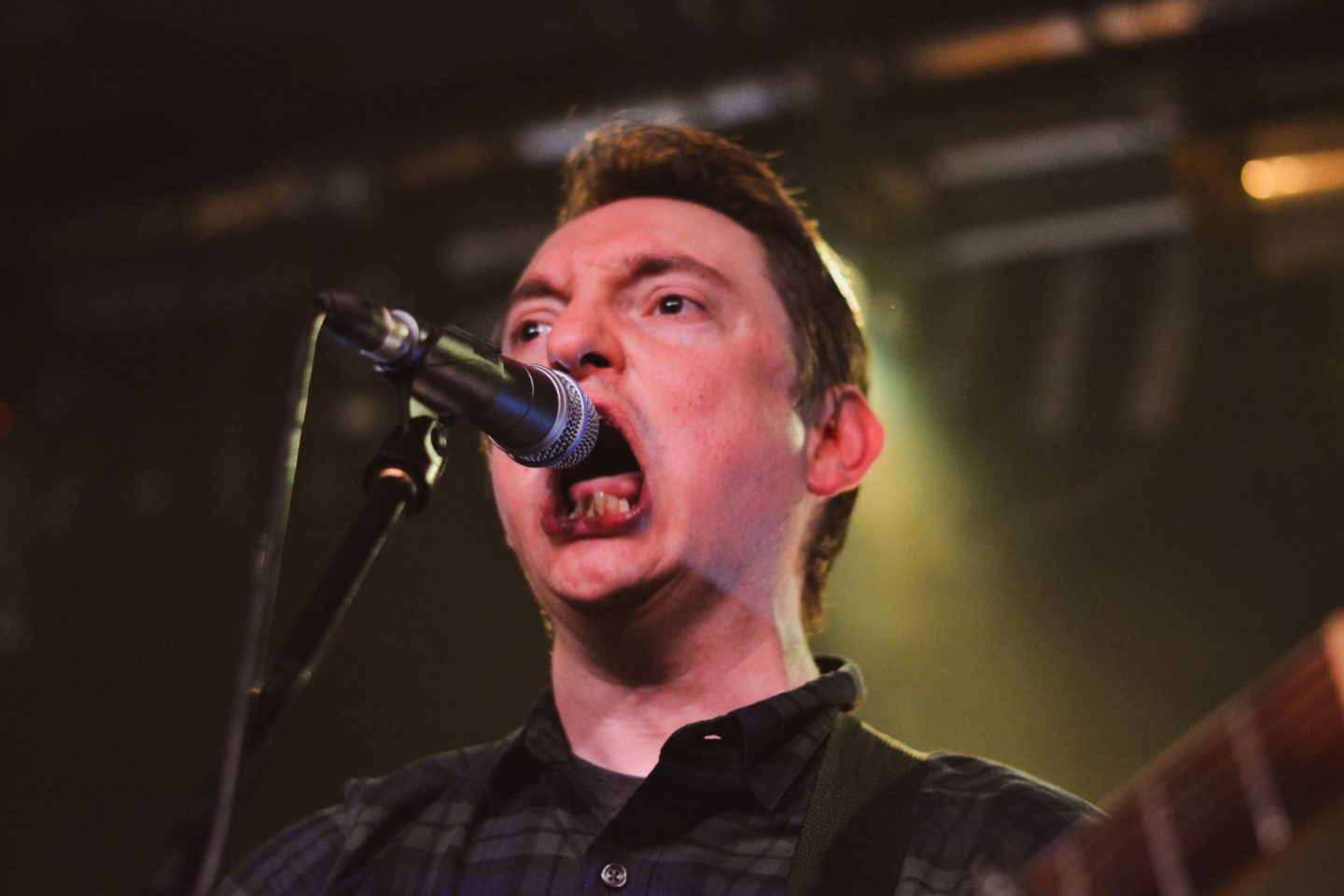 Tom described himself as an anxious person, but said he'd felt anxious on the last Enemy tour because 'I just knew it wasn't right. We were pushing an agenda that was difficult to push. Now, it's just so simple. I'm going to go out there, sing some songs that I wrote 10 years ago and sing some songs that I wrote this year. People are going to sing along, have a drink, and there are no expectations. There's no pressure that if this doesn't go well the album will flop.'
Joe added, 'they're not here to see you because you're the next big thing. They're here to see you because you genuinely love it and they genuinely love it. That atmosphere is great and I get to see it every day. There's no ulterior motive as to why Tom's doing this.'
'For as long as they want to hear it, I'll keep doing it,' Tom said. 'There are less mouths to feed now. Before there was me, Liam, Andy, a manager, an agent, a promoter, a record label, a publisher. It's not possible to do that in today's market unless you're going to put millions of pounds behind it. You do it and don't get anywhere and just get more and more frustrated. Now, it's just fun.'
'I was so ready to just walk away from it all. I was in talks with an immigration officer in America and I was just going to fuck off to the states and live in LA with my mrs. We were ready to take the risk and do it, but after that last tour I just felt really good. It was different to touring with The Enemy and I thought that as long as it's like this, I'll keep doing it.'
A sneak peek at the set list saw two new solo tracks, one of which is already available for free, like the rest of his releases will be. 'Everything I make from now on is free. I'm just going to trickle free tracks out until that makes an album, then release the album for free. Might do some limited edition vinyl versions that aren't free, too.'
Now, for the show. First on the bill was local punk powerhouse Release.
This was their first gig after their drummer Tom left the band, and so I was interested to see how they'd work this. Simple. Ditch the bass for synth.
Release are a band that make you not judge a book by its cover. Think DMA's. The band opened with Repetition, Repetition which is a gorgeously emotive track which works perfectly with the new set up. Upon hearing the opening, you may think 'Beth, you just said these were a punk powerhouse? This lads got a violin.' And that, ladies and gentleman, is what makes Release one of the most diverse and creative bands out there.
Caleb's vocal range knows no bounds, and looking at him, you'd never guess the voice that comes out of his pipes is his. He can go from singing beautiful, pull-at-your-heartstrings choruses to a mini Sid Viscous in the snap of a finger. His vocals are powerful and you can see every inch of emotion in his face as he sings, whether that be pain, anger or absolute joy. The audience is always fully engaged with him and you can barely take your eyes off him. His stage presence is second to none.
It was interesting to see the bands notoriously punkier tracks like C U Next Time and PUBLIK Urination be developed and moulded to fit the bands new vibe. Aaron retiring the bass and playing electronic drums on synth was a great move; it's given them a new direction to try out and was a brave move that's really paid off. Each track could use different musicians and instruments so seamlessly, like Caleb and Mayson playing alone still sounded just as full and vibrant as if Jack and Aaron were playing.
Before the band had even made it off the stage, floods of newly-gained fans were flooding to the front to ask where they could find more music. People just can't get enough of them.
Check out the interview I did with the lads here.
Next up was Tom's touring support Joe Dolman, who also supported him of his previous tour. Joe is a crowd charmer and was instantly adored by the audience. He opened with a couple of original tracks, including a particular favourite of mine Learning to Fly, which is a really elegant and emotional song.
He went on to cover The Verve's Drugs Don't Work. If anyone has seen Tom Clarke or The Enemy live before, I'd probably say Tom's given his blessing to Joe to own this one himself. He also threw in a cover of Why Does It Always Rain On Me, to which the audience sung out their lungs.
All this audience participation was just the warm up for us. Joe sang his original track Something Beautiful and encouraged us all to sing along with the chorus, and the crowd was more than happy to oblige. Joe has a great stage presence, with a really professional kind of authority. He is able to shout those cheesy lines like 'come on Stoke, sing it with me' without sounding like a wannabe – he has the attitude and confidence to get away with it.
Joe is a charismatic and enthusiastic soul with a strong stage presence and deep, soulful voice. He's not a four-chord one-trick-pony, but actually uses different tunings for every track. He's got a brilliant attitude and is definitely heading places.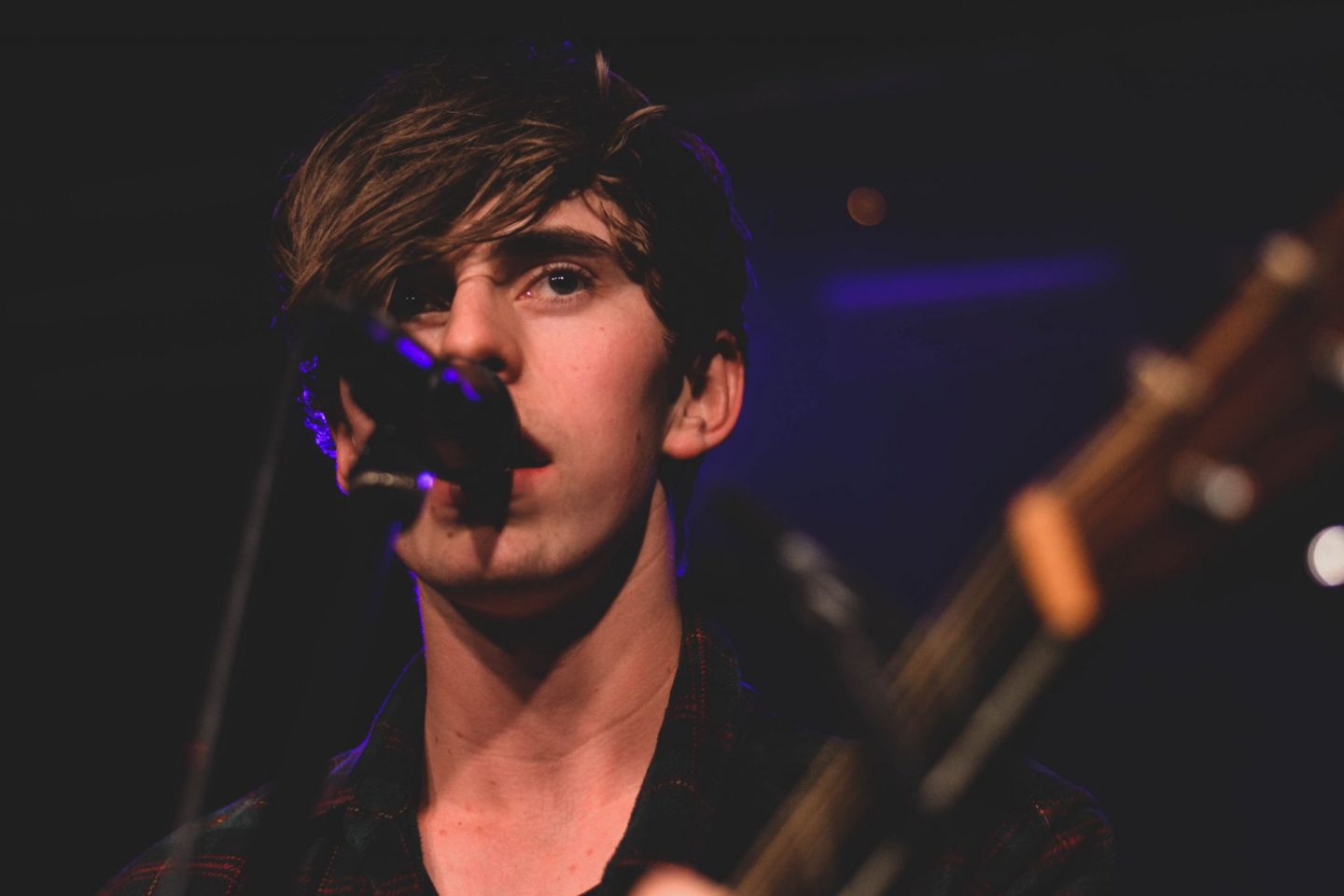 It wasn't long before Gaz (bass) and Howard (keys) entered the stage, followed by the beaming grin on Tom's face.
'Is everyone sufficiently pissed for a Friday night sing-song?' Tom shouted 'Well let's fucking have one!'
The lads erupted into a raunchy acoustic version of Aggro, and within seconds I'd been drenched with a pint of Strongbow Dark Fruits as the drinks started to fly. Even acoustically, the track still holds the angst and punch of its electric original. There's still fire in Tom's belly.
They continued to knock out track after track from the debut album We'll Live and Die in These Towns, pretty much in order.
The first part of the set included the rockier tracks like Had Enough and Away From Here, but everything slowed down for the anthemic and legendary We'll Live and Die in These Towns. The title track from an album that has stuck with you through thick and thin, been blasted through indie club night speakers and picked you up when you're down. It holds a lot of nostalgia and really embodies what The Enemy were to a lot of people, and particularly resonates with the people of Stoke. There's no wonder why we were the first show to sell out.
Tom introduced us to one of his new solo tracks Don't Need Nobody Else, which naturally maintains the feel of The Enemy, but you can tell something has changed. It's defiant and raw and Tom has nobody to impress or answer to, it's real and honest.
On the last tour, Tom described how difficult it was to adapt 40 Days and 40 Nights to the acoustic set. He thought it couldn't be done. On Friday night, the track really came into its own. It's the song that's been changed the most to fit the new bill, but personally, I think it's provided the biggest payoff.
The ended the first part of the set with Technodancaphobic before Tom went on to properly introduce Gaz and 'Susan' (Howard). Tom likes to introduce Howard under a different name at each gig. It was actually Howard's birthday, Tom said 'We asked him what he wanted and he said some really good coke… whoever we sent out to get it was dyslexic and came back with some really good cake!' as a chocolate log cake with candles was bought onstage. It took us very smoothly into Happy Birthday Jane, a gorgeously written track with earnest lyrics and a beautiful melody. Tom concluded it with a final 'Happy Birthday Susan'.
Tom's never been one for encores. He makes a great point though. What is the point of going off for three minutes when you could fit another track in? We all know you're coming back on stage, anyway.
None Of This Is Easy was the second of Tom's solo tracks he played, which has been recorded and will be released soon. His solo work so far sounds massive and very true to Tom's self. I'm really excited to see what he brings out.
As Tom strummed the first few chords of this song, the audience began to chant.
'Now, this song is about, is about, is about you.'
Tom smiled, revelling in the moment before diving into that nostalgic chord progression for This Song. There were fans on shoulders, beers spilled and tears shed. He finished the track alone on keys, which makes a beautiful finish for the set.
Tom Clarke's not going anywhere. Not anytime soon. Sorry, Los Angeles – he's ours.