Over two years ago, when the Grim Reaper decided 2016 was his year to shine, we lost a legend. The stars looked very different as David Bowie became a true starman, but his legacy doesn't end there.
I was once told, you're not truly dead until your name has been uttered for the last time. In which case, the Thin White Duke will never truly die.
Absolute Bowie are a tribute act keeping Ziggy's legacy alive and celebrating his rise and fall, and they've been doing so for nine years. Woody Woodmansey himself has commended the band, saying, 'As one who was there, watching AB put me back there again. For anyone who missed it or fans who want to relive it I definitely recommend it. As close to the real thing that you'll get.'
The band returned to The Sugarmill on Saturday 12 May for a stunning show to celebrate 50 years of David Bowie.
Entering the stage in their glittery get-ups was Chris Buratti on guitar as Mick Ronson, drummer Alessandro Ricardi as Woody Woodmansey, Fabio Cascio on bass as Trevor Bolder, and Alex Paolillo as Rick Wakeman on the keys. They paved the way and built up the suspense before John O'Neill rose to the stage as Ziggy Stardust.
His idiosyncratic image is down to an absolute tee. Red vinyl heeled boots, skin tight snakeskin trousers and matching jacket, the glitter, the makeup, the hair. He even had silver metallic nail polish. Everything was perfect. In fact, John's very own bone structure is strikingly similar to that of Bowie, you might even call him a doppelganger. That pout, though… that pout has definitely been practiced.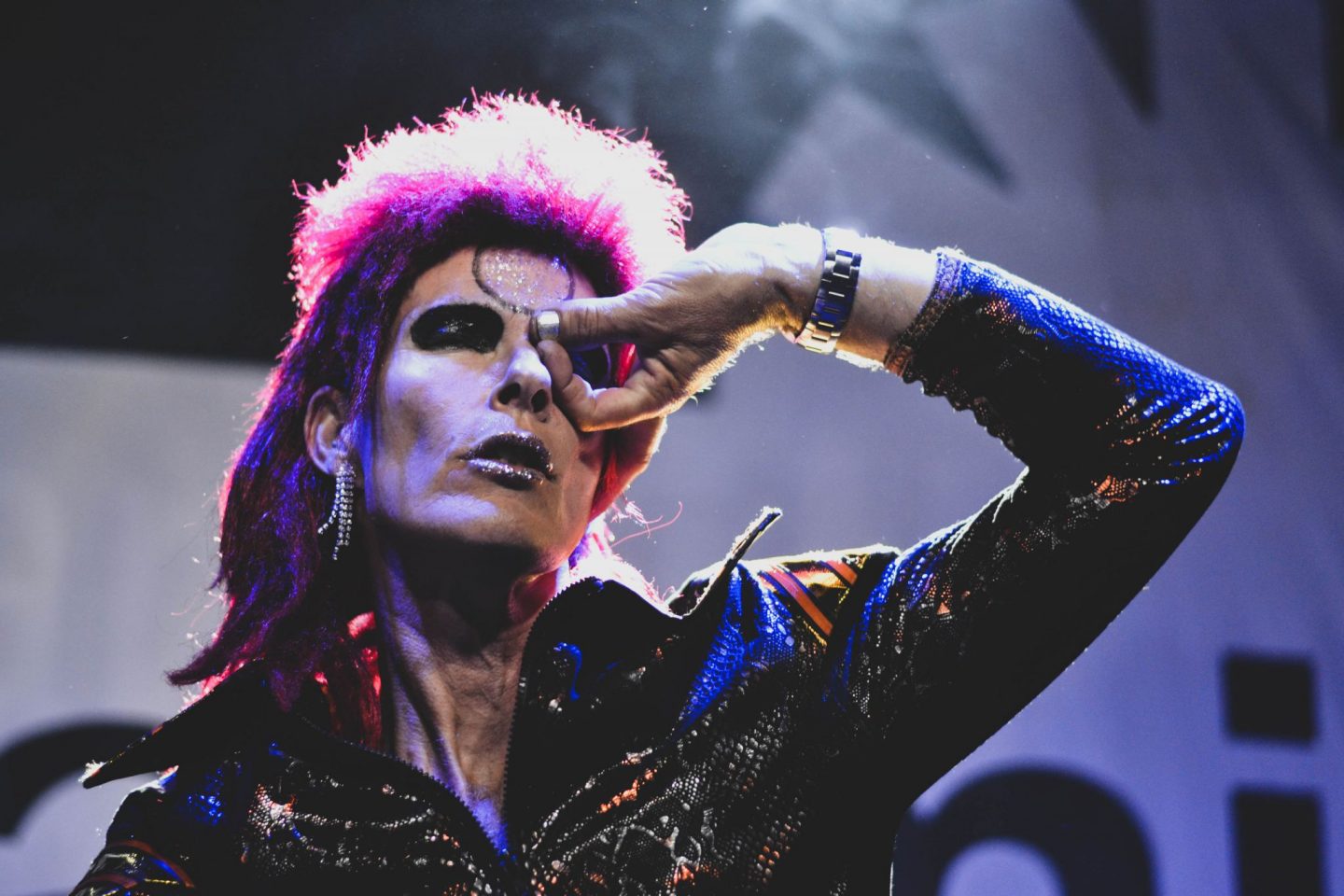 During the first half of the two hour show the band performed tracks from his 70's albums such as Hunky Dory, The Rise and Fall of Ziggy Stardust and Aladdin Sane.
John nailed the feminine, androgynous persona and appearance, from the feather boa to the slinky hips and high kicks.
John has been doing this for nine years, and it is clear that he puts a lot of time, effort and energy into his performances both on and off stage. This kind of elaborate, theatrical show requires hours and hours of studying Bowie's live shows in order to recreate them so beautifully and accurately. It was as though some audience members actually forgot Bowie was dead, and this was in fact the real deal.
From The Jean Genie to Suffragette City, Absolute Bowie pulled out all the classics. He even authentically played a stunning electric blue twelve-string acoustic for some tracks, between all the seductive dancing. Wham bam thank you mam.
One track that particularly stood out in the set was Moonage Daydream. Buratti absolutely slayed the guitar solos and the musicians were just mesmerising as John dramatically strutted his stuff about the stage. To be able to play guitar in such a way takes some discipline and a hell of a lot of talent. It was a fabulous recreation of the original.
After one hour, the band headed off stage for an outfit change, allowing us to enjoy some classic indie tunes over the sound system and grab a drink from the bar.
The second part of the set consisted of Bowie's 80s and 90s work, so O'Neill performed as David Bowie 'as himself'.
Bowie had many personas, Ziggy, Aladdin Sane, The Thin White Duke, Halloween Jack. Every album has a different Bowie image attached to it. O'Neill wore ripped jeans, converse, a funky varsity style vest and a ripped black denim jacket affixed with a large safety pin. Rock 'n' bloody roll, ay?
The band kicked off the second half with Rebel Rebel, words permanently inked onto my skin alongside a lightening flash. The song is incredibly important to me and to hear it live, performed by the closest thing to David Bowie himself, was magical.
Rebel Rebel was followed by Young Americans, Ashes to Ashes and a gorgeously executed rendition of Heroes.
During tracks like Let's Dance, Fiona 'Fizz' Asbury joined the band to play saxophone (or flute, depending on the song). The silky smooth sax tones swayed through the crowd (pardon the pun) as we danced away. I love the fact it added a little bit of girl power to the set.
Fizz wasn't a part of the show the last time I saw Absolute Bowie in 2016, but I think she really stole the show with Let's Dance and it was a great move to get her involved.
This part of the set was concluded with the huge, enigmatic Life on Mars before they headed back off stage or another dress change. I spotted a handwritten set list on stage which showed Blackstar on it.
How on earth (or Mars) were they going to pull this off? Bowie himself hadn't even had a chance to perform his final album of stage. In order to do this, the band were going to have to really put themselves in Bowie's shoes and his genius mind and try to create a live performance that he would have done himself. It seems such a bold move it makes you wonder how they could ever pull it off.
They pulled it off, alright.
The band entered the stage dressed all in black as we awaited the return of O'Neill. T
he suspense was killing me – I was desperate to see how they'd do it.
O'Neill wore a black suit with a vintage silver shirt with large cuffed sleeves. He had a bandage around his eyes with black buttons sewn in as eyes. He was Lazarus.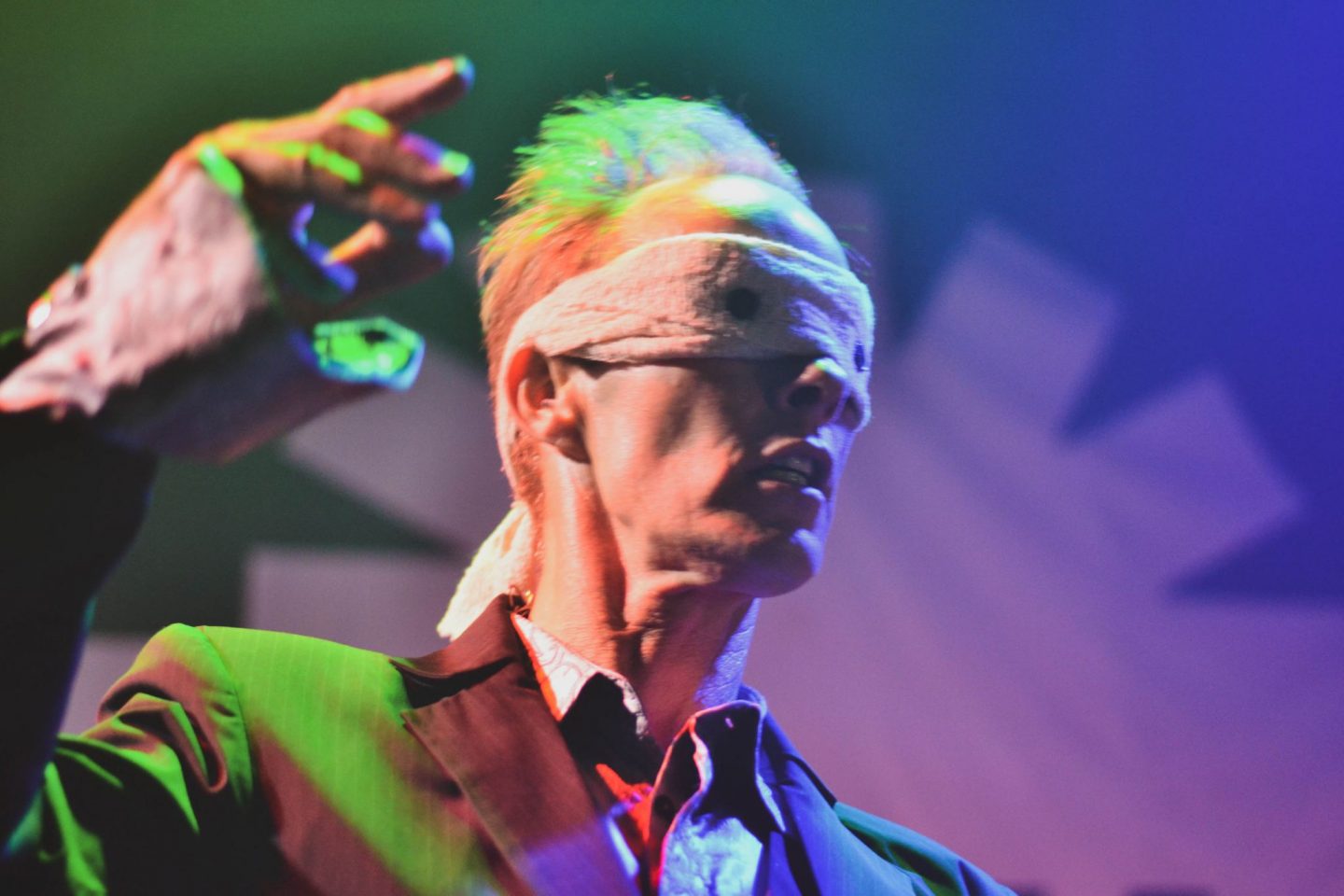 In the music video for Lazarus, Bowie lies on his deathbed with the very same bandage on. The entire album appears to be a self-epitaph and almost like he knew it would happen. Perhaps not as soon after the album's release as it did happen, but it was inevitable.
Bowie was going to die and Blackstar would be his parting gift to the world.
Absolute Bowie performed Blackstar incredibly. It's exactly how I would imagine Bowie doing it, had he still been around. The band should be incredibly proud of themselves for making a move nobody else would dare to make.
To conclude the journey, the final trick up the bands oversized, glittery sleeves was none other than Space Oddity.
I have to say Absolute Bowie are an incredibly special and extremely gifted tribute band. I can't think of anyone better to represent Bowie's legacy. It's a brave legacy to continue but they do it so much justice. The work they put in to create the live performance is phenomenal and their professionalism is brilliant. A true credit to a great man.