Frank is now nearly twenty one weeks old and weighing in at a massive 12kg. Mind you, he's a lot smaller than some of his brothers, who already weigh the same as Phoebe. Frank is now really growing into his character. He's got such a cheeky personality and it's amazing to watch his development. I've never had a puppy before, as we've always rescued slightly older dogs.
Phoebe is three, and she's come on leaps and bounds since we had her in September. Phoebe is a laid back dog, and much prefers to be snuggled up on the bed than be out on a walk. That being said, the pair of them run round the garden like crazy doing zoomies. It's safe to say Phoebe and Frank are officially best buds.
In almost a year for Phoebe, and Frank's few months with us, they've definitely discovered a few fave things. All of the following products were from Hounds, a local independent dog specialist. I'd quite frankly trust Anya with my dog's lives and wholeheartedly adore their stock, ethos and their fluffy visitors.
Doodlebone Bold Dog Collar
When we first got Frank, we knew he would be growing out of his collars at a ridiculous rate. Because of this, we didn't want to spend a lot on a collar. We found this Doodlebone range perfect. Simple, cheap and colourful collars started at just £4 and go up around 50p per size. Frank's first collar was in a beautiful teal colour (my personal favourite) and his second one we got in orange (great choice for summer!)
Doodlebone Airmesh Harness
Phoebe is a big, strong dog so a harness is a must for big walks. The Doodlebone Airmesh is padded and covers the surface area of her chest so takes the pressure off when she pulls. As it's made with airmesh, it's breathable, so won't rub or cause irritation. This comes in the same gorgeous colours as the collars, so when Frank is a bit bigger we can match his collar to his harness. Personally I think Phoebe looks adorbs in purple – I'm not bias, promise.
Edgard and Cooper Fresh Meat Kibble
We are incredibly conscious about what our pups eat. Phoebe can get an upset tummy really quickly and I'll tell you now it's not pretty. Frank is a growing lad piling on about a kilo and a half a week. We make sure to only feed high-quality kibble with no nasty ingredients. There is a site that rates dog food out of five stars, which you can check out here. Edgard and Coopers Fresh Meat Puppy Kibble ranks at 4.7 out of 5, so you can be confident that you're feeding your dogs healthy, natural and nutritional food as opposed to 'fillers'.
Beco Ball on a Rope
We are now on our second Beco ball on a rope, since the guys played tug of war that much that their first one snapped. These are only £8.99 and last really well, considering Phoebe destroys every toy ever. Even when the rope has snapped, you can still play fetch with the ball, which is one of the sturdiest rubber balls we've used.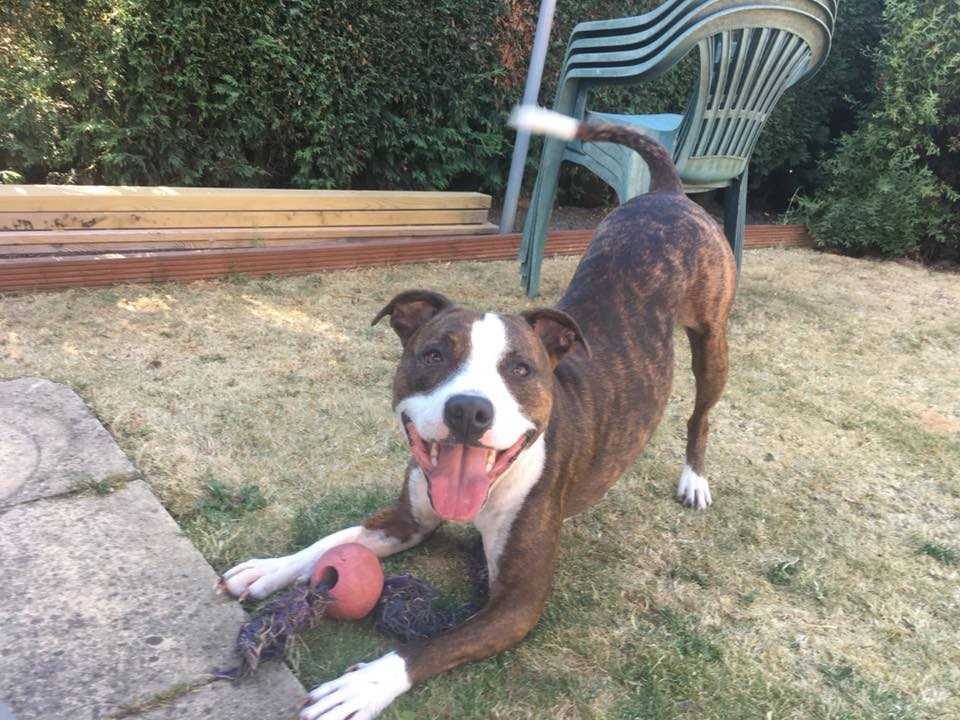 Pooch and Mutt Treats
Phoebe has sampled a lot of the Pooch and Mutt range, including Fresh Breath and Calm & Relax. Since having Frank, they've both been having the Puppy Development treats and Brain & Train. They are natural, ethical and low-calorie, so are a great training treat. Phoebe and Frank go mad when you shake the treat tub.
Ditsy Pet Bandana
Okay, this one's more of a Bethan's faves instead of Phoebe or Frank's. Ditsy Pet are a small family-run business creating cute and unique prints and designs for their collars and accessories. Phoebe's Ditsy Pet heart bandana is adorable. We bought it her for Valentine's Day and now wears it on special occasions. Find some of their cute bows, leads and collars here.
Animology Dog's Body Shampoo
This is Dad's favourites, since Phoebe and Frank both hate baths. We used this on Frank when he first arrived to try and reduce the 'puppy pack' smell and make him smell more like our home. This meant Phoebe was more accepting of him as he didn't smell strange any more. The Animology shampoo makes the colours in their coats come out lovely and shiny. It's pH balancing, gently conditioning and easy to rinse, meaning they guys don't have to be in the tub for too long.
Have your dogs got any favourite toys or treats? Have a browse through the Hounds website and I'm sure you'll find your pooches new fave!