Rainbow swimsuits, glitter, incredible street food and four amazing stages complete with some of the biggest named artists and comedians over three sunny days. Tramlines Festival, you were a blast.
I can't even begin to put into words just how great of a time I've had this weekend. I'll certainly try to do it justice. This post is going to be talking about as much as I can squeeze in: what I wore, what I ate, who I watched and everything in between.
I also want to say a big massive thank you to Jake for putting up with me asking for photos every 10 minutes, cleaning cheese off my face, and not moaning (much).
Day One
Jake and I arrived in Sheffield around 5pm and made our way to the Copthorne Hotel, right next door to Sheffield United's stadium. Our room was on the seventh floor and overlooked the stadium, I have to say I was blown away by the room. Not only did we have a huge kingsize, but a sofa too! Since Tramlines is a no-camping festival, I would definitely recommend this hotel if you fancy going next year. It's four miles away from Hillsborough Park, but the buses are cheap and frequent, so getting around was quite easy once we got the hang of what stops we needed.
On our way to the bus, the heavens opened and it began to pour. I prayed it wasn't going to rain for the entire weekend. I didn't have a coat, wellies or anything I had packed for sun only (piss poor planning on my part), but I didn't let the weather dampen my spirits. Luckily, the rain let up by the time we got to Hillsborough.
What I wore
Glitter skater dress from Topshop
Glitter socks from Primark
Dr Marten boots
CYO On The Rocks gems
PaintGlow glitter
Sequin earrings from Primark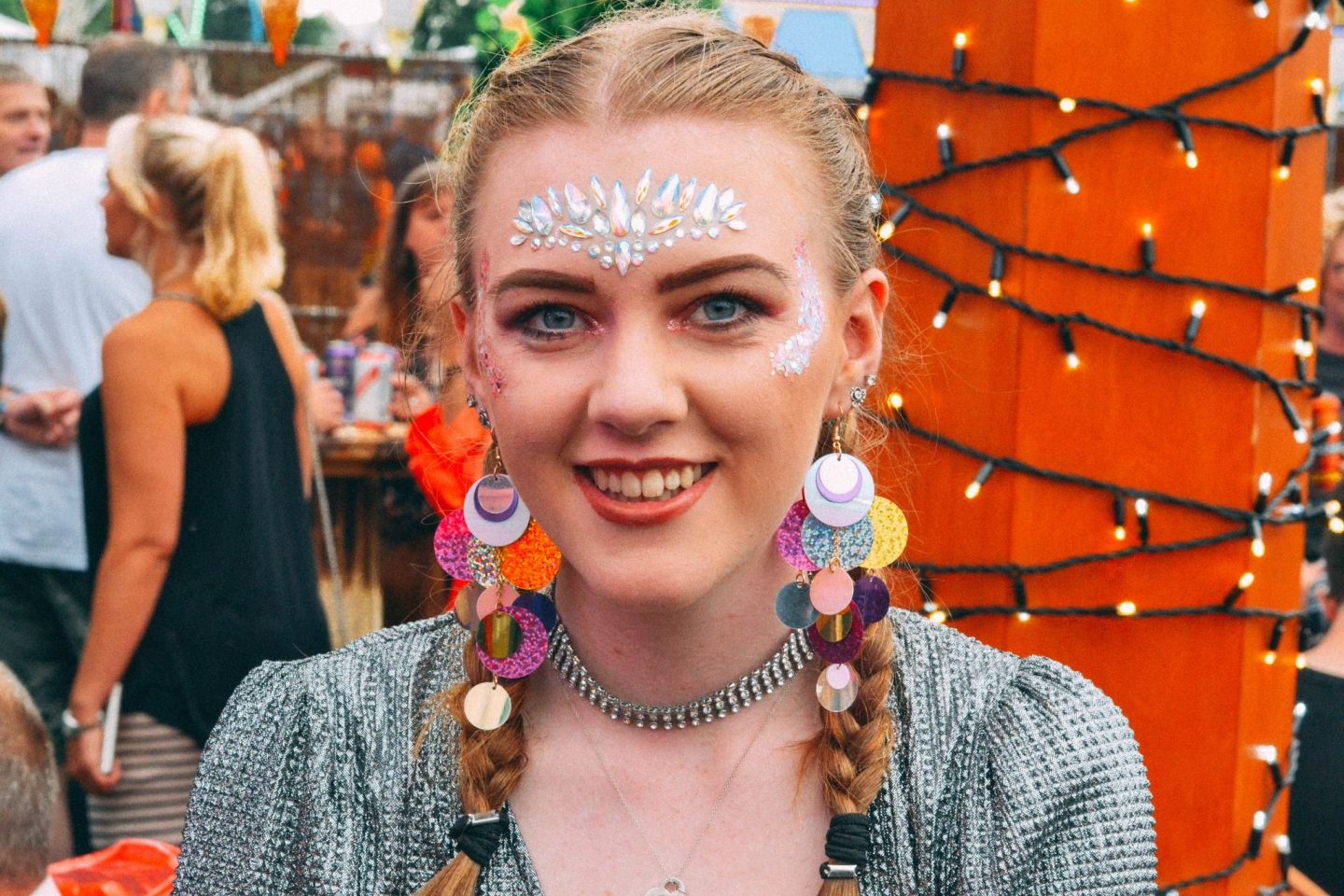 I also ended up buying a Tramlines hoodie from the merch stand to keep me warm when the sun went down. These were just £20 and they had all been snapped up by Saturday afternoon!
What I Ate
Eazy Cheezy Burgers – A 5ox beef patty dunked into liquid cheese on a brioche bun complete with onion ring. We expected the food prices to be extortionate, typical of festivals, but at £7.50 this was super reasonable when you consider what you'd pay at a pub! I got this cheese literally everywhere. On my jumper, under my nails, in my hair, over my face but my gosh it was worth it. Defo on my list of top five burgers I've ever had.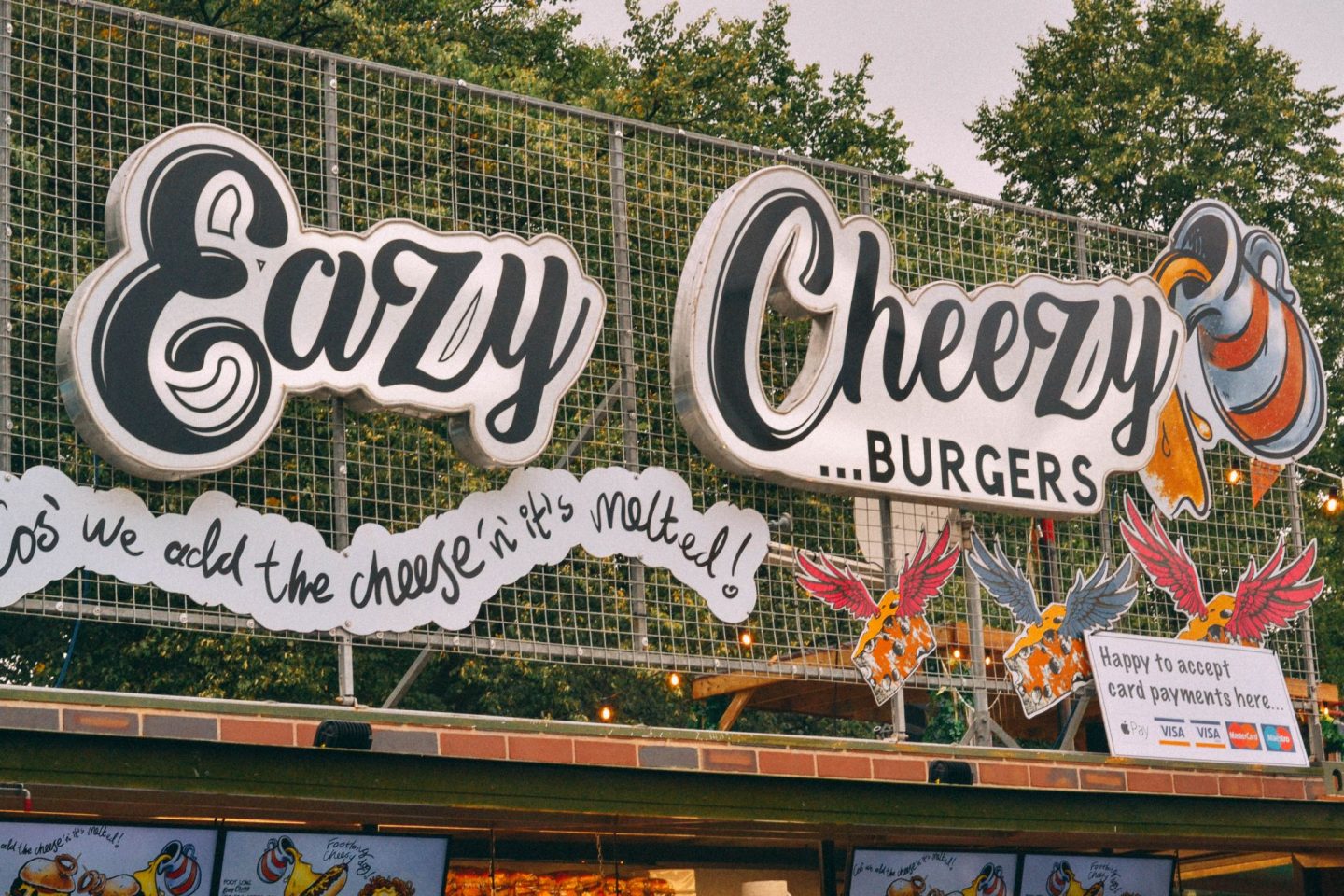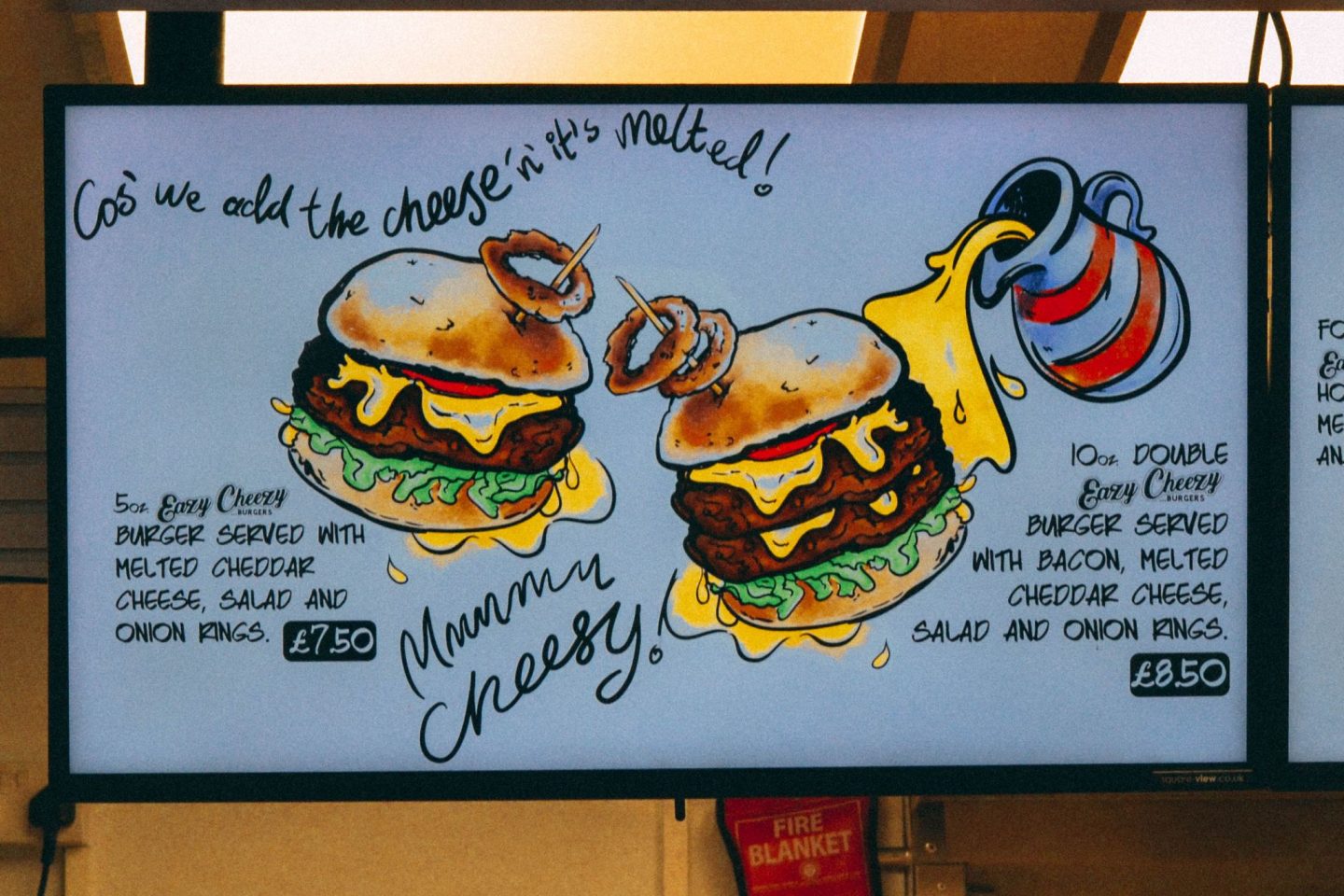 Senor Churro – My sweet tooth kicked in around 8pm, and I wanted something deep fried and covered in chocolate. What better than the sweet treat of churros?! These were £6.00 with a pot of chocolate to dunk in. I very nearly didn't finish them, but when in Yorkshire you do as the Yorkshire do which is not waste food or money, so yeah – I made myself feel sick.
Who We Saw
Milburn – Playing in their home city was naughties indie band Milburn. We didn't quite get to properly watch them, but could hear them echoing through the park as we stuffed our faces with Eazy Cheezy Burgers. The band vowed this could be their last appearance for a very long time, so I'm glad we managed to catch part of it.
Stereophonics – The last time I saw Stereophonics was at Y Not Festival last year. The second Kelly Jones walked onto the stage, I passed out due to low blood sugar and heat. I was determined to get through the set without any mishaps so I could enjoy the show!
Kelly Jones is a small lad with a huge voice, and the band is one of the only bands I've seen that sound the same live as they do recorded, if not better. The Welsh powerhouse are older than me, and so having grown up on their music, I'm so happy I've had the chance to see them not once, but twice. Dakota, Handbags and Gladrags and Have a Nice Day were amongst my favourites, and this time, I didn't faint.
What Else We Did
Coca-Cola Hut – Coca-Cola were at the festival over the weekend handing out free cans of Coca-Cola Zero Sugar Cherry, Peach and Vanilla. Jake and I grabbed a can of Cherry and ended up in a queue into the little hut, what happened inside was a bit of a mystery until we were actually inside. We got a photo in a photo booth and got to spin the wheel of fortune. Jake won a pair of Coca-Cola sunglasses and I won a bottle of coke. We barely had to buy any drinks as Coca-Cola has a constant, endless flow of cans available for festival-goers which I thought was great as cans were £2.50 from the stalls and ice-cream vans.
Day Two
Saturday was a bit of a brighter day. Since the gates didn't open until 12pm, it meant that we could take our time getting up, ready and to the festival. On our way to the bus stop, we passed a record market, so Jake and I hopped in to see if there were any hidden gems. There were some really nice pieces of vinyl that I'd have loved to snap up if only I had a bigger bag and wasn't off to a blooming festival, including some Bowie 7" and some rare Oasis numbers.
What I Wore
Rainbow swimsuit from Primark
Vintage Levi cut-off shorts from Sparrowhawk Vintage
Sunglases from Sparrowhawk Vintage
Dr Marten boots
Thigh high socks (rolled down) from Primark
Barry M face gems
PaintGlow glitter
Tassel Earrings from Primark
What I Ate
Chips 'n' Dips – loaded fries are a great sharer if you're peckish, but don't fancy something huge. We ordered some bacon and cheese topped chips (£6.00) to curb the hunger at dinner time.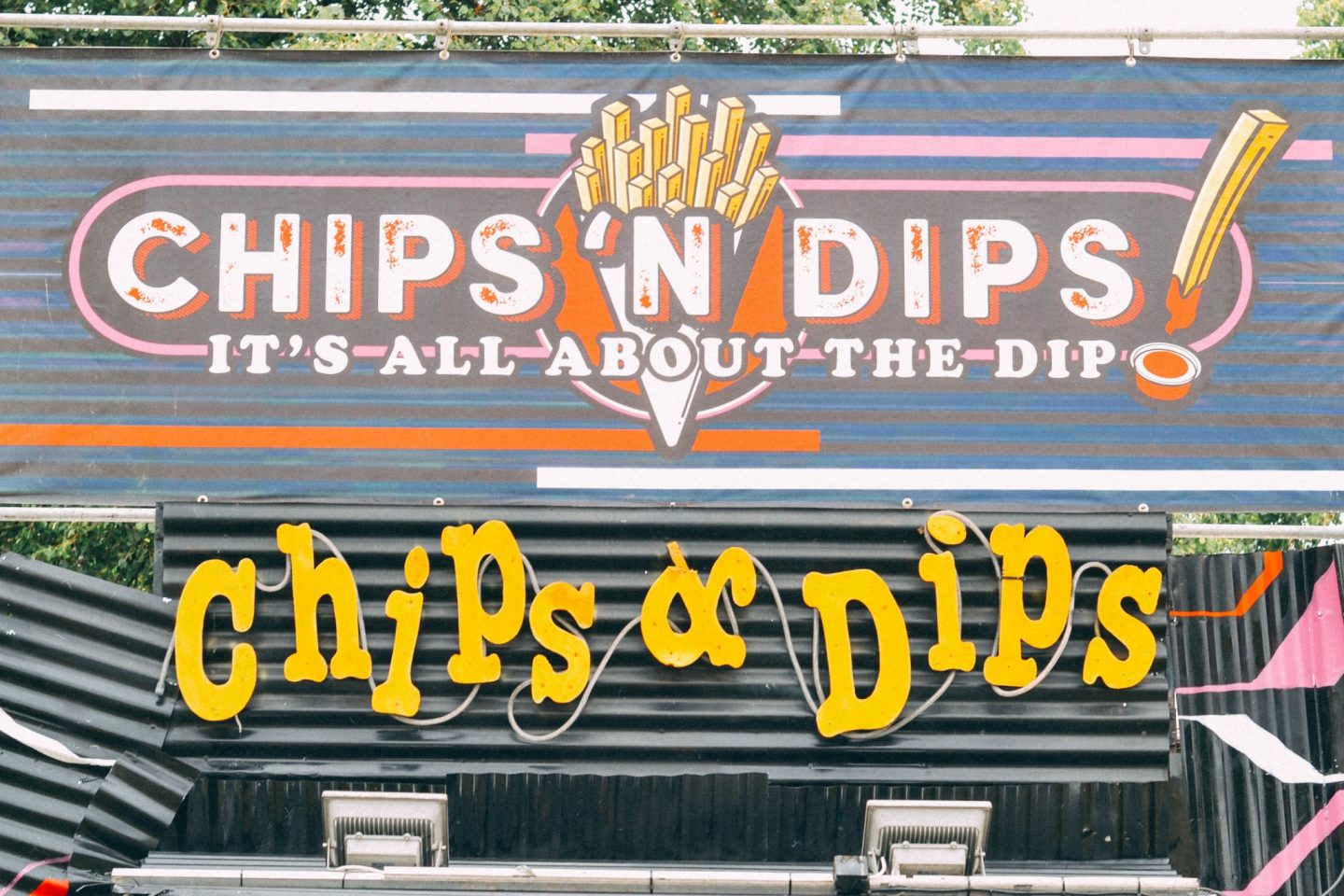 The Flying Cows – I had a cheese burger from The Flying Cows for £6.00, and it definitely filled the gap. A 4oz beef patty on a sesame seed bun with a slice of cheese. It was definitely less messy than Eazy Cheezy, but their gooey cheese was a lot more satisfying than Flying Cows neatly presented burger.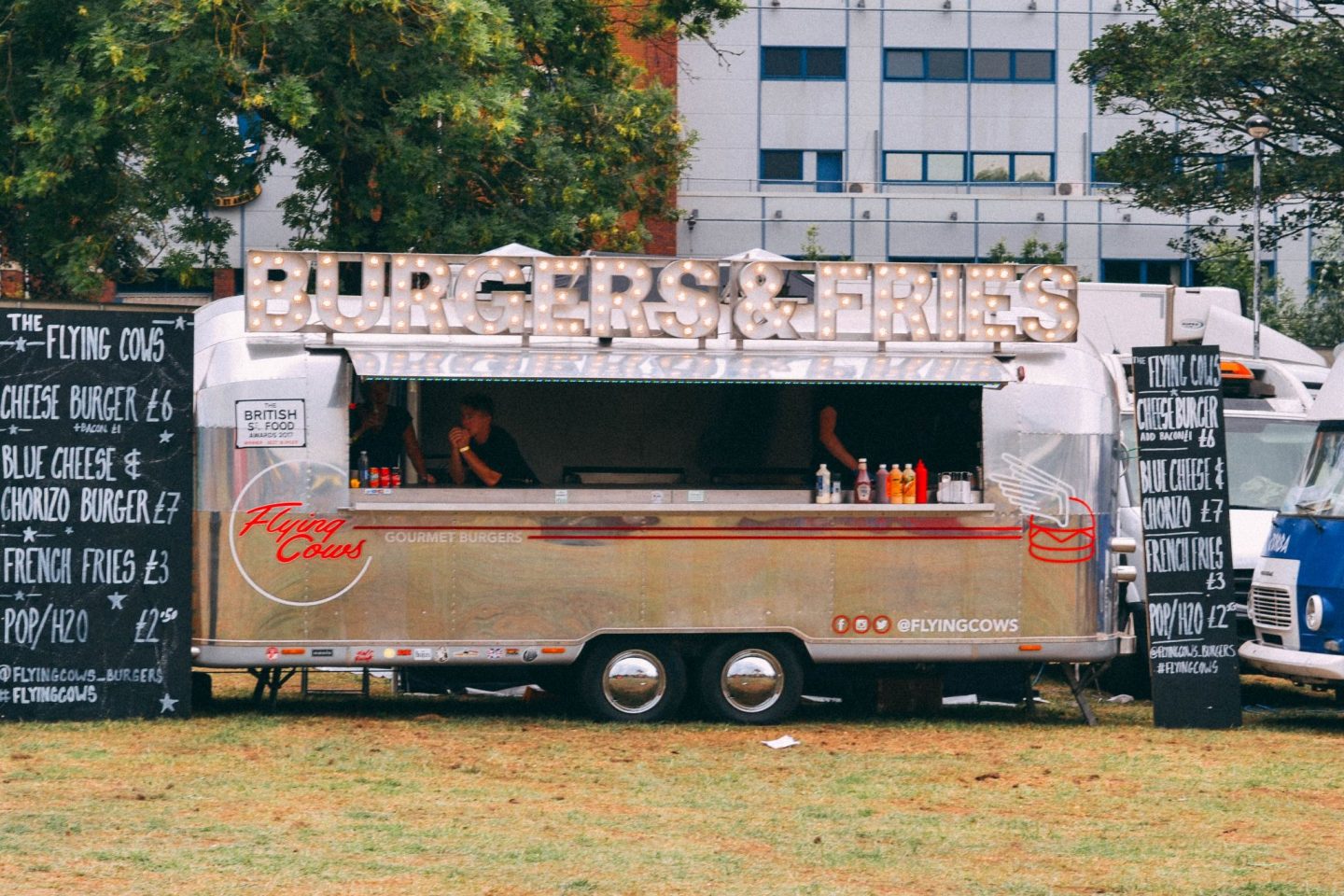 Who We Saw
Tom Stade – Canadian comedian Tom Stade is Jake's mum's favourite comedian. She's even been on nights out with him and his wife! Jake and I went to see him and I can certainly see the appeal. Hilarious, slightly crude, and a little bit gross is how I would describe his set, which discussed everything from how Brits will only go on cheap holidays to watching Pornhub with your millennial son.
The Everly Pregnant Brothers – Jake and I weren't sure what to expect for this one, since we'd never heard of the group. They're very much a 'Yorkshire thing' in that, anyone outside of the county doesn't really 'get it' straight away. Once the penny dropped and we clicked in they were a parody band, they were a right laugh. They even got Lord Mayor of Sheffield Magid Margid on stage for a couple of tunes.
Reverend and the Makers – Bloody love The Rev, for both his music and his Twitter banter. Before starting the set, the band all bought their kids out to wave to the audience (massive AWW factor). Jo McClure ambled onto the stage, cigarette in mouth and phone in hand, filming the audience roaring for the band. From the second they came back on stage, their energetic set had everyone bouncing. Here are some of the photos I got in the pit:
Blossoms – Following their self-titled album in 2016, Blossoms were catapulted into the forefront of the indie scene. They played their dreamy synthpop tracks taken from their debut album alongside their newly released Cool Like You album. They put on a stellar set and finished it off with Charlemagne, the track we'd all been waiting for.
Noel Gallagher's High Flying Birds – I clutched my camera and stood in the queue of other photographers by the VIP area. I was desperate for a nervous wee but couldn't afford to lose my place. They would only let eight photographers in the pit and they could only photograph the first three songs. Photographing Noel Gallagher was quite literally a dream, which felt like an incredibly unrealistic dream until Saturday. I feel like I've hit the peak of my photography career and I really don't know who could I could photograph that would top Noely G. I have to say I'm so happy with how the images turned out.
Enough of my fan-girling and gushing, let's talk about Noel. His banter was on fire, as the crowd chanted Yorkshire Yorkshire Yorkshire, Noel commented on how they best thing to come out of Yorkshire was the teabags. I'd agree. Yorkshire Teabags and Arctic Monkeys.
"Is this the last night? No? Who's on tomorrow? Who fucking cares" he said. I didn't know it was possible to be lovably arrogant, but both Noel and his brother pull it off.
Noel played us tracks from High Flying Birds' back catalogue, but he knew what we all really wanted was Oasis. A member of the crowd held up a sign saying 'Get the Big O back together', in reference to Liam Gallagher's tweet a couple of days previously. Whilst Oasis may not be reforming, it didn't mean we couldn't enjoy their hits. We were graced with Wonderwall, Whatever and Little by Little before he went back into NGHFB tracks like AKA… What A Life and Dream On.
What Else We Did
Village Pop Up Cinema – I've always wanted to see what an outdoor cinema was like and Tramlines Festival did not disappoint. Beach chairs lined the wooded area of the park, shaded below the trees with a huge screen which was showing different movies over the weekend, from Labyrinth to Moana!
I noticed that the festival was incredibly clean and tidy over the weekend with barely any litter. This is because, not only were volunteers litter-picking over the weekend, but there was also a reward system in place. If you took five plastic cups back to the redemption point, you got 50p! Little kids were running around like bartenders in 'Spoons on a Friday night with cups stacked past their shoulders. They must have been making a killing!
Day Three
As I opened the curtains of the hotel room, I groaned a little, it looked cloudy and a little muggy. The second we got to Hillsborough Park, the sun emerged and the entire day was scorching. I sunburned quite badly, as I stupidly hadn't put cream on due to the weather looking on the cloudy side. I couldn't complain though, it was the hottest day of the festival so far.
What I Wore
Leopard print slip dress from Topshop
Western belt from New Look
Yellow sunglasses from a festival
Pink glitter socks from Primark
Dr Marten boots
What I Ate
Chips 'n' Dips – We loved the bacon and cheese chips from Saturday that we had to get more. We were torn between chips and nachos, but bacon was the decider. They actually put more bacon on this time, so Jake was very happy.
Ice Cream – Who remembers when 99s were actually 99p? £1.50 at a push but you got 'juice and sprinkles' too. I paid three English pounds for a plain ice cream with a flake. I mean, it was utter daylight robbery but it's also kind of a sin to not have an ice cream when the weather is that glorious.
The Italian Kitchen – I'd seen people walking around the festival with pizza and I was getting major food envy. We headed to The Italian Kitchen for an authentic wood fired pizza which was £8.50 for a half margarita and half pepperoni. Is there anything better than a rustic cheesy slice?
Who We Saw
Nina Nesbitt – I've been a fan on Nina Nesbitt for a while. I met her a few years ago when Peroxide came out, and even sung 'Stay Out' in a school talent show (as cringe as that is). She's a genuinely lovely lass and I wasn't missing her set for the world. In those past few years, she has gained bags of sass and a bucket full of confidence. Her nostalgic tracks narrate teenage heartbreak and dreams with relatable humour. She sung her first ever track Apple Tree, as well as her brand new single Loyal To Me that isn't even out until August. Her musical and instrumental development has been like watching flowers bloom, and she's really grown into her own. You're all going to love the latest single.
Pale Waves – These guys know how to not just play a set, but perform a set. After being endorsed by Matty Healy of The 1975, the band have gained traction and are heading for huge success. Heather Baron Gracie really knows how to entertain and provides a dark and mysterious vibe to the sets. She's so intriguing to photograph and I love how the photos turned out. The band just can't stop releasing singles, from Television Romance ad There's a Honey to their latest release Noises. Pale Waves don't seem to be slowing down any time soon.
Pins – When I saw Pins on the lineup I knew I had to see them. I first got the chance to watch them when I photographed Maximo Park at The Albert Hall and fell in love. Pins are a five piece alt girl band and for me, are a voice of empowerment for women. We definitely need more grungy girl gangs like them!
What Else We Did
Met the Lord Mayor of Sheffield – I've loved Magid Magid since he said Donald Trump's a Wasteman and banned from Sheffield. I mean, someone's got to stand up for the country and he's done a better job than T May. Jake and I spotted him at the festival with his glittered beard and snapped a photo.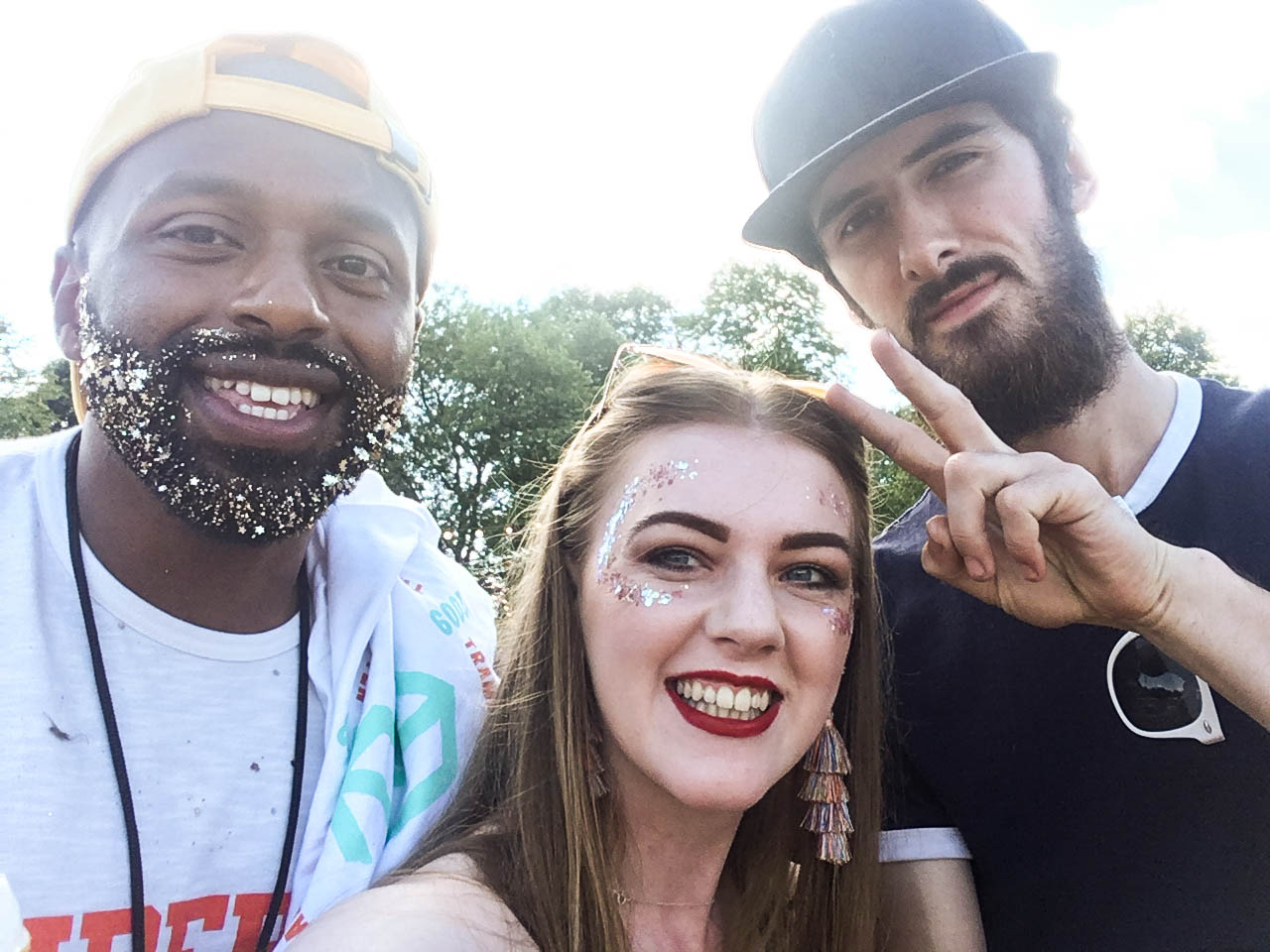 Read the Tramlines Times – The Tramlines Times is a newspaper given out for free on the Saturday and Sunday at Tramlines, featuring highlights and what's to come from the weekend. It also features interviews and reviews of bands on the line up. Definitely worth grabbing a copy if you stop the volunteers handing them out!
Big thank you to Jenni for the tickets, Jake for being amazing, and Tramlines for putting on an awesome festival. Hope to see you again next year.