Rumba, the popular rum bar in Congleton, was featured in one of my first ever blog posts two years ago. The bar has recently migrated to a venue twice the size of its original home. Myself, Charl and Terri headed over to check it out in all its glory.
The new venue is on Swan Bank, and has transformed the run down pub that preceded it, into a tiki haven. The second you walk through the big yellow doors you're teleported abroad into a cool, chilled-out beach bar.
Rumba have used the move as an opportunity to go big or go home. My god, do they go big.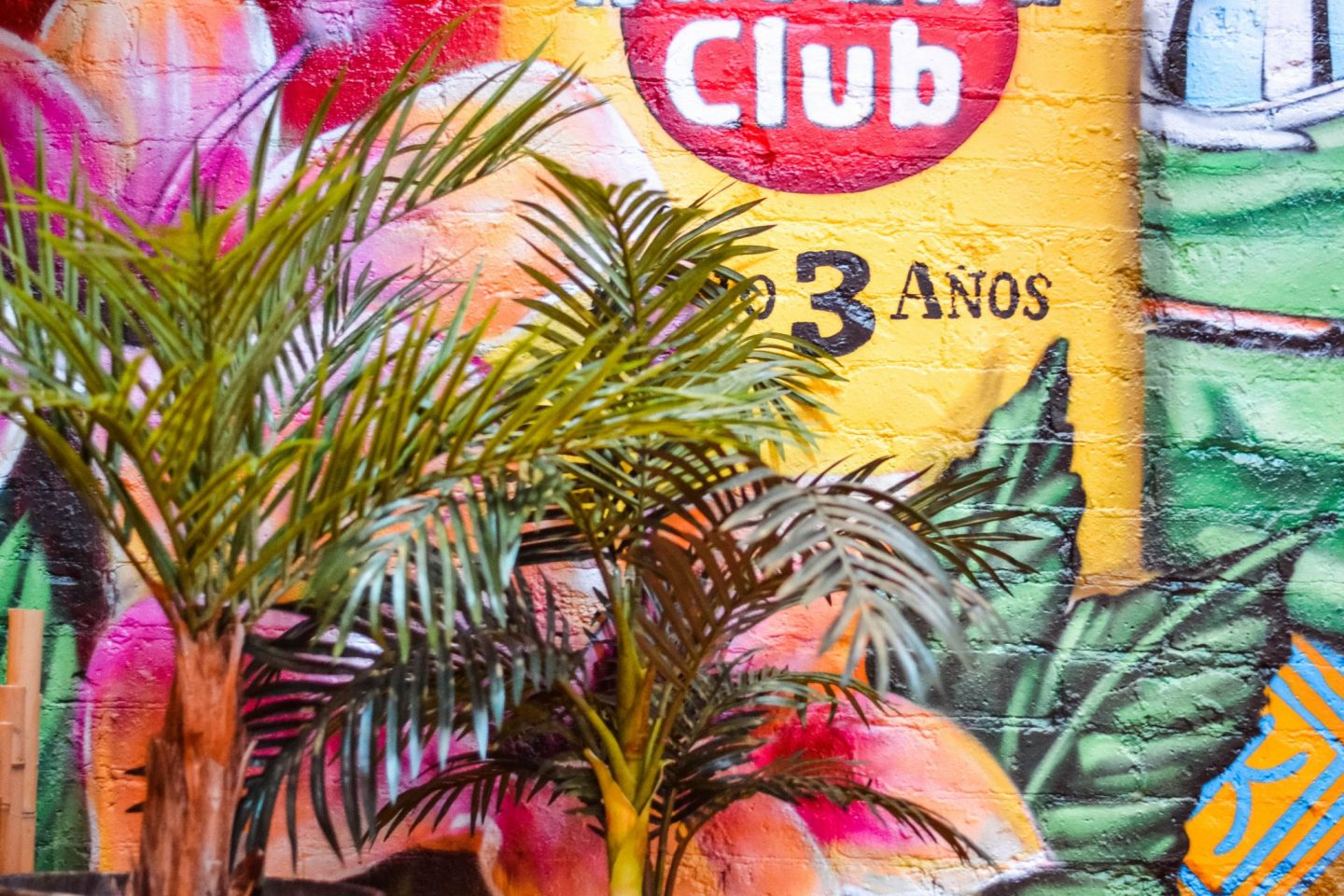 Since opening the new, bigger venue, the bar has been heaving. Perhaps even more busy than they were anticipating. In fact, they've had to create bar sections for just beers and spirits, and just cocktails in an attempt to get customers served faster. It's safe to say it's definitely Congleton's hot-spot.
The décor is insane. Sharks smoking cigars hanging from the ceiling, surfboards on the walls, neon lights, tropical painted murals. It's an instagrammable dream. Vintage lightbulbs drape from the pin-up girl plastered ceiling, bamboo canes cover the DJ desk and there are so many house plants. Rumba, can I move in please?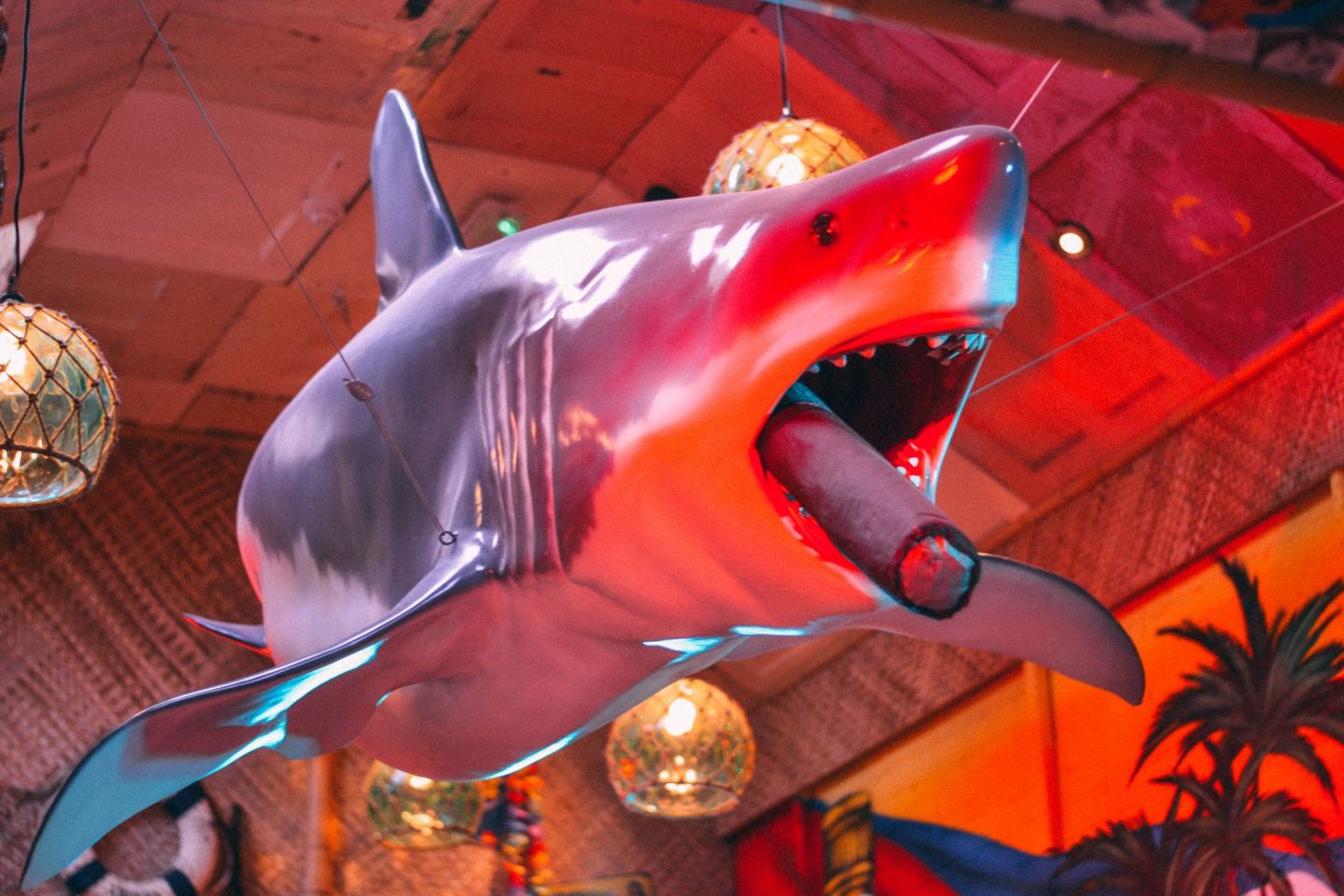 We chose to sit in one of their three caravan booths. You heard me right, their booths are little campers! Each one is a different colour inside, which Charl likened to the Destiny's Child Say My Name video. She's not wrong – it would make for a cool, 90s music video shoot.
To drink, Terri and I ordered 'Boozy Brain Teasers'. My brother's girlfriend, Alex, mentioned that she's had one on a night out and was gobsmacked, so of course I had to get one. I ordered a Screwballin', which features Absolut Raspberri Vodka, bubblegum, blue curacao, apple juice and ice cream. They put ice creams in their cocktails. Mind. Blown.
Terri went for a Cherry Coke Float, in which they use their very own Snakepit Spiced Rum, which our server Gavin, let us sample. It's a really sweet taste, with a blend of 'secret spices'. Gav recommended the Gin Blue Beard for Charl, which is a type of Mojito, but with fresh, innovative flavours.
We hadn't quite finished instagramming our drinks before Gav was back over to take our order, so we took a few moments drooling (no really, there was definitely slobber) over the menu before we all settled on getting hot dogs.
Terri and I both got The Big Dog (£7.95), which is 'loaded with everything' – bacon, fried chicken, pulled pork, pepperoni, beef chilli, onion rings, nacho cheese, crispy onions, skinny fries and mustard. Wipe that drool off your phone! We also thought it was awesome that you can buy a pint of nacho cheese sauce to go with your meal – that's right, a pint. Charl ordered a Farmageddon (£7.50), loaded with bacon, fried chicken, pulled pork, crispy onions, sriracha and nacho cheese.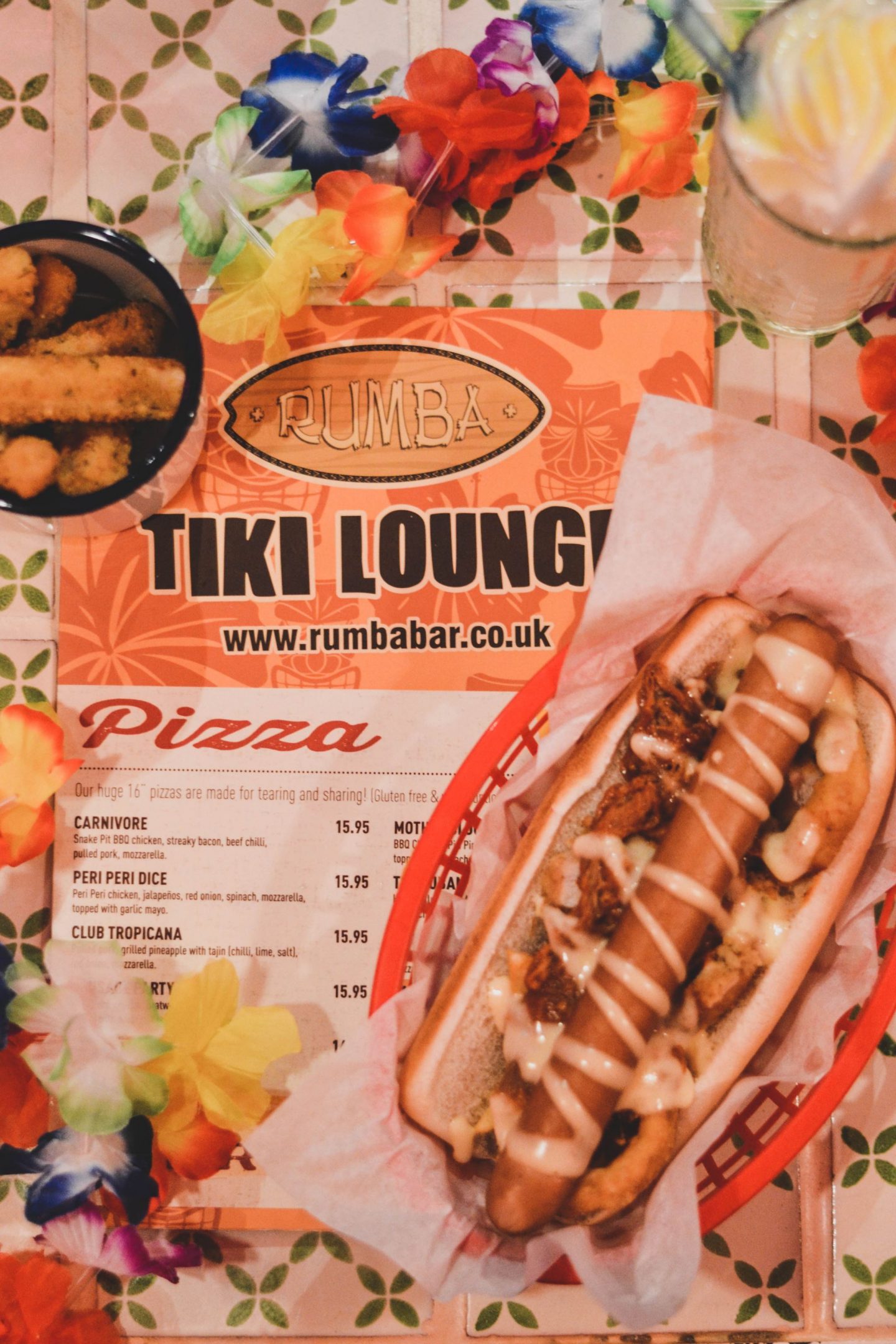 I took a few bits off my hot dog – all part and parcel of being a super fussy eater. But my life was it good. Because my eyes were too big for my belly, I also got some halloumi fries (£4.45)– if there's halloumi on the menu, you darn well order it.
For me, the pulled pork really made the hot dog, it added mouth-watering flavour that literally melted in your mouth. This creative invention is certainly going to be my go-to Rumba order, but I am dying to try one of the Build a Board's. There are under £10 and you can choose a pizza slice, chicken wings/strips, fries, a side and a sauce. It could be the perfect little nibble's sharer, or ideal if you can't decide on just one thing on the menu!
The Big Dog defeated me. It was that big I couldn't actually pick it up to eat it, and settled for the civilised use of a knife and fork. I managed to devour all the fillings, but left the bun in order to squeeze a in more halloumi fries. When Gav mentioned pudding, even my foodbaby said no. I was completely stuffed. I will be back for a Nutella Sundae though.
We took our second drinks into the outdoor seating area. This time I went for an Ice Cream GNT a classic gin and tonic, with an ice cream twist. In hindsight, I wish I'd swapped the tonic for lemonade, mostly because, again, I'm mega fussy.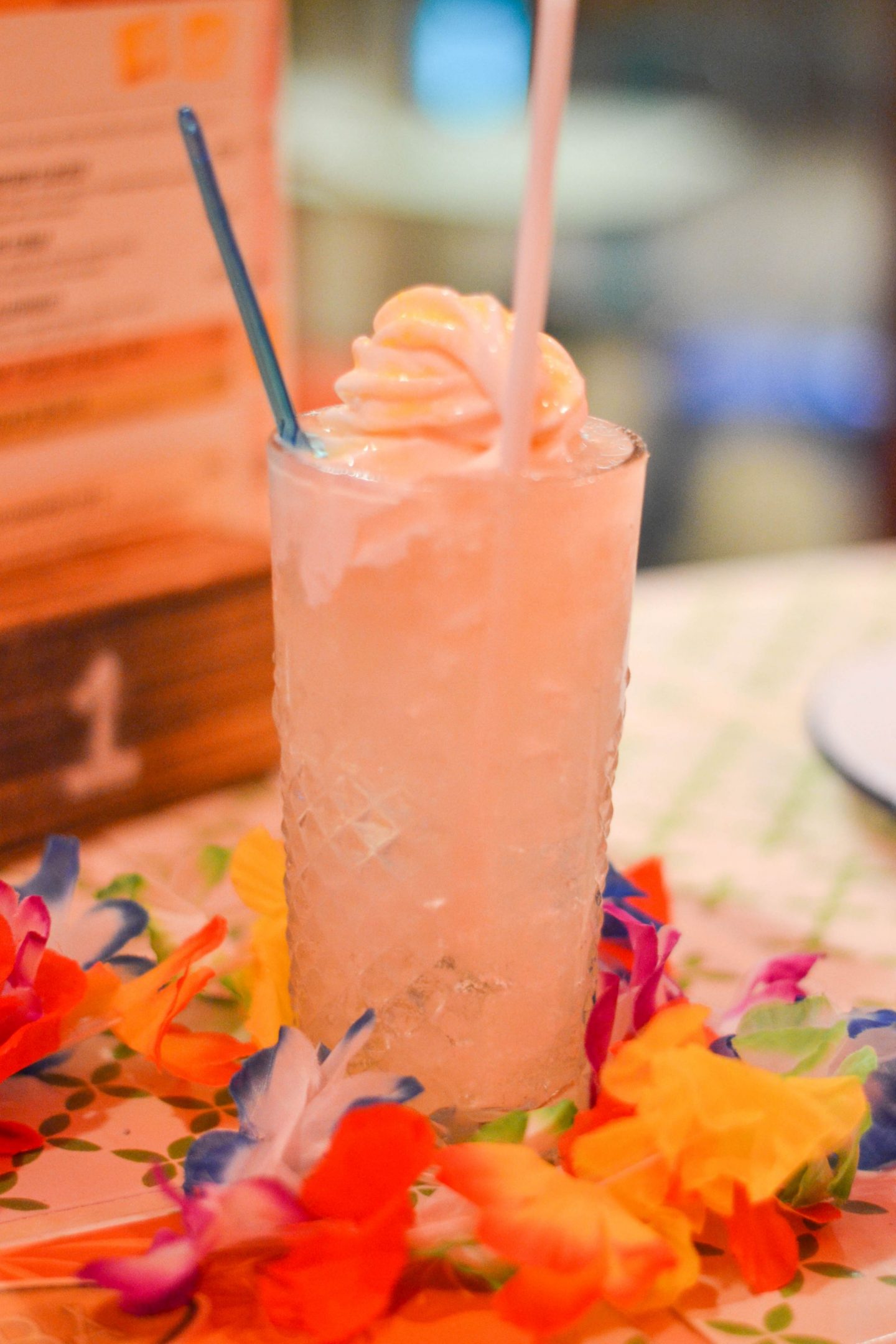 The outside balcony features tall picnic-style tables, as well as adorable sun-lounger inspired benches. Walls were adorned with vintage tin signs and their Snakepit Rum neon logo. This cosy corner is a gorgeous spot to enjoy a cocktail or two in the summer months, and a cool spot to snap some photos!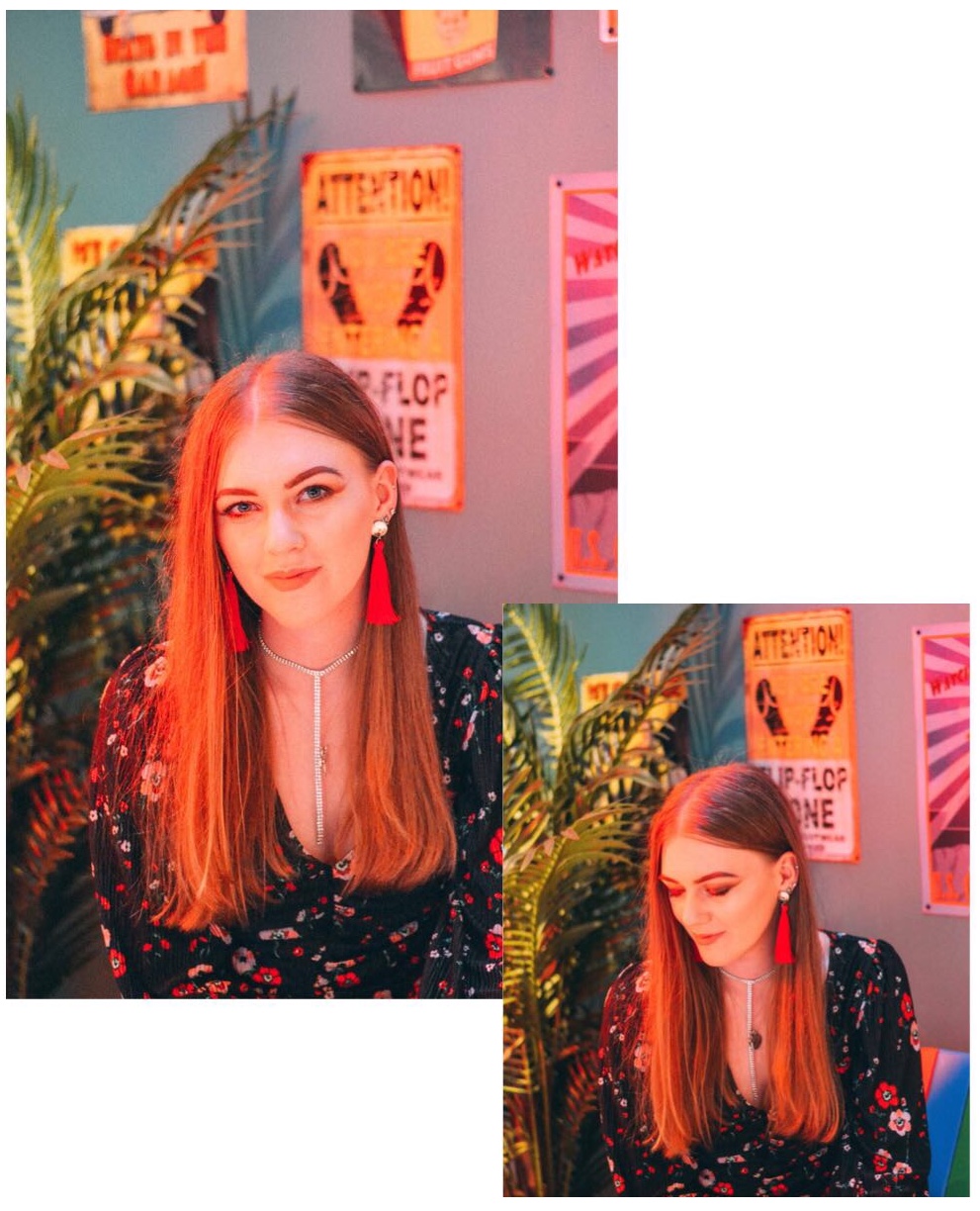 I want to thank Rumba for their hospitality, they made fabulous hosts for our blogger meet-up and were really attentive. The servers were all happy to chat, have a giggle and answer any questions. I can't wait to go back and demolish the rest of the menu.