We're now smack-bang in the middle of that part of the year where you stick a jumper on in the morning and you're dying in it come lunchtime. The weather hasn't a clue what it wants to do from one day to the next, so how on earth are you meant to know what to wear?
September can be a tricky one to dress for – it's not really summer anymore, but is it really autumn until the leaves are falling off the trees?
Allow me to introduce you to transitional fashion. It's a phrase many of you may have heard, but few actually know what it is.
The definition is quite simple, really! It's clothing that can be interchanged to different seasons and help you move from your summer wardrobe to your autumn wardrobe seamlessly. It combines elements of both wardrobes to stop you breaking the bank and splurging on more clothes.
---
Outfit Details
Roll Neck – Dorothy Perkins
Swing Dress – Cameo Rose at New Look
Bag – NA-KD Fashion
Boots – Topshop
Belt – New Look
Earrings – Primark
---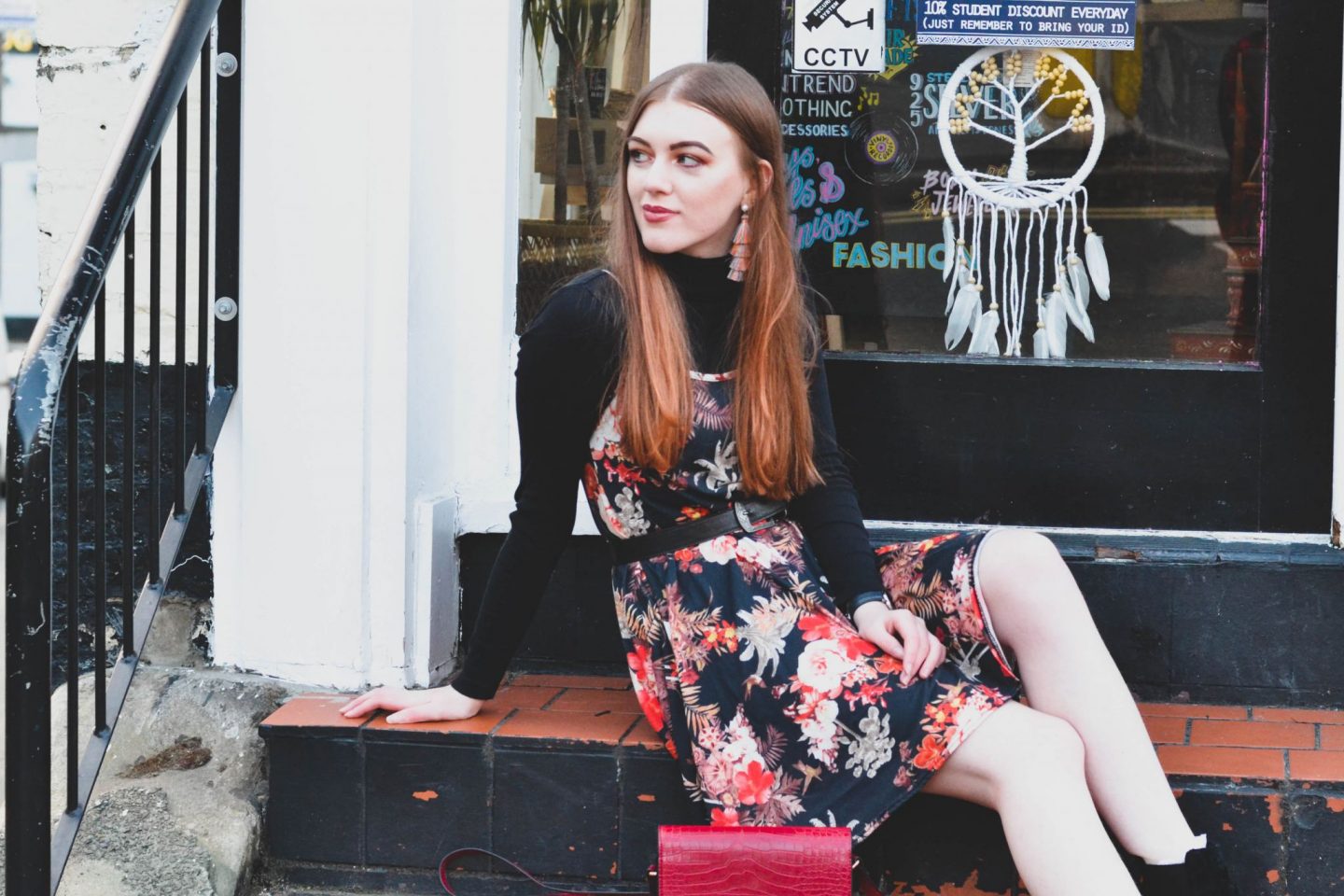 One thing that is prominent in AW Fashion is layering, so I really like to add it into my transitional outfits. I layered my swing dress over my roll neck, throwing on a belt to bring in my waist. If it were a little cooler, I could have layered a light jacket. I kept my legs bare as it was still warm, which adds to the 'transitional' look.
Autumn is all about burnt oranges and burgundy, and even though the palm tree and hibiscus pattern on the dress is summer themed, for me it screams autumn. It's one of my favourite pieces to wear throughout the season.
Velvet is another AW trend that comes back around every year, and whilst I do wear these velvet Chelsea boots all year round, they always look best in the chillier months. Since it's not quite Autumn though, I wanted to keep a little pop of summer in the accessories. I wore these festival must-have tassel earrings that matched some of the colours in the dress, but added a few extra summery shades too.