Hickory's Smokehouse will open the doors of its Gresty Green venue on Monday 26 November. I got a sneak preview of the menu last night, and sampled some amazing dishes (and maybe a gin or two).
The smokehouse is located on the outskirts of Shavington, and as formerly the Cheshire Cheese. It's in a stunning location and the building is huge! Before we even made it to the door we were welcomed inside and shown to our table.
Inspired by the deep-south, their authentic and quirky décor was homely and cosy and their hospitality was second to none. You really felt right at home from the get-go.
The service at Hickory's is really amazing, and the staff go above and beyond to exceed your needs. We had water for the table poured before we'd barely sat down, and a bag of salted popcorn to share from their popcorn machine.
Drinks
The drinks menu is more extensive than your average restaurant, and I felt a little spoilt for choice. Hickory's serve coffee, smoothies, milkshakes, sodas and iced teas. They also have a range of beers, including on tap and bottled, wines, cocktails, prosecco and of course G&T's. Anya, Leah and I each ordered a different gin, which are infused by Hickory's themselves. I ordered a parma violet gin after being hooked on this one – Anya went for the Hickory's apricot gin with elderflower tonic and Leah ordered the pink berry gin with Mediterranean tonic.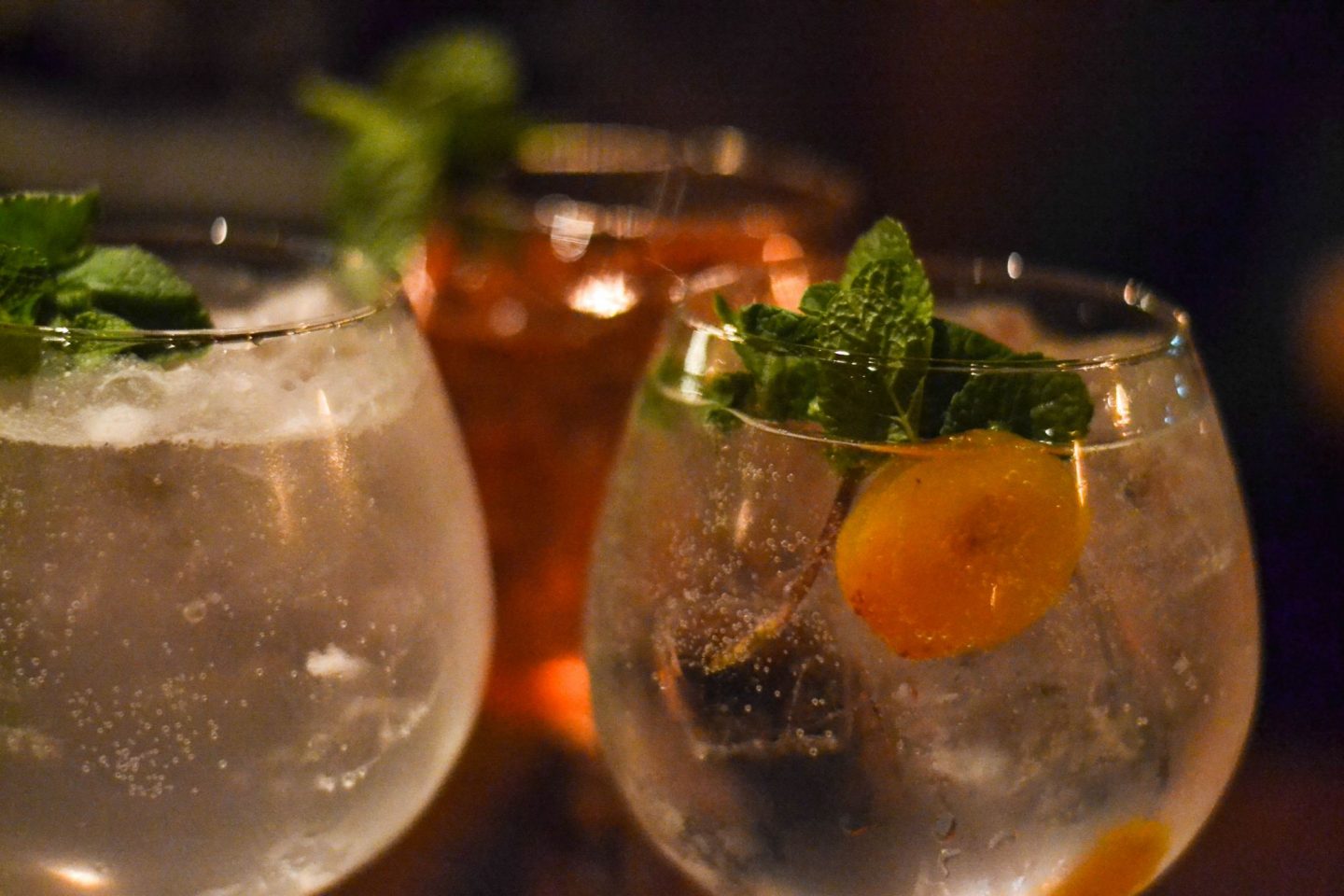 I've never been a huge tonic fan, I just find the aftertaste a little bitter, dependant on the tonic. One of our servers, Tamara, overheard me mention this and bought over a bottle of Mediterranean tonic for us to sample. She also told us a little bit about the tonic and the ingredients in it.
Whilst we waited for our drinks to arrive, and drooled over the food menu, Paula and Alex came and had a chat with us about the venue and its plans. Their hospitality couldn't have been better and they really looked after us throughout the evening.
Starters
To start we ordered two cheesy American pretzels, frickles and spicy tomato salsa nachos. Jake and I are so similar when it comes to food, so it was no surprise that we ordered the same starter and main. Great minds think alike, don't they?
To be honest, I could have easily skipped mains all together and just eaten everything on the appetiser menu.
The pretzels. These can be ordered with or without cheese (but who would ever refuse cheese?). These doughy knots of goodness are baked with smoked garlic butter and sea salt and if that doesn't make you drool, the rest of this post will.
'What the frick are frickles' I hear you say. I'll frickin' tell ya! Cajun spiced battered deep fried pickles. Whole pickles. I've always said I don't like pickles (without having actually ever eaten one), but my general rule of thumb is that if it's green, I won't eat it – if it's deep fried or smothered in chocolate, I will. I guess that's the only way my mum is ever going to get me to eat broccoli at the age of 20.
Jake and I curiously halved a frickle and went I for the taste test, and I actually quite enjoyed it. It's bizarre, American, and goes against most food social constructs – but it bloody works.
Finally was the nachos, which are always a great sharer. They're a dangerous choice though, since you can't help but keep nibbling at them if they're in front of you! They were loaded with dips with plenty of cheese, and still crunchy despite the amount of liquids! Absolutely spot on.
Mains
Jake and I both ordered the 340g (20oz) rump steaks, to be cooked medium and medium rare. These come served with a peppercorn sauce and a bucket of fries. The steaks were cooked beautifully and there was barely any fat on them, but they were not as hot as I'd have liked. Since the restaurant wasn't yet open, and this was a trial run of the menu, there were bound to be some timing issues. That being said, it didn't stop me eating the entire thing!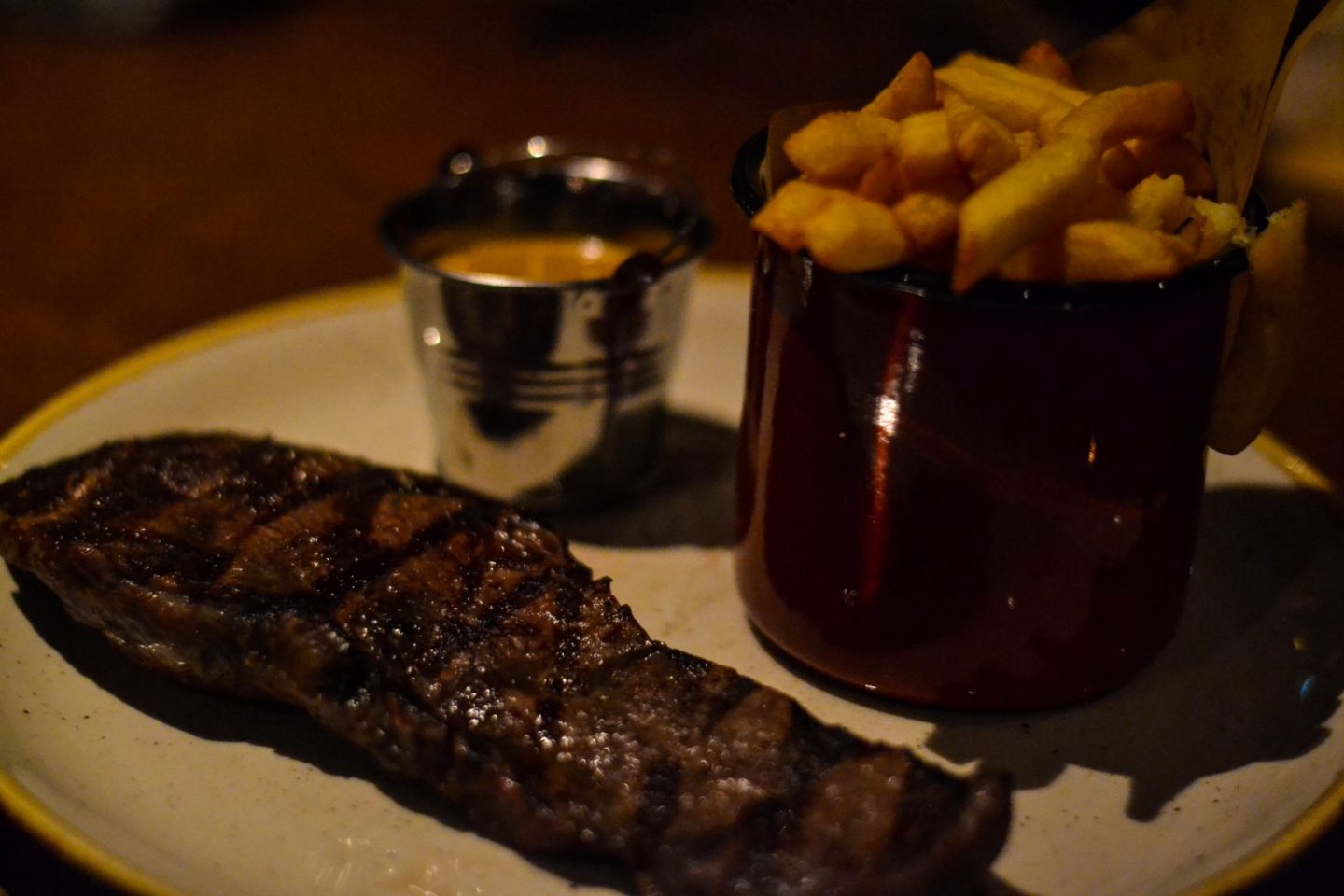 Leah and Anya both ordered fajitas, with Anya opting for cajun chicken and Leah ordering the vegetarian option. When eating out with a veggie, it can often be difficult to find somewhere that specialises in meat, that also has a great range of vegetarian and meat-free options. Other tempting options included the three bean chilli and fire kissed aubergine.
The girls said that you get a lot of wraps for the amount of food in the skillet, but once they tucked in, they soon realised that there was in fact too much food! With the wraps comes a side of lettuce, cheese and dips to funk up your fajitas.
Sides
With sides, it's go big or go home at Hickory's. We ordered a side each and decided to share so we could taste as much of the menu as possible.
We ordered the Magic Dusted Fries out of pure curiosity for what the magic dust actually is – for the record it's salt, pepper and a couple of other spices too. They have a bit of a kick to them but are pretty yum.
We also ordered classics like mac 'n' cheese and onion rings. The mac 'n' cheese was rich and creamy, and baked to perfection. You know, when the cheese on top goes that little bit crispier. The onion rings were blooming huge and if there is one thing that Hickory's is brilliant at (other than hospitality) it's batter. Anything on the menu that is deep fried is a guaranteed winner. The onion rings were crispy, and Jake's verdict was 'It's great because usually when you bite into an onion ring, you pull half the onion out of the batter with your teeth. That doesn't happen with these'.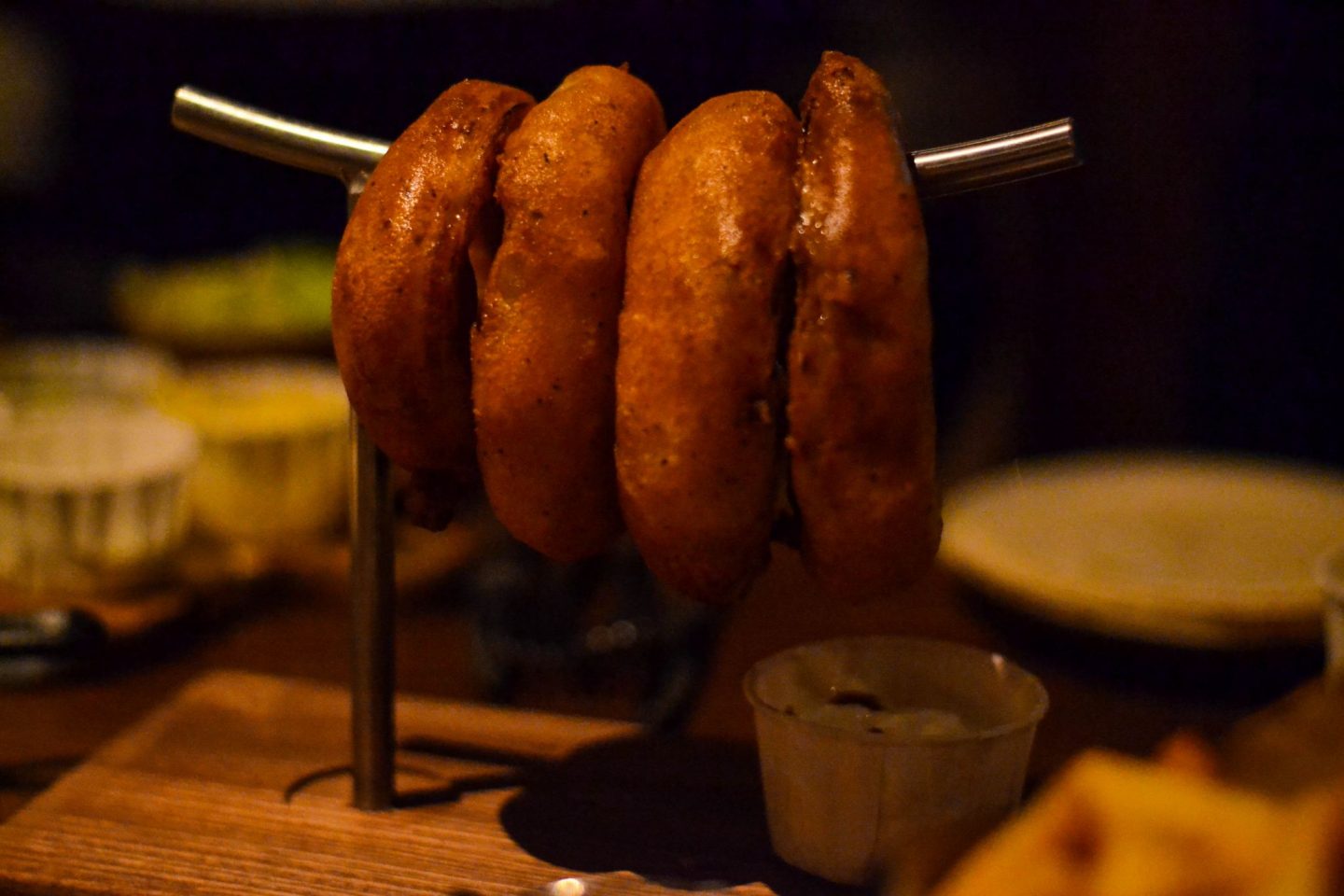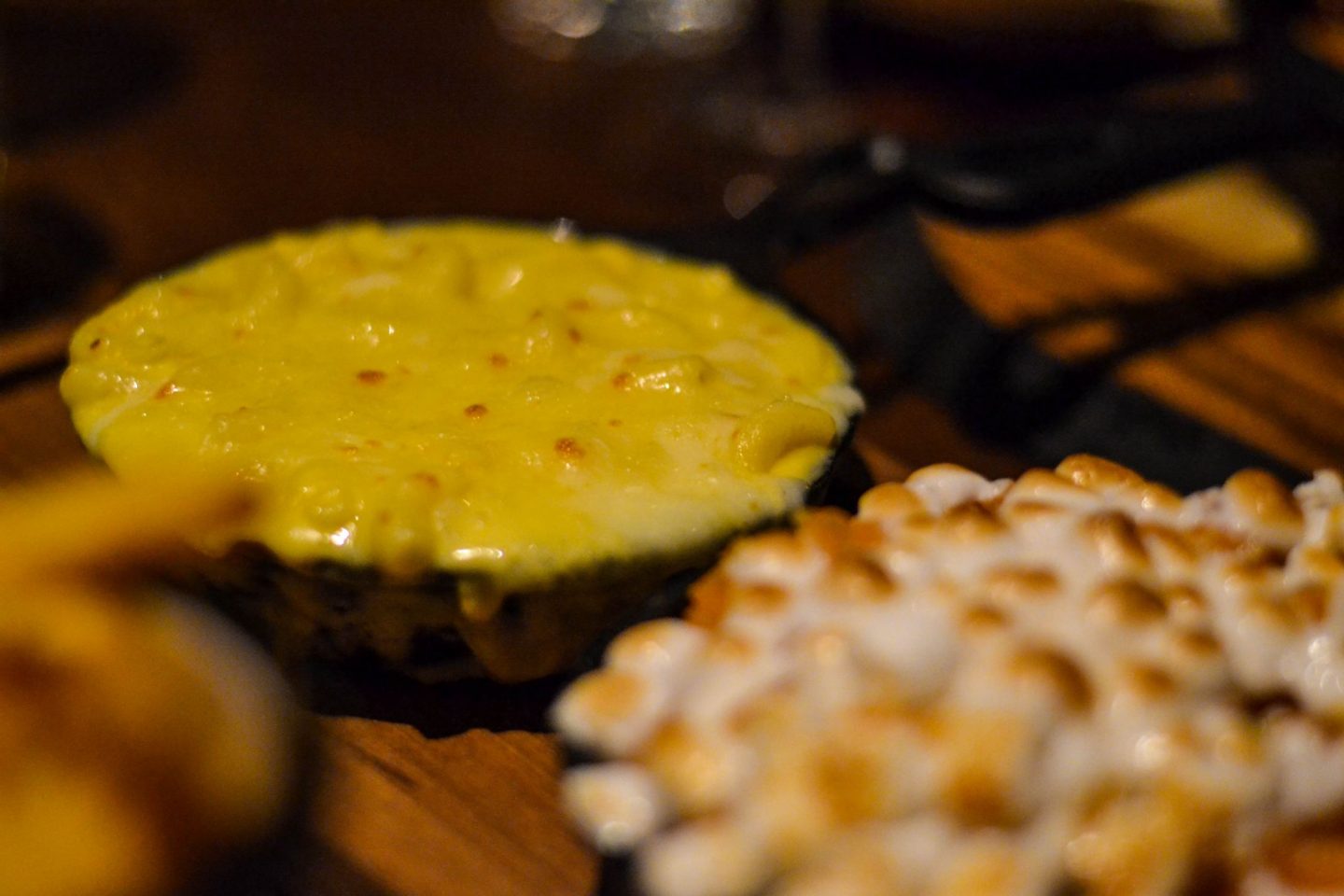 Finally, the one you've been pondering about since you read this title. Mallow Mash.
Mallow Mash is a skillet of sweet potato mash, topped with toasted mini marshmallows. It's the most insane combination, like something created by Buddy The Elf. We were so intrigued we couldn't not order it! The blend of sweet and savoury is crazy, but unusually delicious – you shouldn't like it, but it's great! I think it tastes best when there is an equal ratio of mash to mallow, to really get the candy/veggie combo.
The venue
With bellies full and gins empty, we had a wander around the venue to see what else there was to offer. It's worth mentioning that although the place was full to capacity, it certainly didn't feel crowded. The staff were calm and you didn't feel rushed. We were there for over three hours and didn't realise how quickly the time had passed us by!
On the far left of the building is a bar area, with big TV screens showing the latest sports games. They also have an impressive range of craft and indie spirits that I was eyeing up.
Near the bar is the washrooms, and the girls and I thought it was a really nice touch that there was a basket by the sink with all of your womenly needs. It included tampons, pads, body sprays, hair spray, deoderant. It was just a really sweet and thoughtful edition to a beautifully decorated bathroom.
In the centre of the smokehouse is a seating area where you can watch the chefs cooking, but to be honest, I'd rather watch the selection of Disney films on offer in their cinema room. Oh you heard me right. Their cosy cinema room seats around 10 people, making the venue very family friendly. In our case, it was big kid friendly, as we settled down in our food comas to watch a bit of The Incredibles 2!
Our overall experience of Hickory's Smokehouse was remarkable. I truly felt like a guest, as opposed to a customer, and was treated like royalty. We will certainly be returning one Friday for 2-for-1 cocktails and a dessert! Hickory's. it's been a pleasure and I'm sure I'll see you soon.