Every year, I save up all of my Boots Advantage Card points from January to December, and then treat myself after Christmas! This year I managed to save around £100 of Boots points to spend in store.
For those of you who don't have a Boots card, or don't know how they work, let me explain.
The Boots Advantage Card is a loyalty card which is completely free to sign up for. For every £1 you spend in store, you get 4 points on your card. 1 point equals 1p, so it's super easy to keep track of your balance. Over 60's or parents with children under 2 can sign up to the Over 60's club and Parenting club to gain 10 points per £1.
Sometimes you get vouchers through the post for bonus points and money off, but you can also find personalised offers on the Boots App and in the back of the free Health and Beauty magazine in store. During your birthday month, you also get double points for the entire month, which can seriously boost your points balance. Unfortunately you can't part-pay with your points, you can only spend up to the amount on the card, but I like to save mine until I have quite a lot and then spend them all at once.
So, here's what I bought with my £100 Boots Advantage Card points.
Georgio Armani Si Eau De Toilette 30ml gift set was £45.00, now £29.98
Working at Boots means I get to test a lot of makeup, sample new products and smell a lot I mean a lot of perfume. Georgio Armani Si has been an incredibly popular fragrance purchased over the Christmas period by men for their partners (mostly on Christmas Eve). I fell in love with the fragrance but was a little put off by the price as I don't often treat myself to 'expensive' perfume. When I spotted the 30ml gift set in the Boots Boxing Day sale I couldn't have clicked 'add to basket' quick enough!
The perfume is light and elusive – not too much, not too little. It has notes of floral pear and blackcurrant nectar, with a subtle hint of musky wood giving that seductive and playful scent.
The body lotion that comes with the set is recommended to be used prior to applying the perfume. This is said to make the fragrance last longer on the skin and provide a more intense smell.
CYO Lifeproof Long Lasting Foundation shade 101 £7.50
I've still not found my favourite drugstore foundation. My favourite base to use is the Dr Jart+ Beauty Balm in Platinum. I've almost ran out and I can't find it anywhere. I've picked up this CYO long lasting foundation in the hopes it will tide me over until I find a product I adore.
The foundation is described as 'Medium coverage. 24 hour shift. Feels light. Looks smooth. Never cake-y.' which sounds pretty promising. It is smudge and transfer free and enriched with vitamin E to aid moisturising.
CYO Matte Lot of Good Matte Lipstick in Bassline was £4.00, now £2.00
Now, I have used CYO's lip products and do rate them quite highly for their price! Some of the CYO products are currently on half price and it's definitely worth trying out whilst they're on offer. I love their Sheen Sweep Cream Lipstick in Wishing Well, so I'm hoping I like their matte formula's just as much.
CYO x Skinnydip iridescent cosmetics bag – FREE!
Since I had spent over £8 on CYO cosmetics, I also got this Skinnydip cosmetics bag for free. On the front it says 'Living my best life', which I certainly was whilst throwing all of these items in my basket!
Skinnydip Liquid Glitter Eye Brush Trio was £15.00, now £7.50
This set was part of the Skinnydip Christmas collection and was reduced to half price in the Boxing Day sales. The set features three pink and blue shadow brushes, one tapered, one angled and another fluffy brush. Skinnydip brushes are great quality and so this was a bargain purchase, and the little pouch they come in is great to pop in a handbag for shadow touch ups.
Mark Hill Heat Protection Spray was £6.49, now £4.40
After receiving the Mark Hill Pick and Mix Curler for Christmas, I decided to spare my hair the tragedy of heat damage and invest in a heat protection spray. Inside one of my curling wand barrels was a voucher for 20% off the Mark Hill heat protection spray, so I decided to go for it! This was the only item I didn't pay with points for, as you can't use vouchers and your points at the same time.
Lee Stafford Choco Locks Butter Cream Treatment was £7.99, now £5.33
I recently helped a male customer pick out some Lee Stafford products for his wife's Christmas gift, which meant I got to take a really good look at the range, showing him the different scents. Whilst Coco Loco is gorgeously coconutty, Choco Locks has my heart. It's chocolatey goodness is too much. I picked up the Butter Cream treatment with 1/3 off, so it was just over a fiver. The hair mask smells good enough to eat, I mean, whack it on a two-tier semi-naked red velvet sponge and I probably would eat it (don't try this at home).It's recommended that you use the product after shampooing, but before conditioning, leaving it to nourish your hair for five minutes before rinsing.
Afterspa Makeup Remover £5.50
This year I am vowing to be more eco-conscious and aware of my wastage. One way I hope to do this is by using reusable makeup removers and reducing my use of facewipes. I'll still keep some handy for those drunken nights or sleeping out, but for the most part I'll be using products such as this Afterspa cloth. The cloth is super soft and feels so nice against your face. All you have to do it wash, wet, wipe and repeat. It's machine washable and makes taking makeup off seem like easy work. After some research I have found that this is made of Polyester, and so I will be switching it out for something less plastic due to the fibres entering water, but for now, it's better that binning 30+ facewipes a month.
Lovely Things Bath Salts was £3.00, now £1.50
I thought this was such a bargain for this little bath salt set, complete with a little shovel to scoop them with. It reminds me of those old school sweet shop scoopers! Bath salts are great for achy muscles so these are great for those days when you need a luxe bath with minimum effort!
Obsession Makeup Highlighter in Honey £3.00
I am obsessed with Obsession, pardon the pun. I love their You Got This and Warm Up palettes. Their pigments are so good and their prices are minimal – they're definitely on par with Revolution and TAM Beauty products. This Honey highlighter is the perfect golden shade without being too warm. If you haven't tried this brand yet, you seriously need to.
Obsession Makeup Fix and Glow Spray in Moon Glow £6.00
I haven't used a setting spray in around a year, but I was mesmerised by this one! It's super shimmery like when you see that glittery prosecco – who doesn't want a shimmery setting spray? I'm gutted I haven't had the chance to try this out properly yet, as my spray bottle is faulty and doesn't spray. I'll definitely be switching it in store and I'm sure I'll love it as I do all of their products.
e.l.f Liquid Matte Lipstick in Praline £6.00
e.l.f. is a brand I haven't tried before, but they are pretty exciting. I've heard that some of their products are dupes for higher end makeup, too. This matte liquid lipstick is a gorgeous warm nude shade and the formula is very comfortable to wear. As I type this, I sit here with around 15 lip colur swatches on my hand, but I think this one is my favourite all-rounder in terms of colour, formula and price.
e.l.f. Lip Exfoliator in Sweet Cherry £4.50
As there was an offer on for a free complexion brush when spending over £8, I also picked up this lip exfoliator. The scrub comes in the form of a lipstick as opposed to a pot, which I am used to. You glide it along your lips and the product gently exfoliates your lips, removing dead skin cells and smoothing your lips for a cleaner lippy application. Oh, and it tastes amazing.
e.l.f Complexion Brush – FREE!
This is the free brush I received with my other two e.l.f. products. It makes a great powder brush for mattifying areas like the forehead, or for blending out that accidentally overdone bronzer.
Ardell Magnetic Lashes Double Demi Whispies £13.99
I've been looking at getting some magnetic lashes since I saw Beth Sandland demonstrate how easy they are to apply on her IG stories. These Ardell lashes feature four small magnetic dots which creates a full and fluffy lash look. To apply, you place the top lashes on your lash line, then simply slick the lower set into place. Easy peasy. If i get on well with this set I am going to pick up a pair of the accent lashes that just apply to the ends for everyday wear.
Rimmel 60 Seconds Glitter Nail Polish in FAB £2.99
I am a sucker for a glitter or metallic nail polish. This one from Rimmel reminds me of the Barry M Molten Metal collection which I am in love with. The iridescent nail paint shines different colours in the light, ranging from orange, to pink, to gold. This was the polish that I wore on NYE and so many people commented on how nice my nails looked. I couldn't help but be that 'ooh it changes colours!' person, much the same as I like to tell people my dress has pockets or that my top is from Primark.
L'Oreal Paris Les Chocolats Ultra Matte Liquid Lipstick in Tasty Ruby £8.99
Do I have a thing for beautifully scented products? Absolutely. I couldn't resist this chocolate scented liquid lippy, which gave me all the 90s vibes I needed. This burnt orangy nude is such a unique shade and it really stood out on the shelf. Of all the swatches on my hand it was also one of the most difficult to remove, which means you know it's going to stand the longevity test!
L'Oreal Colour Riche Matte Addiction Lipstick in Paris Cherry £6.99
As the L'Oreal products were on 3 for 2 I decided to grab two extra products too. One of those products was this Paris Cherry lippy. It's a rich cherry shade with a hint of burgundy which is wearable enough for every day, but also perfect for a bold night out look.
L'Oreal Christmas Collection Mono Eyeshadow in Stardust was £6.99, now free
Lastly in my L'Oreal 3 for 2 was this Christmas limited edition glitter shadow. There was the option of this champagne pink shade, or a darker silvery single too. It's a bit of a hybrid between a pressed glitter and a shimmer shadow, with a crumbly consistency that blends like a regular shadow.
Collection Lasting Perfection Concealer in Extra Fair was £4.19, now £3.99
I used to use this concealer regularly in early 2018, but eventually stopped bothering with concealer out of pure laziness. I used to use the shade fair, but decided to try their new shade Extra Fair (because I'm extra xo). It's a great, trusty concealer that's cheap and easy to pick up and I'll probably use it out of convenience for years to come.
Profusion Mixed Metals Lip Trio was £7, now £3.50
The final product I purchased was this Profusion Lip Trio, which was half price in the post-Christmas promotions. £3.50 for three products is pretty good bang for your buck and the formulas are super creamy. I was gifted some Profusion makeup for Christmas, so I am excited to give it all a good try and let you guys know how I get on with it.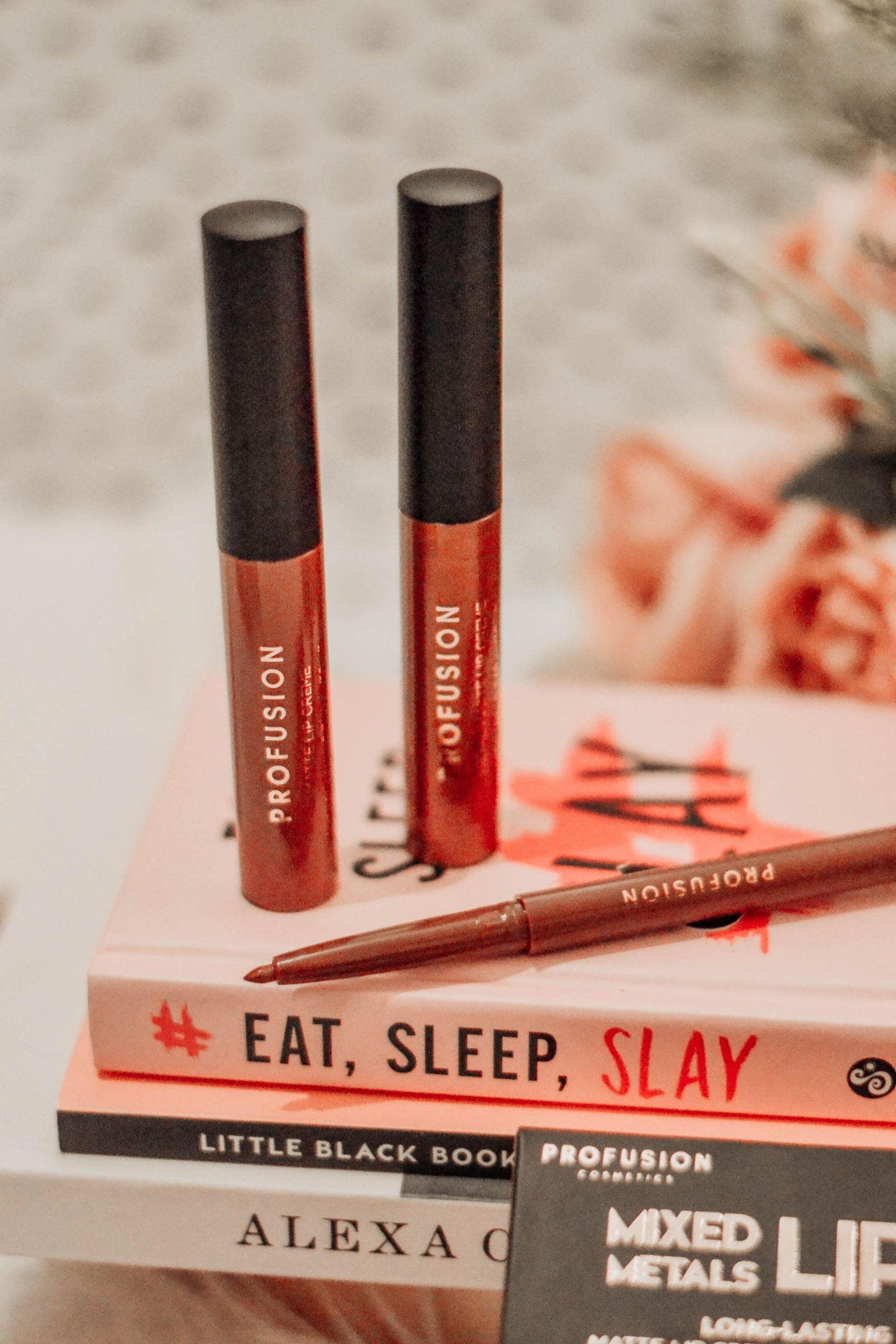 After that little shopping spree I am back to square one, with about enough points to buy myself a bottle of Coca-Cola on my next shift. I'll be saving them up again for the next 12 months before splashing out again with my Advantage Card points!
Have you tried any of the products I picked up? If so, which was your favourite?