AD – press event – all views are my own
A leading figure of the Madchester scene, frontman of one of the biggest bands in the 80s, and all round indie legend – Shaun Ryder takes us through a narrative tour of his life.
Following a stellar set from Staffordshire quartet Shader, Shaun Ryder and 6 Towns Radio presenter Terry Bossons pulled up a pew on the stage of The Rep Theatre. I say they pulled up a pew – they perched on armchairs akin to the ones in my late great grandma's home. Between them sat a low side table, with a jar of water, a lager for Terry, a Guinness for Shaun, and a mug of tea(?) also for Shaun. It felt a little bit like we were about to watch Gogglebox – but of course, Shaun's already experienced that.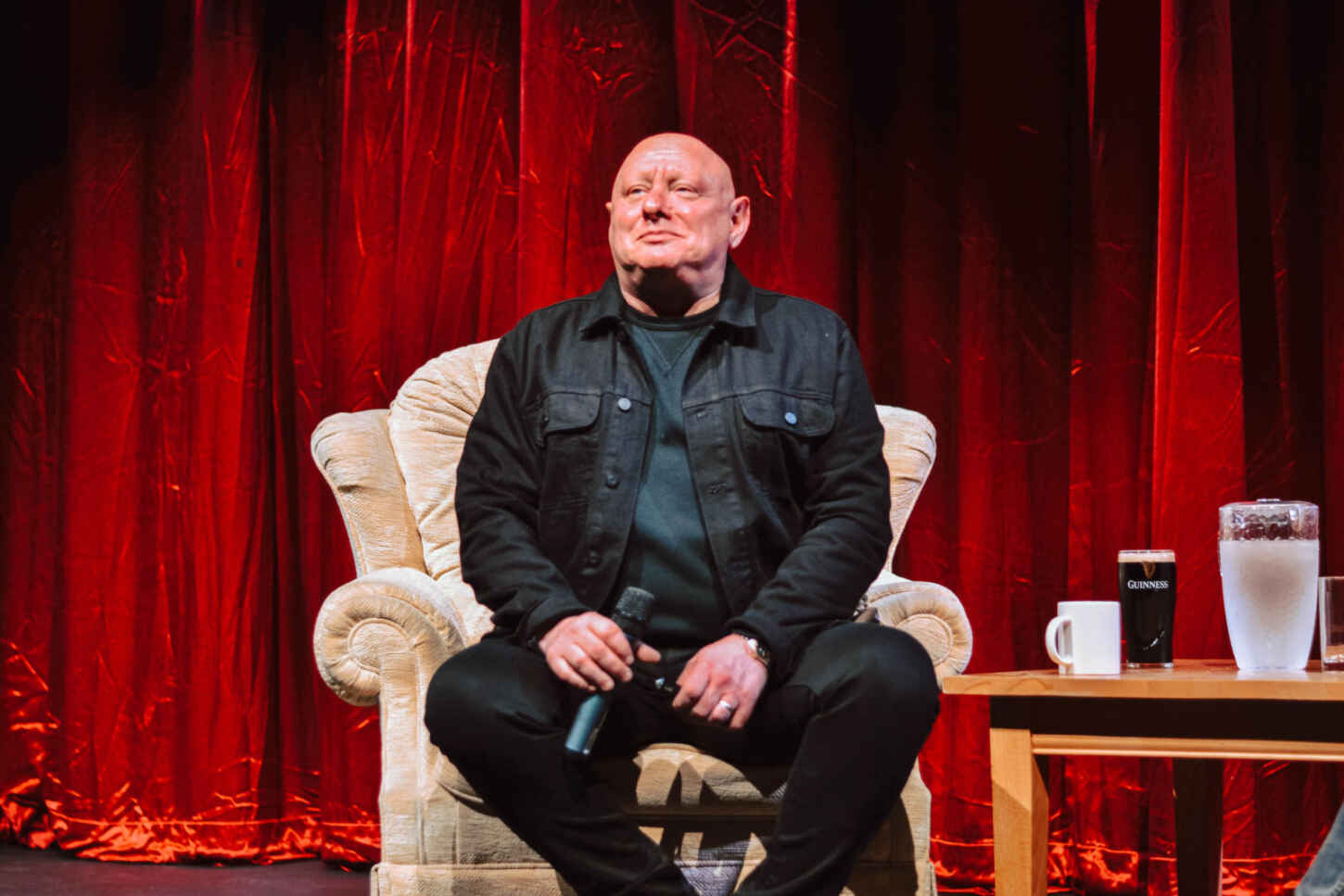 In July, Shaun and best mate Bez took to our screens to feature on Celebrity Gogglebox, leaving us giggling on our sofa's and wondering if we should set up our own Gogglebox cameras.
Many viewers took to Twitter to express how much they wanted the duo to have their own dedicated show.
Shaun said: "Gogglebox shows an exaggerated version of yourself – but we were still keeping it real.
"Bez and I have worked together for more than 30 years; it's like a sexless marriage. We're like Bert and Ernie!
"Bez just doesn't stop. He went on a night out in 1982 and still not been home."
But Shaun hadn't always been interested in reality TV. Back in the 90s and 00s, it wasn't the done thing for artists and musicians to enter shows like Big Brother – but famously, Bez did in 2004, and he only went and won Series Three of the show.
Back then, it was the infamous Top of the Pops that told you who's hot and who's not. During The Happy Monday's debut appearance, Shaun Ryder got the band banned for life.
He said: "During our first Top of the Pops performance we were all walking through the door. It was held open for me and Bez, but it was let go for the rest of the band.
"The guy producing the show said something to me. He started having a go at me and I said 'fuck off, dickhead' and laughed at him. He said you'll never work here again.
"These people are a bunch of c***s; they aren't nice people and they throw power about.
"For a lot of people, Top of the Pops was making their career and these people thought they could do anything, touch women, whatever. They had big defects in personality.
"By the next time we went – he'd lost his job."
There was a roar of applause from the crowd at the demise of the TOTP's 'dickhead', amongst a huge respect for Shaun at a public detestation of sexual assault.
Now, there is no Top of the Pops, and Shaun fears that there's few ways of breaking through to younger fans like you could in the 90s. These days, reality TV is the way forward to gaining attention from a new generation of fans.
In 2010, Shaun Ryder came runner-up to Stacey Solomon in I'm a Celebrity… Get Me Out Of Here.
Shaun said: "It was a piece of piss. All they do is take food off you and make you do a bit of exercise – I've had a harder fucking Wednesday – they starve you a bit and make you sleep outside. Big deal.
"I wouldn't have done that in my 20s as I was a different kind of artist. Having seen Bez win Big Brother, I saw how it brought in fans.
"It was more acceptable for artists to do reality TV, so I went in aged 47. It was a different time of my career."
And it wouldn't be the first time that Shaun hit the headlines – not anywhere near. But Shaun knew that getting into the tabloids would bring in fans – it was marketing.
He said: "No-one with a Top 20 hit would talk to Piers Morgan, because they thought it made less record sales for some musicians. They thought if someone found out they'd smoked a joint, then their management would drop them.
"For us, it wasn't like that. If I went and did an interview on what key I wrote a track in, we wouldn't even get a quarter page. But, I walk in and skin up a joint, chop a line or drop an E we get three pages on what rock 'n' roll heroes we are.
"When you crossed from music press to tabloids, the drugs and our stories got headlines.
"We understood what it really did. Those headlines were powerful. It takes it to a different level and you start making more money."
And ultimately, it all comes down to money. Shaun admitted to having chased the doe to avoid 'working at McDonald's or selling drugs.'
"Before Pills 'n' Thrills we were making indie albums. The day comes where you have to start making albums so you don't have to work at McDonald's or sell drugs.
"When the album came out, it was a pop, successful album – it's about doe and being able to carry on doing what you're doing, so long as it's still what you want to be doing at the heart of it."
Fast forward to 2019, and Shaun is working on a biopic movie that portrays his life – but not as you'd expect.
24 Hour Party People and the soon-to-be-released Alan McGee films portray the sex, drugs and rock 'n' roll of the 90s – but Shaun Ryder wanted his movie to show a different side.
Instead, it will depict the childhood where he struggled with learning difficulties and his Attention Deficit Disorder (ADD).
He said: "Sex, drugs and rock 'n' roll has all been done before a million times.
"You've got to do it differently. Of course there's drugs – I was a junkie for 27 years. But there's a lot more to it.
"I have ADD, am dyslexic and a few other things that were not diagnosed in the 60s and 70s. No one could learn me my ABC's until I was 26 years old.
"I'm a kinetic learner and would fiddle with stuff at school and got told off for it. Nothing would stay in my head.
"My Mrs was a special needs teacher. I met her when she was 17 and she blew me out because of the band and drugs, but we stayed in contact because her best mate married my best mate.
"When I hit 40 and decided to turn my life around. I'd been living how I had since I was 15, and it was time to put it all to bed.
"I hooked up with Joanne and that's how it goes. The movie is a love story and about a kid with learning disabilities who understands the streets and the business."