I swoon over chunky knits, cosy blankets, warm scarves and ankle boots in Autumn. Fall fashion is my absolute favourite for its rustic colour palette and layering. I can't get enough of it. Wrap me up!
Primark's AW19 is to die for and I ended up picking up a couple of bits. Each item came in under £15, which was a total bargain!
Primark white high neck blouse – £14
I strongly believe that every woman should own a white blouse. It's a staple. My old white blouse was starting to look a little tattered, and wanted one with a vintage feel to wear throughout Autumn.
This one from Primark is slightly off white, with an elasticated band that creates a beautiful frilly sleeve. It is cut like a dream, and features a tailored back with a keyhole detail. At the front, the high neck and ruffle detail adds to the vintage Victorian vibe. Paired with my preppy Primark pinafore – it's a dream.
I've also enjoyed wearing this with rust wide-leg corduroy trousers and an auburn suede midi skirt – both of which are very 70s.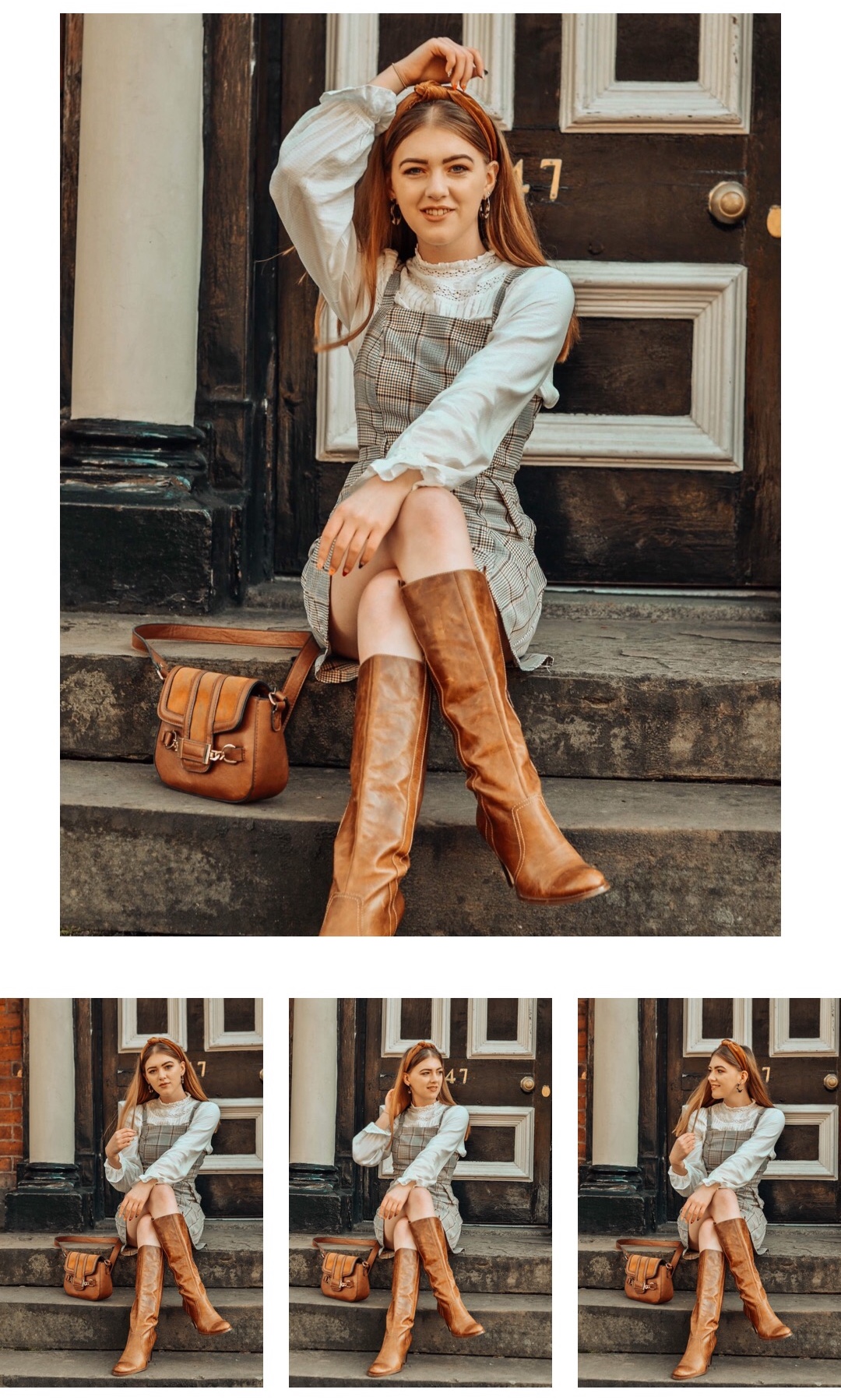 Primark preppy belted pinafore dress – £13
In spring I purchased a similar pinafore, with pinks running through and a chunky tortoise shell buckle. It's the pinny I wore to the interview that bagged me my journalism job, and so, holds a special place in my heart.
I fell in love when I spotted this one on a mannequin in store, among a very Clueless-esque/Blair Waldorf range.
The nude and beige check print pinny is stylish, smart and feminine. It creates a gorgeous bodice, and floats into a flirty skirt. The thin belt adds a cinched waistline and the small circle button is a cute touch.
Primark chunky knit chenille cardigan – £13
It's a running joke in the office that I wear my coat all the time. I'm always freezing, and figured it was time to invest in some comfy knits I could wear to keep warm.
The material is super soft, and the chunky brown buttons add that kind of granny-chic – that's a thing right? My grandma is one stylish lady anyway, so I'll go with it.
This was my absolute godsend in Newquay, since it goes with practically anything, I threw it over the top of everything. It effortlessly takes your outfit from summer to 'transitional' for a more snuggly vibe.
Primark brown corduroy knot headband – £2
I don't ever want this trend to go away – can knot headbands stay forever, please?
I have a few of these in various colours now, and they add that extra bit of *something* to an outfit. It's like a sprinkle of 90s Gossip Girl vibes.
Knee high leather heeled boots – thrifted
These were the ultimate thrifty find. They were my mum's some years ago, but she gave them to my sister to re-love. When I was having a rummage through the pile of car boot bits in my office, I spotted them and snatched them out. They're not something I would have purchased myself, but they work so well with this outfit and didn't cost me a penny, since they were about to be flogged for quid or two!
Topshop brown leather-look and suedette satchel
Another Topshop babe, this bag was a gift, so whilst I don't know the actual price, my knowledge of Topshop accessories would hazard a guess at around £22 four years ago. It's getting on a bit, and is well loved, as seen by the wearing away in parts of the fabric.
I wear this bag with almost any neutral-toned outfit, and this look is no exception!
I'm super excited for more fall fashion, full of rusts, coppers and mustards.
Check out this outfit's lookbook below.