AD – this blog post features press samples – all views are my own
Last week I popped into my local M&S, at Wolstanton Retail Park, to meet up with Pete and John to have a chat about their new Christmas stock.
I figured that if there's one time of the year you can really pull out all the stops and go luxe, then it's Christmas – and M&S is certainly the first place that comes to mind.
But as Pete mentions in the vlog, M&S is synonymous with being a little pricier – but you would be pleasantly surprised.
From 40p pick and mix veg, to £5 gifts – you can do your whole Christmas at M&S. I would love to estimate the cost of a full Christmas dinner shop, then, actually add up the items in a basket. I can almost guarantee the bill will come to less than you originally thought it would.
Take a look at my YouTube video to join me on a virtual tour of M&S, as Pete and John talk me through all the new products, the classics and everything in between. M&S have got you covered this festive season, all the way through to New Year's Eve party food.
I also brought home some bits to pop on the table this Christmas (if I don't eat it all before hand).
I unbox them in my vlog, but here's a closer look.
Rotating musical Christmas tree tin
This adorable little tin is a measly £5! When you twist the bottom it plays Jingle Bells like a musical box, and as packed full of the most delicious all butter shortbread.
Shortbread are my favourite biscuits, and I always end up with a big tin at Christmas. These little tree shaped shortbreads are so creamy – I annihilated an entire pack with a cup of tea. To. Die. For.
When you're done with the biscuits, you can add fairy lights to the tin, so that when you twist it to play the music, it projects lights around the room. It's certainly far too nice to throw away.
Festive Percy Pig sweets
Everyone loves Percy Pig, and so of course M&S turned him into some fab festive treats. You can get Percy Pig tins for £5, but the packets of sweets make a great stocking filler, too.
Christmas Yule Log
My family and I demolished this in three days after we ate it every night after tea! The £5 log has done somewhere between eight and 10 servings.
I find it's best served warm, after a quick 20 second stint in the microwave, then topped with their extra thick Salted Caramel cream.
Extra Thick Salted Caramel Cream
As seen in the M&S advert with Emma Willis and Paddy McGuinness, this boozy cream is a match made in heaven for festive puds.
I'm not a fan of brandy butter, so this is an amazing alternative laced with vodka. Pop it on a mince pie or a Yule log – YULE be sure to love it. I've been putting a dollop on top of blooming everything.
Sticky Toffee Pudding Trifle
This bad boy serves eight, so makes it the perfect post-Christmas dinner pud in our house, since we have six around the dinner table.
The £12 trifle is packed with Toffee sauce, caramelised sponge, vanilla custard and cream, with toffee sponge cubes, chocolate curls and butterscotch pieces – absolute bliss.
12 Lustre Macaroons
Macaroons are a fab little treat if you don't fancy anything heavy. These 12 flavoured treats are bite sized and dusted with glitter. They're great for the NYE party food table or to snack on with a Bucks Fizz in the evening.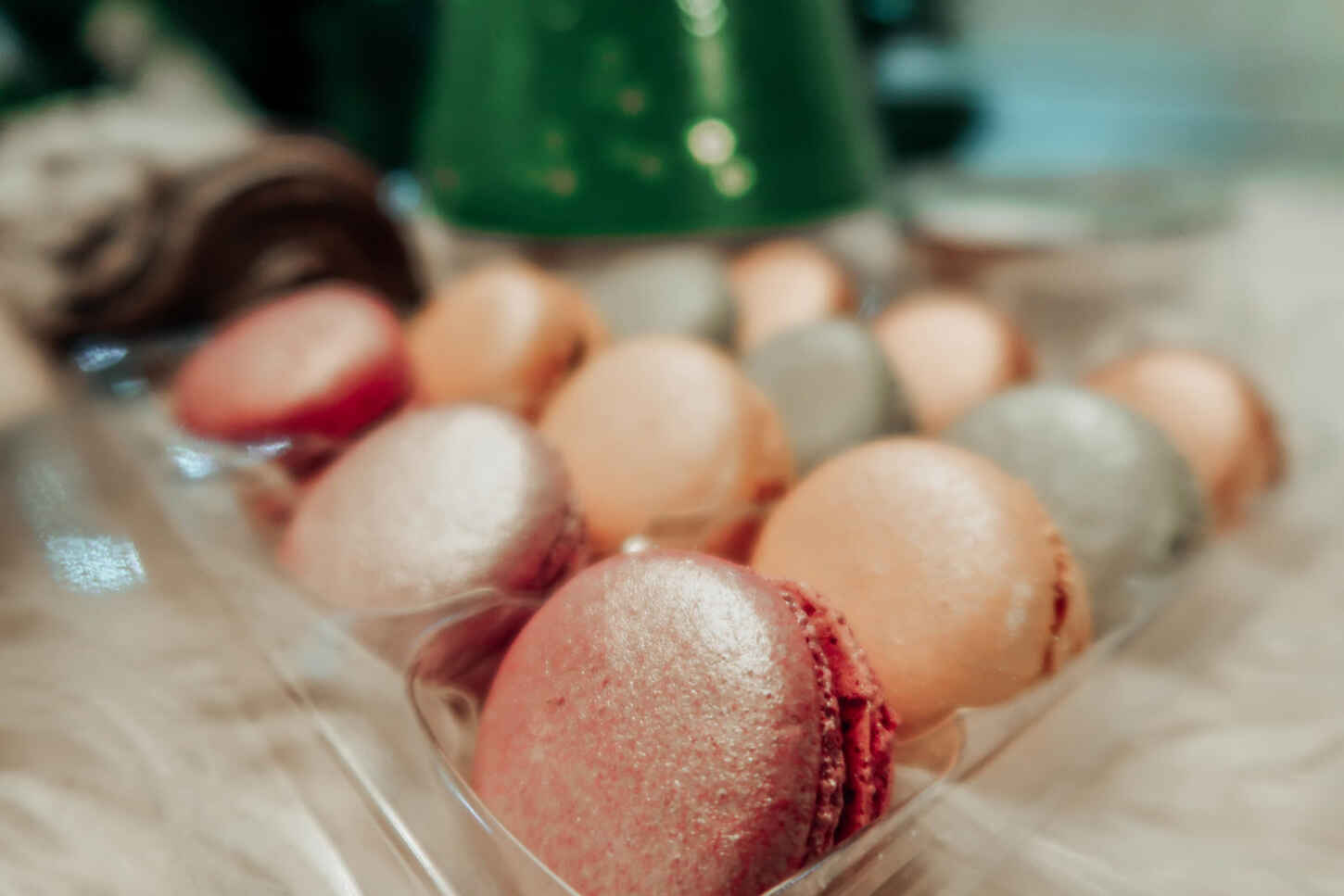 Cocktail Cans
M&S's famous cocktail cans. I am in a lot of festival groups on Facebook and these pop up on everyone's must-pack list. New for 2019 is a Christmas themed gin and tonic, which includes two measures of the M&S Christmas Dry Gin Festive No 5 with Indian tonic water.
Brie en Croute
This is going to be my Christmas Eve treat. When all the presents are wrapped, I'm going to put on a Christmas movie, bake my brie en croute and serve a killer cheese board to enjoy with my parents.
Nothing quite says Christmas like little luxuries with M&S.