AD – this blog post features press samples – all views are my own
As I'm sure you all know by now, I'm a big fan of gin. I've been to masterclasses, distilleries, taster nights – I just love how diverse it is.
From flavoured gins, to creating a perfect garnish to flavour your London dry – it's certainly something you can get creative with.
I was recently gifted Craft Gin Club's December box, filled with a full sized bottle of gin with tonics, garnish and goodies.
I created four festive cocktails with the fab ingredients, perfect for enjoying over the next few weeks.
Let's take a look at what's in the box:
Copperfield London Dry Gin: A Christmas Carol – laced with rich wintery herbs and spices like cloves, star anise, cinnamon, rosemary and orange. It's the smell of Christmas bottled.
Merchants Heart tonics in pink peppercorn, light tonic, hibiscus or floral aromatics
Pedrino Sherry and Tonic Spritz
Whittard of Chelsea festive tea selection
Bahlsen Biscuit collection
Mr Filbert's peanuts and hazelnuts
Cratchit's Christmas Cocktail Syrup
Dried orange and cranberry garnish
I made some cocktails inspired from the Ginned! Magazine, all featuring the stunning Copperfield gin created specifically for this box!
Christmas Cocktail One
50ml Copperfield A Christmas Carol Gin
150ml Merchant's Heart Hibiscus tonic water
Dried orange and cranberry
A simple G&T with an elegant twist. If you don't like tonic water, go for lemonade and you can really taste the Christmas coming through.
Christmas Cocktail Two
25ml Copperfield A Christmas Carol Gin
15ml Cratchit's Christmas Cocktail Syrup
Topped with Anna De Codorníu Brut Cava
Garnished with dried orange
This is Craft Gin Club's Cratchit's Christmas Fizz as seen in their Gined! Magazine, inspired by Dicken's A Christmas Carol. This warming tipple is sure to make you feel cosy by the fire.
Christmas Cocktail Three
50ml Copperfield A Christmas Carol Gin
15ml Cratchit's Christmas Cocktail Syrup
Topped with fresh apple juice
Garnished with cinnamon and dried orange
This one reminded me a bit of mulled gin, but served cold. It's still got those classic flavours and isn't overpowering.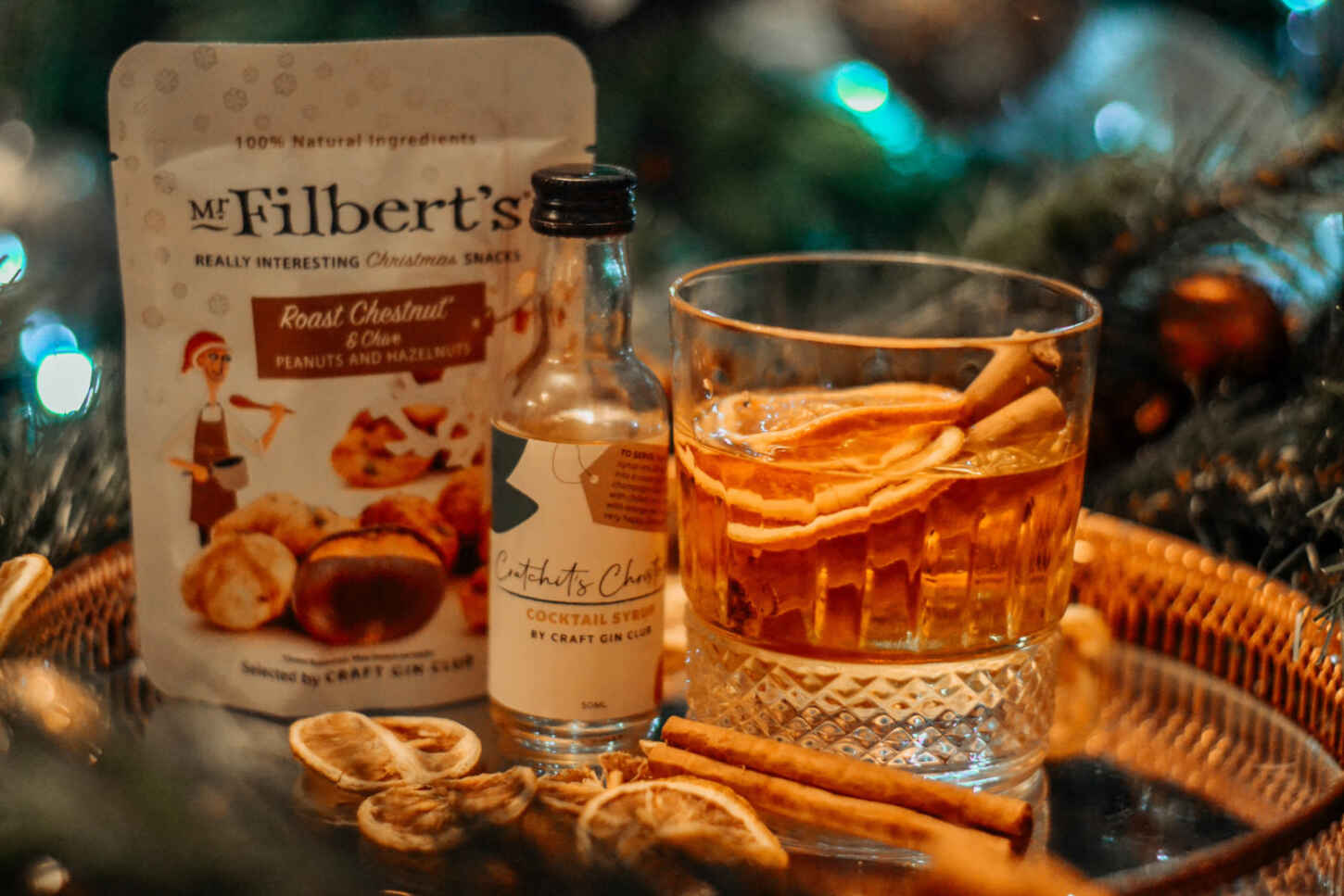 Christmas Cocktail Four
50ml Copperfield A Christmas Carol Gin
Topped with Pedrino Sherry and Tonic Spritz
Whittard of Chelsea Festive Tea
I love a G and tea, and this one is infused with the Festive Tea bag, laced with spices and citrus. You can make it as strong or weak as you like, and it goes surprisingly well with the Sherry and Tonic spritz.