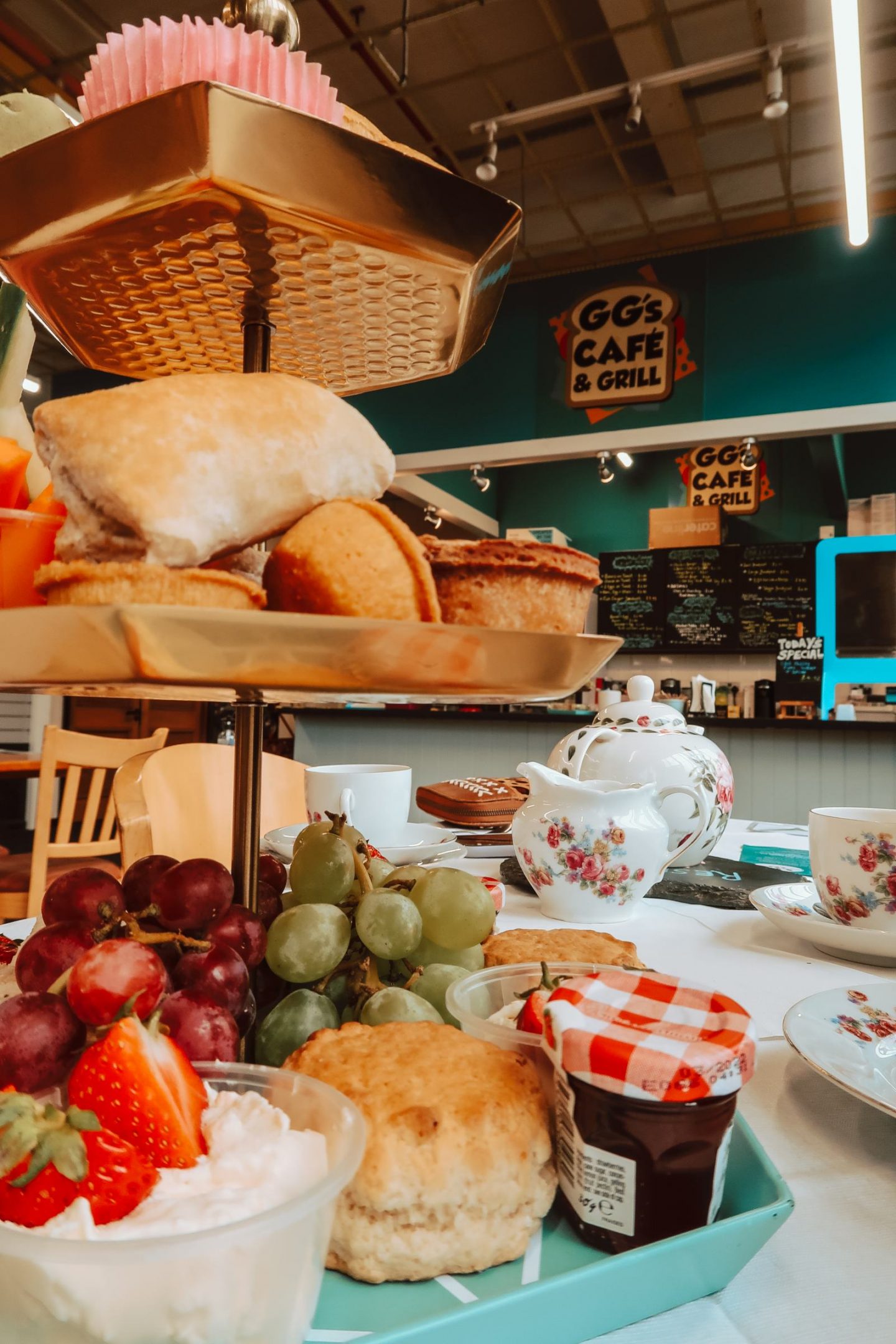 Who would have thought you could have afternoon tea inside a motorcycle showroom? Well at GG's Cafe and Grill, you can! Situated upstairs inside DK Motorcycles on the A34, near Newcastle, you can enjoy finger sandwiches and cakes whilst surrounded by an array of gorgeous bikes and memorabilia.
GG's Cafe and Grill took over the cafe inside DK Motorcycles in February, and enjoyed a handful of weeks of trade before Covid-19 struck. Director Jason contracted the virus, and spent time recovering in ICU whilst fellow director and brother-in-law Craig was receiving surgery for skin cancer. Both now out of the woods, the family-run business is back open and welcoming back customers.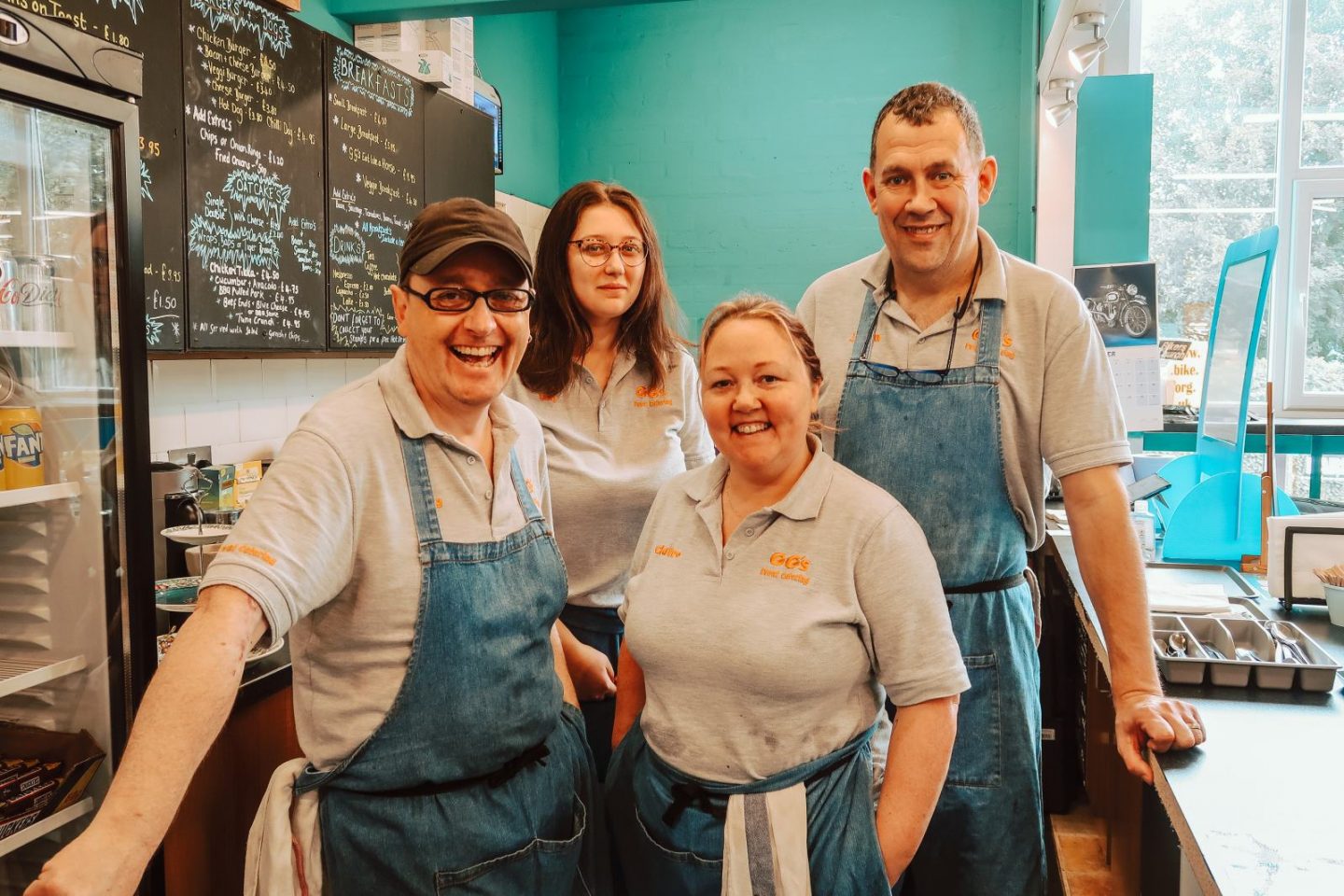 Jake and I visited GG's Cafe and Grill for an Afternoon Tea and chocolate covered fruit platter. The cafe is open from 9am to 3pm Monday to Saturday, with DK Motorcycles open a couple of hours later.
We were shown to our table by Claire, who offered us a very gratefully received pot of tea whilst the finishing touches were added to our platter. Jake – who rode motorbikes from the age of 17 and is now a qualified mechanic – was in his element. I could see him itching to go and view the assortment of bikes on display just mere metres away from where we were seated. He's gifted with knowing the make and model of a bike after hearing it before seeing it – which made for great entertainment as bikers continuously pulled onto the car park.
During May 2020 the GG's team launched their Afternoon Tea delivery service and have carried it through into the physical cafe. You can choose from traditional, children's size and the Gentleman's Afternoon Tea developed for Father's Day (but available all year round). They also have gluten free and vegan options available on request.
Our Afternoon Tea was served on a three tier stand and you couldn't see the bottom for all the food! Jason – who has 25 years experience as a chef – arranged the food beautifully. It was a real treat for the eyes, it was difficult to know where to start. On the top tier was a selection of chocolate and strawberry cupcakes, chocolate eclairs and colourful macaroons. The strawberry macaroon tasted just like a McDonald's strawberry milkshake, which was pretty impressive.
The middle tier boasted four homemade sausage rolls in a deliciously flaky pastry, as well as four minature quiches and two pork pies. Below on the lower tier were eight finger sandwiches in a range of fillings, including tuna and cucumber, chicken and stuffing, beef and mustard, and ham and onion. Two huge scones were served with individual jam jars and a pot of light and fluffy cream. It was also served with a generous serving of strawberries, as well as green and red grapes, which were really refreshing and acted as a bit of a pallet cleanser between the sweet and savoury treats.
For me, the highlight was the sausage rolls, scones, and macaroons – though Jake would argue the pork pie was the best bit! The afternoon tea is £12.95 per person, and we had to take some home in a tray there was so much!
Then there was the fruit platter, which is such a great idea for a hot summers day. The plate was packed full of colourful fruit from pineapple to figs. Watermelon chunks, apple slices, strawberries and grapes were among the array of juicy fruits dunked in white and milk chocolate – an indulgent treat for a Saturday morning. Watermelon dipped in chocolate isn't a combination I'd ever though to try – but it sounds like something Harry Styles might sing about.
After we tackled the mountain of fruit, cakes and pastries, we took a walk around the showroom. Upstairs by the cafe is a spares and repairs shop, which is super handy if you're an enthusiast who likes to fix up old battered bikes. In the rest of the room is a whole range of motorcycles, from Kawasaki to Honda. Jason and Craig said the bikes mostly belong to customers who have them on display – as it's safer than keeping them at home! Most of the bikes come with a little stand which holds information about the bike, which makes it feel like you're in a mini-museum.
Downstairs, rows and rows of bikes were available for purchase. Their showroom is one of the largest in the UK and they are an official Kawasaki franchised dealer stocking in excess of 500 Road machines, used Harley Davidson Customs and Japanese custom classics. Jake, of course, fell in love with about 12 of them, and I can certainly see him itching to get the leathers back on soon.
The Afternoon Tea and fruit platter at GG's Cafe and Grill was a wonderful post-lockdown treat. But if you're fancying a typical cafe breakfast or lunch, you can choose from a range of oatcakes, gourmet toasties, full english, jacket potatoes, burgers and hot dogs. The cafe are also offering a 10% discount to NHS staff to thank them for their work after Royal Stoke staff took care of Jason in ICU. And if you plan on becoming a regular at the cafe, be sure to collect loyalty stamps each time you buy a hot drink, and get your eighth one free!