The Slamwich Club was recently named as one of the top 30 burger joints in the country – and despite not actually selling burgers, it's easy to see why judges were quick to overlook that small detail and add them to the list.
The Piccadilly venue has thrived ever since it opened in May 2018, totally transforming a unit that had stood empty for a decade. And owners Stephanie Franklin and Nicole Williamson continue to develop the venue and bring more and more people to the bustling Cultural Quarter.
When we arrived on Friday night, it was so nice to see the businesses on this independent strip full to the rafters after what's been a very tough 18 months for the hospitality industry.
Outside, Slamwich have a number of pink tables and chairs for al fresco dining, taking the party vibe outside. As you step into the retro-feel venue, you're met with cacti, disco balls and an awesome mural of the venue by local artist Rebecca Davies. We slipped past the booths and headed to our table upstairs, with rustic wooden tables, doodled walls and a neon Slamwich Club sign.
The drinks menu offers a selection of beers, wines and spirits, as well as eight different cocktails priced at £7.95 each or £13.95 for two. The Wr-ay Up Duck, inspired by our Potteries dialect, features Wray & Nephew, Gin, Mango, Lime and Tiki Mix, topped with a miniature rubber duck that you can take home with you – it packs a real punch, with rum being one of the prominent flavours. The Just Peachy is much sweeter, with Vanilla Vodka, Peach, Lemon and Honey. Next on my list to try has to be the Sherbet Margarita, for sure.
I looked at the food menu every day for a week before our booking because it's so hard to decide on just one Slamwich. Priced between £5.95 and £12.95, a Slamwich features an insane selection of fillings far more thoughtful than any beef burger you've ever ordered elsewhere.
Including the venue in their top 30 burgers in the UK, StagWeb said: "OK, guilty, these aren't burgers, but they also aren't sandwiches, these are Slamwiches and they were such a life-changing discovery we've shoehorned them into our Top 30 Best 'Burgers' list.
"Whilst they have a sandwich exterior, the innards are more akin to the dirty burgers that we know and love, and you simply haven't lived until you've tried one for yourselves!"
And it's true, you can't knock a Slamwich's contents or value for money until you've tried one. They're packed full in both height and width, with bold flavours that have been carefully put together, complete with a punny name. I ordered a Spice Up Ya Life, which included buttermilk chicken, stilton, chilli sauce, homeslaw, rocket and coriander & lime sriacha mayo – though I did swap out the sauce for garlic aioli.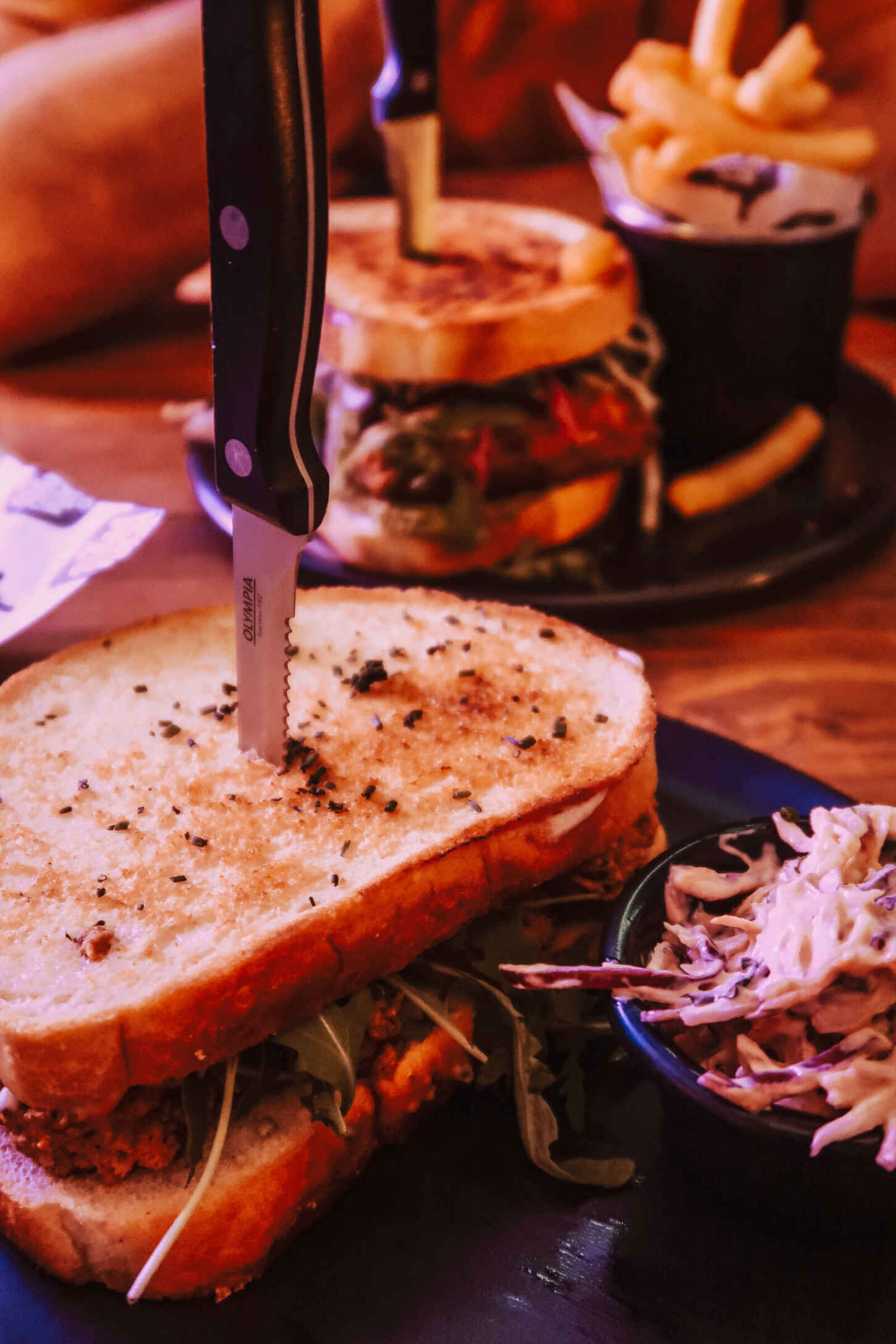 You can add fries, salads or tortilla chips for 95p, tata tots for £1.45 or sweet potato fries for £1.95. I ditched all of these for the Slammin House Fries from the sides menu. They're £4.95, but a huge portion of regular and sweet potato fries, sweet cured bacon, fresh parmesan, salt & pepper croutons and garlic aioli. I also ordered the Mac Fillers at £5.95, which is a generous portion of Mac and Cheese balls which come served with a Slam Dunk dip. I went with the honey sriracha and chilli jam.
Also on the menu are frickles, chicken strips, halloumi fingers and nachos among many other mouth-watering options. By the end of the night, all that remained were two Mac Fillers, a mouthful of Slamwich and a handful of fries – I couldn't have eaten another flavoursome bite no matter how hard I tried, I really would have burst at the seams. This Slamwich was bigger, and indeed, tastier than any burger I've ever eaten, and had it been labelled a burger in any other venue, you'd have paid more for it too.
Takeaway boxes were available for leftovers, which are just as delightful the following day – or, you could order takeout to take to The Slamwich Club's newest venue: The Backyard.
Behind the restaurant on Albion Street, hiding behind that infamous bird wall mural opposite Bethesda chapel, you'll find the secret Backyard – a real bolthole of beats and booze. The open air venue is one of the cities latest additions, and opened for the first time in July.
The former car garage is now home to a selection of picnic benches, a DJ booth and shipping container bar serving up spirits, soft drinks and beers. It's got a brilliant festival vibe, with live music events planned throughout the year. It's venues like this, alongside the likes of The Underground and The Sugarmill, that give local artists a great platform to perform in the city centre, bringing more and more people out to see what Stoke-on-Trent has to offer.
The Slamwich Club and sister venue The Backyard are helping foster the community feel that is growing ever stronger in Hanley's Cultural Quarter, with gorgeous food, cracking cocktails and a real feel-good atmosphere.