Jake and I recently enjoyed a weekend away in the countryside on the Warwickshire/Leicestershire border, staying at the beautiful Naomi's Shepherds Huts on a family sheep farm. The remote location offered picturesque views, with over 1,000 sheep on the farm, with cosy log burners and an outdoor fire pit.
Before our visit, I'd booked a couple of tickets for activities during our stay- naturally, when searching for things to do near Twycross, the zoo is an obvious port of call. Alongside a dinner reservation and impromptu car boot trip, our itinerary made for a laidback but adventure-filled weekend of walking alpacas and eating Italian food.
If you're planning a trip to the East Midlands, then here is some inspiration for things to do near Twycross.
Lucky Tails Alpaca Farm
Lucky Tails Alpaca Farm, in Atherstone, gives visitors the opportunity to walk members of their herd named after characters from Star Wars, Harry Potter, Peaky Blinders and Game of Thrones.
The farm has around 50 alpacas, and guests experience walking an alpaca for just £13.50. Jake and I walked two black alpacas named Dobby and Draco, who both managed to blend in with my coat, and it was so fun to take them on a stroll around the farm and through the slalom poles. At the mid-way point, there's a stop for selfies where you can feed your alpaca and watch them interact as a herd.
After the walk, we were also able to meet some of the other animals on the working farm, including cheeky pygmy goats, pigs, sheep and miniature donkeys. The whole experience lasted a little over an hour before we popped into the small on-site shop for a hot chocolate and a peek at the alpaca wool socks and hats on sale.
Tickets for under 13s are £7.50, but do require a paying adult to assist them – but under threes go free. It's fun for all the family no matter their ages, and there were even other couples there like Jake and I enjoying the experience too.
Twycross Zoo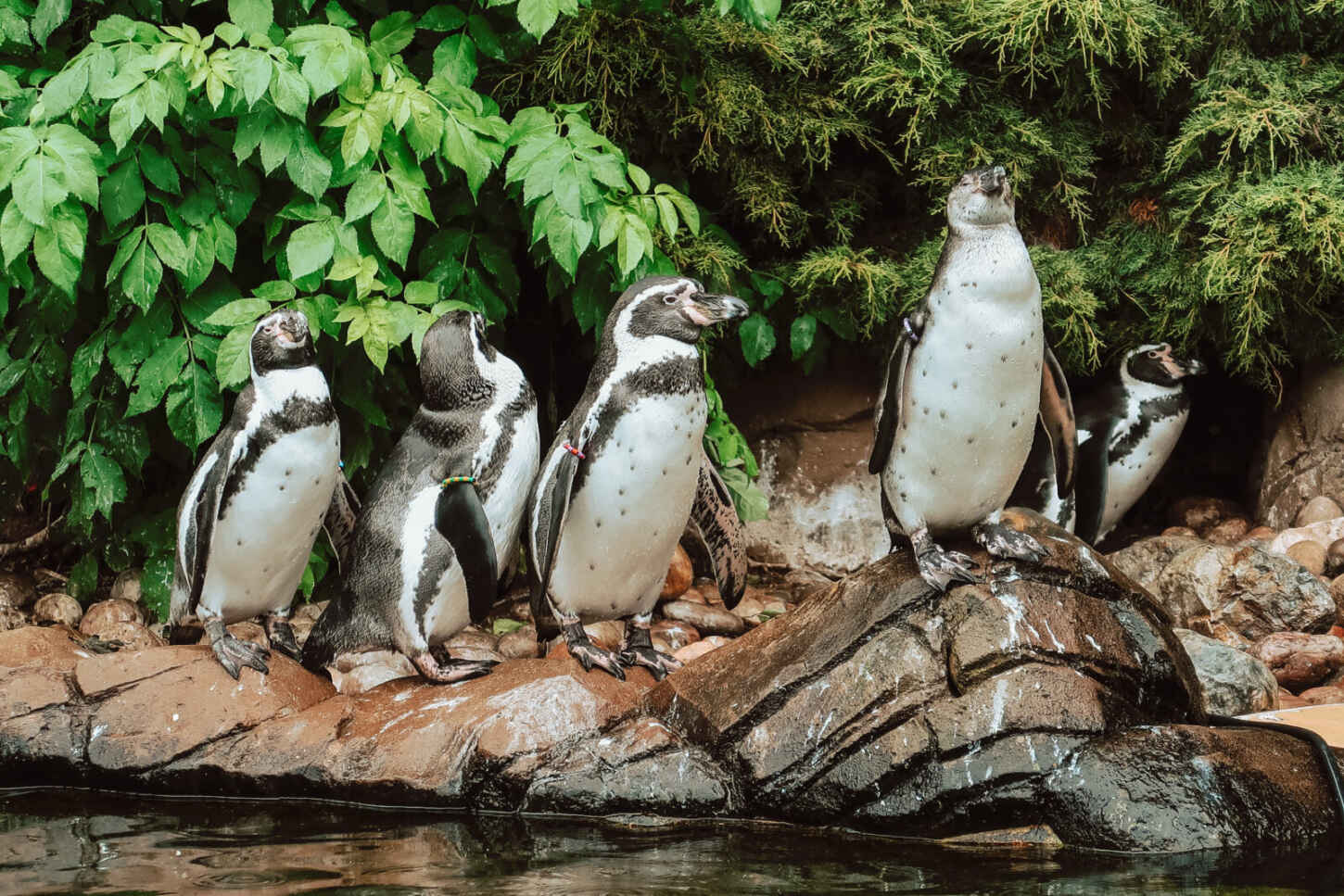 Because we'd booked the alpaca walking experience for 12pm, we pre-booked entry to Twcross Zoo online for between 2pm and 2.30pm so we could do both in one day – the zoo is around a 25 minute drive from Lucky Tails, with tickets costing just under £22 for adults.
This year, Twycross celebrated 50 years of business at its 100-acre site, welcoming around 600,000 visitors per year to see their some 500 animals. There are over 125 species to explore, from penguins and leopards, to all four types of great ape.
It was slightly drizzly during our visit, which meant the zoo was fairly quiet – this meant we got to see all of the enclosures in around two hours, as well as listen to two really informative talks on the chimpanzees and Sumatran tiger. We were introduced to the alpha chimpanzee Jambo, who lives in their recently opened £3.5 million 'Chimpanzee Eden' enclosure. The chimp has ape alopecia, which worked in his favour when it came to becoming the top chimp, thanks to showing off his muscles.
Twycross Zoo is an award-winning conservation charity that funds and conducts scientific research and has an award-winning education and outreach programme – it was really fascinating to learn more about their work and see some of their magnificent residents so close up.
San Giovanni Italian Restaurant
Fine dining Italian restaurant San Giovanni is the place to go if you're looking to enjoy authentic Italian dishes with some contemporary twists thrown in. It's situated on the River Sence, with stunning lakeside views, a six-page menu and fabulous cocktails.
The menu sees Italian classics take centre stage, with a selection of bruschette, followed by cold starters and hot starters, from antipasti boards to mussels. There's an entire page dedicated to pasta and risotti, alongside the 'secondi piatti', which is a list of mains such as veal, chicken and eight different kinds of steak. Not forgetting the salads, pizzas, vegetables and fish dishes – one order we saw rolled out was a full sea bass which was sliced in front of diners.
Prices are varied, and you can absolutely tailor your meal to your budget, from the £13.95 Penne Toscana, to the £36 lobster thermidor.
My advice? Book a table a few weeks in advance, put on your favourite frock, and leave room for dessert.
Measham Car Boot
On Sundays, the Measham Car Boot is a goldmine of goodies. Jake and I headed up at around 10.45am and paid £1 each entry on arrival. You can grab a hot chocolate or a coffee to walk around with, with fresh doughnuts on offer, as well as ice cream vans and various other food vendors.
The stalls are a mixture of businesses, regular car-booters, and family booters looking to shift their pre-loved wares (my favourite kind). I managed to pick up a shell shaped vase for just 20p which I plan to upcycle with a lick of paint and some dried blooms, as well as some Oasis and David Bowie metal signs for our music wall at home.
We Do Dough were also doing a pop up at the car boot, selling the most amazing cookie dough boxes, including Kinder and Biscoff boxes. The boxes are £10 but perfect for sharing – I recommend warming up the cookie dough in the microwave and serving with double cream, it's *chefs kiss*.
We'd have loved to have explored more of the area, and will definitely be booking another trip soon so that we can visit local restaurants Turpins and The Help Out Mill, eat ice cream on the Dreamy Cow farm, and take a relaxing stroll along the canal.