Ad – press samples – all views are my own
If, like me, you're currently finding yourself with a dry, itchy complexion even though it's totally unlike your skin to behave that way – then you need to try the new Liz Earle pro-biotic range.
I don't know if it's the change in weather, the heating going on, or if I can still blame facemasks for doing my skin dirty, but recently I'd been struggling to get makeup to sit well (when I actually had somewhere to be, that is), and have been clawing at an itchy forehead and peeling dead skin from the bridge of my nose.
But, the brand new Liz Earle pro-biotic range is said to 'strengthen the moisture barrier to dramatically improve the look of dry, sensitive skin' in just seven days.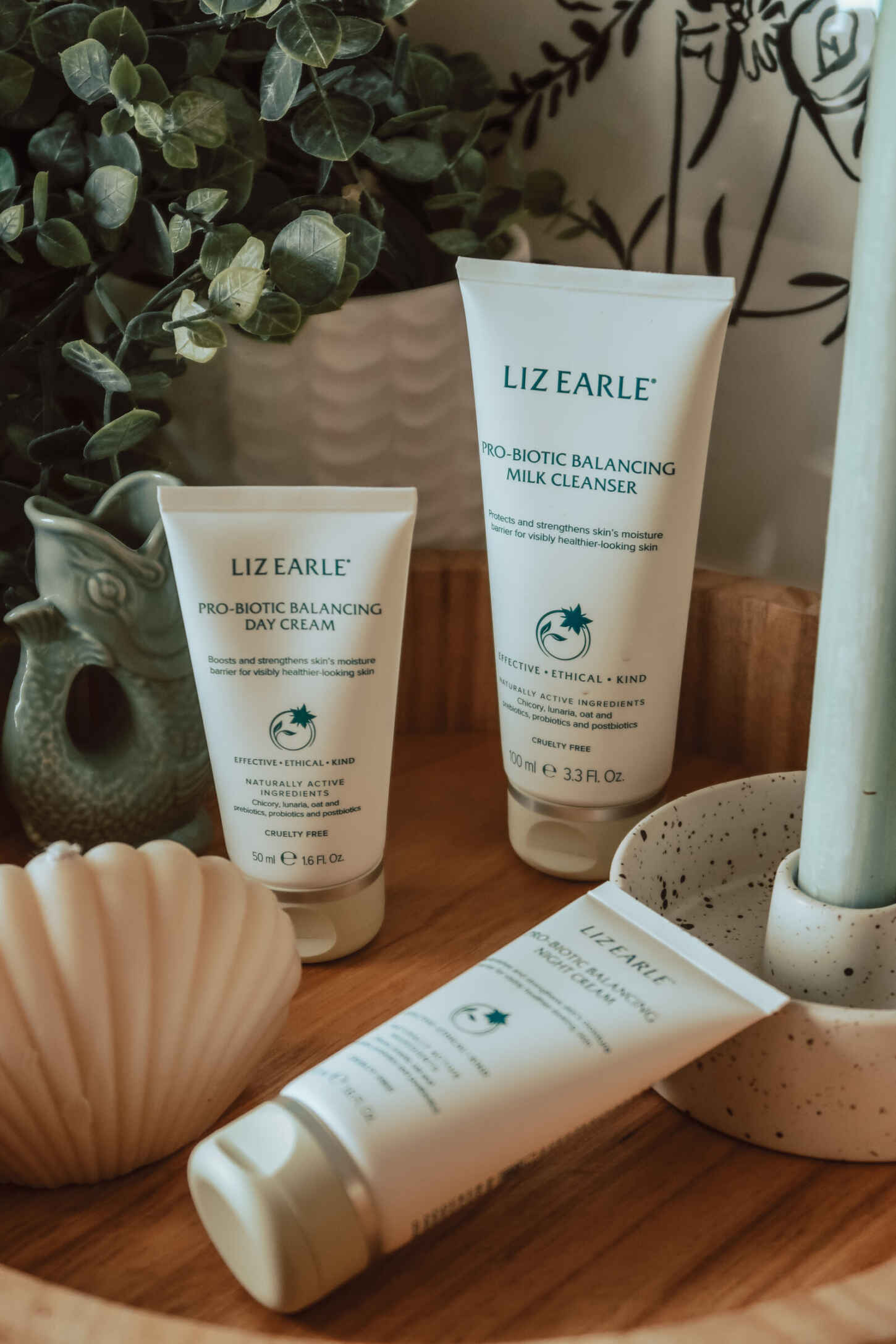 Having spent my university days as a healthcare advisor at Boots, I spent my shifts researching their own brand products, from No7 to Soap and Glory (they had the best discounts). In 2015, Boots acquired the luxurious Liz Earle, an award-winning, cruelty-free brand big on sustainability and keeping products natural.
This month, Liz Earle released their newest skincare range, harnessing the power of pre, pro and postbiotics. I mean, it makes sense – you include these into your diet to promote good gut health, so it should work for the bacteria on your skin, too, right? I put their new milk cleaners, day and night cream to the seven day test to see if I could see a difference in my skin.
Read more: Two typology face masks for blackhead-prone skin
Liz Earle said: "The skin microbiome is the unique ecosystem of microflora that live and thrive on your skin. Just like in your gut, this diverse balance of microflora play a key role in maintaining good skin health, helping support your skin's natural protective moisture barrier.‌
"However, lifestyle factors such as stress, lack of sleep and environmental pollutants can easily disrupt your delicate balance of beneficial microflora. When this happens, your protective barrier can be compromised, causing a continuous cycle of recurring skin problems such as sensitivity, dryness, excess oil and blemishes.‌"
The formula focuses on four active ingredients, including sustainably grown fermented oats that have a higher level of Beta Glucan – a fibre known to help soothe and improve the appearance of skin. The fermentation process then produces a unique strain of friendly bacteria to help balance the skin.
Chicory is a natural prebiotic with skin-soothing properties that I've actually come across in a lot of dog treats. It has been used as a traditional herbal remedy for both skin and digestive health for hundreds of years. The cleaner and creams also contain jojoba oil to offer a .healthy glow without clogging pores, whilst lunaria oil is naturally rich in fatty acids to provide long-lasting hydration.
Read more: Suffering with Maskne? Skincare tips to tackle breakouts due to wearing face masks
This range is stripped back in more ways than one, using natural ingredients and no synthetic fragrances, these products don't have that distinct Liz Earle scent, but instead, a light oaty fragrance. Whilst some reviews have criticised the scent, I found it quite relaxing and I could use it with confidence knowing the fragrance wouldn't irritate my skin.
All of the tubes are made with 55% recycled materials, with sustainably sourced naturally active ingredients with Gold level traceability. It's also a really affordable range, staring at just £18 – but you can get 30% off using my referral link.
The first product I tried out was the Liz Earle pro-biotic balancing milk cleanser, which is a medium consistency, ultra-gentle cleanser. I used around a 50p piece worth to remove my makeup, which felt like it completely melted away. Previously, I've only been satisfied with oil cleansers to remove my makeup properly, but this milky cleanser did an amazing job without feeling greasy like oil-based cleansers do. I was even able to use it to remove stubborn mascara from my fair lashes, without leaving me with panda eyes – and absolutely no stinging.
After wiping away my makeup, I went in for round two for a double cleanse to make sure I'd removed the days pollution – and truth be told, it just felt really nice to massage in. I washed the cleanser off with warm water and my skin didn't feel stripped, dry, itchy or sensitive like it had been doing, but instead, looked calmer and healthier, and felt soothed.
Complementing the cleanser are a day cream and night cream, each with their own unique textures. The Liz Earle pro-biotic balancing day cream is similar in consistency to the cleanser, and offers instant relief from reactive skin, protecting the skin's moisture barrier throughout the day. It's non-greasy and absorbs well, and I found that my makeup sat much better on my skin, without leaving me with a shiny t-zone by lunch time.
The balmy pro-biotic night cream is a much thicker formula designed to work overnight to revive stressed skin. A little goes a long way with this cream, which retails at £32, and like the day cream, melts into the skin without any tacky residue. It's got the sophistication and luxury of iconic Liz Earle products, but still feels accessible, making skincare simple and stress-free.
After the course of a week these three skin-relieving saviours left me with visibly healthier looking skin that was so much more comfortable, with no itching or peeling skin. It felt so much more balanced and generally happier, thanks to the probiotic properties. The cleanser was definitely my favourite, and one I'd rebuy as a regular skincare staple, but together with the day and night cream, they work as a real powerhouse team.
Don't forget you can get the Liz Earle probiotic balancing milk cleanser for just £12.60 with this referral link, and bag the day and night creams for £22.40 each.