Wearing a face covering or mask became mandatory in shops from July 24. It's caused a lot of controversy, and whether you agree or disagree with wearing a facemask – one thing is certain. Maskne is real.
What is Maskne? Maskne is the acne breakout that many of us are suffering with as a result of wearing face coverings. It's caused by the rubbing of the mask against our skin, which causes tiny tears which get clogged with dirt.
Masks create a damp and warm environment, which is ideal conditions for bacteria, which again, causes spots.
I've been suffering with blemishes along my jaw, cheeks and chin due to wearing a mask – but Dermalogica have revealed some amazing tips to tackle breakouts when you're regularly wearing a face covering.
Wear a clean mask every day
I have two gorgeous masks from Alma Rose creations which have nose bands stitched in. I also have an Oliver Bonas mask on order arriving soon. Having a few masks means you have plenty of time to wash and dry them for their next use. I also find it handy to have one in your bag and one in the car at the minimum. It would be a nightmare to be caught out without one when you need to grab a pint of milk!
Avoid under-mask makeup
I mean, it's a waste of money for a start. Why are you putting lipstick on when no-one's going to see your lips! Impressionable years spent watching America's Next Top Model saw me perfect my 'smize'. Go for bold eyeshadows and lashings of lashes. Depending on the shape of your mask, you might be able to go for a bit of highlight too. Dermalogica suggest using a 'skin friendly primer to blend around the mask area, and to focus on eye makeup application'.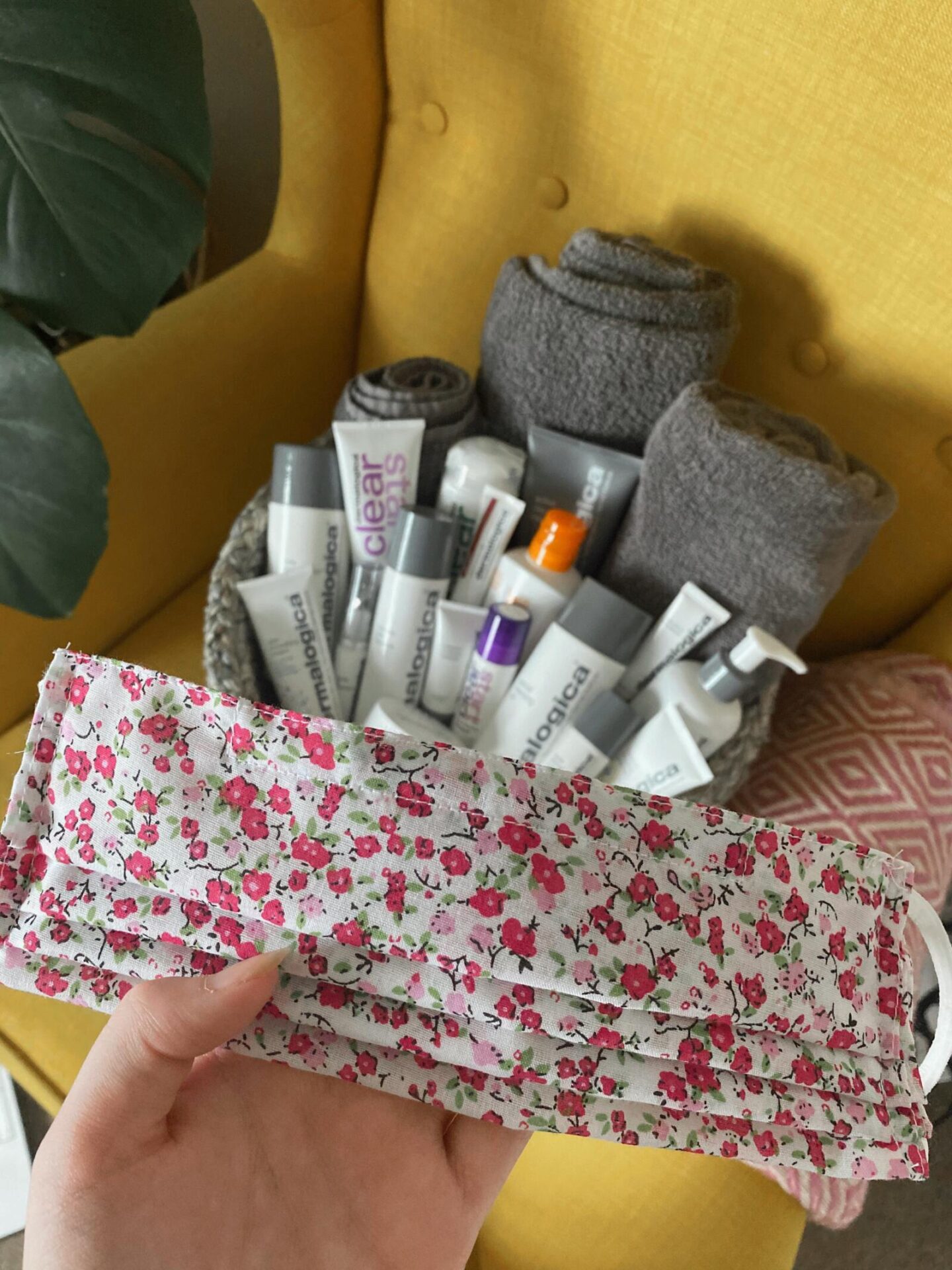 Let your skin breathe
You've probably heard this from your parents – either when you were a kid and didn't want to take a plaster off, or as a teen, when you've worn a full face of makeup for 16 consecutive days. You should remove your mask regularly when possible and appropriate to let the fresh air get to your skin. Remember to not touch the inside of the mask – I find having a little washbag handy in my handbag is ideal for storing my mask when I'm not wearing it.
Add these ingredients to your skincare routine
Dermalogica recommend adding an anti-inflamatory and prebiotics to your skincare. An expert said: "Include anti-inflammatory formulas in your regimen that include salicylic acid to decongest the pores and reduce breakout activity."
Adding spot treatment formulas morning and night are also suggested – I really like to use the Dermalogica Clear Start range to combat my maskne breakouts.
They added: "Include a prebiotic cleanser and breakout formulas that address the skins microbiome to balance levels of good and bad bacteria.
Exfoliate and hydrate
Exfoliating skin will allow you to scrub off any pollution, congestion and build up. Dermalogica recommend using a gentle exfoliator that can be used every day. I've been using their new Flashfoliant foaming leave-on chemical exfoliator. Finish your skincare routine with a light or oil-free moisturiser to enhance the skins defensive barrier.
If you're experiencing redness and irritation from your face mask, there are a few things that Dermalogica recommend you do to protect your skin.
First is to choose a soft, breathable cotton mask that fits well – an ill-fitting mask will rub whether it's too big OR too small. You should also avoid artificially fragranced products as they can aggravate the skin.
Keeping your skincare simple with 'a gentle creamy cleanser and hydrating moisturiser' is suggested, as well as a concentrated soothing serum to promote healing and reducing inflammation.
Read more on Dermalogica here:
Dermalogica Clear Start introducing Flashfoliant
My Dermalogica Winter Skin Routine
Dermalogica: the skincare brand that changed my life