The past two years have been undoubtedly tough – tough for the community, tough for theatre and tough for the actors and actresses, production team and staff who work tirelessly to bring the magic of Christmas on stage each and every year.
And following what seems to have been the longest two years ever, I couldn't have been more thrilled to settle into one of The Regent Theatre's mustard seats on Friday night for the opening night of Cinderella.
The annual panto is one of my favourite festive traditions, and the Disney classic has been adapted, reimagined, Stokie-d up in a panto crafted in the hands of masters Jonathan Wilkes and Christian Patterson – for a change, of course.
This year sees Jonny play Cinderella's best friend, Buttons, in his 17th panto at The Regent Theatre, with Welsh dame Christian as Baroness Hardup, in his 11th show alongside the Stokie performer. Together, the double act epitomise Christmas, and it truly would not be the same without them, no matter what a select few people might say.
The laugh-out-loud comedy – produced by Crossroads Pantomimes – sees two years worth of gags, humour and laughs packed into two hours, with even some last minute additions to the script, including a 'good evening' to the Prime Minister, in a nod to the other comedic duo, Ant and Dec. Of course, all your old favourite jokes are still woven through the script, with Jonny making it no secret he's a Vale supporter. Apologies if any ticket holders are from Cheadle or Crewe – you may find some jokes offensive – likewise if you happen to be a member of the Royal Family, or a supporter of the Tory party.
Intelligent writing and thoughtfully put together scores saw Naomi Sleight's introduce herself as Cinderella to the opening theme of Footloose – which is touring at The Regent Theatre next year – followed by Eminem's Without Me welcoming Baroness Hardup onto the stage looking like a Great British Bake Off showstopper.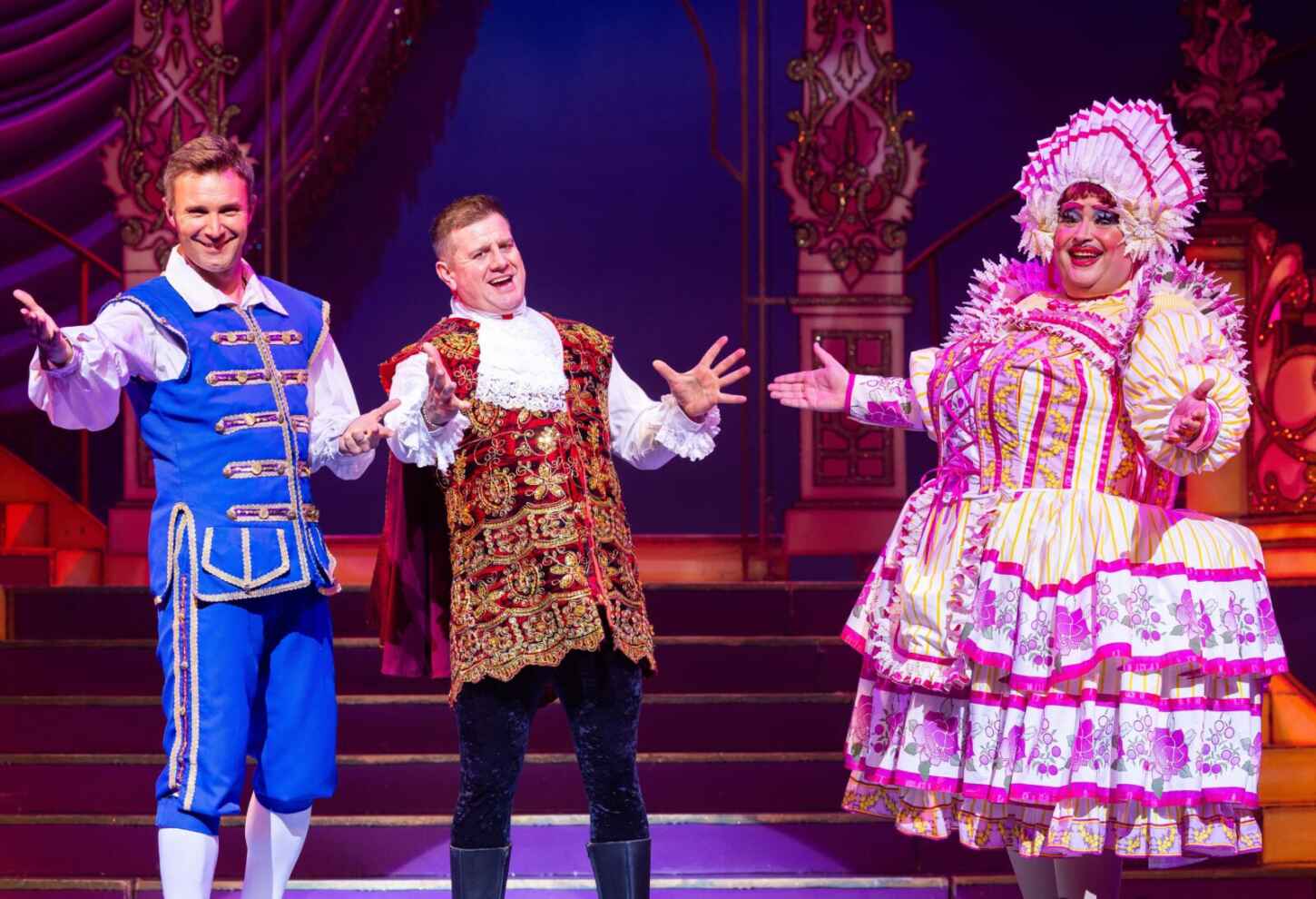 I'd be lying if I didn't get a little emotional when Jonny made his return to the stage, but my tears were saved by his entrance via a glittery UFO to Elton John's I'm Still Standing. It was evident that after last year's panto being cancelled not once, but twice, that Jonny was raring to go, and it was a joy to see him back on stage and doing what he so dearly loves.
If you're planning to see the panto this year, prepare for risqué tongue twisters, jaw-dropping jokes, and a dash of magic, with superhero appearances and plenty Stokie mentions, from The Sentinel, to independent eateries like Robertos.
It was great to see fan favourite Kai Owen take a year off being the villain to act as Prince Charming's right hand man, Dandini, while Vivien Parry and Annie Wensak took all the 'boos' as the ugly sisters of Hanley Hall, Stacey and Nessa. Their wardrobe rivalled that of Baroness Hardups, looking like something that might come free with a drink in Reflex, in more ways than one. Ryan Jupp made a wonderful Prince Charming, with strong vocals, bags of energy and a great sense of humour – which is a necessity working with this line up!
The set designers have gone all out, and Cinderella's carriage is simply incredible, as was Naomi's on-stage transformation into Princess Starlight, which was like watching magic before your very eyes. And a special mention must be made to Olympia Curry, who dazzled as Cinderella's Fairy Godmother, and a phenomenal Wilkes Academy-trained ensemble.
Should you be fortunate enough to find yourself in the first few rows, do be sure to bring your umbrellas – something Kai warned me of back in October. And whilst there have needed to be some adjustments to keep the show Covid compliant, it's still jolly good festive fun for all the family. And despite last years' panic buying, Jonny, Christian and Kai still managed to get their hands on some toilet roll.
Act two saw a really touching moment between Jonny and Christian – a moment of authenticity and genuine emotion in between all the silliness – as well as a heartfelt speech from Jonny about the return of panto.
He said: "I'll try and do this without crying, as you imagine what we're going through right now, and what we've been through, to see you out here tonight having the best time, it makes it so worth it.
"I remember last year when we nearly did it, then didn't. Me and Christian were gutted, we couldn't believe how gutted we were. It just wasn't the same. You come here every year and support us so much, that's why we come onstage – and more than ever this year. We've missed you so much."
Watching the pantomime at The Regent Theatre with Jonny and Christian is like rewatching your favourite Christmas movie, or pulling on your favourite sweater – so beautifully familiar, yet never fails to put a smile on your face. It was amazing to see the show back with a bang – quite literally – filled with magic and utter madness. Oh, and Beryl Smith is still going, too.
Cinderella is on at The Regent Theatre until Sunday, January 2, with tickets available from 0844 871 7615 or online.