Mulled wine, currywurst and apple pancakes on every corner – Manchester Christmas Markets is a festive event you can really eat and drink your way around.
I was devastated to not be able to visit Manchester markets last Christmas due to restrictions, as we always enjoy a festive visit – with the event bringing in more than nine million visitors a year in previous years.
That said, we've never completed the markets properly – we usually hop off the train and stumble upon little cabins as we walk around the city, never really managing to discover all six markets.
Launching on November 12, the Manchester Christmas Markets are bringing all the festive cheer to the North until December 22 (which happens to be my birthday), with Piccadilly's Winter Gardens open through the New Year to January 3.
Piccadilly Gardens has been transformed with light arch entrances with yuletide bars offering locally brewed ales, and street food stalls fuelling shoppers to get around the rest of the market. There are also some artisan stalls here, but the largest part of Piccadilly's market is made up of a live music stage and seating. It was here the mouth-watering smell of cheesy potatoes tempted us to grab a bite to eat, opting for a portion of the Lanchashire cheese covered tatties, a mulled wine and a pint of lager for Jake. This came in at £20 – but £4.50 of this was deposits for the mug and cup, which we returned.
The mulled wine came served in a Manchester Christmas Markets mug, but mine was dated 2018. This years design was dateless, after originally being designed for 2020 – I think these must have sold out quickly in the first few weeks of the markets, leaving only previous years' mugs to serve in.
From here we took a walk down Market Street, where there's a slightly smaller market than usual to allow for social distancing, and buskers entertaining the crowds. This is a great opportunity to pop into some of the shops, like H&M and Urban Outfitters, and you have to grab a hot chocolate from Market Street, right outside the Arndale entrance.
Absolute top tip? Nip into the Food Hall to use the loo now – they're not too busy and trust me when I say after a few cocktails in the markets, you'll wish you'd have gone.
We visited New Cathedral Street, which I always think feels the most Christmassy of the markets, with local vegan skincare products, and Bar No3 serving up festive tipples. Karl bagged some currywurst from The Witchhouse, while Jake and I headed to the Mexican stand for the most amazing seasoned fries topped with beef chilli. It's here we also stumbled upon The Cocktail Company, which offer pre-bottled recipes for just £5, that you can drink while browsing the rest of the stalls!
Yard and Coop had a huge queue for their fried chicken in St Ann's Square, which I was gutted about as I'd have loved to try some. But there are lots of alcohol stalls along this strip offering out samples, which are an absolute must. Hello toffee apple vodka. St Ann's Square also has Birdie the campervan – which you may have seen on Instagram – offering free selfie prints for a sweet memento of your trip. Or, head to the Royal Exchange and snap a pic for the 'gram in their expertly decorated archway.
King Street offers a French themed market, with a gin bar and delis, and fabulous apple compote and chocolate 'scrambled' pancakes. At the other end of the strip, Cathedral Gardens is home to Skate Manchester's ice rink, with entertainment every week from Thursday through to Sunday, including kids shows.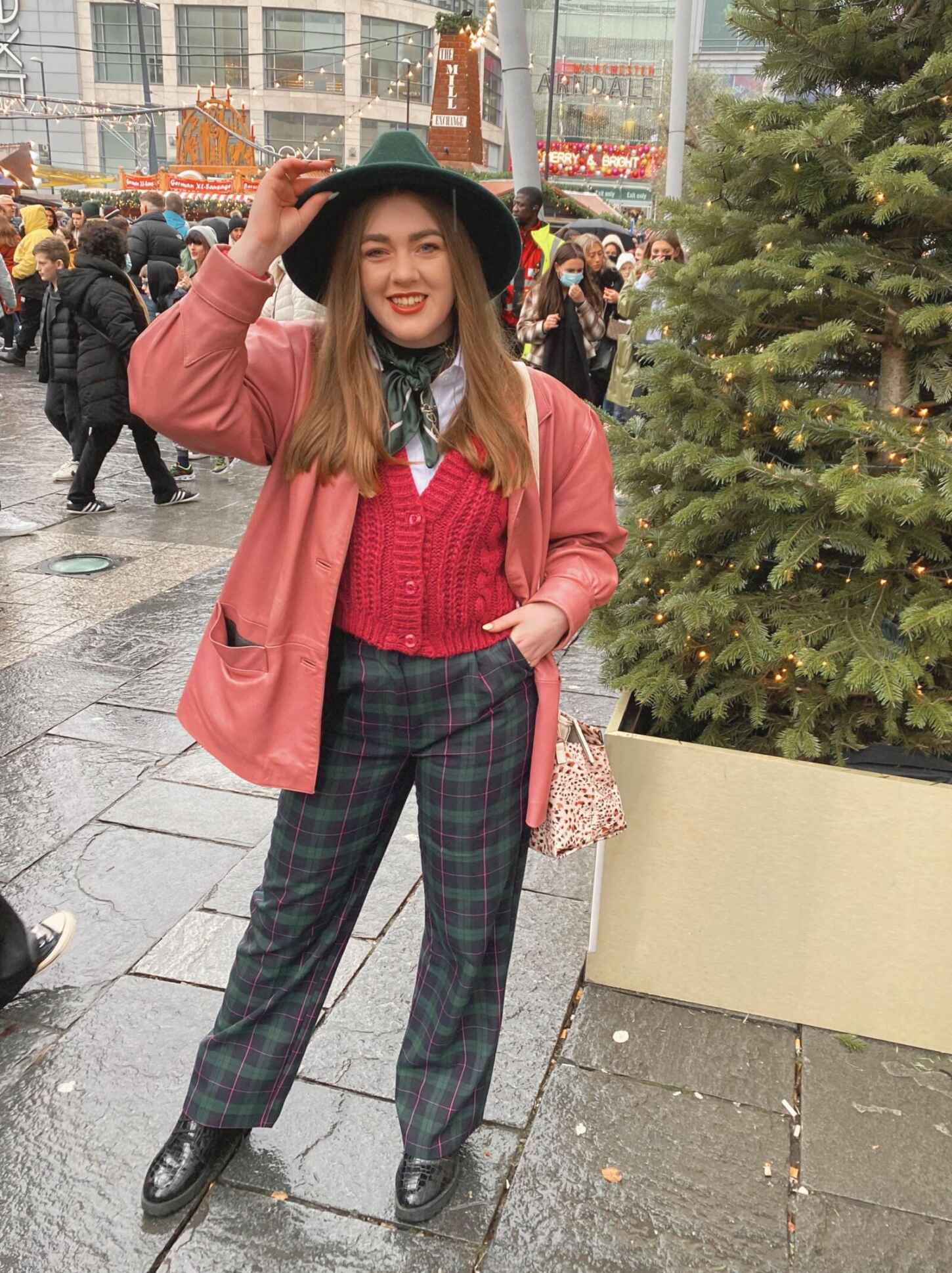 En route back to the train station, we stopped off in Printworks' the Beirkeller for their cheesy festive disco before heading over to Jimmy's for a cocktail or two. Considering it was a Saturday and Manchester City were playing, neither venue was unbearably packed, managing to get a table for six in both, giving us chance to rest our legs after walking around the city all day.
It was such a fun-filled festive family day out, and I even picked up a Christmas gift from me, to me – a new coat from Urban Outfitters. We also bought some cheese from the Great British Cheese company to enjoy in the run up to Christmas, and some Elderflower liqueur for some festive belinis, too.