One of the most influential musicians of the 20th century, David Bowie is a much-loved icon who has shaped history with his androgynous appearance and ground breaking albums.
It's no wonder that Ziggy Stardust has become the muse for small businesses and retail giants alike, with such a striking and recognisable image.
Fans of Aladdin Sane can buy some really beautiful Bowie-themed gifts online, making perfect Valentine's, birthday and Christmas presents for your Rebel Rebel friends.
I've combed the internet for the best picks for the David Bowie lovers in your life – I'd know, I either bought them or was gifted them! So put on your red shoes and 'add to basket'.
Chatty Feet socks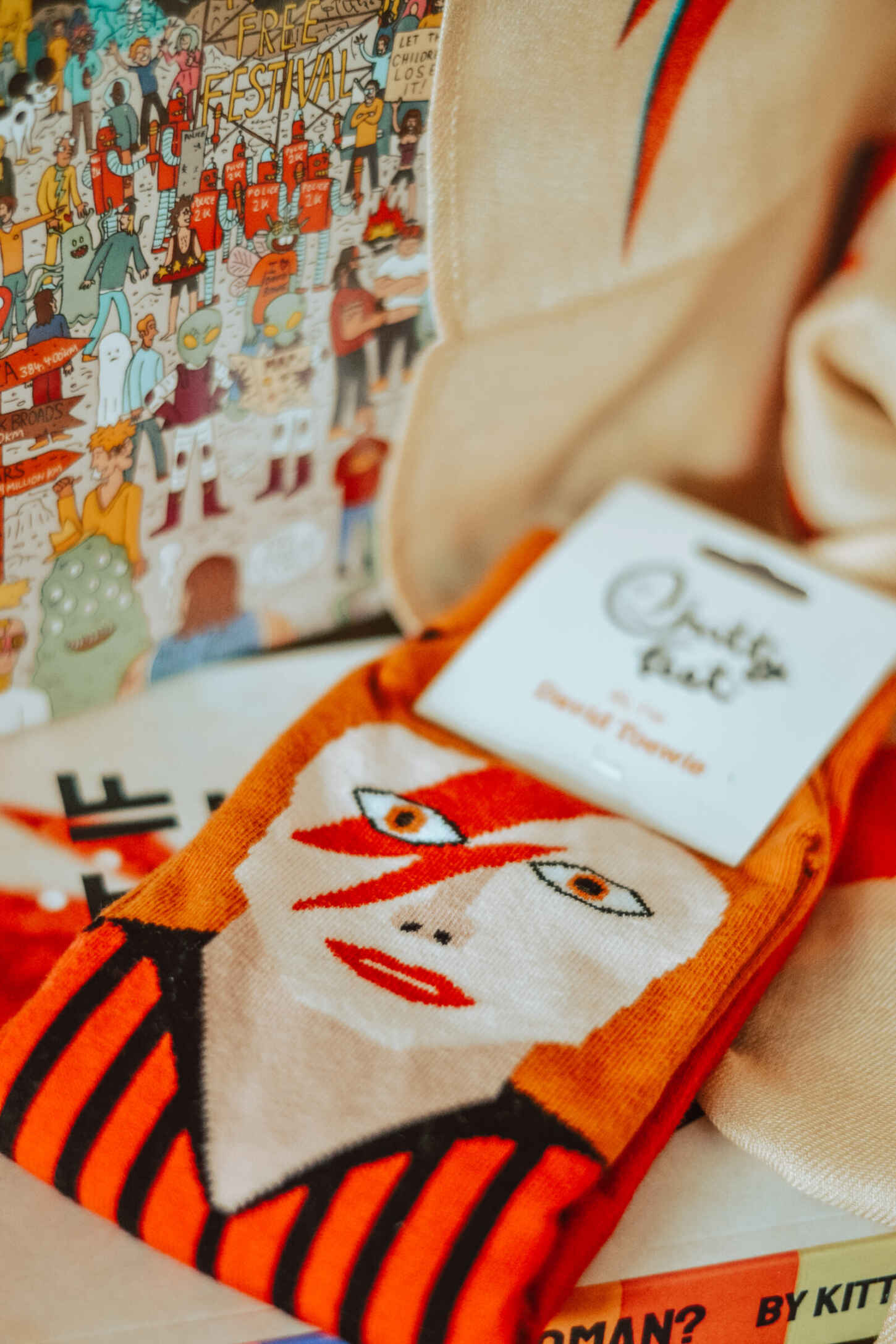 Chatty Feet socks is one of those businesses that began as a half-joke while two friends pondered the question 'what if socks could talk' – alas, meet David Toewie. There are also his friends, Eltoe John and Michael Jack-toes. This funny footwear is for those of us who are reluctant to grow up, or for Dr Marten wearers to provide ultimate comfort with their combined cotton pairs. The Chatty Feet socks are £9 a pair and are incredibly soft, perfect for dancing the blues.
Where's Bowie? Jigsaw
Who didn't become obsessed with completing jigsaw puzzles in lockdown? This eccentric 500 piece Where's Bowie? jigsaw features phenomenal attention to detail, and once complete you'll be able to search for Bowie in his various chameleonic guises. The illustration sees references to lyrics like 'from Ibiza to the Norfolk Broads' illustrated on a directional signpost, as well as the astronaut who sung Space Oddity from space. In fact, it's jam-packed with references that might even teach the most hardened Bowie-aficionado a thing or two. This jigsaw costs £14.99 and is available from Oliver Bonas – be sure to sign up to their mailing list for a first order discount.
Hunky Dory 50th anniversary picture disc
Released one day before Bowie's 75th birthday, this stunning Hunky Dory 50th anniversary picture disc is the perfect gift for vinyl collectors and Bowie lovers. It comes just weeks after the 50th anniversary of Bowie's fourth studio album, which has gone down in history as one of the best albums of all time, delivered on the anniversary of Changes being released as a single. The £35 LP features the 2015 vinyl remaster and a poster featuring the annotated back cover image of the album.
Fun fact? Hunky Dory didn't make a dent on the UK album charts upon its 1971 release. It wasn't until August 1973 that the album finally peaked in the UK.
Twisted Rebel Designs
Born during the first national lockdown after losing their jobs, two 21-year-old best friends from Hull launched Twisted Rebel Designs as a distraction from Covid-19. The brand combines their love of music with creativity, producing colourful and funky lyrics prints that I've been gifted, as well as given to friends for birthday and celebrations. They're all printed on recycled paper with a full colour finish, coming in A5, A4 and A3 to fill any space in your home. Some of the Bowie prints I have include Rebel Rebel, Modern Love, and 'Hot Tramp I love you so'. Prices are from £9, or three A5 for £20.
Ollie and Fred Scarf
Manchester-based brand Ollie and Fred creates beautiful accessories with a Northern city or musical theme – and their lightning bolt scarf is a real fashion statement. Launched in 2020, the scarf is influenced by Aladdin Sane, and handcrafted using traditional methods. The cream scarf – priced at £28 – has the red and blue bolt printed onto the silk and modal fabric, and looks great draped around the neck, tied around a fedora, or to jazz up a handbag.
Not only are Kath's designs absolutely brilliant, she also donates to Manchester based charities with the proceeds, having given more than £2,800 in profits to We Love Mcr, The Pankhurst Trust, Manchester Mind and the homelessness charity, Bed Every Night.
Lightning bolt earrings
Sparrowhawk Vintage, in Newcastle-under-Lyme, Staffordshire, are no stranger to David Bowie gifts and garments, from imported and vintage t-shirts, to mugs, badges and iron-on patches. One of my favourite, more subtle gift ideas though, is these simple lightning bold studs. Made of 925 sterling silver these dainty earrings are perfect for those with multiple ear piercings looking for a small stud to decorate their lobes with. These cost me £7.50, and also come in gold for those who prefer wearing it. They're really comfortable to wear and look great with some blue eyeshadow and a red lip a-la-starman. Order via Instagram DM here.
David Bowie Monopoly
Based on Hasbro's popular 1929 board game, the David Bowie edition of Monopoly swaps Mayfair for Blackstar, Old Kent Road for Space Oddity, and train stations for tours. The special edition playing pieces include a star, skull, pierrot hat, a rolled up tie, space helmet and lightning bolt as players attempt to buy up albums and tours, building stadiums and arenas on properties. Community chest and Chance cards have also been reimagined as 'Sound and Vision' cards, with fees to be paid for session musicians and live band fees. Of course, the aim remains the same – monopolise the board and don't go bankrupt. The game usually retails for £34.99, but at the time of writing, was reduced to £29.99 on Booghe.
Read more: David Bowie Monopoly – the ultimate lockdown board game
Bowie Books
There are dozens of books about David Bowie available out there, but I wanted to share some of my favourite with you. Firstly, there are the biographical books – including David Bowie by Dylan Jones, and David Buckley's 'definitive story' Bowie. Then, there are the pocket books – The Pocket Book of David Bowie and Pocket Bowie Wisdom, offering a glimpse into his beautiful mind. I also love the David Bowie Little People Big Dreams children's' book, perfect if you've got little ones at home. Or if Bowie-themed fiction is more your thing, I highly recommend reading What If Bowie Were a Woman? by Kitty Riggs.
Lightning neon light
I have this light hanging in my bedroom, and it gives off a nice warm glow perfect for winding down and reading a book. Less than £15 on Amazon, the battery operated lamp looks great, and is usually hung right next to my Twisted Rebel Designs 'hot tramp' A4 print. It's really ambient, as well as being easy to use, with a little slice of Aladdin Sane illuminating any room.