Following a successful Staffordshire Christmas gift guide, I wanted to share my top picks from Stoke-on-Trent's small business owners this Valentine's day as the season of love fast approaches.
After a busy festive period, independent makers and shakers have mere weeks to launch new products before the calendars next annual celebration on February 14.
Today, Valentine's isn't quite the partner-exclusive celebration it used to be, with many choosing to use it as a day to celebrate self-love, or the people that mean most to them, coining it 'Galentine's'.
I've put together this guide of gorgeous gifts for the special gals in your life because trust me, they do not want a bunch of £4.50 roses from the petrol station on the way home from work.
It's been a tough couple of years for small biz owners, having to open and close their bricks and mortar shops, and being unable to attend many of their scheduled makers markets. It's now more important than ever to show them some love.
When it comes to shopping small, whether you're buying something worth £1, £10, or £100 – supporting an indie business helps small creators continue to live their dream. Not only that, but the products you're purchasing are completely original, making both the gift, and the shopping experience much more personalised.
Starting at £2.50, with all gifts under £40, these are my top picks from small businesses in Stoke-on-Trent and Staffordshire this February.
Cloud and Clay Earrings
Last year I added some beautiful limited edition Valentine's Day Cloud and Clay earrings to my growing collection, and while the heart-shaped earrings are no longer in stock, you can still get your hands on the stunning ROSE set.
The polymer clay earrings are a pastel pink with an irregular gold plated oval, and come in at £14. Handmade by Lucy in her Staffordshire spare room, the small batch earrings never see two pairs exactly the same.
Perfect for sensitive ears, the jewellery is made from gold and silver plated brass, which is lead and nickel free, and are lightweight enough to wear all day long.
Teppi Reading Journal
Perfect for book lovers, this reading journal from Stafford-based Teppi can be personalised for that extra special touch.
Handbound by founders Lydia and Ella, the journal has space to document the journeys of around 60 novels, coming in blush pink and moss green.
Priced at £12.95, or £9.95 if not personalised, the tactile A6 journal is bookended with two inspirational reading quotes, with space to share thoughts about each completed book.
The journal sees space for the title and author, completion date and a rating up to five stars, as well as the readers favourite character, three things they loved about the book, three words to describe it, and final thoughts.
It's a really thoughtful gift, and shoppers can get 10% off their first order when they sign up to the Teppi newsletter in the footer of the website.
Bros Distillery Sixtowns Gin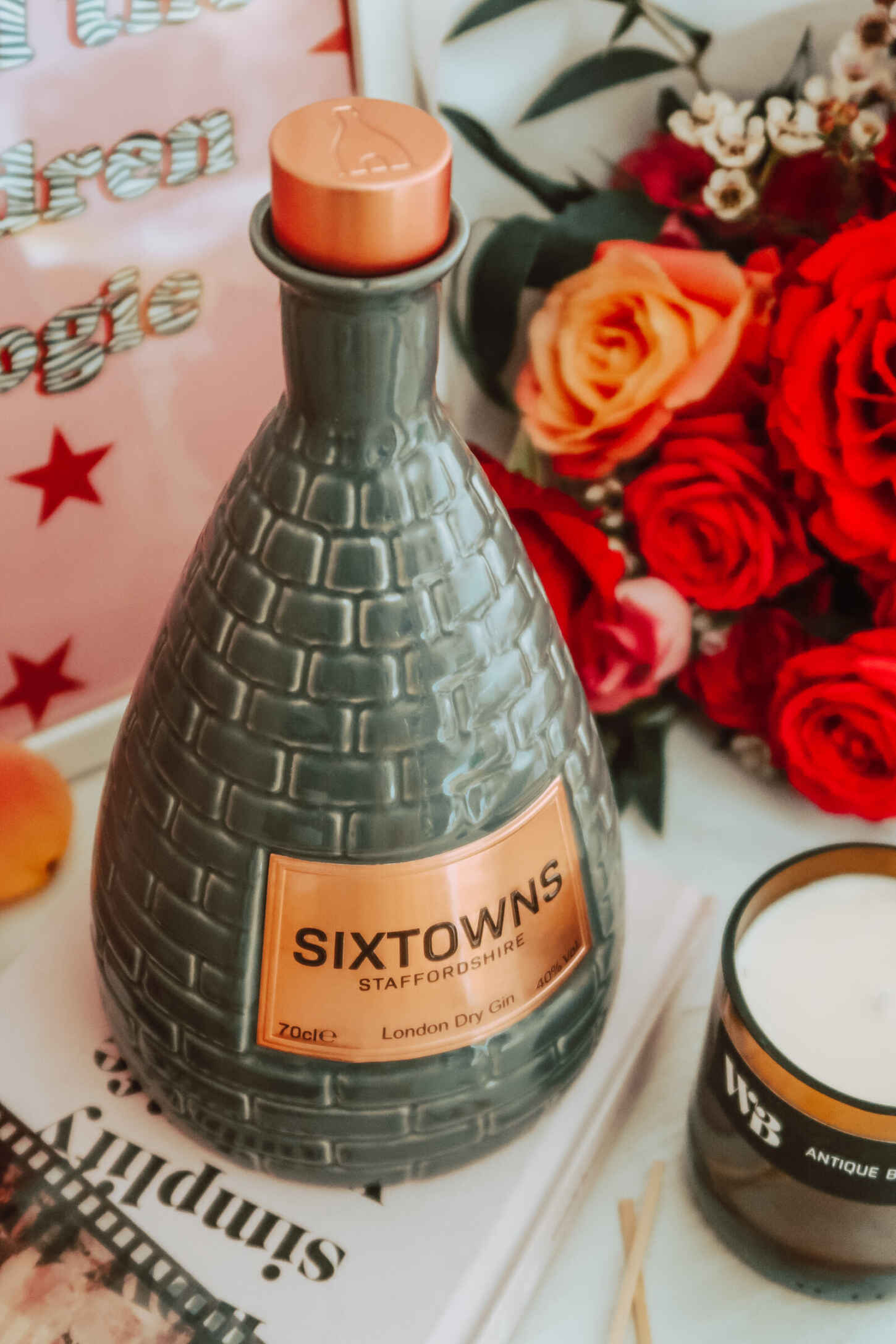 Gin drinkers will be delighted to receive a bottle of Sixtowns Gin, distilled in one of the six towns it's named after.
Made by Bros Distillery, the secret recipe spirit is distilled in Fenton, and has notes of juniper, cardamom and zesty lemon before warming ginger and pink peppercorns.
Incredibly smooth, the 40% ABV London Dry is made in small batches of 100 or less, bottled and sealed by hand with an embossed bottle kiln copper stopper.
And their potbank bottles are even made locally at Wade Ceramics, home to the iconic Gluggle Jug, costing £39.95 each. When they're empty, they make a beautiful vase for dried blooms, too.
Read more: Staffordshire's Sixtowns Gin comes with keepsake ceramic bottle
Mini Mo and Mog Bath Products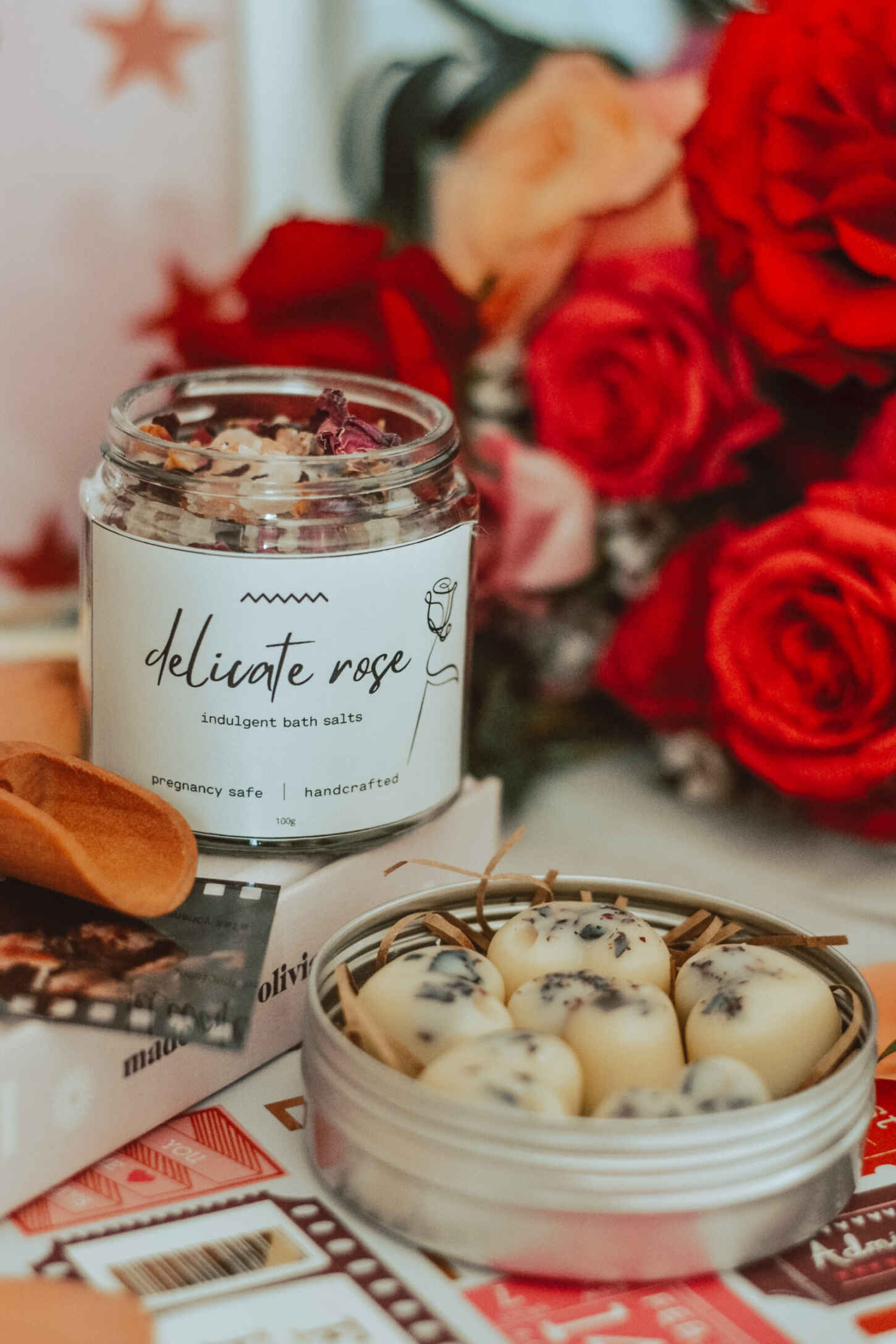 There's nothing sweeter than coming in from a long day at work and there being a hot bubbly bath run, ready and waiting. And to make the gesture even more grand, Mini Mo & Mog have created a selection of pregnancy-friendly bath products to indulge in.
Mum-of-two Libby launched the business in lockdown after her children had enjoyed sending letterbox mail to friends and family in a bid to stay connected.
Her ethical and sustainable products – made in-house or sourced by other Staffordshire-based artisans and UK makers – are aimed towards mums, mums-to-be and newborns, but you don't necessarily need to be those to enjoy their products.
I love the
£4 rose petal epsom salts,
which are perfect for sprinkling into the bath to unwind and relax sore muscles. And launched for Christmas but even more fitting for Valentine's day are their
heart shaped vegan bath melts
, coming in at £6. The melts are made from cocoa butter, shea butter, coconut oil, rose petals, soy wax and bergamont essential oil to leave skin feeling soft and smelling incredible – a little loveheart of luxury.
Wilderness Floral Design Bouquet
A super traditional Valentine's gift is to say I love you with blooms – particularly roses. There are so many different historical references as to why people gift bouquets of roses, such as ancient Greeks and Romans associating the flower with their goddesses of love, Aphrodite and Venus. Others believe it stems back to the 19th century when the Victorian's used floral bouquets to send messages to love interests.
And if you're going to share a token of your affection in the form of flowers, do so from an independent florist (and not the petrol station on the way home from work).
Wilderness Floral Design are taking orders for Valentine's bouquets with a bunch to match your budget, ranging from £25 for a small bouquet, up to £70 for extra large. Large comes in at £50, while medium, like the one pictured, is just £35.
Each of the spicy red and pink designs feature a selection of big-head and spray roses, with lisianthus and foliage. This particular bouquet includes gorgeous garden roses, spray roses, lisianthus, waxflower, eucalyptus and ruscus – which is one of my absolute favourites.
Florist, Emily Hewitt, accepts orders via Instagram DM or email at hello@wildernessfloral.com, and can create something completely bespoke if requested, or change up colourways in the V-day bunches to suit a specific theme.
Wade Ceramics Gluggle Jug
My pink Gluggle jug is truly one of my most prized possessions. The unusual yet totally irresistible jug was first created in the 1860s by Dartmouth Pottery, with the mould being bought by Wade Ceramics upon their closure.
Best known for their iconic 'gluggling' sound when liquid is poured at three quarters full, these novelty vases have brought entertainment to households for a century and a half.
In 1958 , a special pair of gluggle jugs were made for presentation to the Queen and the late Prince Philip – and if a gluggle jug is good enough for royalty, then it's certainly a different Valentine's gift, especially in the pink colour.
I bought mine from Oliver Bonas for £27, and they can be used for so many different things including as a water jug, a vase, a cocktail jug or even a stationary holder.
Read more: How to style a gluggle jug as a vase
The Wandering Bee Candle
Another innovative lockdown business is candle makers The Wandering Bee. They've gone from making six candles at a time in their kitchen while juggling full time jobs, two dogs, three cats and a toddler, to having their own studio space at World of Wedgwood, Barlaston.
The sustainable family-run business create 'kick-ass kind candles', hand poured into upcycled beer bottles that have been scored, split and sanded to offer an awesome apothocary-esque home fragrance that's 'kinder to the planet and better for your health'.
I love their Antique Bookshop candle, which reminds me a little of Shay and Blue's luxury fragrance Blacks Club Leather. Made with 100% natural, scented soy wax, they sell 180g candles for £12, or 300g for £18, and have even sold in John Lewis and on London's Oxford Street.
Antique Bookshop features notes of ginger and plum, followed by vanilla sugar, cinnamon, honey and incense, with white patchouli, light amber, cashmere woods and tobacco leaf at the base, burning for approximately 40 hours.
The Wandering Bee describe it as a 'rich, masculine scent that evokes the comforting feeling of an old library with bound books, old pages and creaking floors' – which is totally dreamy. It literally smells like a romantic movie-style meetcute.
The vegan and cruelty free candles use high grade wicks and premium fragrance oil, and can be shopped on The Wandering Bee site, or at World of Wedgwood's Josiah and Co.
Emma Bridgewater Hearts Mug
I've been a small-scale collector of Emma Bridgewater for a couple of years, and my favourite pattern by far is the hearts. The pink and red design is inspired by confetti lying on the ground after a wedding, making it one of the brands most romantic patterns.
Described by Emma Bridgewater as "the perfect way to say 'I love you', 'Be my Valentine', or 'Marry me'", their half pint mugs cost £22 each, or £23 plus £1 per letter should you want to get it personalised with a name and message.
All of their personalised pottery is decorated by hand in their Hanley-based factory, which was originally opened by Charles Meakin in 1883, as Eastwood Pottery. It was later bought by his brothers, James and George's, company in 1887, before opening as Emma Bridgewater in 1985, more than 35 years ago.
Emma had been seeking a simple cup and saucer as a gift for her mum's birthday, but found the options lacking. The choice seemed to be either much-too-formal fine bone china, or clunky earthenware – so she set out to create a range of practical and reliable pottery but with a colourful and stylish design worthy of any kitchen.
For tea and coffee-bellies, why not fill this mug with luxe brew bags or coffee sachets, as well as their favourite confectionary treats to enjoy on February 14.
Read more: I designed and painted my own Emma Bridgewater mug
Seed Chocolate
Seed Chocolate is a wonderful small-batch micro-factory producing award-winning craft chocolate from just one room in Longton.
Head chocolatier, James Walter, sources his ultra premium cacao from small farms and cooperatives from around the equator so as to ensure the best price for farmers in some of the world's poorest regions. James also operates a zero child slavery policy when sourcing cacao, which is 'unlike many of the larger well known brands.'
The pink Hibiscus White Chocolate costs £6.95, and is made entirely in-house from scratch, where the cacao beans are delicately roasted to develop flavour before being winnowed by hand to remove the husk. James will grind the cocoa nibs into chocolate which is aged to add flavour before being tempered into bars.
I thought this would be a great choice for Valentine's, being pink – with an acetic red berry and zingy sherbet flavour. The bar is free from soy, dairy, gluten and nuts, and is also vegan, having been made only with cocoa butter, coconut milk, unrefined cane sugar and hibiscus flowers.
And if you want to do more than gift a bar of chocolate on Valentine's, Seed Chocolate also have some virtual tasting events for a romantic night in on Friday, February 11, and Monday, February 14.
Simply Katy Cards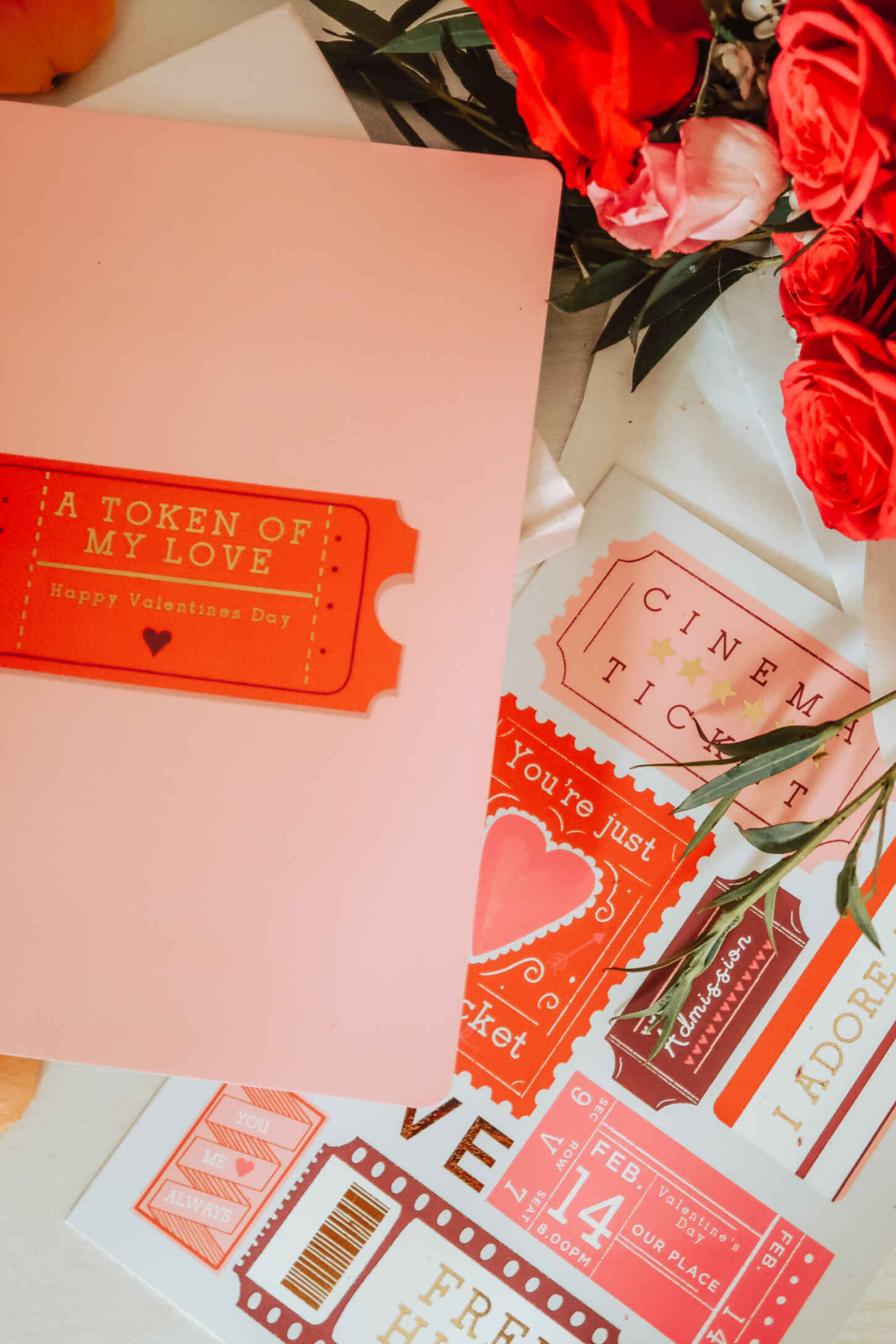 Inspired by travel, Simply Katy's colourful art prints are a must-have in the home – I think it's a particularly special gift if you pick a print for your loved one of a destination you've been to together. For Jake and I, we'd have to get some of Katy's New York prints.
The Staffordshire University alumni released some gorgeous lockdown Valentine's cards in 2021, so I was thrilled when her 2022 card collection dropped.
There are three cards to choose from, each one gender-neutral and finished with gorgeous gold foil. I picked up one that reads 'A token of my love' and one covered in ticket stubs that says 'You're just the ticket', which I love as Jake and I met at a gig.
The cards – printed on high quality velvet paper – are left blank on the inside, so you can write your own message, or you can ask Katy to handwrite your message.
Katy's cards are £2.50 each and are available on her Etsy, but you can also visit her site for prints, pins and notebooks.