A few weeks ago, my mum prematurely blew out one of her brand new candles she'd had for her birthday and I was stunned that she didn't know she shouldn't have.
"What are you doing? You have to have a full melt pool!" I cried, knowing her £40 candle was going to tunnel the entire way down. What a waste.
And if my wick-obsessed 50-year-old mum is still burning her candles wrong, it had me wondering how many others aren't getting the most out of their home fragrance, too.
So, I've enlisted the help of The Wandering Bee to set the record straight, so your candles will last longer and burn better, rather than burning through your cash.
The small family-run candle company launched in 2021's national lockdown, pouring soy wax into beer bottles in their busy kitchen. Now, the indie biz has it's own studio at Barlaston's World of Wedgwood and stocked in Josiah and Co.
Each candle they make sees a beer bottle scored, split and sanded down to create a vessel for their 100% natural, scented soy wax, fragranced with some of the most amazing oils.
Read more: Staffordshire's Sixtowns Gin comes with keepsake ceramic bottle
My favourite candle is their Antique Bookshop fragrance, but Honey Bear and Wild Black Cherry sound just as dreamy. Antique Bookshop features top notes of grated ginger and dark plum, followed by incense, vanilla sugar, cinnamon and honey, with white patchouli, light amber, cashmere woods and tobacco leaf at the base for a rich and masculine scent reminiscent of an old library filled with leather bound books and yellowed pages.Their 180g candles come in at £12 with a 40 hour burn, while the 300g candles (£18) have an extra 20 or so hours.
Choosing the right candle
The first step to getting the most from your home fragrance is to pick quality candles. The Wandering Bee use high grade wicks and premium fragrance oil which is all vegan and cruelty free, as well as CMR, phthalate, paraben, silicon and PEG free, remaining CLP compliant. This offers a long and clean burn, maintaining that cosy, warm glow.
The first burn
When your candle arrives, be sure to set it on a heat proof surface before lighting it. When you do strike a match and start the first burn, ensure it's a time when you're going to be home for three to four hours.
The Wandering Bee recommend your first burn lasts three to four hours, or until you have a 'full melt pool', which means the entire top layer of wax has melted all the way around. Wax has it's own kind of 'memory' and if extinguished prematurely, it will remember a smaller melt pool, leading to tunnelling, which is when the candle burns just the central portion of wax, leaving waste around the edges – this is most common is wide candles.
Trim the wick
Following a successful first burn, feel free to blow out your candle – but only when it's had a full melt pool. Then before relighting it on your next use, trim the wick to between 0.5 and 1cm. You can use a wick trimmer for this – I got mine from Amazon – or in the absence of proper tools, a nail clipper will do the trick, depending on the thickness of the wick.
The Wandering Bee said: "By shortening the wick you allow the flame to burn more slowly and prevent your candle from emitting soot."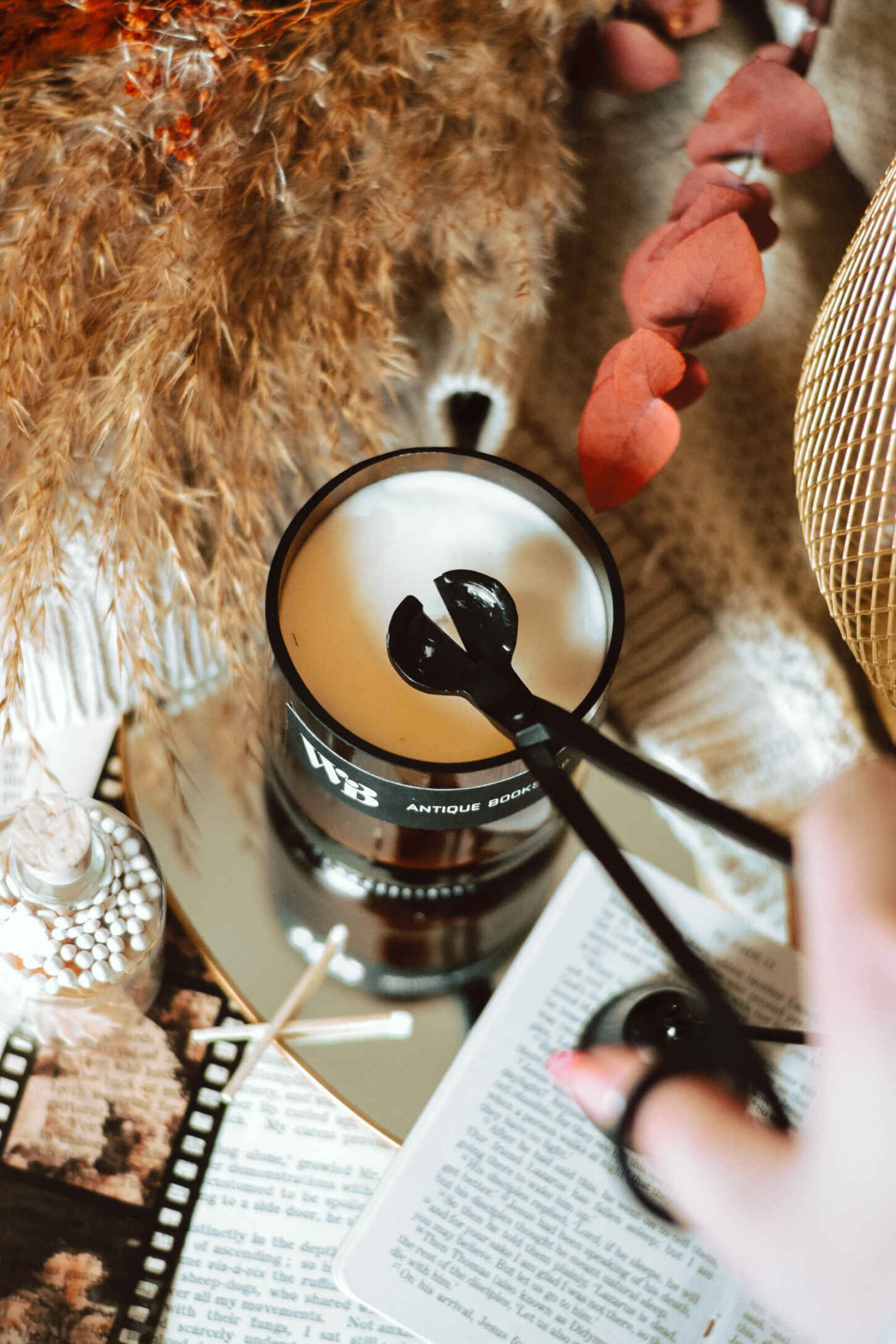 Trimming the wick also prevents mushrooming, which occurs when the wax of your candle can't burn fast enough to keep up with the wick, so the wick absorbs the wax, leading to a build up of carbon.
Clean the wax pool
Don't forget to keep your wax pool clean, removing any wick trimmings to prevent your candle getting clogged. The Wandering Bee explained: "Debris in the wax pool can also act as a secondary wick, encouraging your candle to burn faster."
Give your candle space