Tramlines festival sees more than 120 acts across four stages and The Open Arms across approximately 30 hours over three days. Fitting everyone in is no mean feat. In fact, it's probably an impossible task.
However, I did manage to watch nearly 30 incredible acts over the course of the weekend thanks to some meticulous planning and a lot of help from the Tramlines 2022 schedule planner.
I felt really rather lucky that there were very few clashes between people I wanted to see, and the stage times are staggered in such a way that you can usually watch half of one set and half of another if two of your favourite acts happen to be playing at the exact same time.
Read more: Tramlines Festival 2022: Seven incredible moments from the Sheffield festival
The lineup for Tramlines this year featured Sam Fender, Kasabian, Madness, The Wombats, The Vaccines, James, Declan McKenna, Sigrid, Becky Hill, Reverend and The Makers and SO many more. It was a really diverse bunch, and as well as watching some of my all time bucket list bands, Jake and I also had plenty of time to discover new artists to add to our Spotify playlist, too.
Here's every act we got to see over the three days:
Friday
On Friday we arrived to hear the last of Shed Seven's set from outside the gates, but were inside the festival and raring to go by the time Jade Bird arrived on the main stage. The folk-inspired singer, aged 24, rocked a 70s style suit and proved exactly why she was listed in the BBC Sound of 2018 list.
Her set was a stark contrast to that of guitarist Orla Gartland, on T'Other Stage, who was a joy to watch on stage as she sang about niche feelings with unfiltered honesty. The Irish singer-songwriter grew in popularity after posting covers on her YouTube channel, gaining further recognition when her track 'Why Am I Like This?' was used in Netflix's coming-of-age Heartstopper.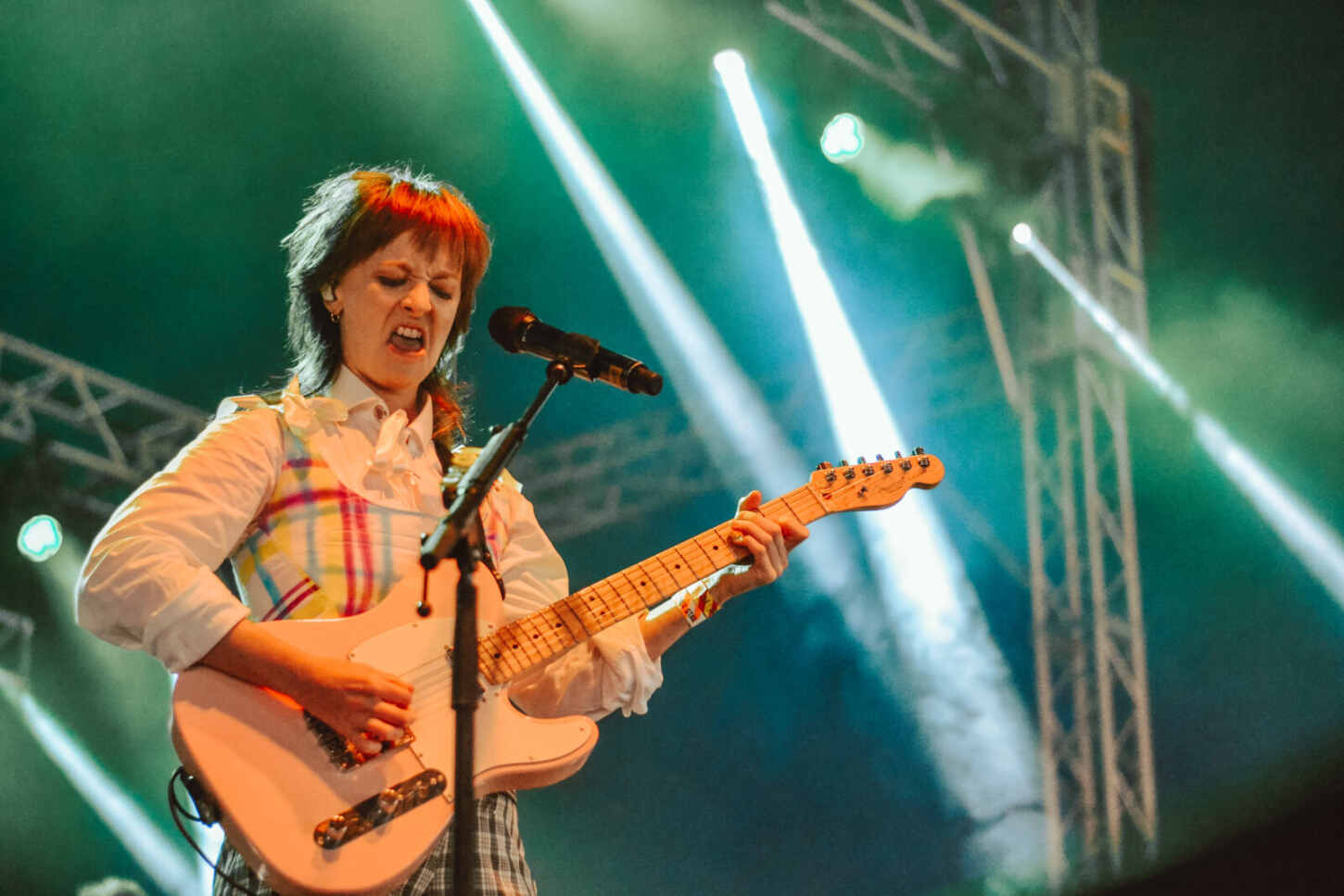 James has been a bucket-list band for me for a while, so seeing Tim Booth dance around the stage was a real highlight of the weekend, least not being less than a social distance from him when he climbed down into the crowd.
After James, there was a short gap ahead of Sam Fender's headline, so we went to The Open Arms to watch The Girl Power Experience, which was a Spice Girls cover band singing all the cheesy 90s girl group hits. What more could you want?
And ending the night with fireworks and pyrotechnics was North Sheilds's Sam Fender, who was performing his first festival headline at the Sheffield event. I'd have absolutely bought tickets to see Sam in 2023 has he not been performing at Tramlines, but the festival organisers really do have their finger on the pulse when it comes to who's going to be a big hit with fans.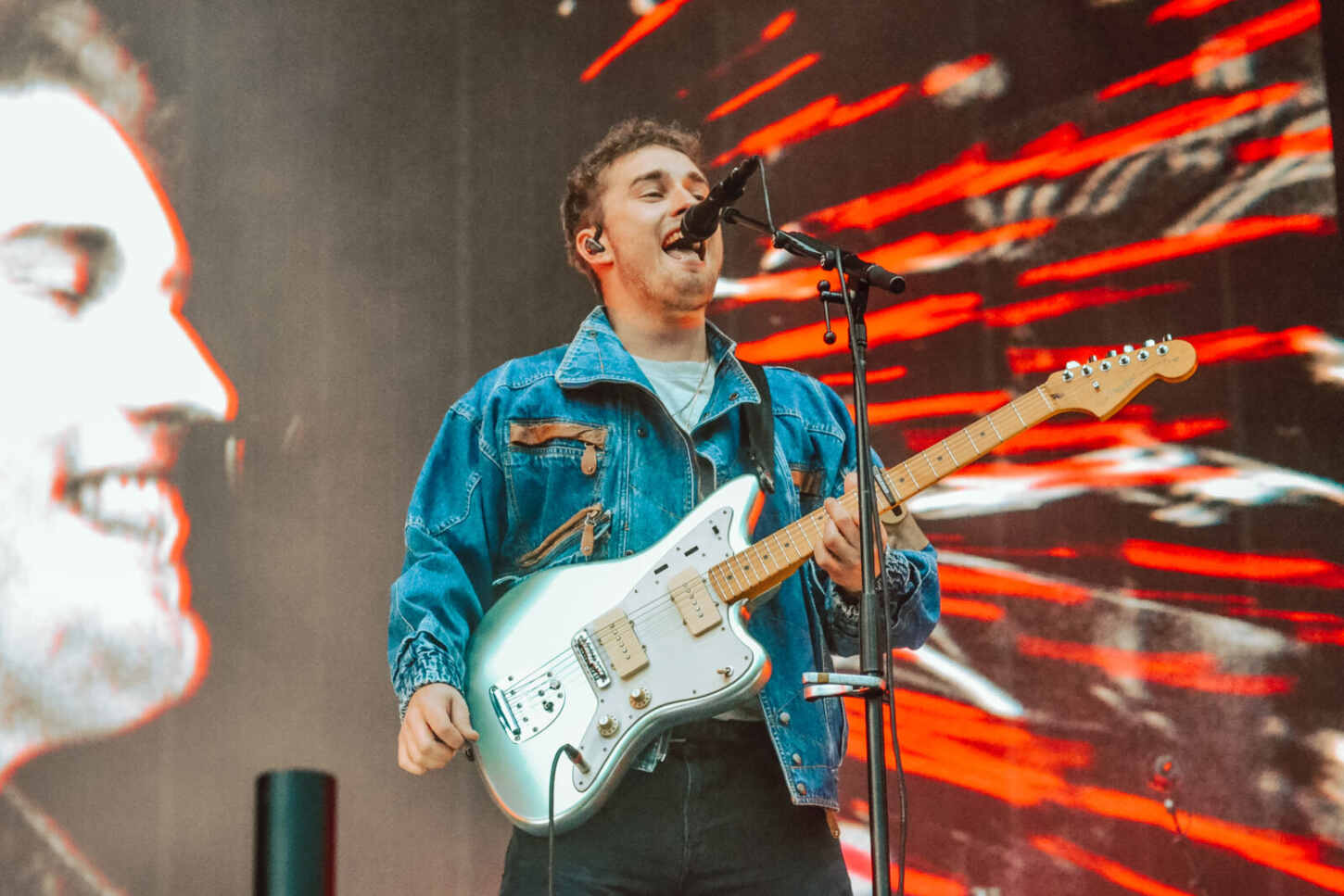 Saturday
On Saturday morning fuelled by Yorkshire Tea and pastries we caught Pixey on the Main Stage followed by October Drift on the Leadmill stage. October Drift are a band I've seen on numerous bills over the years and never got round to catching them live, but they put on a great show and it was the perfect way to dip out of the rain for half an hour.
As we left the Leadmill tent Everly Pregnant Brothers were singing 'F*** the Tories' to the tune of Hang The DJ by The Smiths, which is very difficult to not have a chuckle about. The band are a powerhouse of parody fuelled on best bitter, pork pies and raucous gigs and are popular with native south Yorkshire residents.
On T'Other Stage, multi-award winning comic Russell Kane had Jake and I in stitches. I particularly love that there are comedy acts on in the early afternoon at T'Other Stage, often just giving you a chance to sit down and rest your feet. Russell made light of the pandemic and the way various people dealt with it, even telling a heartwarming story about his Ukrainian father-in-law, too.
Carrying on the laughs were Lottery Winners. Frontman of the Leigh-based band Thom Rylance threw my camera lens the middle finger asking 'have you got enough pictures, you pervs?' Jon McClure from Reverend and The Makers was so impressed with the Manchester band, he filmed them from the pit and posted it to Twitter.
Bono's lad, Elijah Hewson, and his band from school, Inhaler took to the Main Stage in the afternoon. I was keen to see the band again having enjoyed their set supporting Kings of Leon at Manchester's AO Arena earlier in the month. The lads are only in their early 20s so they're definitely ones to watch, because they're going to be big.
Crawlers were a band I'd never heard of before I wandered over to the Leadmill stage to watch them, and while I may have been unaware of their existence before, I won't be forgetting them any time soon. The four-piece Liverpool band draws inspiration from the likes of Muse, Nirvana and Queens of the Stone Age to not only create a sound like no other, but put on a show like one too. I was seriously impressed with their performance and the way they moved on stage, and I'll certainly be going to see them again the very next chance I get.
Eurovision hero Sam Ryder pulled in the weekend's largest crowd on T'Other Stage. Sam first gained recognition after sharing incredible covers on TikTok, which earned him most popular artist account of 2020. He went on to represent the UK in the Eurovision song contest with the song Space Man, and revolutionised the country's reputation in the process. It was an absolute honour to see him live, and really felt like a little slice of history.
After Sam we watched The Vaccines, who were absolute icons for me growing up on indie rock music as a teen. If You Wanna and Post-Breakup Sex really got the crowd going, behind Kasabian, were probably my favourite band to photograph over the weekend.
I caught a small amount of Alfie Templeman's set on the Leadmill stage. The 19-year-old displays talent well beyond his years and, having released his first EP aged 15. The artist describes his own sound as indie R&B but I could definitely hear some psychedelic draws from the likes of Jimi Hendrix.
The best act of the weekend, for me, was Kasabian, now fronted by Sergio Pizzorrno, who stunned a security worker by hugging him on stage. The band has five number one albums to their name and played as many of the hits as they could fit into an hour and a half. Serge was stellar at getting the crowd amped up and in the festival spirit, even managing to get the huge audience all sitting on the floor before erupting into Vlad the Impaler.
Sunday
Luxury Goods were the sound to my Sunday morning. The alternative female-fronted pop band performed a stunning cover of Kate Bush's Running Up That Hill, as well as a number of tracks from their upcoming EP, including their latest single 'Again' about periods.
There was a time clash between The Coral on the Main Stage and Jason Manford on T'Other Stage, but the festival gods appeared to be on my side. I watched 15 minutes of The Coral, who gave me all the early 00s nostalgia before making our way across the field to watch Jason. However, it appeared that the stage was running slightly late and Jason was only just coming on – winner.
Raucous and chaotic, Sports Team took on the Main Stage and I'm almost certain those quick to bag a front row spot got spat or sweat on. The rambunctious young guitar band saw their debut album nominated for a Mercury Prize, with second offering Gulp on the way in September. These are another band to keep an eye on in the coming years.
Scouting For Girls saw the second biggest crowd at T'Other Stage as fans packed in the tent to shelter from the downspout. The band, who have been friends since they were five. Put on a feelgood set that had everyone singing Elvis Isn't Dead and Everybody Wants To Be On TV, then picturing Georgia from Angus, Thongs and Perfect Snogging running down the street dressed as an olive to She's So Lovely.
Reverend and The Makers bring the party vibes to Sheffield every single time. I first saw the band live at V-Fest in 2015, and have jumped at any opportunity to catch their set since, which is now four or five times. The band fronted by the larger-than-life Jon McClure, debuted two new tracks 'Heatwave' and 'Problems', before Jon hopped on a train to Zambia for a very special project. The Rev will be filming a documentary about how music connects us all, and I'm looking forward to seeing how it develops.
Another clash I was devastated about was The Wombats on the Main Stage at the same times as Kelis on T'Other Stage and Old Dirty Brasstards presenting Arctic Monkeys on the Library stage. However, with some speed walking and determination, we caught part of all three sets. The Wombats are a really lively bunch and brought their A-Game to Sarah Nulty's Main Stage, going on to bring human-sized wombats on stage following tracks like Techno Fan and Moving To New York. We made our way over to Kelis who had drawn a huge crowd and was having the time of her life in a fetching pink jumpsuit, before trekking back up the hill to the Library Stage where the brass band had pulled what was indefinitely the biggest crowd for the Library Stage. Who knew that I Bet You Look Good On The Dancefloor sounded so good on a trombone?
The Open Arms then played host to an ABBA Party, and we were able to enjoy covers of hits like Angeleyes and Knowing Me, Knowing You ahead of finding some food to fuel us through Madness.
I grew up listening to my dad's Madness records as a kid, and so it felt really special to be stood right in front of Suggs in my black and white check shirt dress – an outfit nodding to 2-tone – snapping away with my camera. Performing hits like House of Fun and It Must Be Love as the sun set over Sheffield felt like a really lovely way to end such a brilliant weekend – and I'm sure everyone there would agree.
Tramlines 2023 will take place from July 21-23 at Hillsborough Park, Sheffield. You can buy tickets here.