When we arrive at a festival, the first thing that Jake and I always do is scout out where we're going to eat. At Tramlines festival, there are more than 20 food vendors to choose from, and only three days in which to eat – so you have to choose carefully.
There's no re-entry at the festival, meaning once you're in, you're in – but there's plenty of choice for breakfast, lunch and dinner, with bars keeping you topped up and hydrated throughout the day too.
Not only is street food a huge part of the enjoyment of a festival – for me at least – it's also really important to fuel your body so that you can fully enjoy the whole weekend. After all, I did more steps in three days than I'd typically do in a week, so you really do need those calories.
Over the weekend, we indulged in pizza, burgers, mac n cheese, noodles and the most amazing Yorkshire pudding, because well, when in Yorkshire…
Here's everything we ate and rough prices to give you an idea of what to expect for Tramlines Festival 2023.
Pizza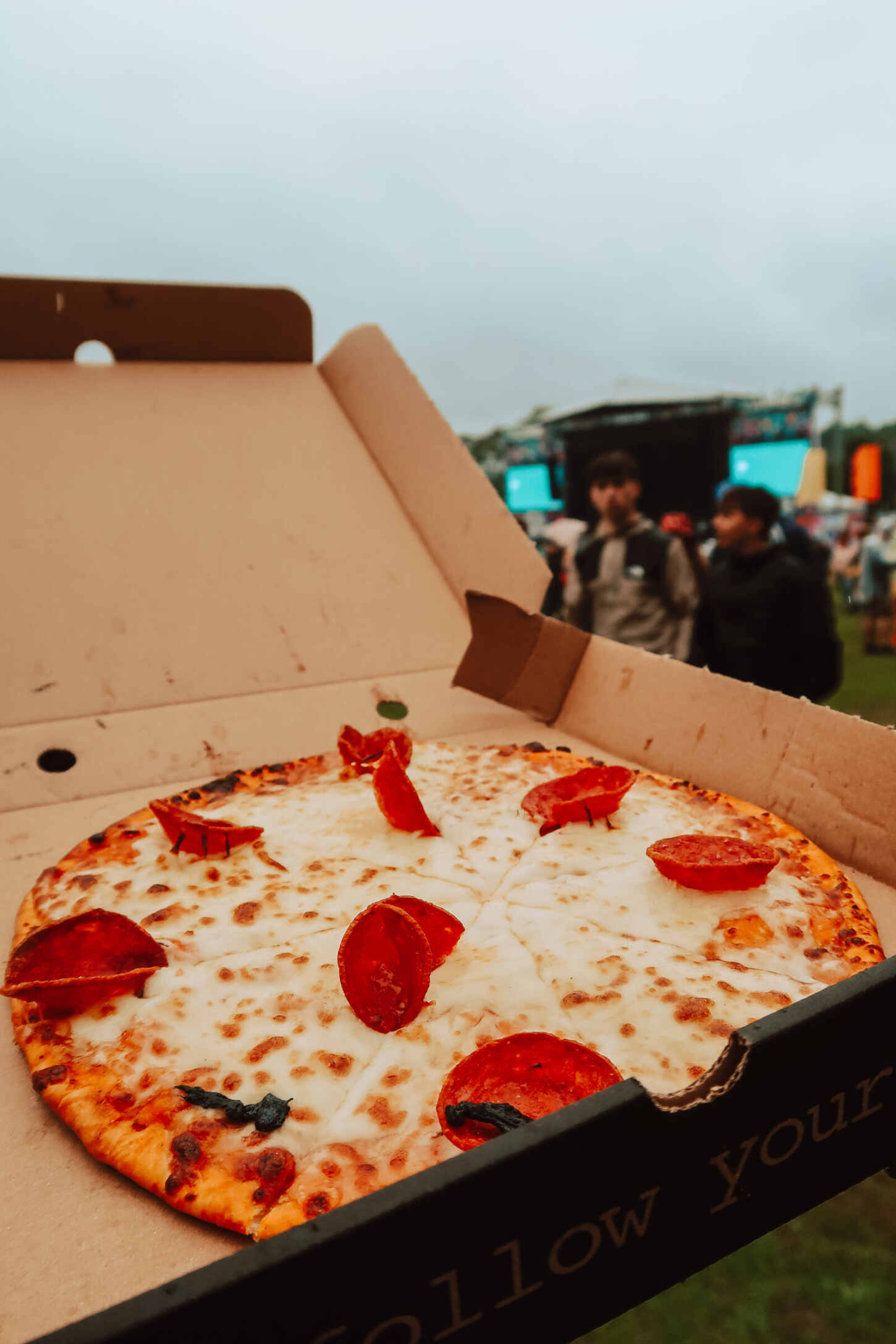 On Friday upon our arrival, Jake and I bagged a pepperoni pizza for around £14 and went halves. We've had some really nice woodfired pizzas from street food markets recently, and while this one wasn't my favourite meal of the weekend, it definitely got me ready for the weekend. Finger food is always best when it comes to eating at a festival because you're a bit more mobile with it, and pizza is a great sharer if there's more than one of you eating.
Mac n Cheese
My favourite comfort food is mac and cheese, and Big C Catering's van was like a beacon of cheesy carbs ahead of Sam Fender's headline slot. Options started at £9 for the classic mac, or £10 for bacon and jalapenos or garlic mushrooms mac. I went for a pot of pulled pork mac n cheese for a tenner, and the portion sizes were pretty generous. In terms of prices, you'll expect to pay around £7-15 for any given meal, so make sure you account around £100 for food and snacks alone, if you plan on having three meals a day.
Burgers
While I enjoyed my mac n cheese, Jake ordered a burger with cheese from one of the other stalls. Burgers are a very popular festival option and there's always ample stalls from which to grab one. This year in the VIP section there was an incredible looking stall selling Lotus burgers, exclusive to those who had paid extra for tickets. Jake and I still can't stop talking about one stall which dunked their burgers in nacho cheese, who were at the festival in 2018.
Pastries
On Saturday and Sunday morning, we queued early on the gates to be first in line for the little coffee and pastry trailer next to the mainstage. Mostly because they were the only place where you could get a Yorkshire Tea, but also, for their incredible vanilla pastries. This became my weekend ritual and I looked forward to my sugary breakfast treat each morning, and it was really cheap too – around £5 for a brew and pastry.
Bacon sandwich
While I went for a pastry in the morning, Jake definitely prefers a breakfast bap, and found a van serving up bacon sandwiches. He got a bacon and hash brown bap for around £8, which came served on some really nice luxury bread, and was a great way to set himself up for the day. They also had loaded hash browns on the menu, which I imagine would have been an amazing breakfast choice, too.
Slushies
The Slushy Hut was popular all weekend, despite the overcast weather, but provided fun and nostalgia from £4 a pop. Festival goers could refresh themselves with a regular slush for £4 each, medium for £5 or a refillable cup for £6. Naturally, I went for the fun refillable cup. The woman on the stall even recommended heading over to the bar and making the slushy – which came in around four or five different flavours – a little more fun with a shot of vodka or tequila.
Noodles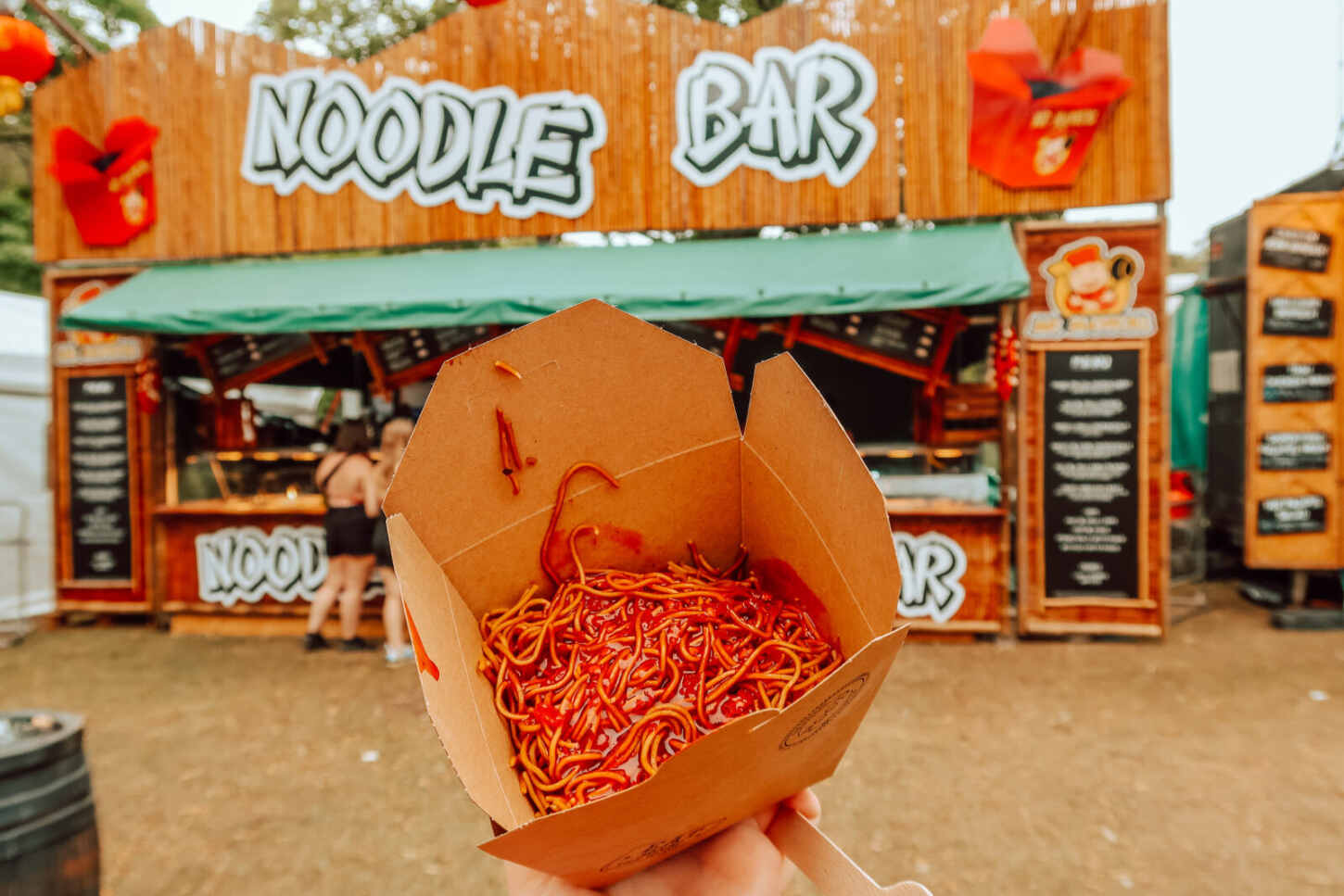 There were three Chinese-style bars serving up various noodles, and I picked up a box of noodles with sweet and sour sauce for just £7, though you could add chicken for an extra £5. Again, the portions were very filling and I couldn't even finish the box, but it was so nice to have such a variety, with Mexican food and vegan stalls also available around the site.
Loaded Fries
The Grub Shed's van had one of the longest food queues I'd seen at the festival, but it went down quite quickly as the team dished trays of loaded fries out of the kitchen in lightning speed. Jake ordered their cheese and bacon fries, which features nacho cheese and baconnaise, while I opted for butter chicken chips. Both cost around £12 each, but the sizes were perfect, the chips well seasoned with paprika, and the toppings were extremely tasty. My butter chicken particularly had a bit of a kick to it, but I just couldn't stop eating it and polished off the lot.
King Yorky
Hands down the best meal we had at Tramlines was from King Yorky, whose filled Yorkshire puddings really hit the spot. They used a Yorkie pud as a bowl, filling it with things like sausage, mash, pork crackling and gravy. Depending on what you order, you'd pay between £10 and £14 for these, but they're worth every single penny. They come served on a tray with a fork, so Jake and I did pull up a seat to thoroughly enjoy these. It was the most comforting, hearty meal and I'll probably be thinking about it all the way to Tramlines 2023.
Tramlines 2023 will take place from July 21-23 at Hillsborough Park, Sheffield. You can buy tickets here.