I'm forever buying cheap Sainsbury's flowers to fill my home with a bit of colour in spring and summer. If I'm not buying them for myself, I'm buying them for my nan.
Whilst supermarket flowers do the trick, they're just not as lovely as a bouquet from a florist.
Local florist Laura Ellement, from Blossom and Tied, has been running the florist from her garage studio for a year. Alongside floristry, she works a full-time job and manages to squeeze in time to play violin for local band TASKRZ.
Last year, I won a little giveaway to win a hand-tied bouquet from Laura and it was absolutely beautiful. When I saw that she was hosting a workshop I knew I had to be there to learn her trade secrets.
The workshop was held at The Bakehouse in Stafford, a cute little vintage tea rooms in the town centre. Laura calls her workshops a 'Flower Social', which I think is really sweet as it encourages people to have a little chat with others who share an interest in flowers.
The flowers we were working with included Sweet William, Statice, 5th Avenue Roses, Soft Ruscus, Lady's Mantel and white Carnations.
We began by conditioning the flowers, removing any unwanted leaves that could shorten the flowers lifespan. Laura taught us some nifty tricks on how to and how-not-to condition plants.
Ordinarily, I would arrange flowers by adding stem by stem next to each other, but it turns out we've all been doing it wrong. Spiralling is actually the best technique to use to create a bouquet. Adding stems at an angle in order to get a spiral essentially gives your bouquet an hourglass figure.
I decided to add a little extra foliage to my bouquet with some Hard Ruscus, because I love my bouquets to be slightly more wild looking. Laura shared out some dried oats to add to our bouquets. Most florists wouldn't be too happy about using fresh and dried stems together, but Laura says forget the rules. Floristry is creative and artistic, and Laura is a firm believer of letting that art be subjective and free of limitations.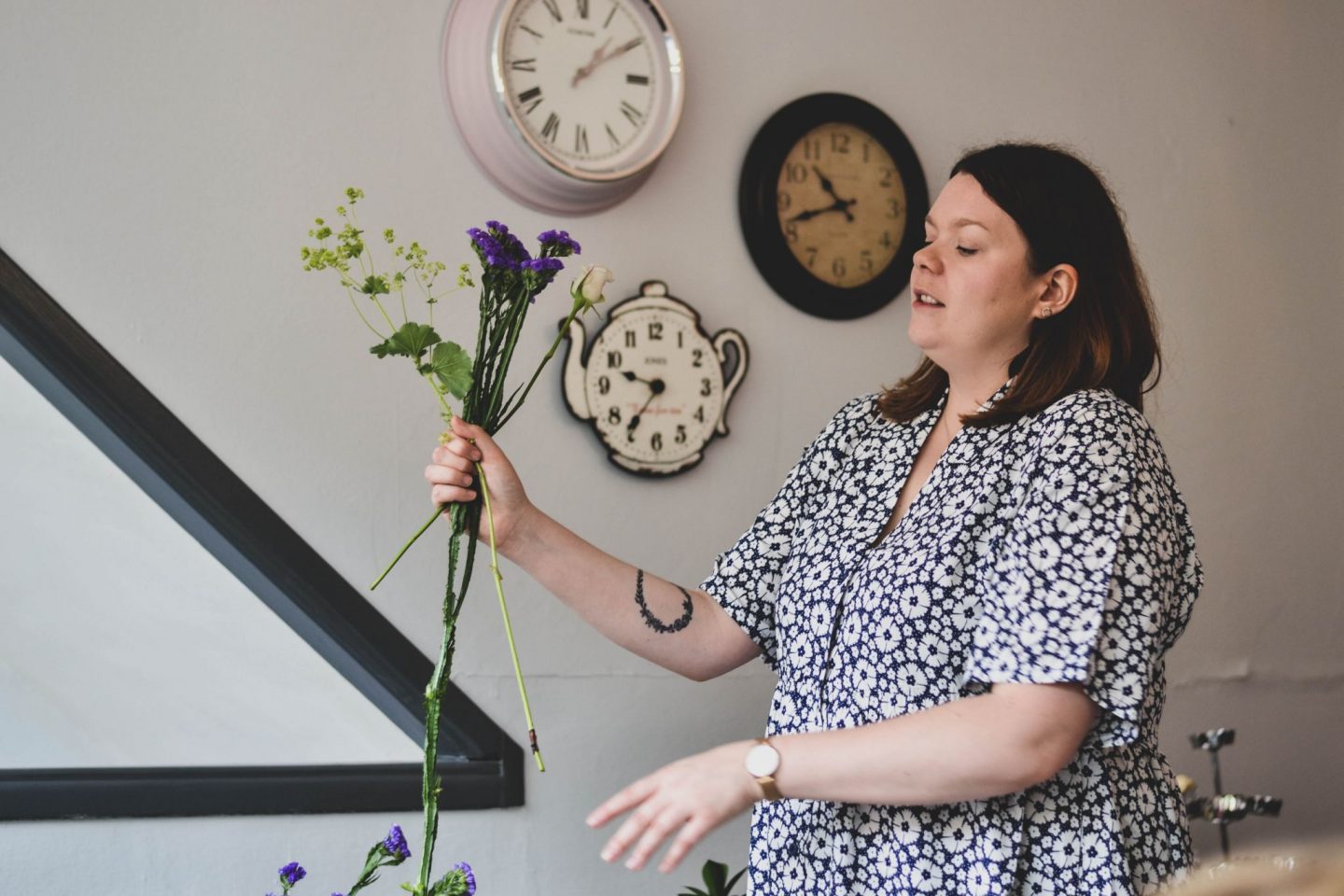 When I was happy with my bouquet, we hand-tied them, wrapped them in brown paper and aqua-packed them in cellophane.
The Blossom and Tied Flower Social was such a fun experience, as well as being super relaxing and therapeutic. Laura's tips mean I can now go out and buy some cheap flowers, but arrange and tie them myself to create a cute personalised gift.
Check out her Facebook page to see when there will be more workshops, and I'd definitely recommend getting booked on!