I've been planning Jake's birthday since April. Anyone that knows me knows it's impossible to keep a surprise a secret because I get too excited. It all bubbles up inside me like a bottle of pop and I will explode. I had had The Wilmslow Lodge recommended to me, and after browsing the gallery on their site, I booked up straight away.
I booked us a Superior Super King Room, the largest rooms in the hotel, for £99 for a Friday night.
One thing that sold me on the Lodge, was that this price included a two course meal and breakfast in the morning at The Coach and Four.
Three months I'd kept my lips sealed, and I told Jake about it on his birthday via a PowerPoint (I'm that sad).
We took the beautiful drive from Biddulph to Wilmslow, with the sun beating down and our favourite music blaring through the speakers. Wilmslow is situated in Cheshire, so it was a lovely countryside drive. It's not too far from Manchester, but a welcomed change of scenery from our usual getaways. A short walk from the high street meant that we could have easily walked anywhere else for a drink or two.
When we arrived, we saw that the bar was rammed full of wedding guests and football fans, so it was evidently a popular venue. We headed up to our room which overlooked The Coach and Four where Jake instantly collapsed on the bed. I love hotel beds. As soon as you lay on the bed, your entire body just sunk into the mattress. Don't even get me started on hotel pillows – I had contemplated trying to sneak one into my bag.
I got myself glammed up using some of the products Soap and Glory kindly sent me. This makeup bag was the perfect size to fit in everything I needed for my night over and it was so nice to have a big desk space to sprawl out all my things. My dress is from the Topshop, and was one of the pieces I tried on in my Personal Shopping session. It's now in the sale for just £25, so bag it here. I'd totes wear this for graduation if I was graduating this year.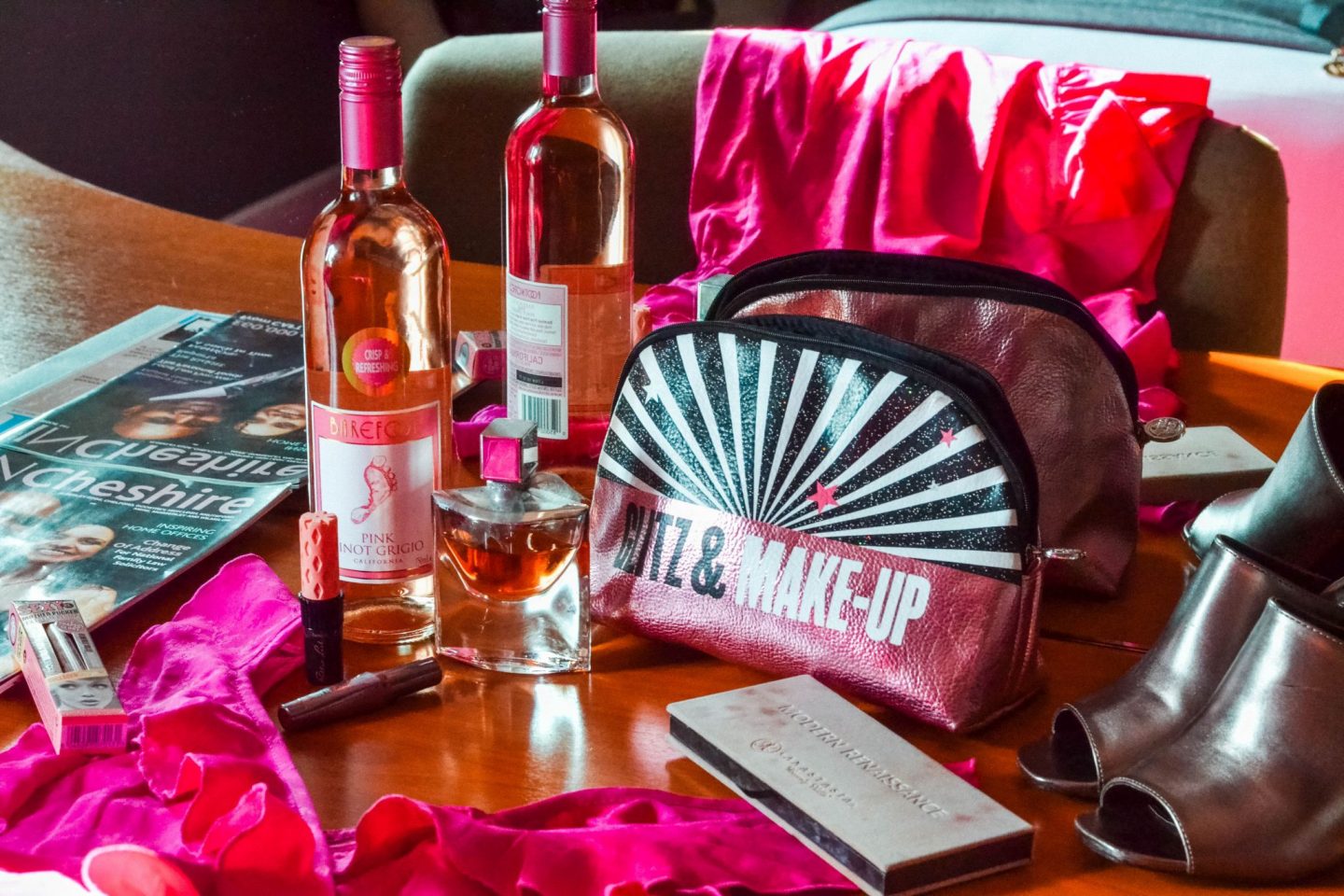 I had reserved Jake and I a table for 7pm, so we headed down to reception and across to the restaurant. The Coach and Four is an 18th century coach house, a beautiful building with tonnes of nooks and crannies (with the footie on the big screen).
We were led through the bar and into a brighter room, with patio doors letting the summer breeze in. Jake and I worked tactically on the menu. Jake ordered a starter, we both ordered mains, and I ordered a pud. This meant that we could share out starter and deserts – winner.
I ordered a glass of rose and Jake got a Guinness. Soon after our plate of hot nachos drowned in cheese and dip arrived. Nicest nacho's I've ever had. Jake ordered the Hand-Pressed Beef Burger and I had the Hydes Beef and Ale Pie. Jake's burger arrived and I got food envy for approximately 0.2 seconds until my pie hit the table. I cut it open and gravy oozed out beside pulled beef. Now, I don't usually like 'chunky chips' because they're difficult to get right and are usually underdone. These were absolutely perfect though – fluffy on the inside and crispy on the outside.
Jake was defeated by the time our White Chocolate and Raspberry Cheesecake came out- that didn't stop me practically inhaling it, though. I have to say it was one of the loveliest meals I've had. The waiting staff were so polite even saying "sorry to disturb you" when asking about our meals. They also didn't wait until you had a mouthful of food when asking.
We had planned to go out for drinks, but the pair of us were in a food coma, so we retreated back to the room. The room had free WiFi and air conditioning, which I couldn't have been more grateful for in this sweltering heat. Jake and I made ourselves a cup of tea (British af – complain about the heat but there's always time for tea), and sunk into bed to watch some TV.
In the morning, we headed down for breakfast and I actually felt like I was on an all-inclusive holiday in Gran Canaria or something. We were able to help ourselves to cereal, toast, tea, coffee and juices all available around the room. We were then asked what we would like to order from the breakfast menu, which we were slightly surprised about. I was pretty happy with cereal and toast! Jake ordered a bacon and sausage sandwich and I went for the fry up. I wasn't as impressed with breakfast as I was with dinner, bu it filled the hangry hole.
All in all it was a really cosy stay with gorgeous food. When I worked it out, the food alone would have ordinarily cost £55, making the room just £45! This seems an absolute bargain considering the size of the room and location of the hotel. I'd certainly stay there again, that's for sure.