Wandering around the illuminated streets of Manhattan, through the greens of central park and up and down the city from landmark to coffee shop to landmark and so on is pretty hungry work, let me tell you.
Jake and I walked a grand total of 102,287 steps each whilst in the city for just 96 hours. I was doing more steps per hour than I get Instagram likes in a month.
I was so excited to sample some of the famous American food that New York has to offer. But be warned, New York cusine is not for the faint hearted – if it's not full of sugar of swimming in maple syrup, it's a heart attack on a plate with more salt than your local chippy puts on your Friday Night Special.
I've put together this little guide that includes some of the places Jake and I ate in New York. Over the four days I spent less than $150 on food, which included tips. So long as you know where to go and gauge prices online first, you'll never be too shocked when they bring you the bill. If you're on a bit of a budget, you'll love this list.
Ready for my top 12 places to eat or drink in NYC?
Breakfast
Andrew's Coffee Shop
7th Avenue, 35th Street, near to Macy's, Madison Square Garden's and Penn Station.
Andrew's Coffee Shop was originally just a coffee shop and bakery back in the 60's, before becoming a full-service diner with a cosy, homely vibe. There were a lot of locals dining when we went to breakfast, which is always a great sign that the place is good.
I ordered a Belgian waffle with butter and syrup – because in America, you do as the American's do and start the day with dessert, right? My waffle was $7.50 and my English breakfast tea was $3.00. The service was super quick and the lady who served us couldn't have been more helpful.
Junior's Restaurant and Bakery
There are a couple of Junior's dotted along Broadway (7th Ave) and Jake and I went to the slightly smaller venue on 45th Street.
Junior's is a 50's diner renowned for its world famous cheesecakes. Their website says 'Hail a taxicab anywhere in New York City and tell the driver, "Take me to the best cheesecake in New York." Odds are you will end up at the corner of Flatbush and DeKalb Avenues in Brooklyn, at Junior's.'
It's true.
Jake and I headed for breakfast there and ordered our eggs, over easy, with home fried tater tots and toast. Their egg breakfasts range from $10.95 to $15.25, so a little pricier than your average breakfast, but worth it for the 50's vibes, service and iconic American décor.
Top tip: tater tots and maple syrup are a combination to die for. Jake thought I was disgusting. I thought I was a genius (and I stand by it.)
Before leaving I picked up a slice of Red Velvet Cheesecake from the bakery and oh my god, they weren't lying. It really is the best cheesecake I've ever tasted – like that episode of F.R.I.E.N.D.S with Rachel and Chandler.
Best Bagel and Coffee
7th Avenue, 35th Street, just a block away from Andrew's Coffee Shop, and conveniently, our hotel.
Best Bagel and Coffee was rammed full of New Yorkers grabbing a bagel on Saturday morning. It's clearly a very popular spot. Their bagels are hand-rolled and baked fresh on-premises every day. They taste of love.
I can't remember exactly how much this breakfast cost me, which means it was probably a rather insignificant amount around the $5 mark, potentially $7 with my carton of Tropicana! Jake's bacon, egg and cheese bagel cost him $5.50, so that gives you a rough idea of what you'll pay. This place is definitely a grab-and-go kinda place, so perfect if you're in a rush or just want to save time by eating and walking to soak up as much of the city as possible.
Grab a coffee
They say you're never more than 6 feet away from a coffee shop in New York. (No-one ever said that, I made it up, but it's probably true). You'll find yourself slinking into coffee shops and ordering a drink just so that you can give your legs a rest and perk yourself up, taking full advantage of the free wifi and an empty plug socket.
Dunkin' Donuts
There are over 600 Dunkin' Donuts in New York City. That's a staggering amount of donuts. Maybe I should have done a pub-crawl style donut-crawl… there's always next time.
My cup of tea and special Valentine's Day donut cost around $3.50, so this is a cheap pit stop from a trusted brand.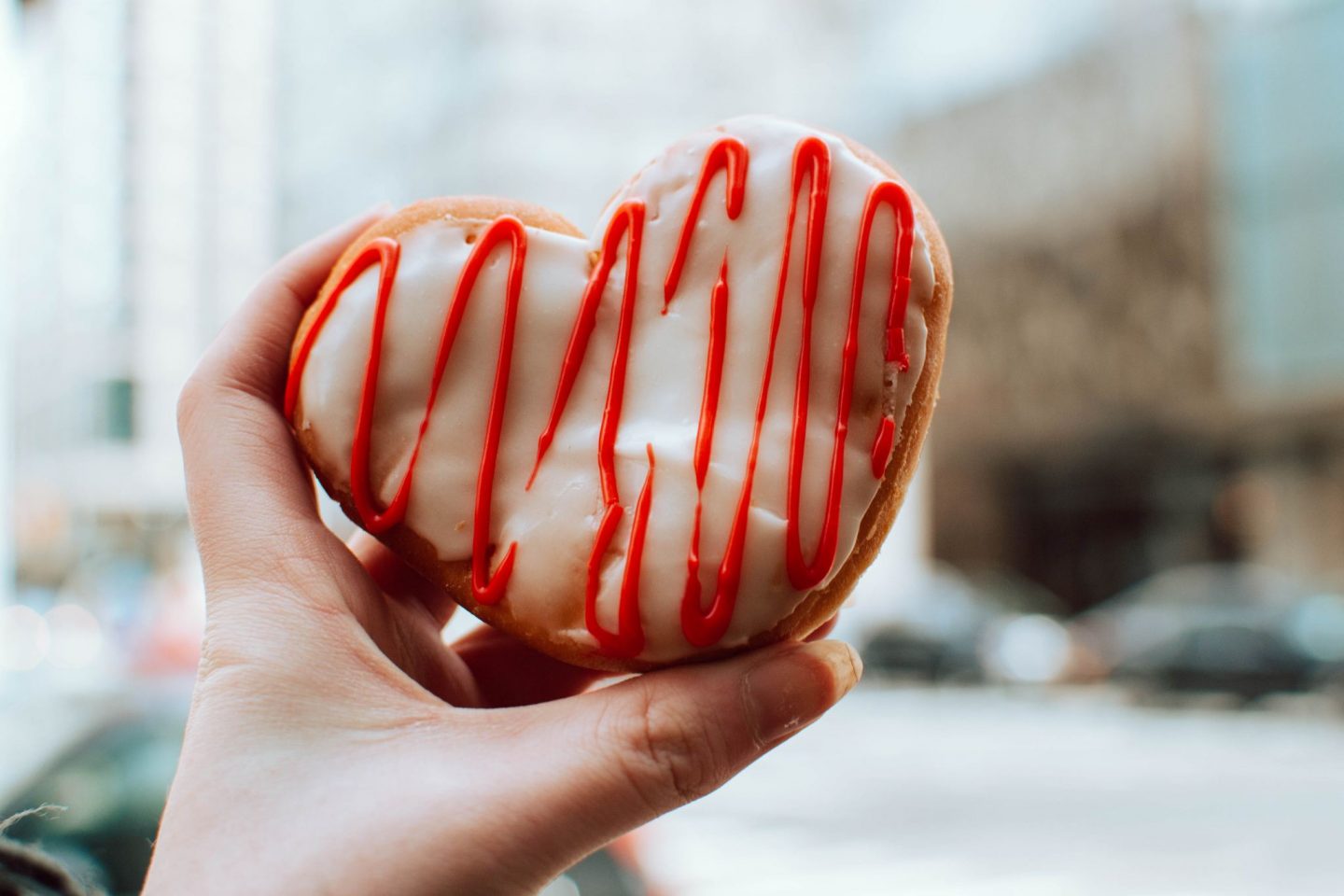 Joe and The Juice
I fell so in love with this place the second I walked in. Not just because of the welcoming staff, the chic hipster vibes or the plethora of houseplants dotted about the room, but because their branding is banging. I think I text about four people pictures of my tea and the J&TJ logo in a giddy excitement that only graphic designers and business owners will understand.
Whilst researching more info about the juice bar, I discovered that there are actually a few up and down the UK. There was just something so refreshing about stepping out of the rain on Wall Street, dodging a sea of umbrellas, into this gorgeous coffee house. I think I paid around $4 for my tea here, so a little pricier, but worth it for 'gram worthy pictures.
PlantShed
So this one is actually a florist… first and foremost, at least. I popped into their branch on Prince Street, a short walk from Chinatown as you're heading back north. The little cactus and succulent pots in the window drew me in for me to discover it also served coffee and had a few bits and bobs of stationery in there. I bought a pack of pink pencils that say Holy Shit Balls on them.
We didn't actually stop for coffee here as we were in a bit of a rush, but it's a gorgeous find and there's a big open window where you can watch the world go buy surrounded by plants and the smell of freshly brewed coffee.
Sabrett Hot Dog Carts
You'll find these on the corners of most blocks and to be honest, I tend to avoid street carts as a general rule. Every time I walked past, though, the smell of warm pretzels made me drool, so I gave in and got one for about $4.50. These huge knots of doughy joy are so yummy and the perfect on-the-go snack because there is no mess. They're really salty though, so make sure you grab a bottle of water or a coffee to wash it down.
Bigger Bites
Hooters
Contrary to popular belief, Hooters is not as wild as you think. There are no girls dancing on tables and sleazy middle-aged men giving them a pat on the ass. I mean, said sleazy middle-aged men do tend it sit alone at the bar drinking shots on their own and do a bit of drooling, but overall, Hooter's is incredibly tame in comparison to a 18-year-old lads imagination of it.
The bar was directly next to our hotel, Hotel Pennsylvania, and also across from Madison Square Gardens.
The popular chain is generally known for the three B's: beers, burgers and well – the obvious.
The Hooter's girls are so friendly and make you feel like you've known them for years. Erika, our server grabbed us some refillable soda's (I loved using that word in the States) and took our order of bleu cheese burgers. I love how Hooters ask how you would like your burger cooking, because in the UK, do they even give you a choice? Charcoaled is the British Chef's way, but Hooters let us choose medium. It comes with crumbled bleu cheese, bleu cheese dressing and applewood smoked bacon and comes in at $14.99.
I can honestly say that this was the best meal I had in New York – their food was cooked to perfection and tasted incredible. I couldn't finish it no matter how desperately I wanted to. The entire bill was around $50, working out at around £20 each, which is more than what we spent in other places, but my no means expensive, either.
Bill's Bar and Burgers
Bill's is just round the corner from the Rockefeller Centre, making it the perfect place to eat after watching the sun set over Manhattan at the Top of the Rock.
The colourful, partially underground bar is a dangerously cool location and offers great food and service. Jake and I only ordered some cheesy fries since it was lunch time when we popped in. The burgers that we saw being brought out looked insane, though.
You can expect to pay between $13-$17 dollars on a burger, but they do come well loaded with classic American flavours like pulled pork, BBQ bacon and a fried egg (Big Cat Burger).
Inatteso Café Casano
We found this café on a bit of a whim, and were so thrilled with our little find. After just getting off the subway near the ferry terminals and were collared by a very pushy salesman. We made the excuse that we wanted to grab a coffee first, but we would come back (we absolutely would not come back).
Their site's homepage says 'A deliciously unexpected treat in Battery Park City', which couldn't be more accurate.
I ordered the French Toast with maple syrup and fresh berries, whilst Jake grabbed a toasted BLT. My toast was $7 and Jake's Panini was $9, but there were also cheaper options on the menu too. You would probably pay around $10 for an 'elevensies' or brunch here, with a coffee.
Can we just take a second to talk about how bizarre American French Toast is? It's a bizarrely tasty product somewhere between fried bread and a light fluffy cupcake?
McDonalds
You can't go to America and not check out their supersize, super salty, super tasty menu. There are so many items on there exclusive to the states that absolutely need bringing to the UK. Namely: Cheesy Bacon Fries and Dr Pepper on tap.
Uh-may-zing.
McDonalds, bring your USA menu to the UK pls (but lay off the salt… just a little).
Sbarro Pizza
Last but not least, Sbarro Pizza specialising in XL slices. Jake and I ordered a slice each one evening, and I couldn't even finish my four cheese slice – it was literally as big as my head. No really, check out my Instagram Story Highlight and see for yourself!
New York is renowned for $1 pizza slices, so grab a slice from one of the many pizzerias around the city whilst you snack and sightsee!