Whether you're loved up or still single, Valentine's Day is the perfect excuse to glam up, get out and drink copious amounts of alcohol. Whether you're doing the traditional date night or going for Galentine's Gin-a-thon, you might as well do it well-dressed.
I've put together my four favourite Valentine's Date Night outfits for a Valentine's Lookbook. Each outfit is completely different, so hopefully there will be a look you love and can style in your own way.
Valentine's Lookbook #1: Pink Power Suit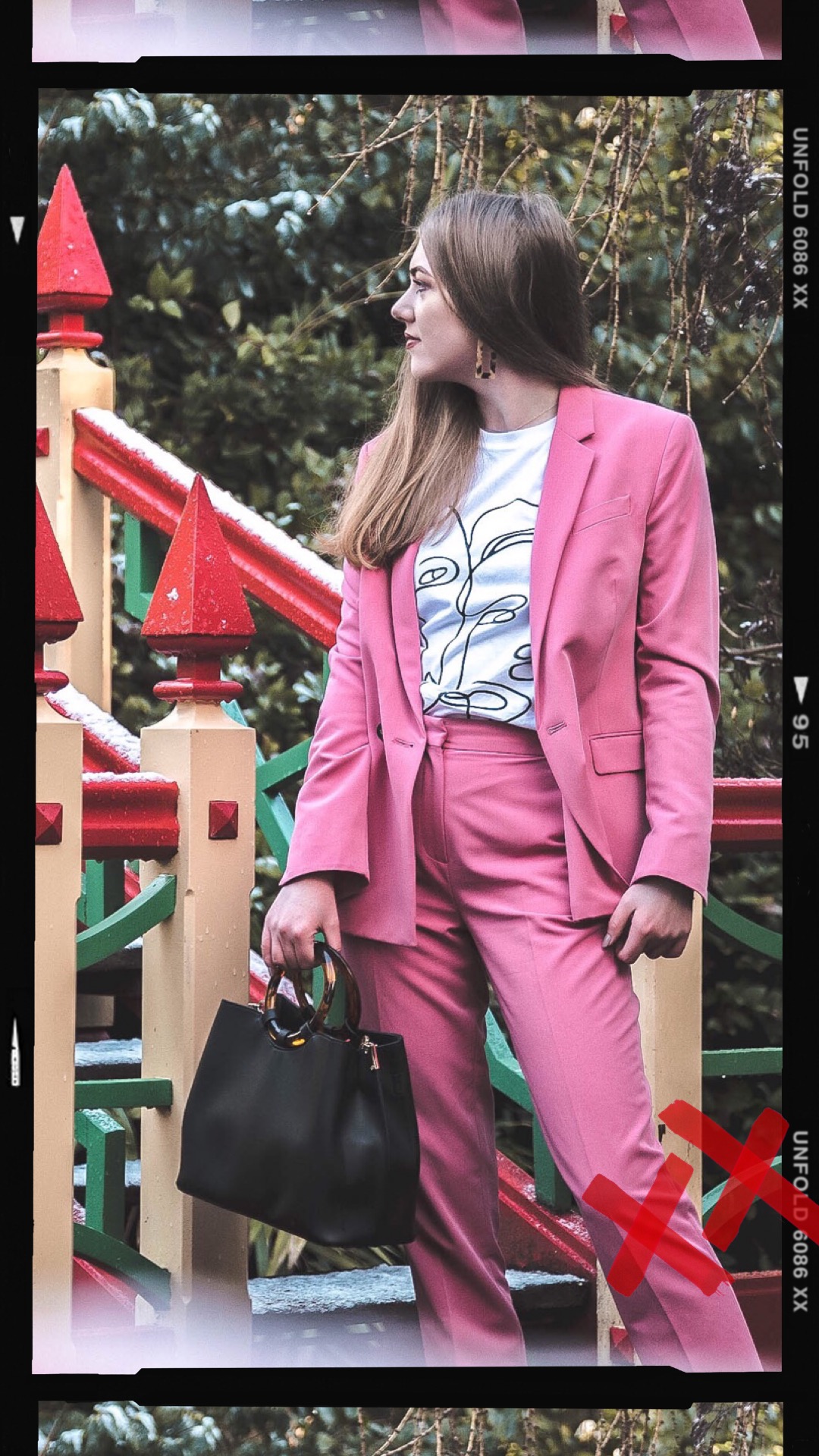 I'm a strong believer in that every woman should own a power suit. I had planned on buying one in time for my graduation, but when I went personal shopping with Topshop, I couldn't help but fall in love with this dreamy co-ord.
When I went in a couple of weeks later to buy it, I found it had gone on sale! I couldn't believe my luck. There were three pairs of trousers left hung onto size 6, 12 and 14 hangers. Of course it would be my luck that there weren't any left in my size, but I double checked the inside labels in a desperate bid to bag the power suit of dreams. Turns out the pair I thought were a size 12 were actually a size 8 and reduced to a tenner! I managed to get the suit and blazer for £27 in total, which included 10% student discount.
The abstract face top is one that has been seen in so many high street and online retailers such as ASOS, Boohoo and NastyGal. My mum, who now knows how and where to spot a bargain thanks to her thrifty daughter, snapped this tee up in a NastyGal 50% off sale. She managed to get it for £7.50 instead of £15!
To accessorize, I went with a leopard motif flat mule, which I think were £3 if my memory serves me correctly. I really like to pair leopard print with tortoise shell, so my £1 Primark earrings and Dorothy Perkins handbag are a go-to.
---
Top – Nasty Gal
Blazer – Topshop
Trousers – Topshop
Bag – Dorothy Perkins
Shoes – Primark
Earrings – Primark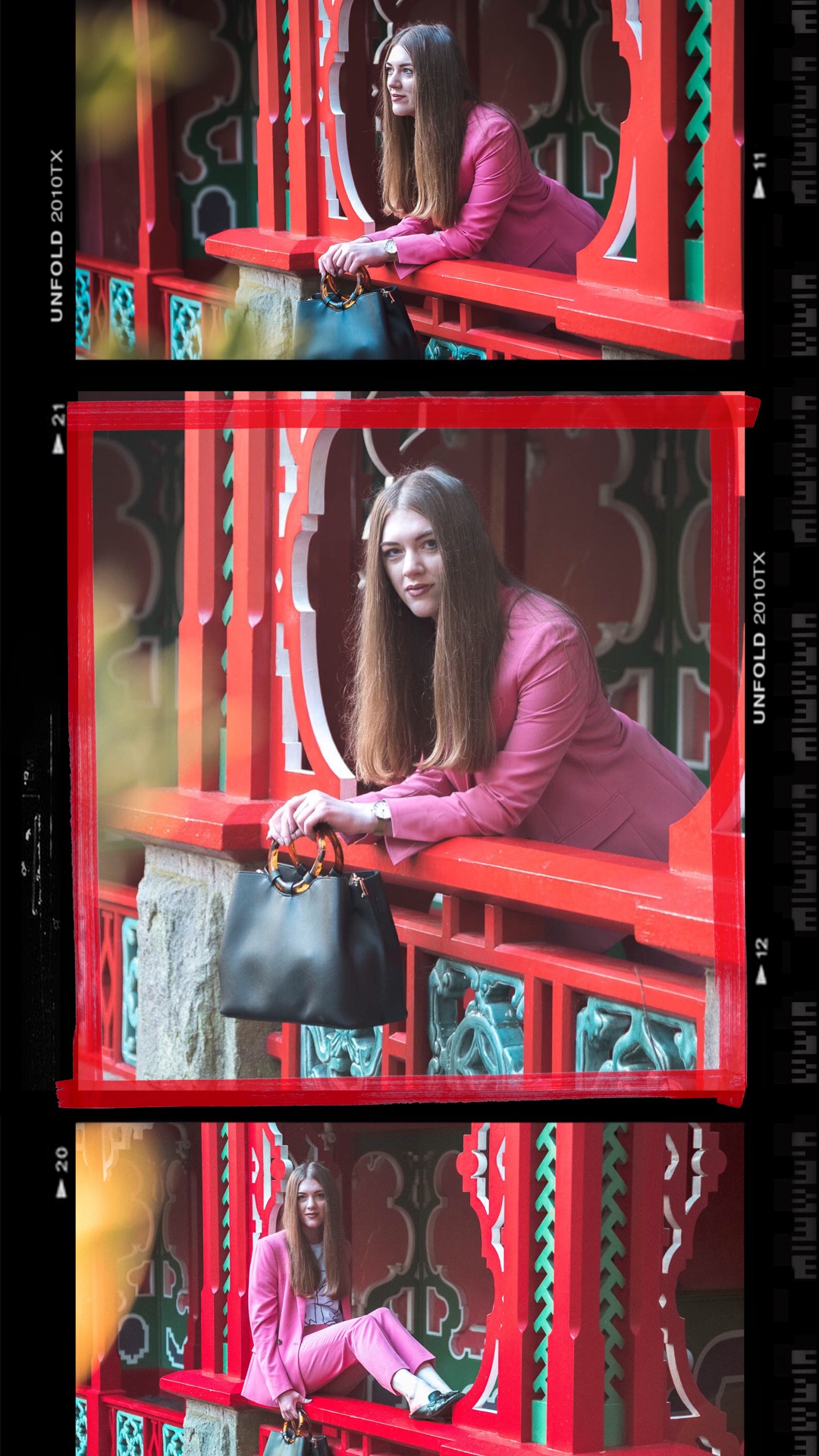 ---
Valentine's Lookbook #2: Make Me Blush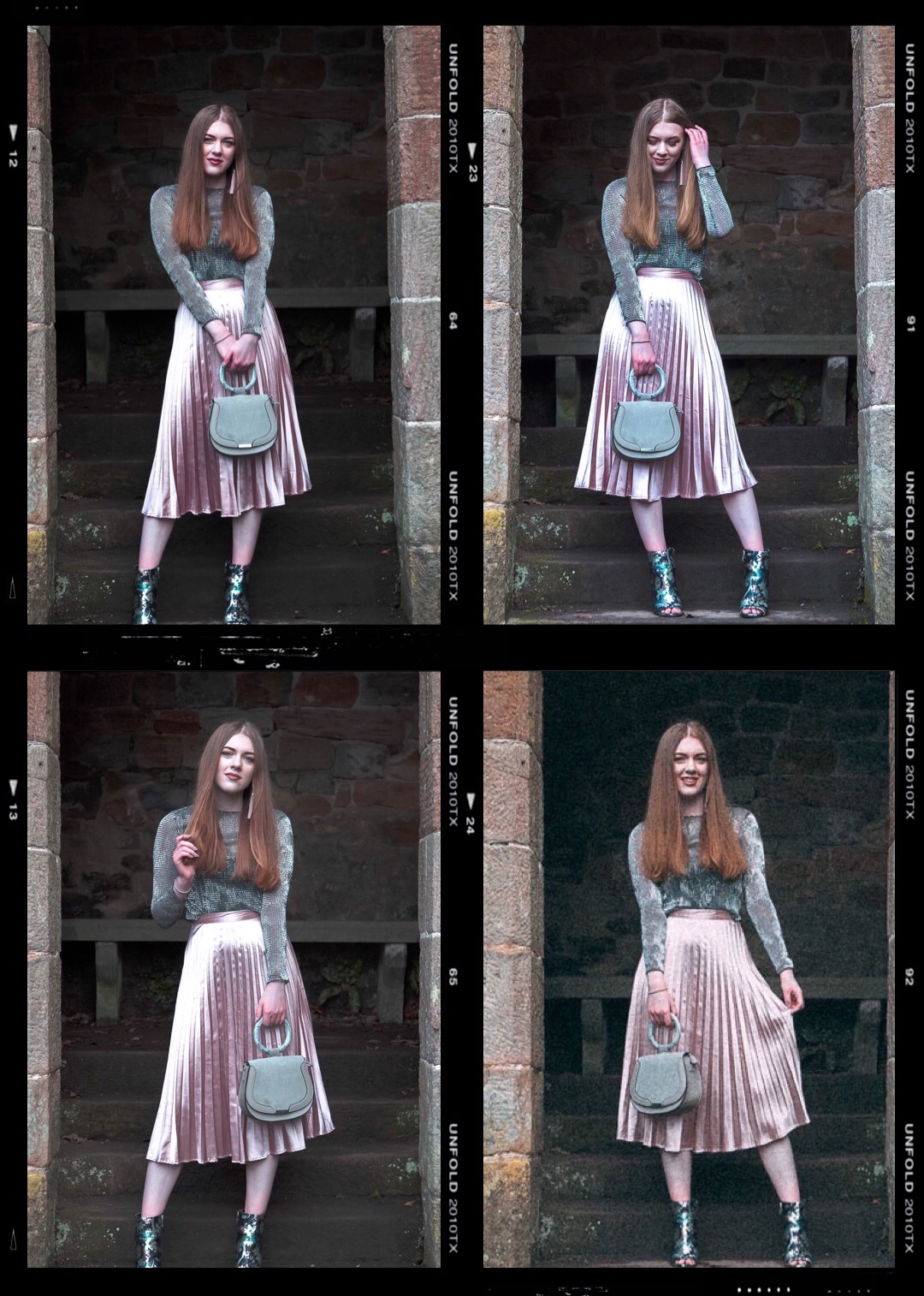 I bought this swishy metallic satin midi skirt around two years ago, but this winter they have come back into fashion with more patterns and styles than ever. They're super elegant and can be dressed down with a tee and trainers, or dressed up like my outfit choice.
I decided to go OTT with the shimmers and metallics, opting for a silver glitter chainmail tee and metallic floral booties. If this outfit was a makeup look, it would be one with highlighter you could see from space.
This bag from Primark is just £8 and comes in three different colours for all your outfits. The grey has a marble handle which looks fab with anything snake print. It also comes in brown or black, each with a tortoise shell handle.
---
Bodysuit – Topshop
Top – Topshop
Skirt – Missguided
Shoes – Schuh
Bag – Primark
Earrings – Emporium
---
Valentine's Lookbook #3: Flirty in Fuchsia
What I love about a midi dress is that you can bare all in summer or wrap up in winter. I bought this dress in July and wore it on its own with a dainty sandal heel. In winter, you can cosy up with a roll neck and even some tights.
This is a very statement dress, so keeping all other elements of the outfit simple is a must, which is why I've gone for mostly black with a touch of gold in the bag, belt and necklace.
Despite being quite a long midi, the wrap design allows you to show off a little bit of leg, making it perfect for Valentine's.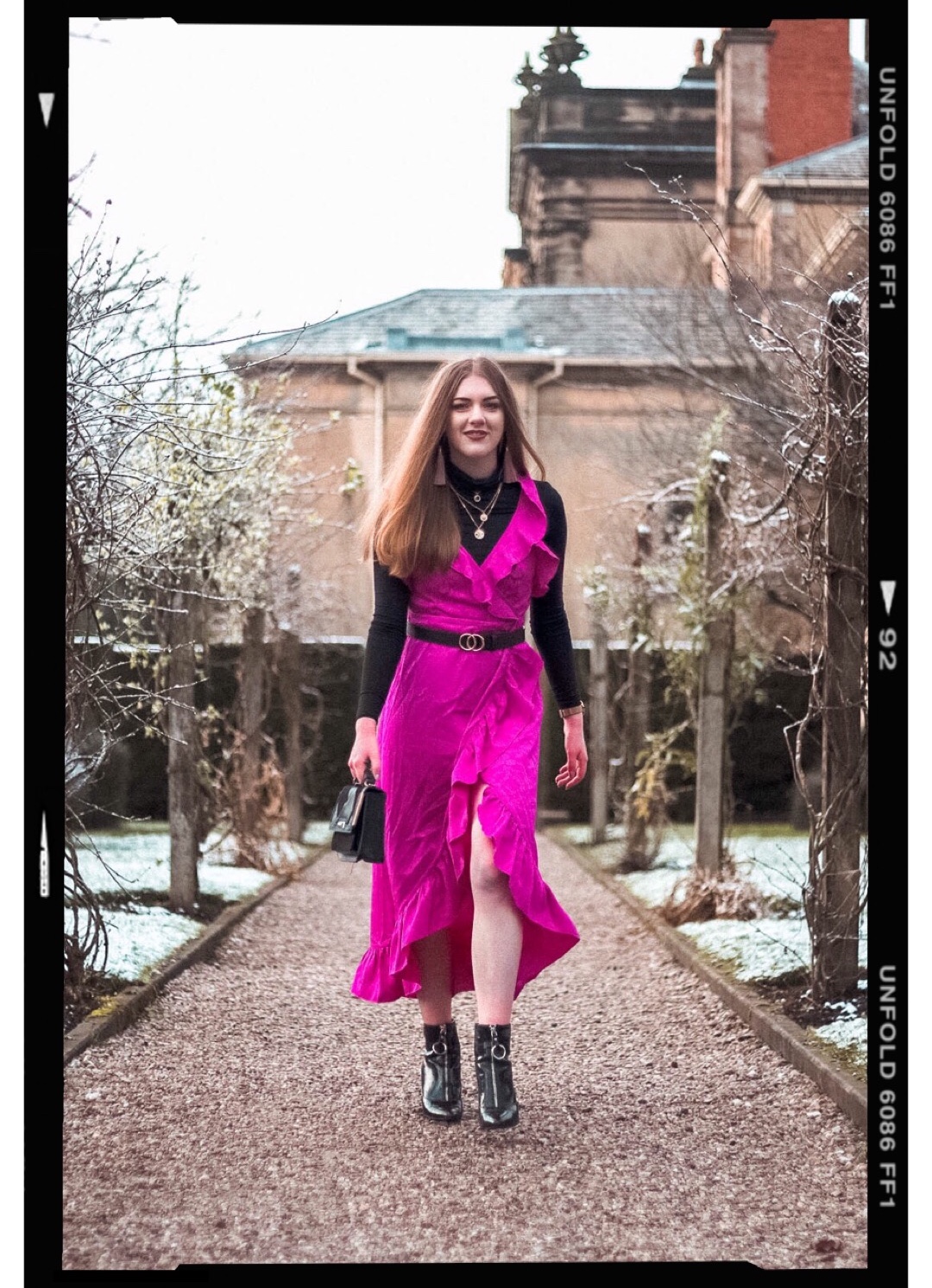 ---
Top – New Look
Dress – Topshop
Belt – New Look
Bag – River Island
Shoes – Miss Selfridge
Earrings – Emporium
Necklace – New Look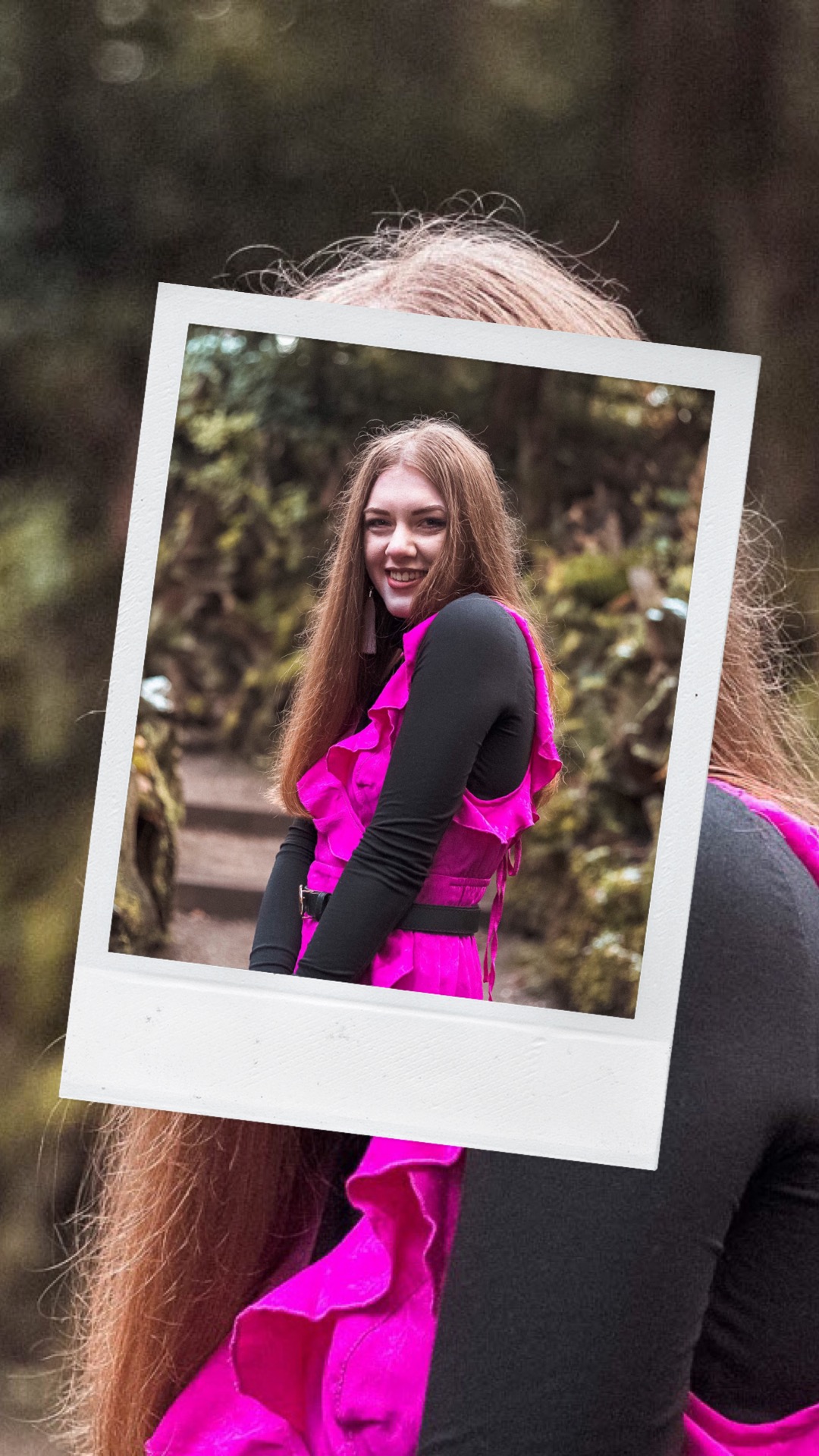 ---
Valentine's Lookbook #4: Kiss Me Quick
This is the only look that isn't pink! This lip print shirt from none other than Sainsbury's gives me all the V-Day vibes. It looks great with jeans, culottes, skirts – you can literally style it with anything. I decided to go for these figure-hugging flares that are super flattering, as well as being super cosy.
Whenever I style this blouse, it's always teamed up with my red ankle boots and red tassel earrings. I would feel lost without them.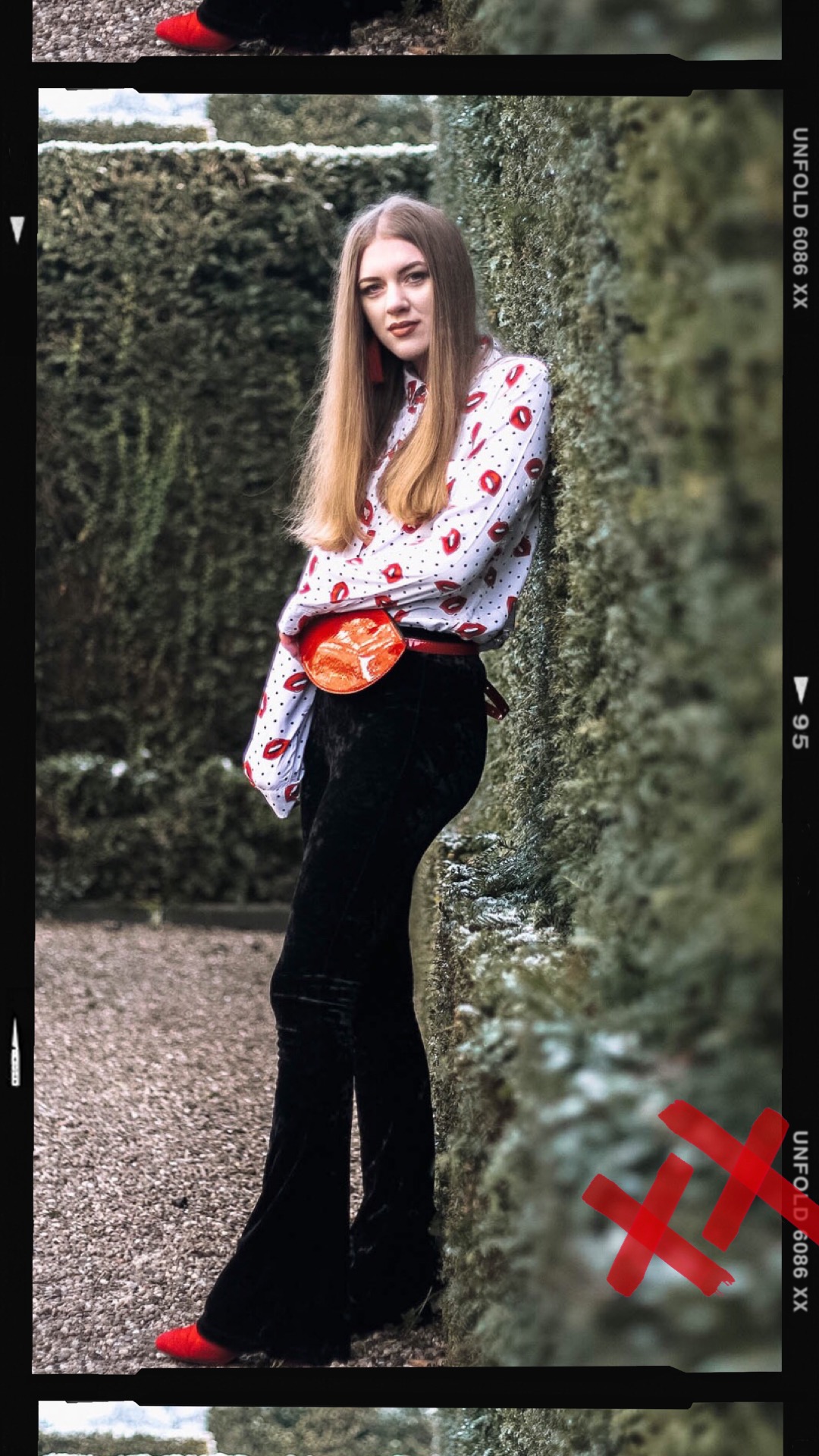 I did pick up a new accessory for this look, though. It's one I knew would be perfect for this outfit! It's the Kylie and Kendall lip belt bag which I picked up in the Boots Christmas Sale. The bag has recently been reduced to 70% off, so you can bag it for just £3.00 in-store! It's the perfect size for keeping your phone and lippy.
---
Top – Sainsbury's
Trousers – Topshop
Bag – Kylie & Kendall @ Boots
Shoes – Primark
Earrings – Emporium
All images shot by Luke Medlock
---