As I lingered outside Hanley's Airspace Gallery, I realised that, considering the amount of times I walk past the beautifully picturesque building each week, I've never stepped foot inside it.
Airspace regularly holds exhibitions, but on Friday 24 May, they held a slightly different kind of event.
I was greeted with fizz and a cupcake as bloggers, journalists and beauticians filtered into the open, airy room, dotted with houseplants. We mingled, taking the time to check out one another's Instagram accounts before taking a seat at one of the spotlit mirrors on the long table.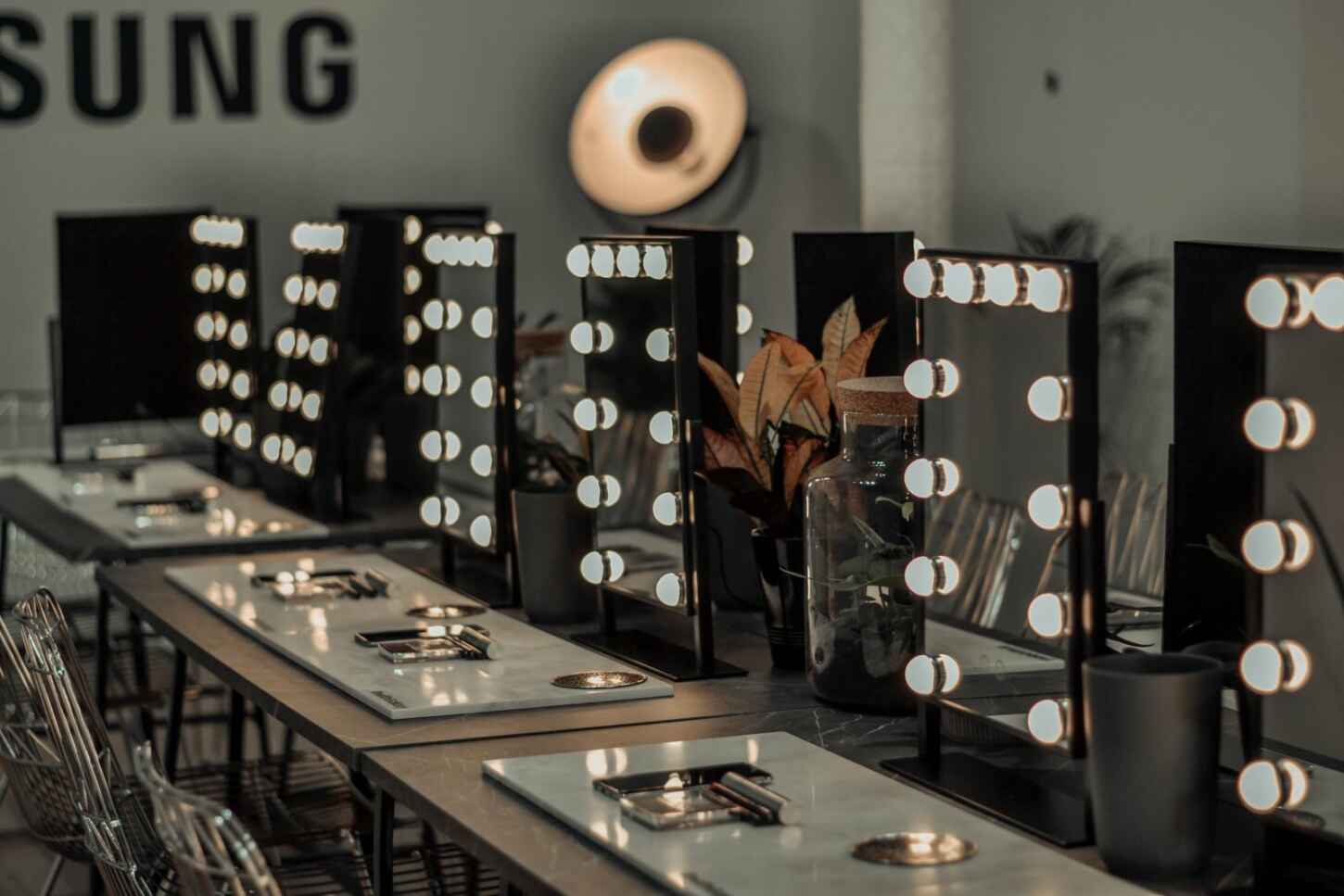 In front of us were five equally exciting products, four high-end makeup products and a Samsung Galaxy S10. Sammi Jefcoate was welcomed into the room, as gorgeous and dangerously cool as she is on the 'gram. She invited us all to open up the S10's and start snapping away whilst revealing her top tips.
I've always been an iPhone user, ever since my Blackberry died a horrible death in 2012. I'm comfortable with the size, familiar with the software and enjoy the ease of use. In other words, I'm afraid to commit to an android, but there is no denying that the camera, display and performances far out-shines my iPhone SE.
Sammi went on to show us her four favourite beauty products, and how she likes to apply them, before letting us try it out ourselves and take them home!
Dior Backstage Glow Palette
The first product Sammi showed us was the Dior Backstage Glow Palette, which retails at £36. It features an icy white, a champagne, a peach and a bronzed shade. Each of these look equally gorgeous and shimmery, but the champagne shade took my preference. Seeing as summer is creeping in slowly, I'm moving towards warmer tones.
Sammi likes to apply her highlighter just above the apples of her cheeks, rather than high up on the cheekbone like a MUA would suggest. Now in her 30's (not that she looks it), she finds it a more flattering look for her age and her skin. I have always applied my highlighter quite high up, but have since enjoyed the change. I like to use a sweep of the pink shade as a blush, and the champagne as my highlight on my cheekbones, brow bone, inner eye corners and cupids bow.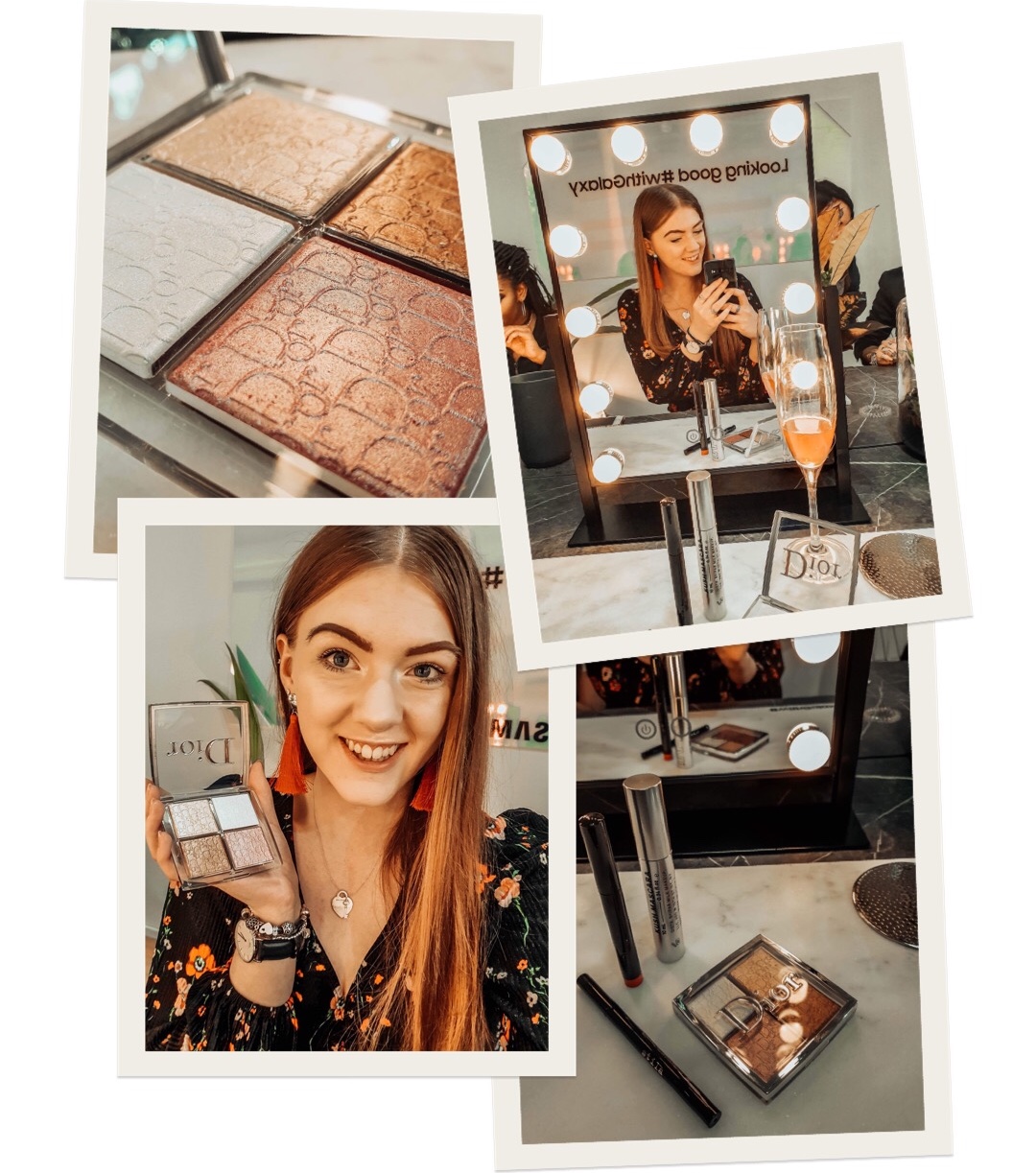 Stila All Day Waterproof Liquid Eyeliner
Stila is a brand I have been dying to try after I saw a tonne of bloggers using their shimmery liquid eye shadows. Sammi swears by this eyeliner thanks to its perfect nib that doesn't feather, making for a sharp line every time. She demonstrated how she creates the perfect wing, starting with the top line, then joining the triangle before filling it in. To prevent her eyes from looking small, Sammi only lines her eyes to just past the centre, and not right to the inner corner.
I wore eyeliner a lot through high school, falling out of love with it after I just couldn't find the right shape for my eyes. Thanks to this Stila beauty and Sammi's tips, I have dared to wear it again, experimenting with different shapes. The liner is so smooth and the formula dries quickly to prevent smudging, which makes it great to practice with. It claims to last all day, and when road testing the product, it survived bowling, standing next to a very hot carvery, a fringe festival and an emotional episode of Chernobyl – totally worth the £16 price tag.
Milk KUSH High Volume Mascara
Out of the four makeup products, this was probably my least favourite, but I don't hate it. I am mega fussy about my mascara wands, and tend to opt for the plastic comb-like ones, with short bristles for length. This Milk mascara is thicker and more brush like for volume but I do like the effect it gives.
Sammi suggests starting at the base of the lashes and wiggling towards the tip. She also adds a layer to the top of the lashes for colour, before using the wand to curl them upwards. I would probably use this mascara layered over a lengthening one, as it does give a fuller, false lash effect, but are not as fluttery as I would like. At £20.50, I probably wouldn't repurchase, but it's great to try out different brands to find what works and what doesn't!
Laura Mercier Velour Extreme Matte Lipstick
I had worn red accessories and accents in my outfit in the hopes that there would be a red lippy on the menu. No-one fears a makeup product more than red lipstick – one wrong move and you're done for.
This Laura Mercier number is in the shade Fire, and is a beautiful fiery red with orange undertones. It looked gorgeous on every skin tone and I received a lot of compliments wearing it.
The tip isn't the best of shaped for getting a clean edge, and would be best used with a lip liner. That being said, I didn't run into any problems creating a bold, even pout. If you use the lippy to line the lips, then fill in the rest, you are good to go. The finish is matte, but still feels velvety on the lips and not at all drying. After applying at around 5:30, it survived the rest of the event, an exhibition with rose wine and a theatre trip complete with hotdogs and nachos. Not a single smudge or bleed in sight. Very impressive for £22.50 and it's certainly made me feel more confident about red lipstick and working it in to my every day routine.
Now, let's talk about that Samsung Galaxy S10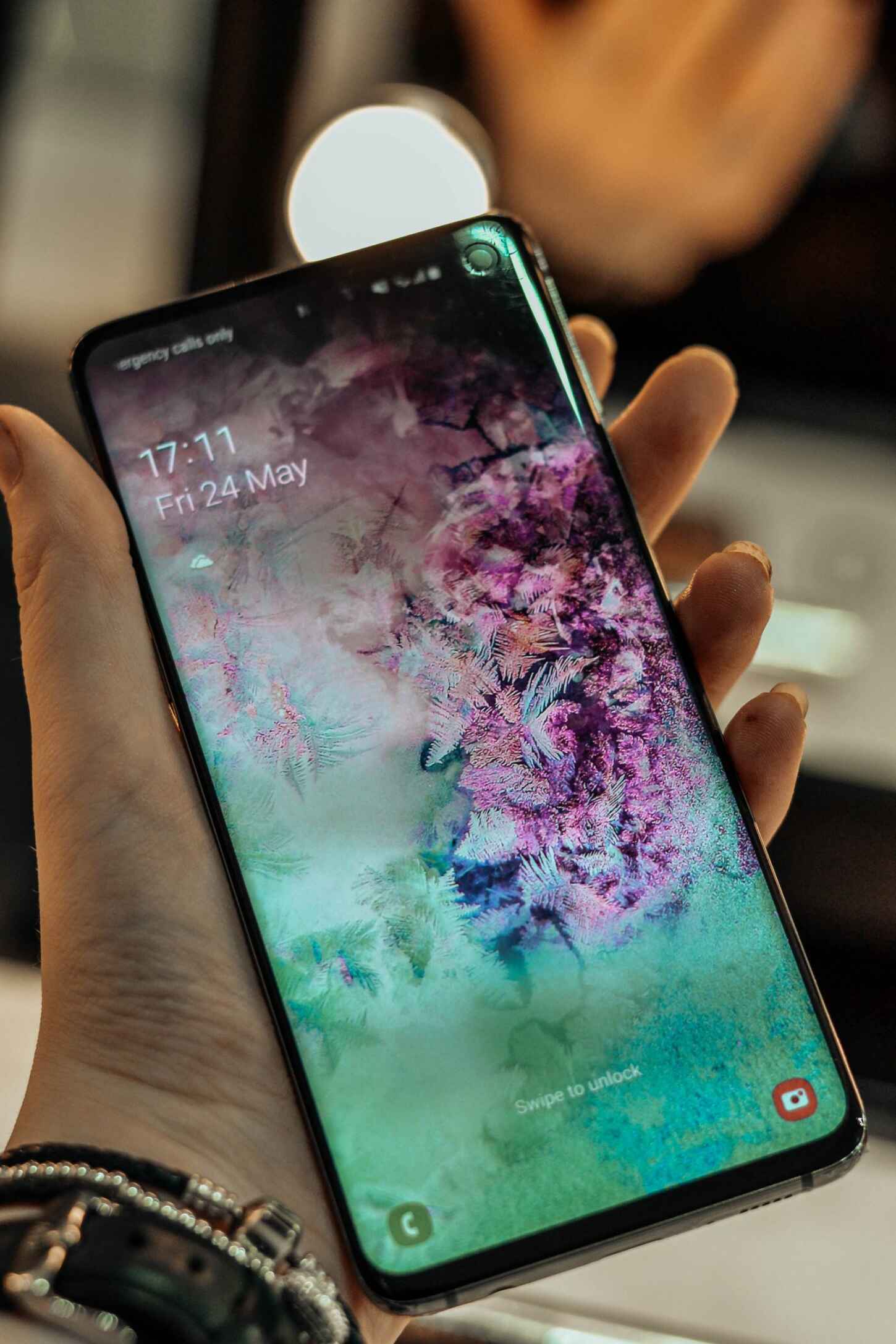 The slim, tall device is tactile to hold, and the edge-to-edge screen makes it super sleek. I got to test out the camera for an hour which is beautifully crisp. There are five different lenses, from telephoto to ultra-wide, with an aperture of 1.5 f – to a camera geek like me, that's impressive for a mobile, allowing it to perform well even in low-light conditions.
If I were to pick a phone on camera alone, the Galaxy S10 would win hands down, and given the chance to explore it more, I would absolutely consider it as my upgrade!
It was such a great event and a wonderful opportunity to meet Sammi and explore the phone. I've not stopped using the products since, and love testing out the bold lip every day rather than just occasions!