Is now too early to tell you that I hate Pumpkin Spiced Latte? The smell makes me heave and I can't stand coffee.
However, it's still autumn's most popular seasonal drink and seems to find its way onto the menus of coffee shops every October onwards.
I desperately want to like them, but instead, I'll just have to vibe the caffeinated beverage vicariously through my wardrobe.
Where better to shoot a pumpkin spiced latte look that at a pumpkin patch, ay? This is Brookfield Farm Shop – my family and I come here every year to pick pumpkins to decorate our garden with.
This year the farmland had doubled, and their crops included a variety of coloured pumpkins, from deep green to light blue – and of course iconic orange.
The best part about this outfit is that most of the items were pretty cheap.
My white knitted top is from Primark, and came in at just £6. I love the high neck and cosy material. It's a bit like brushed cotton, so feels like clouds – it reminds me of the whipped cream on top of a PSL.
I've been wearing this with everything – tucked in jeans, with skirts, under pinafores and dresses. It's super versatile and has so far washed really well. I'd love to get more colours to wear throughout autumn and winter.
This time I tucked them into my £5 corduroy wide leg trousers, from – you guessed it – Everything5Pounds.
I spend a lot of time browsing their site for items I've seen on the high street. I've found some great Topshop and New Look bargains. These cords are originally from Primark though, so will have retailed at around £13 (at a guess), so still a bit of a saving there.
The rust orange colour is my favourite shade for autumn, and again, screams pumpkin spiced latte vibes. Put a Starbucks sleeve around my hips and I'd practically be in fancy dress.
My shoes were certainly more of an investment piece, and cost £26.99 from New Look. I bought them to wear for work but have been wearing them out of the office too as they go with everything!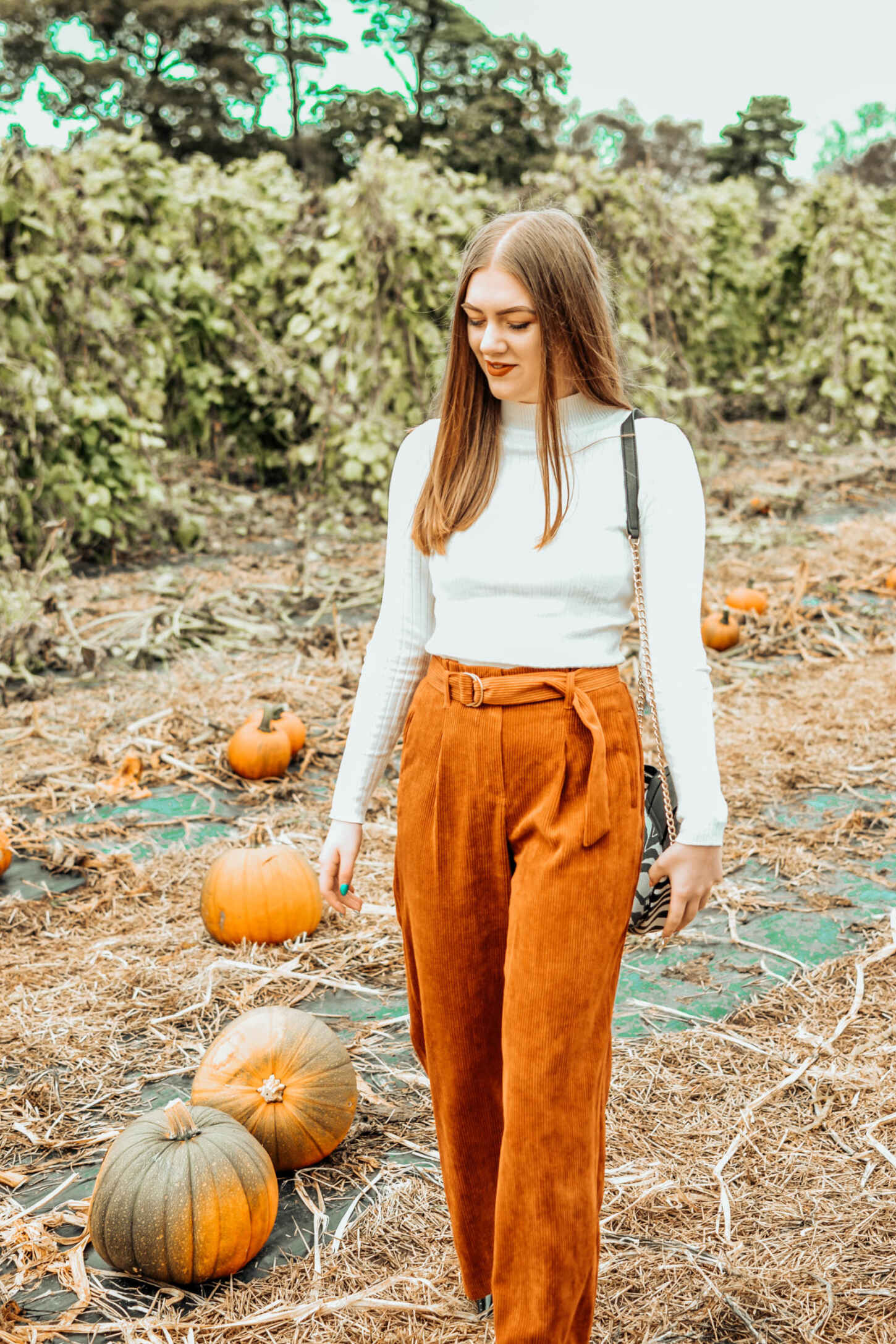 My zebra print saddle bag from Primark adds a splash of pattern and extra texture into the look. This set me back only £8, but I love to pair it with otherwise 'plain' outfits to add something interesting. I love how the gold circular detailing on the bag matches the D-ring on the cords.
So, that's my pumpkin spiced latte inspired look. Albeit loosely inspired, but ultimately in keeping with the seasonal colours and vibes. The corduroy trousers even cost roughly the same price as one!