I spend nearly as much money on Phoebe and Frank for Christmas as I do my actual human family members. Whilst you all tear open presents and cook Christmas dinner –don't forget about your four-legged friends!
Hounds, in Newcastle, is my go-to place for all of my pooch-related needs, because I know it's hand-selected and top quality.
This year Hounds have an awesome range of festive goodies in for your pups. I've picked out my favourites to give you guys some insPAWation for your own dog's Christmas gifts. They've received the aw of approval from Ubba – the shop dog, too.
Getting a selection box at Christmas is a tradition for most families. Denzel's dog snacks have the cutest branding, and this selection box really feels like the Cadbury's ones you would get as a kid.
The treats are made from 100% natural ingredients and baked in the UK.
Inside are four packs of three chews, including the Tropical, Brunch, Superfood and Nut Butter flavours.
Individual packs are sold for £3 at Hounds, so you're even getting a pack for free!
Green and Wilds toys are so blooming cute. They're made of pretty hard wearing natural jute and covered in suede – which means you don't need to panic if your pooch ingests any!
This is likely to be the gift your pup appreciates the most. Whilst you're all sat around the table pulling crackers and trying to get paper party hats to sit on your head whilst your dad tells the bad cracker jokes, your dog is likely under the table waiting for someone to sneak them some turkey.
Instead, treat them to the Lily's Kitchen Three Bird Feast! We feed Phoebe and Frank kibble, but like to add a bit of wet food on occasion to make it more interesting for them. This tin would top four bowls.
Alternatively, you could spread it into a Kong toy or onto a lickimat to keep their brains stimulated and tire them out.
I actually bought this for the guys last year and picked up another this year as they loved it so much. The Lily's treats are little heart shapes and make great training treats. This is a really lovely gift to add to your dog's stocking, or if you're buying a bit of something for someone else's pet.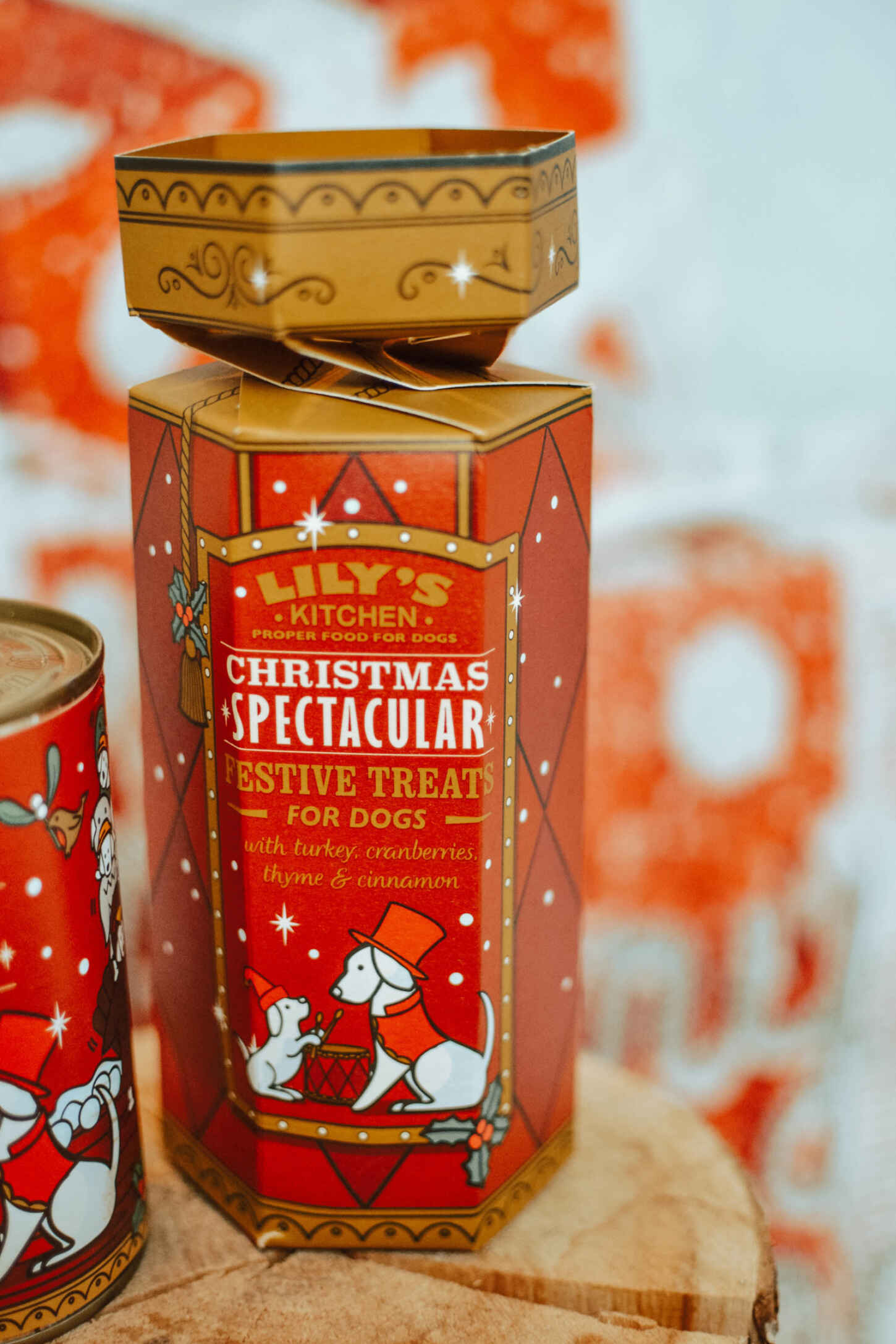 My guys have had many a bandana or bow tie from Alma Rose Creations. The local seamstress makes gorgeous seasonal accessories and I always love to get the festive patterns!
We do seasonal photo shoots at Hounds, and these always sell like hot cakes on the day – so that people can pap a photo of their pup in a dickie bow.
Phoebe and Frank need their own wardrobe!
This cosy festive knit is currently on sale with limited sizes left. If there was XXXXL to fit Frank's fat butt, I'd buy one for him!
There are a range of doggos Christmas jumpers in store, but I adore this little reindeer one. It would match Rudy the Reindeer perfectly.
This Christmas cracker for puppies and dogs is filled full of tasty natural treats for them to enjoy. This is one of the cheaper gift options, but equally as brilliant.
Inside you'll find a chicken sausage, two chicken coins and a chicken foot – so likely not for the feint-hearted – but your dog will love it. (Frank's already tried to steal if off the side twice.)
This beautifully hand-knitted snoods are made by the Silly Sausage Emporium, and are incredible for keeping your dog warm on winter walks.
They come in tonnes of different colours, like mustard and teal, but I thought red was the most festive.
These are brilliant for dog with long ears, like dachshunds or spaniels for keeping their ears out of their water bowls, too.
Another inexpensive option is the JR Pure Turkey treats, which are, as labelled – 100% pure meat with no additives.
They're grain and gluten free for those doggies with allergies that still want to get into the festive spirit.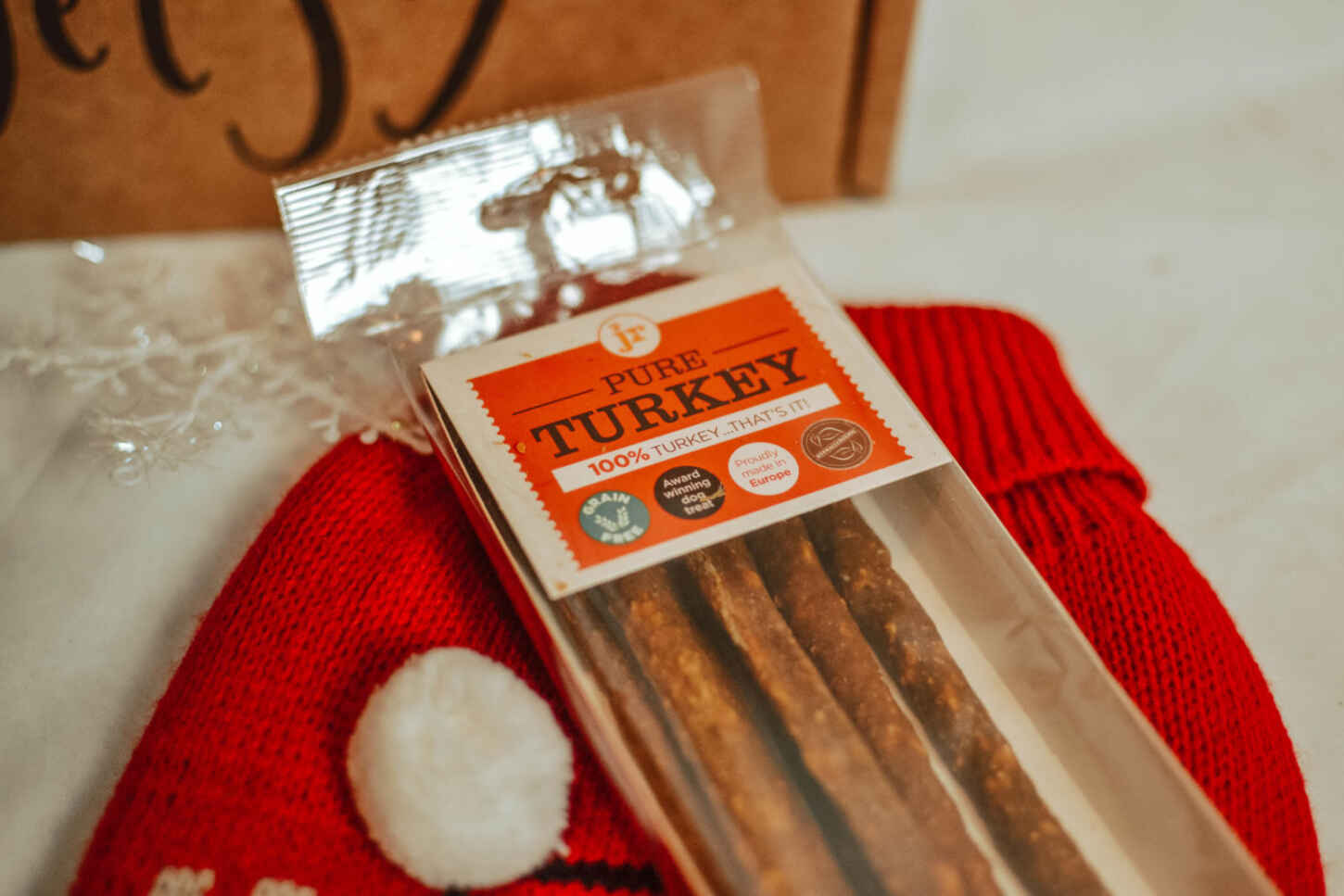 If the kids get a Christmas box, why not get the dog one, too? For £25.00 you get a box personalised with your dog's name by A.R. Designs filled with goodies.
This takes the searching out of the equation, as everything you need is in the box – from treats to toys!
Inside you'll find Lily's Kitchen Festive Treats, Soopa Cranberry Sweet Potato Bites, JR Pure Meat Sticks, Denzel's Christmas Dog Chews, Lily's Kitchen Christmas Dinner, and a choice of either Green and Wild's Bruce the Spruce or Rudy the Reindeer.