All black err-thang. I used to joke that my wardrobe was all black. It was a lack of self-esteem, really. I wasn't trying to be edgy; I was hiding behind my clothes. Wearing black isn't standoutish or confident – unless you make it so.
Since my introverted teenage years of trying to blend in, I've certainly widened my wardrobe. Now, it's rare you don't see me in bright blooming pink and bold safari prints. Leopard print is the new black, and all. I've become 'the stylish one' in the office, and my colleagues joke about it, but I've fallen back in love with fashion and actually enjoy plucking outfits out of my wardrobe. I love experimenting with colours, styles and prints.
But I also still love black. Black can be just as sleek, sassy and stylish as anything else. I'm no longer hiding… truth be told, I can't in this coat – I squeak when I walk.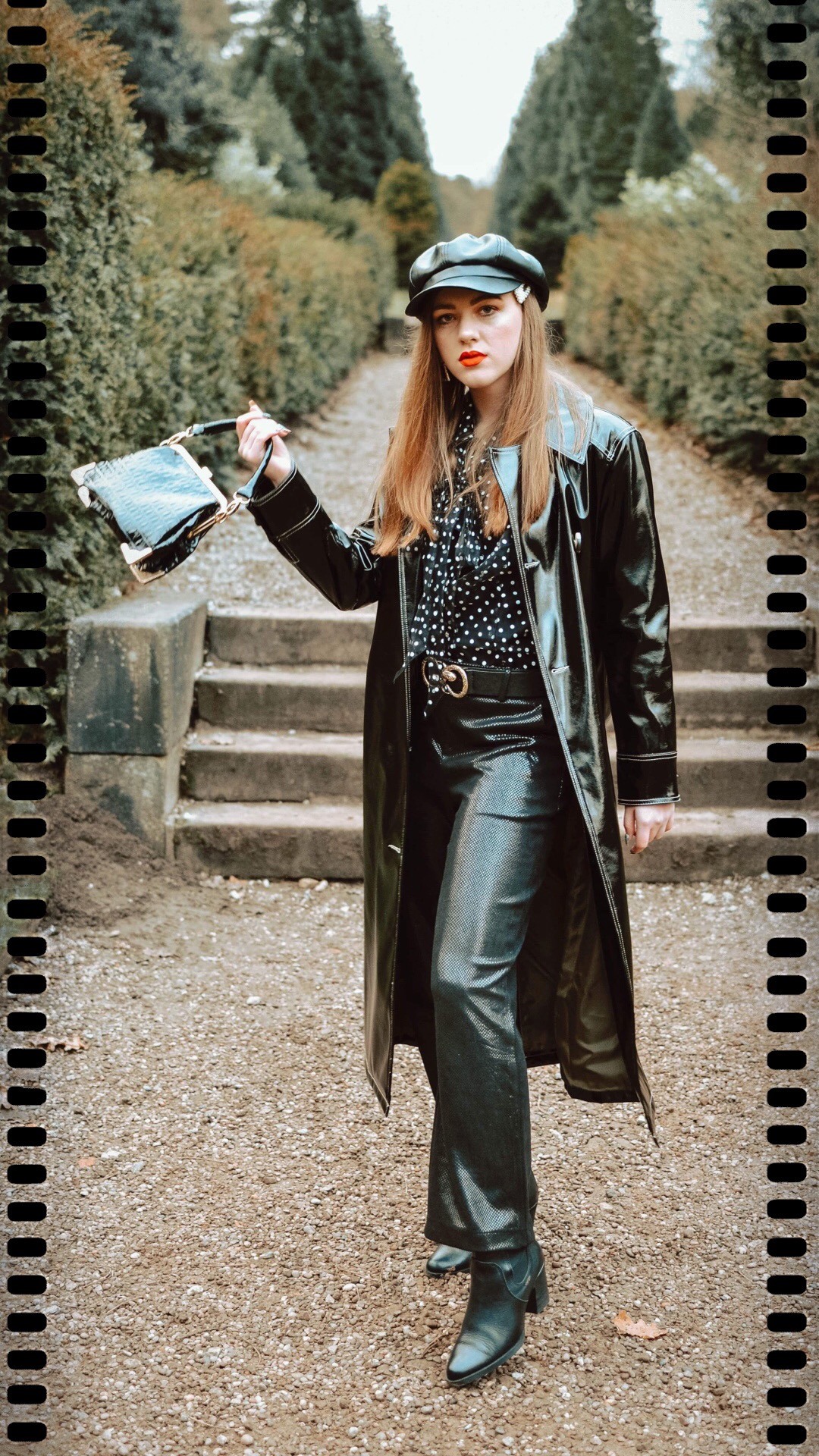 I fell a little bit in love with this vinyl coat just before Christmas, but held off buying it, thinking it might just be a bit too extra. I had previously considered the vinyl trousers, but I don't think I could bear sounding like a dogs chew toy every time I take a step. However, I am the proud owner of a vinyl skirt (in two sizes), as well as some vinyl boots.
When I saw it in the sale for £55 on Christmas Eve, it was a bit of fate. It was something I was worried my mother would hate – but it won hers (and my grandma's) approval. My nan loves how I dress – she also thinks I'm famous, though… I don't correct her.
When I tried this vinyl coat on in-store, I was wearing this exact outfit under my huge shaggy black coat, and I loved the look so much I wanted to re-create it for a shoot.
---
Sparrowhawk vintage organza blouse £8
Everything5Pounds mock croc shiny trousers £5
Sparrowhawk vintage leather Wrangler boots £18
Sparrowhawk vintage baker boy £10
Missguided earrings – gift
Missguided croc bag – gift (Now £12.50 in the sale!)
New Look Snake Buckle Belt
---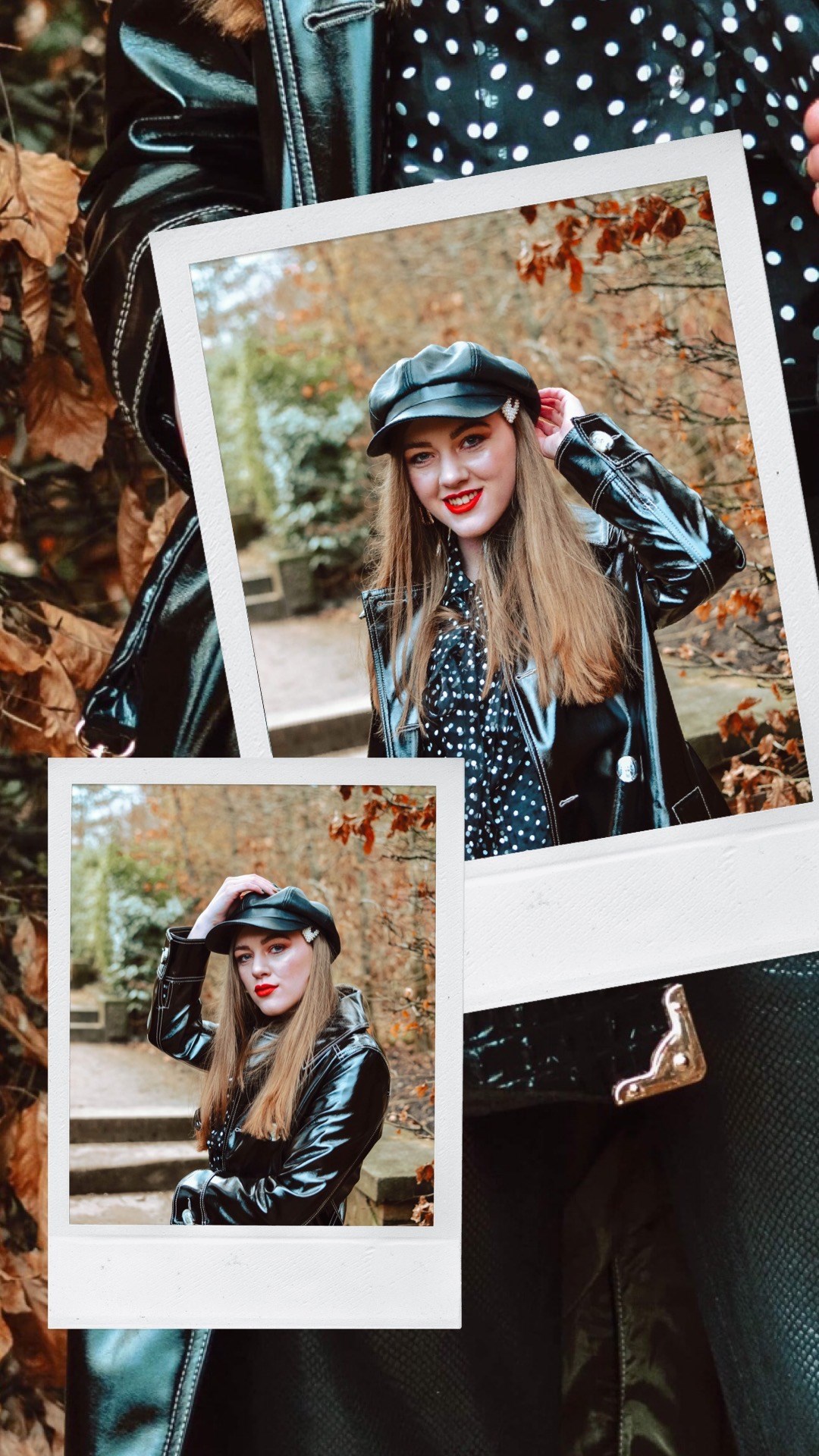 I've been obsessed with these shiny mock croc trousers from Everything5Pounds because they look like vinyl but aren't! They're super shiny but feel so soft – it was a huge shock. But they're so comfortable and a great fit – so I've also ordered two pairs of leopard print ones in the same fabric – one mustard and one regular. Once I find something I love I need it in every colour.
Into the trousers I tucked this gorgeous polka dot organza blouse that I picked up in my favourite vintage shop: Sparrowhawk.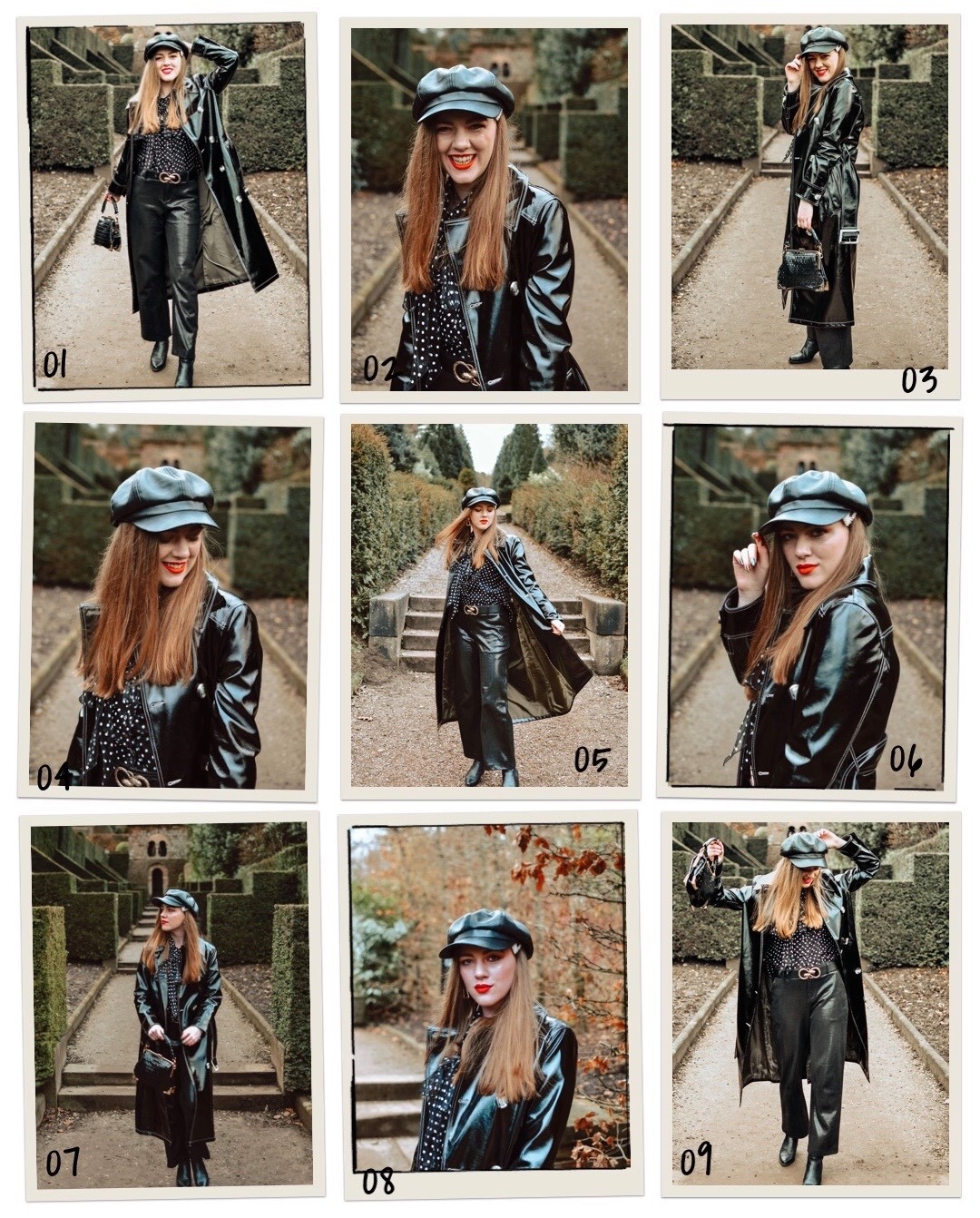 A lot of people asked where this was from when I posted it on my Instagram stories – as this style blouse is really in fashion at the moment. I love how big the sleeves are, and the cuffs are massive. The buttons are also little diamantes which make it a little bit different to what's on the high street.
Also from Sparrwhawk were my boots and my bakerboy hat. I've had this hat a few years now, and it's slowly gaining a more 'worn' look about it.
The boots were something I spotted during my Christmas Personal Shop, but didn't pick them up. However, I thought about them for the whole two days following, so I text Rhi and said I would take them off her hands.
I have a bit of a rule that if you're unsure about buying something – don't. Wait a few days and if you can't stop thinking about it, then go for it. I paid £18 for the Wrangler, real leather boots – which had barely been worn. When I got them home I asked my dad to just put some dubbing on them and to glue the insoles in.
You can never go wrong with a great pair of black leather boots, and these ones have a slight western feel to them. I've been wearing them everywhere – including to work – so they're already worth their cost-per-wear.
To accessorise, I wore some gold hammered effect earrings that were bought as a gift at Christmas, as well as a vinyl croc print bag with gold accents. Both of these were from Missguided and are so up my street (thanks to Mel, my brother's girlfriend, for being an amazing gift finder).
I paired them with my snake buckle belt from New Look – another Christmas gift, this time from Mum and Dad. I've always been a silver jewellery and accessory girl, but I love broadening my collection with gold pieces I love.
Although the vinyl coat isn't an every-day investment and is more 'statement', I still feel like I've got a bargain and can throw it over *almost* anything due to its colour. However, the rest of the outfit was affordable or thrifty – with three items being from a vintage store!