Whether you're loved up, loving yourself or just feeling the love this Valentines, take it as an excuse to get your nails did, honey.
Getting a manicure with Nails at Bear is my dedicated me time. It's become a huge part of my self-care and I always come out of my appointment feeling more myself and more together.
I've being getting my nails done by Leanne since August, and this is my fifth set of nails designed by her. Only five sets since August? Yep. My Christmas set lasted seven whole weeks with no chips or breaks, and could easily have lasted longer.
If you'd like to book in with Leanne, tell her Beff sent you, and we will both get 10% off!
Since getting regular manicures, my nails have become so strong and gained some incredible length – so much so that I've had half the length lobbed off this time!
Previously, I'd been having Gel-X to help match the lengths of my nails, but now they're all natural.
I was researching Valentine's day sets around a week after getting my Christmas nails, and decided I'd keep it local with a design inspired by Staffordshire pottery icon Emma Bridgewater.
For Christmas, I received the Emma Bridgewater hearts DAB radio, and I've become obsessed with the design. I decided to incorporate it into my nail set this February, and give a little nod to Stoke and its heritage.
Leanne filed off my Christmas nails and I nearly shed a tear – I loved them, but it was time to move on and get some more fabulous finger tips.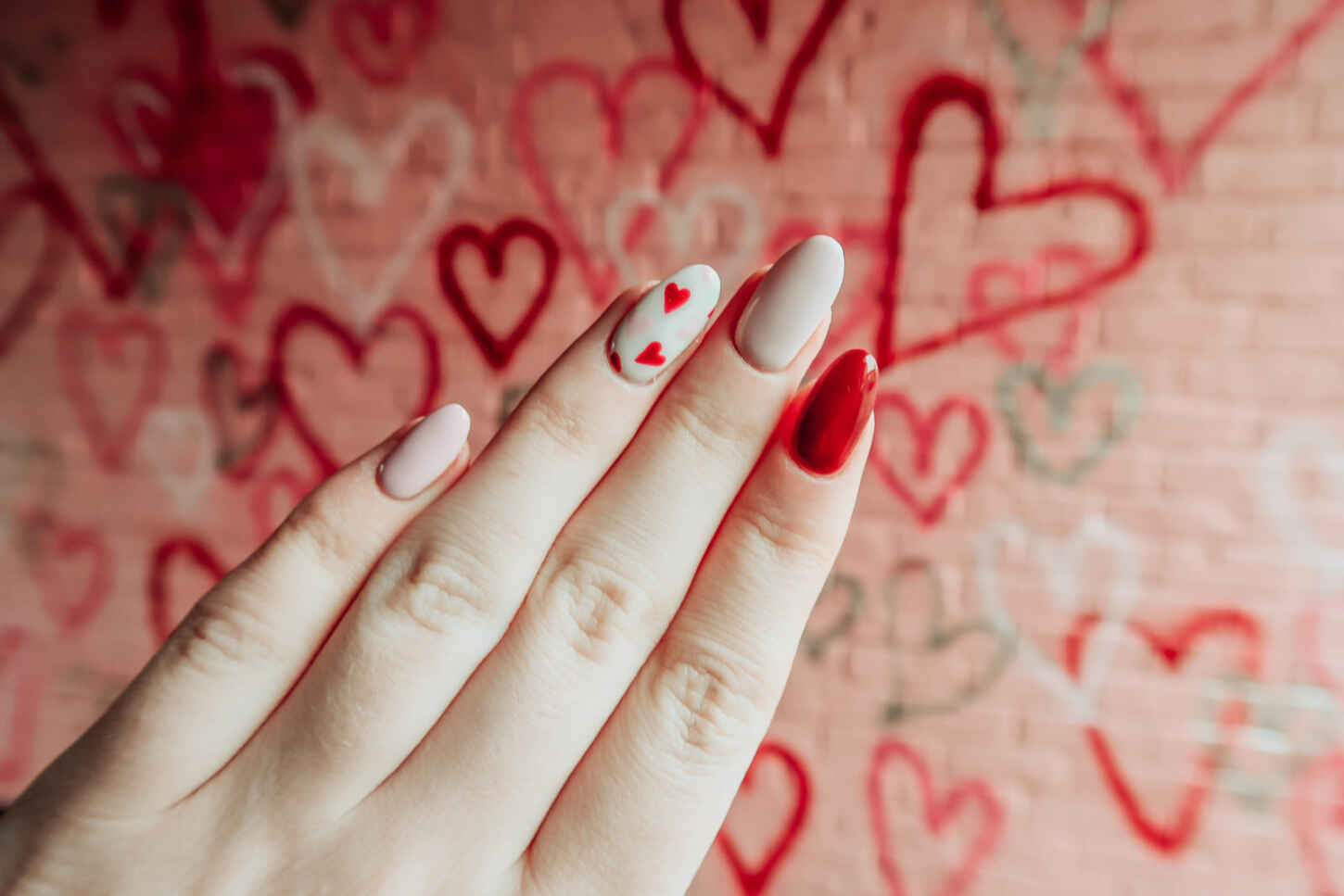 This time, I went for a rounded tip, after having coffin shaped nails for the past two sets. Rounded nails are softer, which I think tied in nicely with the idea of romance and Valentine's day.
Leanne used just two colours to create this four shaded look! On the base of the hearts nails we used Pina Colada, using Bloodgood for the red hearts and a mix of the two for the pink hearts. Leanne used a dotter tool to create the top of the hearts, and a small brush to create the triangular part of the heart.
I went for three different shades on the rest of my nails, including Bloodgood and the mixed shade, as well as an even lighter version of the mixed shade.
We finished off with a clear topcoat and a dot of Strawberry Daiquiri NAF cuticle oil, and I was done! The whole appointment lasted under an hour and a half, which is the fastest we've ever worked since I didn't have detailed designs on every nail.
I adore the design and Leanne has done and incredible job as usual. I can't wait to flaunt them around for the next few weeks!